SEC
SEC Week 5 Primer: Ole Miss has the nation's attention at Alabama. Can they keep it?
Everything you need to know about this weekend's SEC slate.
The stakes: Ole Miss – contender or pretender?
We know what the answer has been in the past, but there are plenty of reasons to lean toward the former. The Rebels have all the momentum that comes with having a Heisman front-runner at the controls of the nation's highest-scoring offense, plus a little extra for hitting their marks in the nonconference slate when so many of the sport's other elite offenses are off to sluggish starts. They ended a 5-year absence from the AP poll, rising from unranked in the preseason to No. 12 at the end of September, their highest standing since 2016. Lane Kiffin, now 46, has matured to the point that he can get dragged into an stupid beef with a national TV personality and emerge with the high ground.
Spirits are high, the defense is improved, and last year's record-breaking shootout against Alabama is proof that Kiffin's offense translates against a Nick Saban defense. The Playoff picture is as wide open as it's been since the format's inception; with an upset in Tuscaloosa, there's a void in the race with Ole Miss' name written all over it.
But of course, as far as the Crimson Tide are concerned, the pregame hype coming from the other side is, always, just that — hype. Meanwhile, the double-digit point spread speaks for itself. Even if the Rebels are who they think they are, that doesn't mean they've come far enough, fast enough in Kiffin's second season to make the leap to national relevance. Maybe it tells us all we need to know that Saturday looms as the defining game of their season, while for the Tide it's just one more week and one more step toward the ultimate goal in January. Ole Miss is just visiting in the spotlight; Bama lives here.
The stat: 37.4%
Through 4 games, Alabama quarterback Bryce Young has faced pressure on 49-of-131 dropbacks (37.4%), per Pro Football Focus, the second-highest rate among SEC starters. That's more than twice as often as his predecessor, Mac Jones, faced pressure last year (18.9%).
What sets Young apart, though, isn't how often he's been under heat, but how extraordinarily well he's handled it: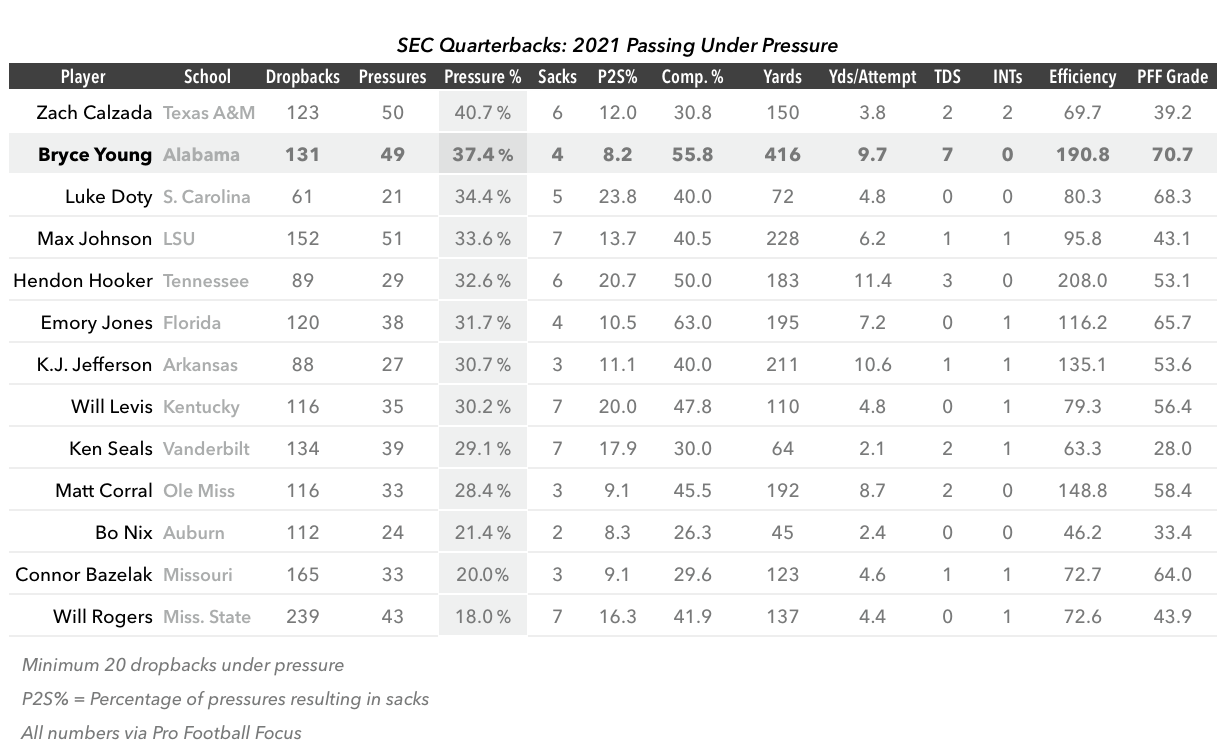 Although Young has made no impact in the box score as a runner — he has 10 carries for -15 yards, sacks and scrambles included — this is the area where his athleticism has most obviously paid off: Avoiding sacks and extending plays. You can see that most clearly in his league-best pressure-to-sack rate, which at 8.2% means he's getting the ball out on pressured dropbacks more than 90% of the time. And unlike most quarterbacks in those situations, he's finding ways to actually make plays rather than routinely settling for checkdowns, throwaways or resigned scrambles out of bounds; his completion percentage (55.8%), yards per attempt (9.7), and TD-to-INT ratio (7/0) belong to a guy turning a majority of those snaps into positive results. Frequently very positive.
Bryce Young finds John Metchie #Devy pic.twitter.com/tdYEzEUWZK

— Greg Brandt (@devywarehouse) September 4, 2021
For Ole Miss, the challenge isn't just raising the temperature on Young but actually disrupting him, a feat that on the whole neither Miami (19 pressures on 40 dropbacks) nor Florida (15 on 38 dropbacks) managed to achieve despite generating more pressure than any opposing defense vs. Alabama in 2020. The responsibility for that will fall largely on senior OLB Sam Williams, whose 15 QB pressures, 4 sacks, 2 forced fumbles, and 88.7 pass-rushing grade from PFF put him solidly among the SEC's most productive players off the edge. The Rebels badly need him to make at least a couple of his opportunities against Young count.
The big question: Can Alabama stop the run?
The Tide's prowess against the run is rarely up for debate, but then rarely under Saban have they been gashed as consistently and methodically on the ground as they were in their 31-29 win at Florida in Week 3. Florida piled up 245 yards rushing on 5.7 per carry, becoming just the 3rd team in the past decade — and the first since Ohio State in the 2014 Playoff semifinal — to run for 200+ yards against Bama on more than 5.0 per carry. The vast majority of that total came after the Gators fell into an early, 21-3 hole, allowing them to effectively control the final two-and-a-half quarters while engineering a credible comeback.
In certain ways Ole Miss' ground game under Kiffin and second-year coordinator Jeff Lebby is similar to Florida's, including a heavy emphasis on zone blocking and a ready and willing runner at quarterback in Matt Corral; on the other hand, the Rebels lean much more heavily on RPOs and tempo. Either way, it certainly gets similar results. Contrary to its high-flying reputation, Ole Miss led the SEC in rushing in 2020 and ranks second this year at just shy of 300 yards per game. In last year's shootout loss against Bama, the Rebels produced two 100-yard rushers, the thunder-and-lightning combo of Snoop Conner and Jerrion Ealy, who combined for 248 yards on 6.2 per carry against the Tide with 2 touchdowns apiece. On the very short list of Ole Miss players who could plausibly start for Alabama, Ealy's name is right there with Corral's at the top.
In 13 games on Kiffin and Lebby's watch, Ole Miss has run for 200+ 8 times (not including sacks), including all 3 games this year. Corral relies on that balance to keep him out of trouble, and the RPO game demands it to keep linebackers and safeties honest. If Alabama's front four can deliver a throwback effort along the line of scrimmage, it will make their job on the back end that much easier.
The key matchup: Ole Miss OT Jeremy James vs. Alabama OLB Will Anderson Jr.
Saban has never had a player on the edge quite like Anderson, which is saying something — reaching for a suitable comparison for Anderson this week, Kiffin went all the way back to Derrick Thomas in the late '80s. Anderson doesn't really need that kind of hype to get anyone's attention, but he has broadly justified them, following up last year's Freshman All-America campaign with 15 QB pressures and an SEC-best 8.5 tackles for loss in the first 4 games.
Will Anderson is good. #Florida #Alabama

— Sideline CFB (@SidelineCFB) September 18, 2021
James, a redshirt sophomore who has started all 13 games under Kiffin, has no hype to speak of, but so far his shift from right guard to right tackle this season has been a smooth one: He's yet to give up a sack, per PFF, and has allowed just 1 pressure while grading out as the Rebels' best pass blocker. Anderson, the "Jack" in Bama's terminology, spends most of his time on the left side of the formation (the offense's right), which will put him across from James on most if not all of those snaps. Keeping the conference's most dynamic edge presence out of the backfield will be an enormous responsibility.
The verdict
Few offseason questions loomed larger than whether Ole Miss' defense could turn the corner quickly enough to give the offense a chance to win the big ones. Beyond the assumption that it can't get any worse, the answer remains TBD. Its turns against Louisville, Austin Peay and Tulane were all encouraging, as is Sam Williams' emergence on the edge and the arrival of transfers from Maryland (LB Chance Campbell), Navy (DB Jake Springer) and Georgia (DB Otis Reese) among of the unit's most active players. The starting lineup in general is a veteran group that's taken its lumps the past few years, but then Alabama's offense isn't the juggernaut it was last year, either, in any respect.
But a narrower gap doesn't mean it's closed, and if pushed, the Crimson Tide are still explosive enough to potentially score a lot of points in a hurry. With Kiffin and Corral on the opposing sideline, they'll likely have to. With Bryce Young maturing by the week, they almost certainly will.
– – –
Alabama 41 | • Ole Miss 33
The point spread here reflects either some lingering skepticism over Arkansas, which had 2 of the best wins of any team in September against ranked outfits from Texas and Texas A&M, or else some serious respect for Georgia, which has been on cruise control since a slugfest win over Clemson that's lost some of its luster since opening night. It turns out the Tigers can't score on anybody, which leaves room for the possibility that UGA's defense is vulnerable in ways that have yet to be tested.
Still, considering the extent of the defense's dominance in every game, that's not much room. If I was writing longer on this game, I'd spend a lot of time on Arkansas QB KJ Jefferson's enormous potential and emerging big-play connection with Treylon Burks, easily the most explosive and physically imposing receiver Georgia's secondary will see all year. Cutting to the chase, the Razorbacks' chances most likely hinge on the defense turning the game into a narrow rerun of last week's 20-10 win over A&M, a heavy lift considering the Bulldogs' weapons on offense and a presumably healthy JT Daniels in the pocket rather than an overmatched Zach Calzada. Inconsistency tempered by a couple of big plays won't get it done.
– – –
Georgia 30 | • Arkansas 17
Much of the intrigue surrounds Florida's quarterback situation, where Emory Jones' success over the past 2 weeks may have bought him some more time as the default starter but won't be enough to keep freshman phenom Anthony Richardson off the field as he returns from a sore hamstring. In the grand scheme of things, two capable QBs is a good problem to have.
Kentucky's offense has no such concerns: For better or worse, Will Levis remains the quarterback, and the past couple of weeks against Chattanooga and South Carolina definitely fall under worse despite wins in both games. The Wildcats will need big games from RB Chris Rodriguez Jr. and WR Wan'Dale Robinson because the rest of the skill talent has been largely MIA.
– – –
• Florida 31 | Kentucky 19
One of these teams is going to wind up feeling a lot better about itself and its early struggles at 4-1, while the loser will be on the fast track to the Birmingham Bowl. Auburn hasn't resolved the quarterback debate between Bo Nix and TJ Finley, but it should resolve to keep RB Tank Bigsby more prominently involved against an LSU defense that got run over by UCLA in the opener and hasn't been tested in the trenches since.
– – –
• LSU 29 | Auburn 23
A&M is reeling offensively with not much hope in sight until starting QB Haynes King returns to the lineup at an undetermined date in the future. But the Aggies still boast a top-10 defense and are still capable of pounding out a living (theoretically, anyway) with RBs Isaiah Spiller and Devon Achane, which should be enough to win as a solid home favorite in College Station even if it's not enough to feel good about it.
– – –
Texas A&M 26 | • Mississippi State 20
Not only is this one as close as we're likely to get this season to a true toss-up: The way the rest of their schedules shape up, it's also arguably the crucial game for achieving bowl eligibility for both sides. The Tigers and Vols both come in at 2-2 with 3 more likely wins apiece after Saturday, according to ESPN's Football Power Index, meaning they both need this game to swing the odds in their favor of getting to the magic number: 6-6.
– – –
• Tennessee 32 | Missouri 30
The point spread is suspiciously tight here for a Troy team that just lost by double digits to UL-Monroe, thereby snapping ULM's 8-game losing streak vs. Sun Belt Conference rivals. The Gamecocks have struggled to score themselves, managing just 43 combined points in their past 3 games, but if they struggle against an outfit from the bottom half of the Sun Belt the rest of the season is going to look even bleaker than it already is.
– – –
• South Carolina 24 | Troy 13
It should tell you all you need to know about UConn that Vanderbilt — the same Vandy that lost its opener by 20 points to an FCS team and was last seen on the wrong end of a grisly, 62-0 massacre against Georgia — is a comfortable favorite to pick up its second win. The Commodores may rank among the worst SEC teams in recent memory, but the Huskies, who didn't play at all last season due to COVID-19 and fired their head coach just 2 weeks into this one, might be in the running to be one of the worst D-I teams of all-time.
To their credit, they did show some fight last week in a 24-22 loss to undefeated Wyoming, a game UConn led almost from start to finish, and which was decided on a failed 2-point conversion in the closing seconds that would have forced overtime. There might be some renewed energy under interim coach Lou Spanos, but for Vandy's sake, it really doesn't want to be the other team on the highlight reel when the Huskies finally break into the win column.
– – –
Vanderbilt 27 | • UConn 16
Scoreboard
Week 4 record: 6-2 straight-up / 4-4 vs. spread
Season record: 35–9 straight-up / 14–27 vs. spread