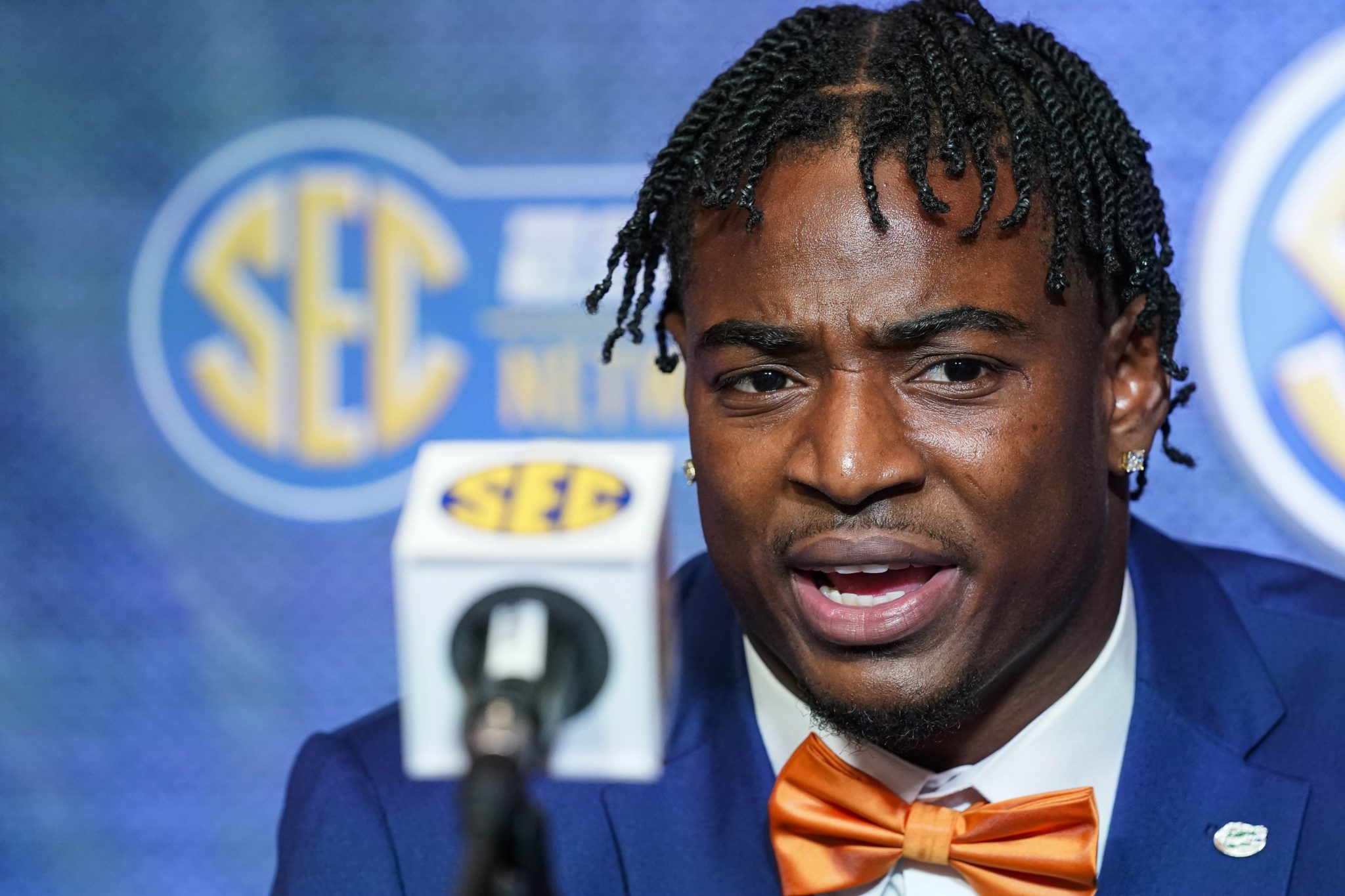 SEC
The top 8 candidates to earn the SEC's unofficial "Comeback Player of the Year" award
At season's end, there will not be any official "Comeback Player of the Year" award handed out in the SEC. Maybe there should be, though.
I'm guilty of assuming that guys follow a linear path when in reality, there are plenty of things that can derail a once-promising season. Injuries, suspensions or just poor play are all things that can happen far more than we realize. It's wild to think that there were only 5 SEC programs who had the same starting quarterback in every game.
But this won't be limited to just the quarterbacks. Lord knows plenty of other SEC players are hoping to have a bounce-back season.
Here are the top 8 candidates to do just that:
Arik Gilbert, Georgia TE
Let's start with one of the most tantalizing players in America. We watched Gilbert shine as a true freshman at LSU, though it was obviously a limited sample size because he opted out at the end of the season. Academic and conditioning issues were at the root of why Gilbert didn't play in 2021, which began with him entering the transfer portal and verbally committing to Florida before ending up at Georgia.
The former 5-star tight end looked like his old self in UGA's spring game. Go figure that he's in a loaded tight end room that's led by the best returning tight end in America in Brock Bowers. That might be exactly what Gilbert needs to get his feet wet after missing all of 2021 and starting spring with major conditioning issues. Kirby Smart revealed that Gilbert was over 300 pounds when he joined the team in January but was down back to 250 pounds by the end of spring ball.
And if you're worried about how Todd Monken will use all of UGA's tight ends, remember that in 2021, Bowers, Darnell Washington and John FitzPatrick all played north of 300 snaps. No other SEC program had 3 tight ends play 300 snaps. Gilbert has a path to playing time, and hopefully, a role with the defending champs.
Haynes King, Texas A&M QB
One of the bigger bummers of 2021 was watching King go down in the first quarter of A&M's Week 2 game against Colorado. We really didn't get a big enough sample size to see that off-the-charts athleticism on display in the post-Kellen Mond era. Instead, Zach Calzada struggled in Jimbo Fisher's offense and 8-4 happened.
This year, King is battling Max Johnson for the starting role. The latter has the experience, but the unknown of King could be the potential X-factor for a team hoping to get back to its 2020 levels. Given the questions about A&M's unproven pass-catchers, King's mobility would give the Aggies a higher offensive floor than they had last year.
If he wins the job, he's got potential to be Fisher's first all-conference quarterback since Jameis Winston.
Jalen Catalon, Arkansas S
Remember when Matt Corral just trucked Catalon in that thrilling Arkansas-Ole Miss game? With all due respect to Corral, who is built like a piece of iron, that was the sign that Catalon's shoulder wasn't right. Arkansas played the latter half of 2021 without their thumping safety, who plays bigger than his 5-10, sub-200 pound frame.
Catalon had an option to bolt for the NFL but decided to run it back with Bumper Pool as the leaders of Barry Odom's defense. In a post-Grant Morgan/Hayden Henry world, that was huge news for the Hogs and their bid to get to a New Year's 6 Bowl. Catalon is capable of finishing with 100 tackles and being immensely important in coverage on the back end.
He'll always be an injury risk playing the physical style he does, but if he's right, he gives Arkansas a legitimate shot at having a top-20 unit.
Eli Ricks, Alabama CB
Speaking of brutal midseason shoulder injuries to SEC West defensive backs, Ricks came into 2021 hoping to establish the nation's top cornerback duo with Derek Stingley Jr.. But 6 games was all we got from him after a freshman season in which he earned PFF's top single coverage grade in FBS. Now at Alabama, will Ricks reestablish himself as one of the nation's top corners?
One would think that's imminent, but if you noticed the way Nick Saban spoke about Ricks heading into 2022, you'd think his freshman season didn't happen:
Lot of talk about LSU transfer Eli Ricks being a potential top-10 pick, first-team preseason All-American, Nagurski award watch list, etc. — but every indication from Nick Saban this offseason is Ricks must still win a starting job first.

— Mike Rodak (@mikerodak) August 3, 2022
Saban talked about Ricks needing to learn the way Alabama does things. Could some of that be the Alabama coach wanting to downplay the hype train of the highly coveted transfer? Sure, but it's worth keeping an eye on as Ricks enters his pre-draft season.
Myles Brennan, LSU QB
Maybe it's not fair to put Brennan on this list because in order for one to come back, it implies that they reached stardom in this league. Brennan, because of injuries and a certain "Joe Burrow" happening, only has 3 career starts, all of which happened at the start of LSU's tumultuous 2020 season.
A boating injury that ended his 2021 season before it began gave way to Max Johnson to assume the starting role. Whether Brennan would've won the job or not is another story. It made sense when he announced his intentions to enter the transfer portal at season's end, and it was seen as a huge victory for LSU that Brian Kelly talked him out of that.
Now, though, he, Arizona State transfer Jayden Daniels and Garrett Nussmeier are all vying for the opportunity to be Kelly's first starting quarterback at LSU. Whoever wins the job is set up for a monster season with a bevy of pass-catching options, including Jack Bech, Brian Thomas and Kayshon Boutte.
In fact, speaking of Boutte …
Kayshon Boutte, LSU WR
If Boutte is on the field for LSU, you could make the case that there's not a better receiver in the country. Yeah, that includes Jordan Addison and Jaxon Smith-Njigba. The problem is that's a massive "if." Why? Since he last played in a game, Boutte:
A) Had 2 ankle surgeries
B) Nearly entered the transfer portal until a new NIL deal saved the day
C) Had his new coach say that he now "knows his last name"
D) Had the QB who force-fed him targets transfer
E) All the above
It's "E." It's always "E."
That's the issue. There are a lot of things that can interrupt Boutte having a bounce-back year in Baton Rouge. The good news? The proven play-making ability makes him one of the tougher outside threats in the country. He'll warrant a ton of defensive attention on a weekly basis, which could allow Bech and Thomas to develop into stars.
Here's hoping we get a full Boutte season of him looking like the best receiver in the country.
Ventrell Miller, Florida LB
For all the criticism that Dan Mullen took for his recruiting and the lack of depth Florida had in some key spots, not being able to replace Miller after his season-ending biceps injury was perhaps the toughest pill to swallow. There was a hole in the middle of Todd Grantham's defense, and Florida never quite recovered.
Miller's Year 6 return was huge for Billy Napier in Year 1. The defensive depth could be questioned, but returning a leader in the middle of the Gators' new unit could help them stay afloat in the SEC East. He's a tackling machine who could easily lead the SEC in stops (Bumper Pool might be the safest bet there).
If he ends up being the unofficial Comeback Player of the Year winner in the SEC, that means Florida is probably taking a significant step forward defensively after Miller's absence was felt on a weekly basis in 2021.
Spencer Rattler, South Carolina QB
Let's call it what it is. There were a lot of people who enjoyed watching Rattler not live up to the hype as the projected No. 1 overall pick heading into the 2021 season. He got benched in the Texas game — his quarterback rating was 158 entering that contest — and instead of leaving Oklahoma to start the NFL Draft process at season's end, Rattler left Norman to reunite with former Oklahoma assistant Shane Beamer at South Carolina.
Some were baffled by the move when in reality, it made a lot of sense. Rattler needed a Power 5 program where he'd be the no-doubter starter and not have to worry about hearing chants for a 5-star backup by late-September. He needed a system with pro-style concepts like the one Marcus Satterfield utilizes. Rattler needed a place with some promising skill-players, which he has in Jaheim Bell, Juice Wells, Josh Vann, DK Joyner and fellow Oklahoma transfer Austin Stogner.
There are plenty of people who are out on Rattler who will make sure they point out every interception or loss. Rattler's potential to have a bounce-back season isn't dependent on how much he showcases that next-level talent; it's about how he handles those tough moments. He won't have the same loaded offensive line he had at Oklahoma and he'll face tougher defenses.
But with some much-needed new surroundings, don't be surprised if Rattler is the obvious choice for this unofficial award at season's end.