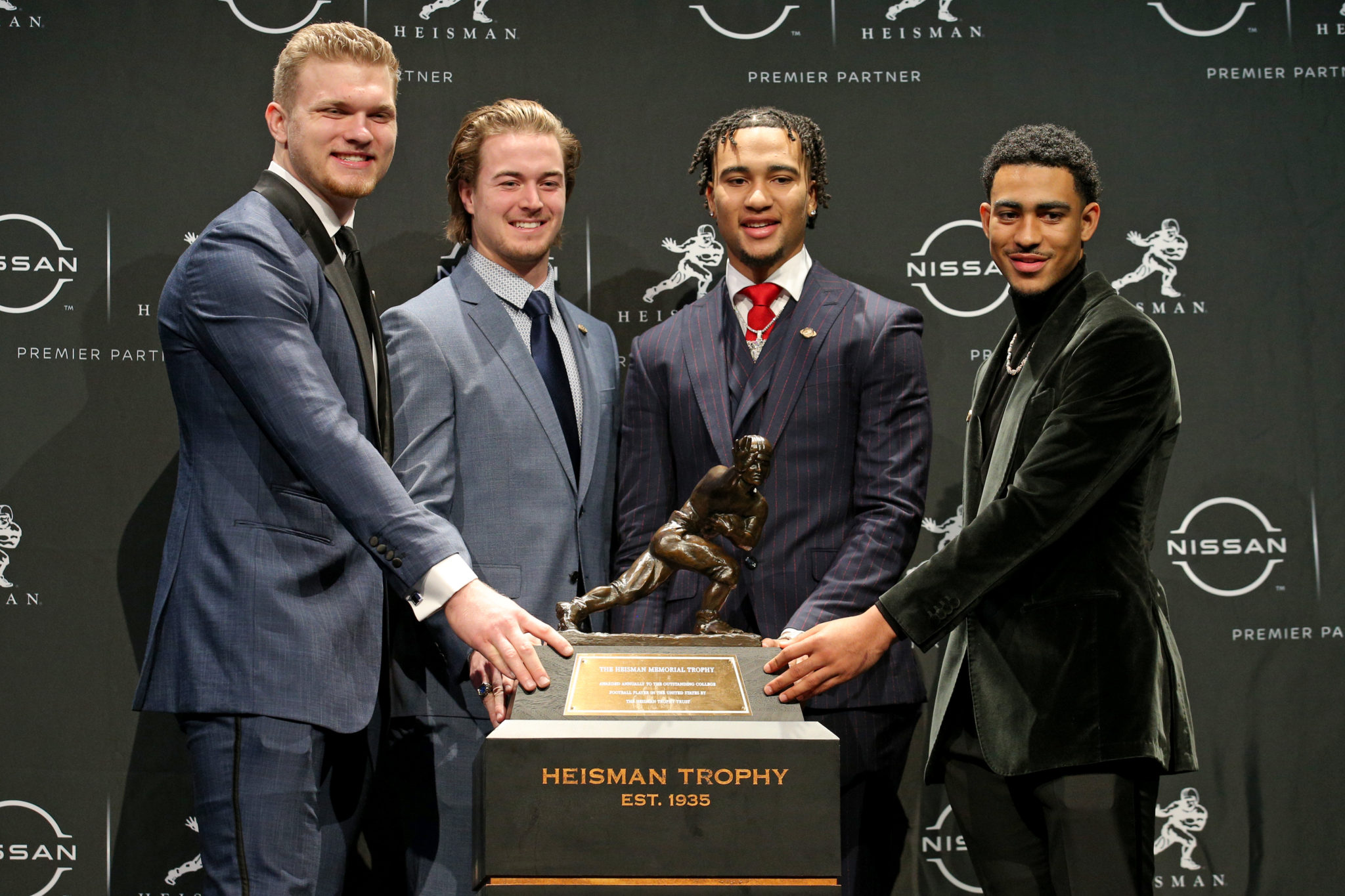 SEC
Hayes: A Heisman Trophy ceremony without the stars? It's possible -- and also avoidable
I'm going to say something you don't want to read, but better accept: At some point, maybe this year, the Heisman Trust and/or its television partner ESPN will pay appearance fees to players.
Significant fees.
In this booming age of Name, Image and Likeness — where everyone and everything is for sale — there is no greater misuse of NIL than the free marketing the Heisman and ESPN receive from having the best 3 or 4 college football players on a 2-hour show.
How much money do you think Nissan — the official sponsor of the Heisman Trophy — pays ESPN? How much money do you think ESPN pays the Heisman Trust to televise the event?
Guess who gets none of that money? The stars of the show.
"Where we are now, I don't know why players wouldn't shoot for the moon," a player agent told me.
Especially considering how the Heisman Trust and ESPN changed the dynamics of the award nearly a decade ago to further insulate their ability to make money.
A few months after the 2012 vote, the Heisman Trust told voters that publicly releasing votes before the ceremony would be an automatic forfeiture of the right to vote. Permanently.
Why, you ask? Because the Heisman Trust's television partner, ESPN, didn't want the winner revealed before a 2-hour show. They want drama to sell to their advertisers (not just Nissan), and to make money off the event.
Didn't matter that all of those Heisman straw polls were placing untold marketing value on the award, the only value the Trust and ESPN cared about was the 2-hour ceremony window.
So votes were lost, and votes were forfeited out of protest. And the award kept chugging along, building a brand — see: the fantastic Heisman House commercials — as fun and vibrant as any in sports.
Yeah, well, nothing is free.
Now here come the players, who for 150-plus years were on the short end of all things financial in college football. You want me to be part of your 2-hour Heisman Trophy show? Pay me.
Let me explain how this will work: Tuesday or Wednesday after Championship Week, the Heisman Trust will announce its finalist for the award. Last year, they were Aidan Hutchinson, Kenny Pickett, Bryce Young and CJ Stroud.
In the next 3-4 days before the award is announced, the finalists will have their agent or representative negotiate an appearance fee. And if ESPN and the Heisman Trust don't want to pay, they'll potentially have an award ceremony without the winner.
And since the votes have all been tabulated by the time the finalists are named, there's no changing votes. No moving the bar.
So if I'm Georgia quarterback Stetson Bennett and I'm a Heisman finalist — and the reality is I'm not making millions playing professional football — I'm holding out for a huge appearance fee.
Because everyone is making money off Bennett: from Georgia (in the Playoff again because of his play), to ESPN (celebrating his rags to riches story while promoting its 2-hour Heisman show), to Joe Sixpack — who can lay down a sawbuck on Bennett wining the Heisman at +10,000 and get some nice holiday cash.
Everyone, that is, except Bennett. At that point in his college career, his value will never be greater. If he doesn't cash out at that point, it's fiscally reckless.
"I walked though the ruins of the old (Downtown Athletic Club) building after 9/11. It pulled at my heartstrings," said Dennis Dodd, longtime college football writer for CBSSports.com, who gave up his vote in 2013. "But I couldn't in good conscience continue to vote knowing the Heisman Trust was just trying to protect its (television) partner."
They can't anymore. In fact, a Heisman appearance fee is just the beginning — before we continue the big turn toward reshaping the sport and amateur athletics as we know it. Because if an appearance fee at the Heisman is for sale (and it most certainly is), an appearance fee for the Playoff is, too.
Or as it's more commonly referred to: pay-for-play.
You want players to add 4 more games to their season — when all empirical data shows more games and more hits translates to less years of earning value in the NFL — for a 16-team Playoff that's worth as much as $1.5 billion annually, and you expect them to not ask for an appearance fee? Good luck with that.
Players have more power than they've ever had, and if they can't yet form a union (a couple of ham-handed opportunities aside), the best way to earn is to individually hold out for your worth. This, of course, is the last thing university presidents (who make every decision, with input from your friendly neighborhood conference commissioner) want to deal with.
So before Caleb Williams decides next year that he's not going to play in the new 16-team Playoff with his USC teammates unless he gets an appearance fee — and all the negative, money-grubbing publicity (on both sides) that goes with it — university presidents will have secured a deal that will pay players an appearance fee for the Playoff.
NFL players currently receive money for participating in the Playoffs, and that money increases with each round: from $42,500 for wild-card games to $150,000 for the Super Bowl winners and $75,000 for the losers.
How much is a college football Playoff appearance worth? The math isn't difficult.
The majority of the Playoff cash will go to the Power 5 conferences (or however many conferences the SEC and Big Ten decide are "Power" conferences), and the rest is distributed among the Group of 5 and FCS levels.
Like it or not, this is where we are. Every tradition, every standard, every norm, is naked and vulnerable. And for sale.
The stars of the show are getting paid.