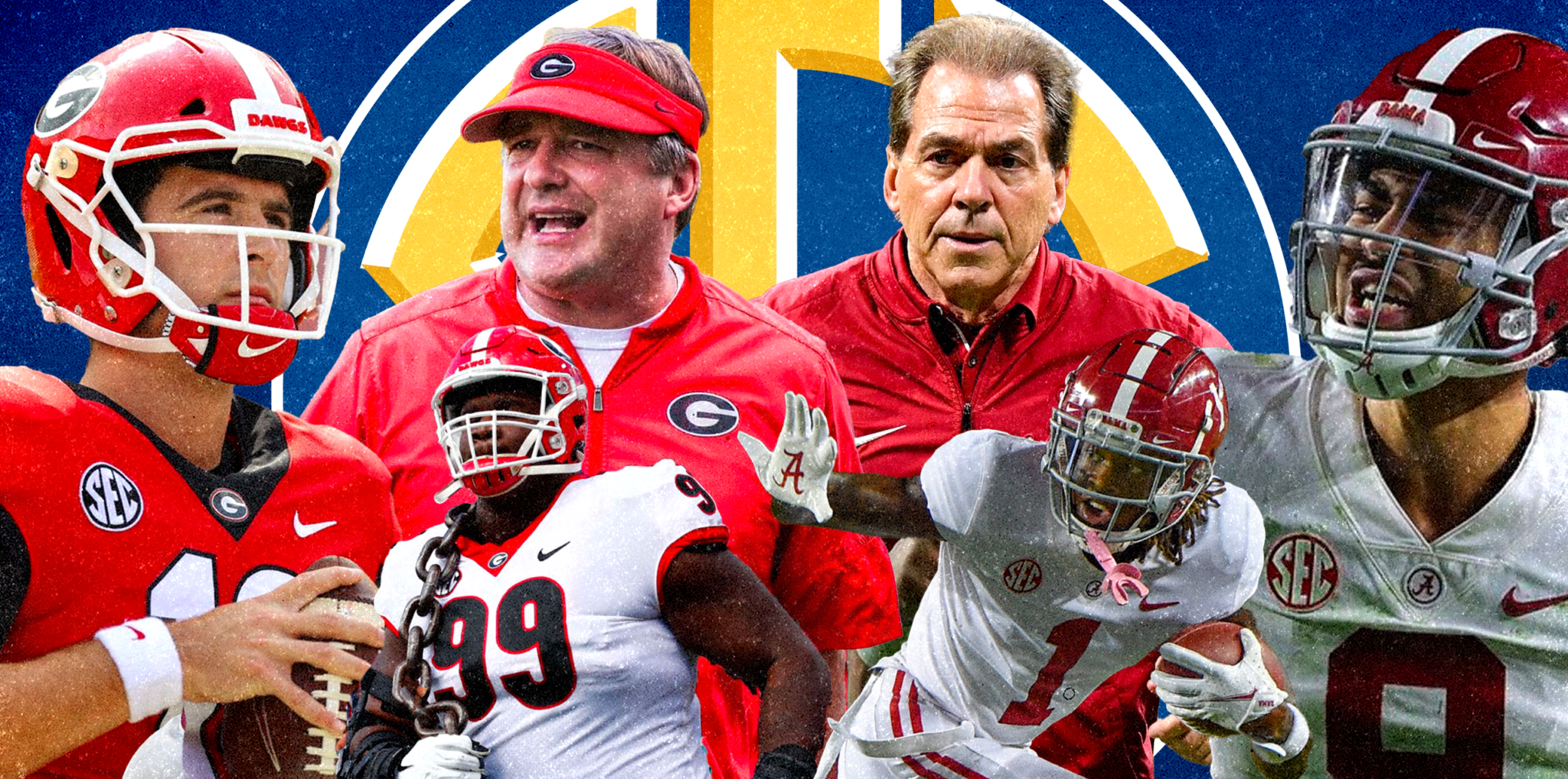 SEC
SDS' Ultimate SEC Championship Preview: Is Stetson Bennett IV ready to slay Alabama?
Everything you need to know about this weekend's collision between Georgia and Alabama in the SEC Championship Game.
By sheer volume, Georgia's starting quarterback has generated more angst over the past 5 years than any other position in college football.
On some level, in fact, you could say the ever-evolving situation behind center also serves as a window into the emotional trajectory of the fan base. To be a Dawgs fan is to have staked out a position on Jacob Eason vs. Jake Fromm, and Jake Fromm vs. Justin Fields, and on whether either question was ever actually up for debate. It's to have watched Fields fulfill his potential elsewhere, prized transfer come and go without taking a snap, and another prized transfer languish on the sideline for reasons no one can seem to explain. At the same, it's to have watched Alabama and LSU ride juiced-up spread offenses to their umpteenth national titles while Georgia's championship drought rolled on into its fourth decade.
It's to look year after year at arguably the deepest, most talented roster in the game, listen to the punchlines about coming up short when it really counts, and be constantly reminded: The only thing missing is an elite quarterback.
And in 2021, specifically, it's to watch as the weeks have rolled by, the wins have racked up, and the most important position on the field has been seized by the most unlikely candidate of them all – a former walk-on with no NFL prospects, who for most of his career in Athens has had "career backup" written all over him – and to ask yourself: Is this The Guy? This guy?
But lately, it has also admitting that the more they've seen of Stetson Bennett IV, the harder it is to remember what about his ascent seemed so farfetched in the first place. Why not this guy? The Bulldogs have won 8 in a row with the Rudy-esque Bennett taking every meaningful snap, all of them decided by at least 17 points, and most of them with now-former starter JT Daniels looking on in full pads and apparent health, having long since been cleared to return from the muscle strain that briefly sidelined him in October. With the regular season in the books, Bennett leads the SEC and ranks No. 2 nationally in yards per attempt (10.8), pass efficiency (188.6) and Total QBR (88.8).
Against type, he also leads the conference in average depth of target (11.5 yards), defying doubts about his arm strength. Bennett has connected on 50% of his attempts of 20+ yards, per Pro Football Focus, among the best downfield completion percentages of any Power 5 quarterback, and has a touchdown pass on a 20+ yard attempt in all 8 starts vs. FBS opponents.
WHAT A CATCH ???@GeorgiaFootball is cooking pic.twitter.com/zr88HxxDdM

— CBS Sports (@CBSSports) October 30, 2021
Not exactly the makings of a controversy, under normal circumstances. If Daniels, the former 5-star recruit, was the one on pace to break the school record for pass efficiency for the undisputed No. 1 team in the nation, he'd be hailed as the missing link in Georgia's championship ambitions and probably as a Heisman candidate, even in the shadow of a historically dominant defense.
Still, when the circumstances require winning 3 consecutive games against top opponents to cash in, banking on "normal" isn't necessarily a safe bet. Georgia fans can be forgiven if the prospect of letting it all ride on the arm of a walk-on continues to make them itch. They remember Bennett struggling last year in season-defining losses to Alabama and Florida, games in which his limits suddenly looked very obvious opposite a couple of blue-chip defenses, and they remember the surge in optimism after Daniels finally took the reins in the last 4 games.
Daniels is 7-0 as a starter, including 3 of the first 4 this year. The dynamics of the logical-but-doomed decision to ride with Fromm while relegating a superior athlete to understudy are still fresh in the UGA hive mind, for good reason.
The fact is, the lingering questions about Bennett's ceiling against Playoff-caliber defenses can't be addressed until he actually steps on the field against a Playoff-caliber defense. The closest approximations he's faced so far this season have yielded his best performance (vs. Auburn) and his worst (vs. Florida), both in games the defense had well in hand from start to finish. (Bennett didn't play in the opener against Clemson, which memorably held Georgia's offense to 3 points with Daniels at the helm and has continued to field an elite defense in the meantime.) Keeping pace with Alabama, an explosive attack that is actually capable of putting some points on the board against any defense, will be an entirely different challenge.
With each passing week, though, it has become more and more clear that when that moment arrived it would be Bennett's challenge to meet. He hasn't given anyone any reason up to this point to argue it should not be. Now that it's here, for better or worse, the fate of what may be Georgia's best chance yet to get over the top is in his hands.
When Alabama has the ball

1. Can Alabama protect Bryce Young?
In general, Young has responded extraordinarily well to pressure, completing 50% of his pressured attempts with an FBS-best 15 touchdowns on the year — nearly twice as many TDs under duress as any other SEC quarterback. The problem is that he's been under a lot of duress. By PFF's count, Young has faced pressure on more than 1/3 of his total dropbacks this season, including 20 of his 61 attempts in last week's down-to-the-wire, 4OT thriller at Auburn, where he was sacked 7 times and Alabama was shut out over the first 3 quarters. Not coincidentally, the Iron Bowl also yielded his worst stat line of the season on all counts, and if not for his crunch-time heroics in the 4th quarter and OT almost certainly would have cost him the Heisman Trophy.
It came as no surprise to regular Bama viewers this season that most of the heat against Auburn came from the defense's left side. Right tackle in particular has been a sore spot throughout the season, whether manned by 6th-year senior Chris Owens, who started the first 8 games outside and has allowed a team-high 33 pressures at both RT and center, or redshirt freshman Damieon George Jr., who has started the past 3 but got yanked in the Iron Bowl after giving up 5 pressures and 2 sacks before halftime. Owens and George are listed as co-starters for Saturday; either way, they both figure to have their hands full opposite a Georgia pass rush that's everything it's cracked up to be.
Key matchup: Owens/George vs. Georgia OLB Nolan Smith
As a team, the Bulldogs have already recorded more sacks (41) than in any season since 2007, which is only one reflection of the many ways they make life difficult for opposing QBs. Outside, their top two edge rushers, Smith and fellow junior DE Travon Walker, are both former 5-star recruits (surprise) who have come into their own in Year 3 in the program, combining for 38 pressures and 9 sacks despite a crowded rotation at their respective positions and a whole lot of garbage time. With senior Adam Anderson still suspended indefinitely, Smith is in line for the vast majority of reps at the same outside linebacker slot from which Auburn's TD Moultry feasted on Bama's right tackles last week. Call it the "Jack," the "Buck," whatever. If the Tide don't figure something out over there, Brad Nessler and Gary Danielson are going to be calling Smith's name early and often.
2. Can Georgia cover Jameson Williams?
Let me rephrase this one: Can anybody cover Jameson Williams? Since midseason, the Ohio State transfer has emerged as the most electric big-play threat in the country, averaging a Jaylen Waddle-esque 20.4 yards per catch with 10 touchdowns over the past 7 games, 8 of them covering more than 30 yards.
https://twitter.com/PFF_College/status/1462177637380640769?s=20
Williams' absence against Auburn was palpable after he was ejected in the second quarter for targeting while covering a punt. (Because the penalty came in the first half it won't affect his status this week.) John Metchie III put in yeoman's work to pick up the slack, ultimately hauling in 13 catches for 150 yards, but much of that was simply a lack of literally any other viable option: With Williams out, the ground game stalled, and the offense facing a steady diet of 2nd- and 3rd-and-long, Young targeted Metchie an astounding 22 times, the majority of those coming within 10 yards of the line of scrimmage. They connected just once beyond 20 yards, for a gain of 22.
Against Georgia, the Crimson Tide are still going to need a steady, season-average type of day from Metchie on the short and intermediate routes that have accounted for more than 80% of his targets, and which frankly have served to fill the void left by a mediocre ground game. But stretching the field is Williams' specialty, it's what he's going to get paid millions of dollars to do at the next level, and after last week, especially, it's difficult to see how Bama is going to put points on the board without a couple of haymakers from their most explosive weapon.
Key matchup: Williams vs. Georgia CB Derion Kendrick
Kendrick, a Clemson transfer, hasn't made the splash Williams has in his new colors — arguably no one else in America has — but he has quietly been everything the Bulldogs hoped he would be when he portaled in over the summer, starting every game and holding opposing receivers without a touchdown to date.
Like any corner, though, he's had his moments on the grill against next-level competition. At Clemson, Kendrick was memorably roasted for a couple of long gains in last year's blowout Sugar Bowl loss vs. Ohio State by Chris Olave and Garrett Wilson, including a 56-yard touchdown that put the game on ice. (Jameson Williams himself also hauled in a 45-yard touchdown pass in that game for OSU, although not at Kendrick's expense.) And just a few weeks ago, Kendrick had his roughest outing as a Bulldog, giving up 7 catches for 165 yards to Tennessee's Cedric Tillman, the only opposing skill player who's registered anything even resembling a plus performance against Georgia's defense all year.
Between Kendrick and redshirt freshman Kelee Ringo, UGA has a couple future pros it can feel good about matching up against just about anybody in the college game. But Williams isn't just anybody, and with a big-play threat of his caliber it only takes a couple false steps to change the game.
3. Does Alabama have any RBs left?
The resident workhorse, senior Brian Robinson Jr., left the Auburn game with a pulled hamstring; he's day-to-day, per Nick Saban, putting his status for Saturday up in the air and his effectiveness in doubt even he's able to give it a go. Behind him, that leaves … uh, whew.
Well, there's still Trey Sanders, the former 5-star recruit turned serial injury casualty who earned the first non-garbage-time carries of his career last week after Robinson left the game. After a string of bad luck in his first couple years on campus, this could be his moment. Otherwise, the situation is grim: The No. 2 and No. 3 backs to open the season, sophomores Roydell Williams and Jase McClellan, are both done for the year due to knee injuries; ditto blue-chip freshman Camar Wheaton, who hasn't seen the field all year. Besides Robinson and Sanders, the only other available player who's taken a handoff at any point is a converted linebacker, Demouy Kennedy, who got a few carries late in a 59-3 win over New Mexico State.
This is a situation where it would be nice to have a quarterback capable of shouldering part of the load himself, which athletically Bryce Young certainly is. Still, despite his obvious mobility Young has been conspicuously absent in the run game: Per PFF, he's logged just 8 carries on designed runs, a category that includes busted plays and fumbled snaps he picked up or simply fell on. Essentially, he's a non-entity as a runner except on scrambles — a reasonable restriction, actually, considering his marginal size and the fact that Alabama absolutely cannot afford for him to get hurt. If ever there was a time to break glass on the zone-read package, though, this might be it.
Key matchup: Brian Robinson Jr. vs. His Hamstring.
Robinson's not going to go down in the pantheon of great Alabama running backs, but he has been a huge part of the offense, averaging 23.4 touches per game vs. Power 5 opponents and accounting for 100+ scrimmage yards in 7 of the past 8. At 225 pounds, he's built for a full day's work between the tackles, and specifically for moving the chains in short-yardage. In many ways he is Alabama's ground game. If he can't go, it will be a major loss and force the Tide to become even more one-dimensional than they already are.
When Georgia has the ball

1. Can UGA exploit Bama's linebackers in space?
Christian Harris and Henry To'o To'o are classic Bama linebackers: Big, veteran ballhawks with the size to take on blockers and the speed to get home in pursuit. It's easy to imagine either of them in the middle of a vintage Saban defense circa 2012. In keeping with the old-school theme, though, in pass coverage they've been ordinary at best. Per PFF, opposing QBs have completed more than 78% of targets with one or the other in coverage this year for 680 yards and five touchdowns, good for a healthy 8.6 yards per attempt. Their respective coverage grades (46.8 for To'o To'o; 50.4 for Harris) are the worst on the team, which on a unit that has legitimately struggled at times against the pass is saying something.
Georgia has the personnel to stress the linebackers in coverage in a couple of ways. One is true freshman TE Brock Bowers, who has capitalized on the absence of a go-to wide receiver (see below) to establish himself in the role instead. A quintessential "move" tight end who splits his time between the traditional inline role and the slot, Bowers leads the team in receptions (37), yards (652) and touchdowns (10), and boasts a home-run gear no human being his size has any right to possess.
The other is senior RB James Cook, brother of Dalvin, who doubles as one of the league's most lethal all-purpose types out of the backfield. Over the past 2 years Cook has five touchdowns on just 33 receptions, including an 82-yard strike against Alabama in last year's meeting in Tuscaloosa, where the Bulldogs managed to get him in single coverage against Harris as a de facto wide receiver and connected on a vertical route down the sideline for their longest play of 2020. Earlier this year, UGA took advantage of an identical mismatch at the expense of Tennessee LB Solon Page III, whose only solace was that at least Cook didn't have room to tack on another 60 yards after the catch with Page giving chase.
If a linebacker EVER goes one-on-one with James Cook on the perimeter, it's over. O-V-E-R pic.twitter.com/ulZddJWYEB

— Logan Booker (@LoganMBooker) November 13, 2021
Key matchup: Henry To'o To'o vs. James Cook
Alabama isn't likely to get caught with an inside 'backer trying to play cornerback again. But when a player like Cook has the ball in his hands, a big play is never more than a missed tackle away, and with To'o To'o, missed tackles have been a problem: PFF has dinged him for 17 whiffs this season, as many as Georgia's entire linebacker corps combined.
2. How close are UGA's WRs to full speed?
An underrated aspect of Stetson Bennett's success: He's done it with a badly depleted and inconsistent group of receivers whose availability has fluctuated from week to week. No Georgia wideout ranks among the SEC's top 25 receivers in catches, yards or touchdowns. The flip side of that is the receiving corps is tantalizingly close to full strength for the first time all season.
The headliner at the position, George Pickens, made his first appearance last weekend since tearing his ACL in the spring that threatened to derail his entire junior campaign; he played 7 snaps against Georgia Tech, catching 1 pass for 5 yards. Also in the rotation against Tech: Dominick Blaylock, a 2020 injury casualty who saw his first action in nearly two years in last week's win over Charleston Southern; Kearis Jackson, the Bulldogs' leading receiver in 2020, who's been limited by assorted injuries throughout the year; and TE Darnell Washington, a former 5-star recruit who continues to work his way back from a foot injury.
So far, Georgia has had the luxury of bringing the vets along slowly while a mostly unsung rotation of first- and second-year players (Jermaine Burton, Ladd McConkey, Adonai Mitchell) has accounted for the vast majority of the output at the position, very little of which has been strictly necessary opposite a defense giving up 6.9 points per game. Pickens and Blaylock aren't even listed on the official depth chart, for whatever it's worth. (My guess is not much, and both will see the field to some extent.) How the Bulldogs elect to manage snap counts and targets among the returning players and the up-and-comers might be the biggest X-factor for either team.
Key matchup: George Pickens vs. Rust
Pickens has managed an unusually fast recovery from a torn ACL, which may not be the career-threatening catastrophe it used to be but is still a serious injury to successfully rehab in 8 months. If he's all the way back, Pickens is one of the most dynamic receivers in the country and a matchup nightmare even for Alabama, whose corners (especially the veteran leader, senior Josh Jobe) haven't quite measured up to the usual Bama standard. If he's still testing it out, the Bulldogs may not have anyone else who moves the needle.
3. Can Georgia block Will Anderson Jr.?
Only a sophomore, Anderson has been the most productive edge players in the country, and arguably the most balanced: Although he's touted mainly as a pass rusher — 67 pressures and 15 sacks will have that effect — he's also been a consistent, every-down rock against the run, earning a 90.4 run defense grade from PFF, tied for the best of any SEC defender. Only a handful of players nationally have posted double-digit sacks or a 90+ grade against the run; Anderson is the only one who's managed both, which is why if I had to turn in a ballot today he'd be my pick for the Heisman.
Will Anderson doing Will Anderson things. pic.twitter.com/US0YnCyrHv

— Patrick Greenfield (@PCGreenfield) November 7, 2021
Only one team has managed to hold Anderson relatively in check: Texas A&M, which held him to a relatively pedestrian 3 QB pressures with zero sacks or TFLs back in October — a major factor in A&M QB Zach Calzada finding the space to play the game of his life en route to one of the season's biggest upsets. Obviously, keeping Bennett clean is the top priority if Georgia has any hope of replicating that result; just as obviously, that falls squarely under the category of easier said than done.
Key matchup: Anderson vs. Georgia RT Warren McClendon
Anderson lines up predominantly (though not exclusively) over the right tackle, which puts the onus on McClendon, a redshirt sophomore who has held down the right side in 21 of 22 games over the past 2 seasons and has yet to give up a sack this year. On Georgia's front, he's often overshadowed by rock-solid left tackle Jamaree Salyer, who has been almost impenetrable on the blindside for the second year in a row. (Even limited Anderson vs. Salyer snaps will be a pro scout's dream.) But McClendon, with a mere four QB pressures allowed on 300 pass snaps, already ranks among the SEC's most reliable pass blockers in his own right, and looks like a no-brainer to follow Salyer to the NFL next year. Holding his own against Anderson would go a long way toward cementing that reputation.
Special teams, injuries and other vagaries
Alabama kicker Will Reichard returned Earth this season after a perfect 2020, coming in 14-for-18 on field goals with a long of 51; relatively speaking, he remains the Crimson Tide's sturdiest option at that position in many years. His counterpart, Georgia's Jack Podlesny, turned in an eerily similar line, finishing 17-for-21 with a long of 46, and has the leg to expand that range — he didn't attempt a field goal from beyond 50 yards this year, but hit 3-for-4 attempts from 50+ last year. Call it a wash, with the mandatory caveat that when it comes to #collegekickers anything can happen at any time, and in a high-stakes game involving Alabama it probably will.
There's potential for fireworks in the return game, where Jameson Williams and Kearis Jackson are theoretically two of the more dangerous kick returners in the SEC. Williams is the only SEC player with 2 return TDs this season, both coming against Southern Miss. (Alabama has also allowed kickoff return for TD, on a blistering sprint by Texas A&M's Devone Achane.) But that will require them to actually have a chance to bring the ball out, which don't count on it: Neither Reichard (who has had just 22.1% of kickoffs returned) nor Georgia's Jake Camarda (15.7%) is in the habit of giving the guys waiting on the other end any incentive to take their chances.
Don't hit the fridge too soon on punts: Georgia has blocked 2 punts this year, and Alabama has blocked 3. That kind of lightning-bolt play is always a long shot, but in a game featuring blue-chip talent all the way down to the punt return unit, you never know when it might strike.
The verdict
Alabama is the underdog, coming in at +6.5, which is a kind of milestone in itself. Alabama is never the underdog: The Tide have kicked off as the Vegas favorite in 149 of their past 150 games going back to 2010, the lone exception coming in a September 2015 trip to Georgia where they were +1.
It doesn't require any deep analysis to understand what's behind that number.
Georgia has yet to be even remotely challenged since a 10-3 win over Clemson in the season opener, whereas the Crimson Tide have not only lost once, but in the meantime they've also been repeatedly taken to the wire by the likes of LSU, Arkansas and Auburn in November alone. By Bama standards, that's shockingly competitive.
You can question whether Alabama fans should be bothered by close wins, but here's the reason why they are.
Bama SEC regular-season wins by 7 pts or fewer
2021 4
2020 0
2019 0
2018 0
2017 1
2016 1
2015 1

— Brad Edwards (@JBradEdwards) November 30, 2021
The counterpoint to that argument, of course, is that the ease of Georgia's course so far has left it less prepared for a four-quarter game. It is worth acknowledging that all 3 of the traditional heavies on the schedule (Clemson, Auburn and Florida) suffered through their worst seasons in years; Clemson is still the highest-ranked team UGA has played according to the CFP committee, coming in at No. 20 in the latest rankings.
Along those same lines, the Bulldogs have yet to face their biggest fear: A second-half deficit that requires Stetson Bennett to throw them back into a game against a defense that knows it doesn't have to respect the run. Alabama forced Georgia into that situation last year, with sobering results. There's a legitimate concern that this team is only built to win one type of game.
But it's not 2020, it's certainly not 2015, and there's no indication that any other team in college football right now is good enough to force the 2021 Dawgs to play any other type of game but the one they want to play. The defense has asserted its will thoroughly and consistently on a weekly basis, and the offense has yet to leave it up to doubt. Alabama is a different kind of challenge, and Bryce Young is playing on a different level than any quarterback the Bulldogs have seen. But it's impossible to imagine a more daunting challenge in this unpredictable season than the one waiting for him on the other side of the line.
– – –
Georgia 24 | • Alabama 20