SEC
Monday Down South: Don't hand out the Heisman by default. Hand it to Will Anderson Jr.
Weekly takeaways, trends and technicalities from the weekend's action.
Don't worry: I'm not about to insult your intelligence by asking you to set aside all the very obvious reasons a defensive player – any defensive player, and especially one who plays predominantly with his hand in the dirt – is a bad bet to win the Heisman Trophy. The history of the award has made that much abundantly clear. So have the oddsmakers, who have made it just as clear that they continue to see it as essentially a quarterback award, even in a year when none of the top quarterbacks has distinguished himself according to the usual Heisman standards. If the skill guys aren't quite clearing the bar set by the likes of Kyler Murray and Joe Burrow over the past few years, well, maybe it's time to lower the bar.
No, you don't need me to explain the vagaries of Heisman politics. I'm just here to ask the question: With 1 week left before ballots are due, exactly what does Alabama's Will Anderson Jr. have to do in his closing statement to get his name on them?
Updated Heisman odds from BetMGM:

Bryce Young: -200
CJ Stroud: +450
Kenny Pickett: +1600
Kenneth Walker III: +2000
Matt Corral: +2500
Aidan Hutchinson: +2500
Jordan Davis: +4000
Desmond Ridder: +5000

— Mike Rodak (@mikerodak) November 28, 2021
Consider what the man has done already. On paper, Anderson is in rare company and getting rarer by the week. Through 12 games, he leads the nation in sacks, with 14.5, a single-season high for any Alabama player in the Saban era and twice as many as any current teammate. He leads the nation in tackles for loss, with 29.5, the most by a power-conference player in more than a decade and nearly twice as many as any other current SEC player. (Kentucky's Josh Paschal and LSU's Damone Clark are tied for second at 15.5 apiece.) With 3 TFLs in Saturday's old-school, multi-overtime slugfest against Auburn, Anderson has recorded multiple stops behind the line in 9 of Bama's past 10 games; at 2.5 TFLs per game, he's on pace to finish with more than any FBS player since at least 2005 – easily more than Ndamukong Suh, or Jadeveon Clowney, or Aaron Donald, or Chase Young, or anyone named Watt, each of whom he's already passed on the single-season list as a true sophomore. Easily.
Look at it this way: While the de facto front-runners, Bryce Young and CJ Stroud, continue to languish a rung or two below most of the statistical benchmarks set by the most recent Heisman-winning QBs – in an era when those numbers generally tend to keep going up – Anderson is hitting and surpassing nearly every milestone of what it means to be a Heisman-caliber defender. Since the turn of the century, 14 defensive linemen and linebackers have finished in the top 10 in Heisman voting, usually with just a few token protest votes; only 5 of them have earned at least 50 points, with only 3 (Suh in 2009, Manti Te'o in 2012, and Young in 2019) generating enough support to make the trip to New York as finalists. Statistically, Anderson has been as disruptive as they come on a more consistent basis.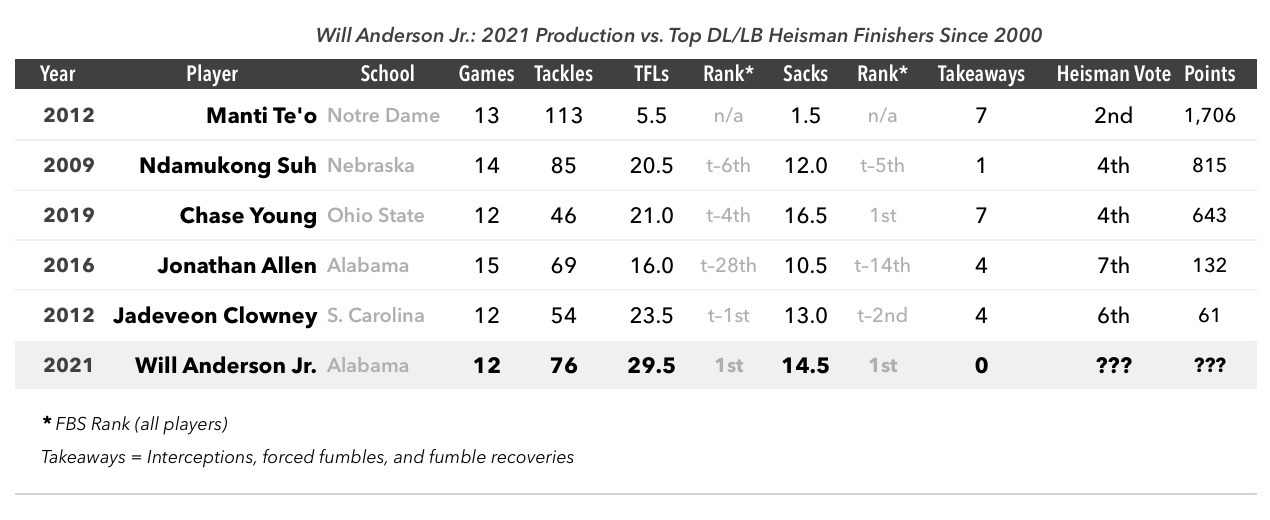 The comparison with Young, arguably the most dominant college pass rusher of the past few decades, is instructive. Strictly as a pass rusher himself, Anderson has been roughly just as productive, nearly matching Young's sack total in the same number of games while slightly outpacing him in QB pressures, per Pro Football Focus — PFF credits Anderson with 67 pressures to date this season, tied for 3rd nationally, compared to 56 for Young in 2019. But Anderson has been much more balanced in the process, staking his claim as an every-down player who rarely leaves the field and an elite defender against the run: He's 1 of only 5 players in PFF's database (dating back to 2014) with at least 60 pressures and a 90+ run defense grade in the same season, and the only one to do it in the last three years. As a team, Alabama's numbers against the run rank among the best in the nation, right alongside Georgia's; and Anderson, in addition to being a pocket-collapsing terror off the edge, is also the team's leader in solo tackles.
But then, at the end of the day the numbers only go so far, don't they? The really great ones, the guys whose names still ring out years later, resonate on a more visceral level. Seeing is believing. And in Anderson's case, truly appreciating his impact means seeing him not only in terms of his hellacious size, speed and tenacity, but also in the specific context of his role in Alabama's ongoing evolution on defense in response to the spread revolution.
For all the talent that's flowed through Tuscaloosa over the past 15 years, there's one position — the only position, other than kicker — where Bama has never cultivated a truly elite player on Nick Saban's watch: Outside linebacker, or "Jack," in Sabanese. There have been some good ones, of course; Courtney Upshaw, Tim Williams and Terrell Lewis come immediately to mind. But out of 37 consensus All-Americans and 39 first-round draft picks since 2007, the edge is the only position that, prior to this year, has yet to produce a single representative in either column.
Emphasis on yet. From pretty much the moment he set foot on campus, Anderson was destined to be that dude. He was recruited to be that dude, he showed all the promise of becoming that dude last year as a true freshman, he was widely expected to emerge as that dude coming into Year 2, and by midseason, it was obvious to anyone paying attention that was on his way to exceeding the hype.
The only question at this point is just how many Heisman voters have actually been paying attention, and just what he needs to do in this weekend's SEC Championship showdown against Georgia to get the ones who haven't watched to start before they defer to the chalk. Three sacks? Four? Lining up in a goal-line package on offense in a desperate bid for a viral highlight? Hitting somebody so hard their helmet enters orbit? Executing a powerbomb on Stetson Bennett IV? Toss him like a rag doll? Between his productivity, his consistency, and his next-level traits, it's clear enough even by Bama standards, Anderson is a rare specimen, one who may still turn out to be the best player on a championship team. Beyond this season, who knows? At his position, at least, the Saban-era Tide have legitimately never had another player quite like him. At this point in the dynasty, that should speak for itself.
Notebook
Around the conference.
Alabama 24 • Auburn 22 (4OT). Sometimes those real-time win probability charts that make the rounds after dramatic finishes like this one can seem a little dramatic themselves, or at least slightly misleading about it actually felt to watch unfold. And then there are the ones that capture the moment with ruthless precision:

There you pretty much have it. Even while the details are still fresh — the mounting frustration of Alabama's offense over the first 3 quarters, yielding to all-out, season-defining desperation in the 4th; Tank Bigsby's failure to stay inbounds with Auburn's offense in clock-killing mode at the end of regulation; the Tigers' dubious decision to kick the PAT to tie at the end of the first overtime session rather than go for 2 and the win — the basic outline of Bama's comeback and its place in Iron Bowl history was unmistakable the second John Metchie III crossed the line for the winning points. Auburn had the Tide flat on the mat, foot on their throat, and somehow still wound up on the wrong end of a knockout.
It's to Alabama's credit, and specifically to Bryce Young's, that they managed to eke out a death-defying win in a game they were repeatedly only one play away from losing. (At one point, with Auburn's offense facing 3rd-and-1 following Bigsby's ill-fated out-of-bounds run inside of 2 minutes, the Tide were 1 yard away from losing; they subsequently dropped Bigsby for a 4-yard loss on 3rd down to force a punt instead, setting up the 97-yard, game-tying touchdown drive that instantly entered into Bama lore.) For a team still harboring championship ambitions, though, the fact that they found themselves in the hole in the first place looms just as large going forward as the fact they dug themselves out.
The offensive line looked like it was stricken with vertigo; Young faced pressure on nearly a third of his 61 dropbacks, per PFF, and was sacked 7 times, a barrage recalling the "Honk If You Sacked Brodie" game from the days when Auburn owned the series. Right tackle, in particular, a sore spot all year, stood out in the worst way, with Damieon George Jr. and Chris Owens giving up a combined 9 pressures alone. When he managed to get the ball off under duress, Young was just 3-for-12 on pressured attempts with an interception, a steep decline from his remarkable efficiency under pressure for most of the season. The ground game was streaky but unreliable, and largely irrelevant for long stretches as Bama struggled to stay out of 2nd- and 3rd-and-long. Alabama led the nation in 3rd-down conversions coming into the game but finished just 8-of-22 on Saturday, the majority of those conversions coming in the fourth quarter and overtime. The passing game clearly missed Jameson Williams' explosiveness after he was ejected in the first half for targeting while covering a punt; later on, starting RB Brian Robinson Jr. left the game late with a pulled muscle, leaving oft-injured backup Trey Sanders as the only available back down the stretch, and possibly for the SEC Championship Game.
Aside from getting Williams back, none of those issues are the kind that can be expected to resolve themselves with Georgia's juggernaut defense on deck and a national title shot hanging in the balance. There might be something to the notion that UGA's historic success on that side of the ball to date is partly a byproduct of feasting on a steady diet of mediocre to bad offenses; other than maybe Arkansas' Treylon Burks, the Bulldogs haven't faced a game-breaker comparable to Williams or Metchie, much less 2 of them on the same team, and they definitely haven't run up against a quarterback as efficient or elusive as Young. But finding out how their headliners stack up against the Dawgs inevitably means blocking the Dawgs, and after Saturday that proposition is looking dicier than ever.
Georgia 45 • Ga. Tech 0. There were no numbers Stetson Bennett IV could have conceivably put up against Georgia Tech's defense that might have eased concerns about his limitations entering the postseason, but for the record his final line in Atlanta (14/20, 255 yards, 4 TDs, 0 INTs, 3rd-quarter exit) was about as close to perfect within the confines of Georgia's low-octane blowout offense as it gets. He finished with career highs for pass efficiency (243.1) and QBR (97.2) before UGA pulled the plug on the passing game, moving into the SEC lead for the season on both counts.
Brock Bowers is a real problem pic.twitter.com/AEzJkpljxs

— Cam Mellor (@CamMellor) November 27, 2021
As far as the postseason outlook is concerned, the bigger news Saturday was a receiving corps that was tantalizingly close to full strength for the first time all season. The headliner at the position, George Pickens, made his first appearance since suffering a torn ACL in the spring that threatened to derail his entire junior campaign; he played 7 snaps, catching 1 pass for 5 yards. (For what it's worth, the timing of his return not only allows him to ramp up in time for a Playoff run but also to preserve a year of eligibility by writing this season off as a redshirt; in Pickens' case, that's almost certainly academic.) Also in the rotation: Dominick Blaylock, a 2020 injury casualty who saw his first action in nearly 2 years in last week's win over Charleston Southern; Kearis Jackson, the Bulldogs' leading receiver in 2020, who's been limited by assorted injuries throughout the year; and TE Darnell Washington, a former 5-star recruit who continues to work his way back from a foot injury.
So far, Georgia has had the luxury of bringing the vets along slowly while a mostly unsung rotation of first- and second-year players (Brock Bowers, Jermaine Burton, Ladd McConkey, Adonai Mitchell) has accounted for the vast majority of the output at the position, very little of which has been strictly necessary opposite a defense giving up 6.9 points per game. But that can change quickly as the degree of difficulty ramps up sharply this weekend against Alabama, and how the Bulldogs elect to manage snap counts and targets among the wideouts if it does might be the biggest x-factor for either team.
Florida 24 • FSU 21. Well, in spite of everything, the Gators are going bowling after all at 6-6. More importantly: As of Sunday, they have a new head coach.
Gator Nation, let's welcome Head Coach Billy Napier to The Swamp! #GoGators pic.twitter.com/Je7Z5tK1gI

— Florida Gators Football (@GatorsFB) November 28, 2021
In the hierarchy of blue-chip coaching hires, I think it's fair to say Billy Napier isn't the kind of name that inspires hosannas from a dejected fan base at a place like Florida. He's certainly not as instantly recognizable or bankable as, oh, let's say, Lincoln Riley. He has no track record as a Power 5 head coach, and an uneven one as a coordinator. In 4 years at Louisiana-Lafayette, his teams were just 1-4 vs. Power 5 opponents, the lone win coming in the 2020 season opener vs. Iowa State.
By just about any other standard, though, Napier's résumé at ULL was impeccable – so much so that media outlets finally acquiesced to the university's insistence on dropping the "Lafayette" and referring to itself simply as "Louisiana," a move made much less awkward by the fact that, more or less out of nowhere, the product on the field suddenly transcended the directional label for the first time. The past 3 seasons are easily the best in school history, yielding 32 wins, a point differential of +14.5 points per game, the program's first Top-25 finish and 3 consecutive division titles in the Sun Belt West. This weekend the Cajuns (currently ranked 20th in the AP poll at 11-1) will play Appalachian State in the SBC Championship Game for their first outright conference title in 51 years, an opportunity they were denied in 2020 when the title game was canceled to COVID-19.
OK, so the guy can coach. Can he recruit? Dan Mullen, a revered Xs-and-Os coach, never fully adapted the developmental blueprint that served him so well at Mississippi State to the cut-throat reality of recruiting at a championship level, as reflected in his dismal record against the blue-chip factories at Alabama, Georgia and LSU. (Of the 6 former 5-star recruits on Florida's roster, only 2 – sophomore DL Gervon Dexter and freshman DB Jason Marshall – were Mullen signees out of high school; the others, most notably DE Brenton Cox Jr. and WR Justin Shorter, transferred in after washing out elsewhere.) The top priority for his successor is closing the gap in the Jimmys and Joes.
On that front, Napier does have experience in high-stakes, hard-crootin' environments, having served as an assistant for Dabo Swinney at Clemson (2006-10) and Nick Saban at Alabama (2013-16) with an abbreviated stint as Florida State's recruiting coordinator under Jimbo Fisher in between. Not surprisingly given that background, he quickly earned a reputation in Lafayette as an energetic recruiter, landing the Sun Belt's top class per 247Sports' composite ratings 3 years in a row from 2019-21. Beyond the wins and losses themselves, the foundation Napier laid for sustained success was one of the major factors that kept him lurking on the shortlist of Group of 5 candidates ready to make the jump to a Power 5 job over the past couple of cycles.
Now his patience has paid off in one of the small handful of Power 5 gigs with verifiable national championship potential and not as far to go as its collapse over the second half of the season implies. It's a golden opportunity for an up-and-comer; it can also be a short-lived one, as the past 3 guys who have sat in the same chair can attest. On the front end, Napier looks like a perfectly fine, by-the-book hire, just like them. Check back in 2 years.
Superlatives
The week's best performances.
1. Alabama OLB Will Anderson Jr. / Auburn OLB TD Moultry. Anderson was his usual disruptive self against Auburn, turning in a typical Will Anderson state line — 7 tackles, 3 TFLs, 1 sack — on one of the season's biggest stages. Moultry, on the other hand, played the game of his life: After missing essentially the entire month of October to injury, he was credited with more QB pressures on Saturday (10) than in his previous 4 SEC games combined (6). Together, Moultry and his fellow bookend, Derick Hall, brought the most sustained heat Bryce Young has faced all season, combining for 14 pressures and 4 of Auburn's 7 sacks in what coulda been, shoulda been, and very nearly was a season-defining upset on their shoulders.
2. LSU LB Damone Clark / Texas A&M DE Micheal Clemons. Clark and Clemons, both seniors playing in their final regular-season game, left it all on the field in LSU's come-from-behind, 27-24 win in Baton Rouge. Clark, a Butkus Award finalist who ranks among the FBS leaders in tackles on the year, finished with 10 stops and a career-high 3 sacks, doubling his season total and cementing his all-conference bona fides. On the other side, Clemons was a constant presence in the Tigers' backfield, racking up 9 QB pressures and 4 sacks — his first since the Alabama game in early October.
3. LSU WR Jaray Jenkins. Jenkins, a redshirt junior, turned in a career night against the Aggies, setting personal bests for receptions (8) and yards (169) while scoring twice, including the decisive TD from Max Johnson with less than 30 seconds to play.
JARAY JENKINS. GAME-WINNER.

Death Valley: where opponents' dreams come to die. pic.twitter.com/YAqRHpNupG

— SEC Network (@SECNetwork) November 28, 2021
Did he get away with a slight push-off at the expense of A&M corner Jaylon Jones? Maybe. Was anyone other than Jones thinking twice about it on Sunday morning? Definitely not. Jimbo Fisher was on his way to the bank and Ed Orgeron was on his way to the beach.
4. Kentucky QB Will Levis. I doubt many Kentucky fans were still on the fence re: Levis before Saturday's 52-21 romp over Louisville, but if they were, well, it's safe to assume they're not anymore. The Penn State transfer capped a solid, efficient campaign with arguably his most solid, efficient outing to date, accounting for 262 total yards (149 passing, 113 rushing), scoring 4 touchdowns as a runner, and hurdling a dude in the open field for good measure. As a team, the Wildcats piled up 362 yards rushing on 7.4 per carry, both season highs — the 3rd consecutive meeting in the series in which they've gashed Louisville for 300+ on the ground with 3 different quarterbacks leading the march.
5. Alabama WR John Metchie III / Auburn CB Roger McCreary. Metchie vs. McCreary was a next-level battle between a couple of future pros who each gave as good as he got. With Jameson Williams on ice for most of the afternoon, Bryce Young targeted Metchie a staggering 14 times while matched up against McCreary, per PFF; on those targets, Metchie won half of them, hauling in 7 receptions for 110 of his 150 yards on the day, while McCreary more than held his own on the other half, forcing 7 incompletions with 4 passes defended. Altogether, he forced more incompletions on Saturday (11 on 19 targets) than any other SEC corner in any game this season.
Metchie won the last round, shaking McCreary on the game-clinching 2-point conversion. By that point, though, neither had much left to prove.
Honorable Mention: Arkansas WR Treylon Burks, who went for 129 yards and a touchdown on 7 receptions in what will almost certainly be his last game in Fayetteville, a 34-17 win over Missouri. … Mizzou RB Tyler Badie, who closed out a prolific regular season with 41 carries for 219 yards against the Razorbacks in a losing effort. … Ole Miss QB Matt Corral, who accounted for 279 total yards and 2 TDs in the Rebels' win at Mississippi State. … Ole Miss OLB Sam Williams, who wreaked havoc off the edge against the Bulldogs with 8 QB pressures and 2 sacks. … Florida OLB Brenton Cox Jr., who turned in the best day of a disappointing season with 4 sacks and a forced fumble in the Gators' 24-21 win over Florida State. … Georgia LB Nakobe Dean, who was his usual productive self with 6 tackles, 3 QB pressures, and a sack in the Bulldogs' shutout win over Georgia Tech. … Georgia TE Brock Bowers, who accounted for the lion's share of Stetson Bennett IV's stat line with 100 yards and 2 TDs on just 3 receptions. … South Carolina DB Cam Smith, who picked off 1 pass, broke up 2 more, and allowed just 1 reception (for 6 yards) on 5 targets in a 30-0 loss to Clemson. … Alabama DB DeMarcco Hellams, who finished with 6 tackles and 3 PBUs on 4 targets against Auburn. … And Alabama QB Bryce Young, solely for orchestrating the epic, game-tying 97-yard drive at the end of regulation and the winning plays in overtime on an otherwise miserable afternoon.
– – –
The scoring system for players honored in Superlatives awards 8 points for the week's top player, 6 for second, 5 for third, 4 for fourth, 3 for fifth, and 1 for honorable mention, because how honorable is it really if it doesn't come with any points? The standings are updated weekly with the top 10 players for the season to date.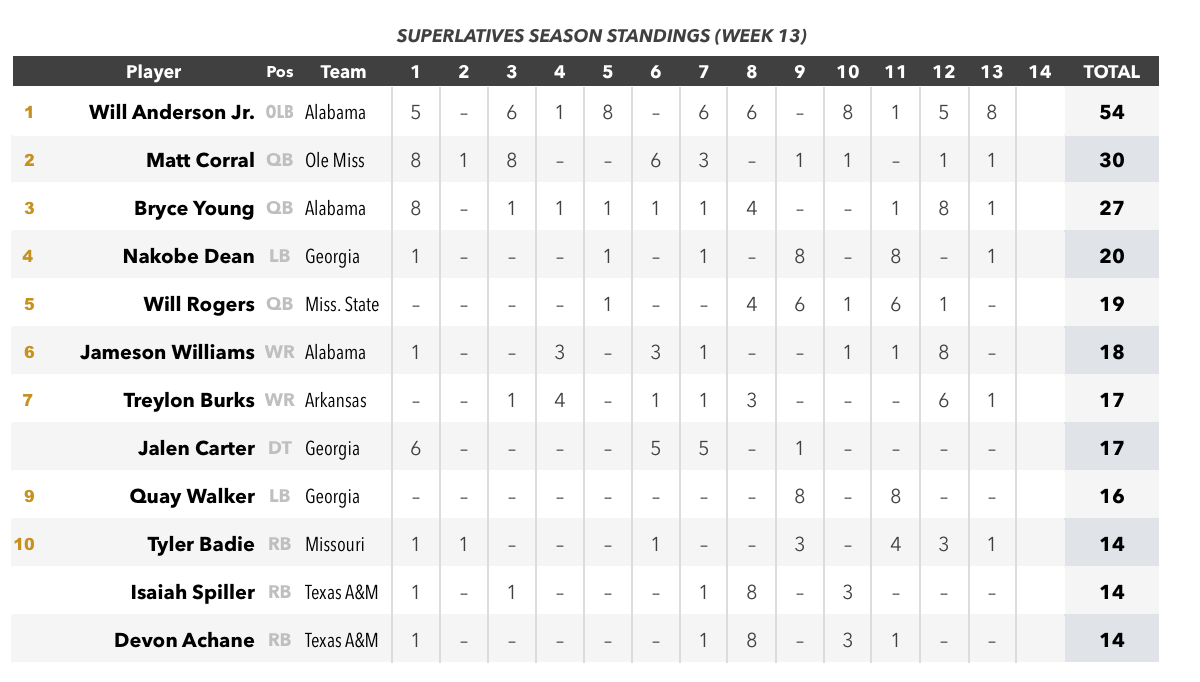 SEC Power Rankings
Updating the food chain.
1. Georgia (12-0). I'm sure no one in the locker room is thinking this way, but Michigan's upset over Ohio State was very likely a win for Georgia, too: The Wolverines just eliminated arguably the only offense with the firepower to potentially hang 30+ points on UGA's defense in a Playoff game. (Last week: 1 ⬌)
2. Alabama (11-1). I'm with everybody else: The revised overtime rules stink. There's no excuse for a classic, high-stakes game like Saturday's Iron Bowl to be decided by an essentially random 2-point shootout. The Field Position Auction is an idea whose time has come. (LW: 2 ⬌)
3. Ole Miss (10-2). We spent all offseason speculating how good Ole Miss could be with even a marginally improved defense, and we found out: Although the offense took a step back compared to 2020, the defense under second-year coordinators Chris Partridge and DJ Durkin improved by more than 10 points and 70 yards per game vs. Power 5 competition. (LW: 3 ⬌)
4. Arkansas (8-4). Razorbacks may be the most improved team in America that doesn't have to worry about its head coach being poached in a highly volatile market — at least, not yet. (LW: 5 ⬆)
5. Texas A&M (8-4). When Jimbo Fisher left Florida State for College Station, it looked like a one-off under highly specific and personal circumstances — as a rule, coaches who manage to land a job with national championship potential have no incentive to trade it in for another one. But with the enormous amount of money and pressure driving a move like Lincoln Riley's leap from Oklahoma to USC, it may be time to rethink that calculation. (LW: 4 ⬇)
6. Kentucky (9-3). Has Mark Stoops peaked in Lexington? Job security is at a premium these days, but if LSU and/or Oklahoma is smart enough to offer him the job, he's got a lot of thinking to do about how badly he wants to win a championship, where that's possible, and where it isn't. (LW: 7 ⬆)
7. Mississippi State (7-5). With 2 misses against Ole Miss, MSU kickers Nolan McCord and Brandon Ruiz finished with 11 combined misses on 25 field-goal attempts on the year — the most misses by any FBS team this season and the most by an SEC team since Auburn missed 11 in 2018. (LW: 6 ⬇)
8. Auburn (6-6). The Tigers' mandatory 2-point play in the 3rd overtime vs. Alabama, a screen pass to TE John Samuel Shenker, was a well-designed call that worked to perfection, evening the score and extending the game to a 4th OT. Too bad they didn't call it instead of kicking the PAT to tie in the first overtime, when it could have won the game. (LW: 8 ⬌)
9. Tennessee (7-5). Never say never, but take rumors of Oklahoma's interest in Josh Heupel and vice versa with a grain of salt. Heupel is an OU legend from his playing days, but his most recent stint in Norman, as offensive coordinator under Bob Stoops, ended badly and it's unclear if those fences have been mended. (LW: 9 ⬌)
10. LSU (6-6). Tigers fans have been simming to the end of games for 6 weeks and finally get to focus on the important stuff: Coaching drama and recruiting. (LW: 10 ⬌)
11. Missouri (6-6). No Power 5 player got the ball more often season or did more with it than Tyler Badie, who quietly averaged 26.9 touches and 161.6 yards per game — 2nd nationally on both counts only to Central Michigan's Lew Nichols III. (LW: 11 ⬌)
12. South Carolina (6-6). Gamecocks are going bowling despite getting outscored by more than a touchdown per game by FBS opponents. Only 1 of their 5 FBS wins came by double digits (a 40-17 stunner vs. Florida) compared to 4 of their 6 losses. (LW: 12 ⬌)
13. Florida (6-6). Advanced metrics are not this harsh on the Gators, generally rating them as a top 40-ish outfit, but they lost to all 3 of the 6-6 teams directly above them here, so basement-adjacent feels right. (LW: 13 ⬌)
14. Vanderbilt (2-10). There's always next year, officially. With Saturday's loss to Tennessee, the Commodores enter 2022 on a 21-game conference losing streak. (LW: 14 ⬌)
Moment of Zen of the week
As called on Russian TV: pic.twitter.com/Q8NRJLIW1B

— Timothy Burke (@bubbaprog) November 27, 2021