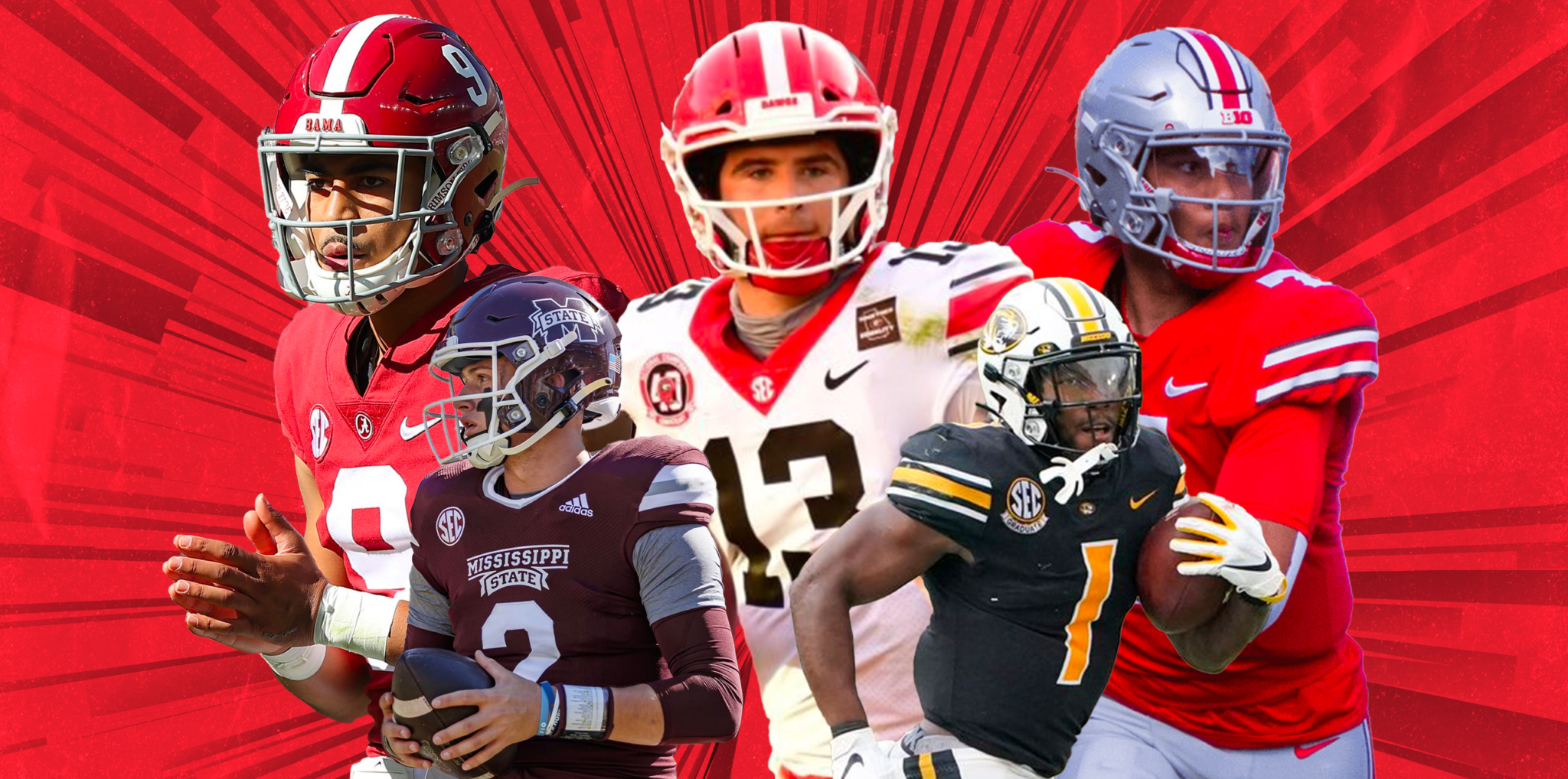 SEC
Monday Down South: For better or worse, it's Stetson Bennett's show at Georgia
Weekly takeaways, trends and technicalities from the weekend's action.
On the Internet, perhaps, the debate rages on. Maybe on the message boards, or Twitter, or wherever you lurk, you can still find a few remaining shreds of doubt. Somewhere on 24/7 sports radio, for sure, they're still hashing it out as we speak. In reality, the race is over. Kirby Smart may not be willing to call it on the record, but I am: Stetson Bennett IV is Georgia's starting quarterback.
No more asterisks, no more hedging, no more footnotes explaining why he's (probably) just keeping the seat warm for the time being. Bennett is The Guy, full stop. Barring a dramatic turn of events, he's going to remain The Guy for the foreseeable future. The Bulldogs have won 6 in a row with the former walk-on taking every meaningful snap, all of them decided by at least 17 points, and most of them with now-former starter JT Daniels looking on in full pads and apparent health, having long since been cleared to return from the muscle strain that briefly sidelined him more than a month ago. They're not bringing him along slowly or waiting for the right time to make the switch. They're just not making the switch.
And really, at this point, the case that they should is beginning to wear a little thin. As the weeks go by and the wins rack up, it's getting harder to remember why it once seemed like such a foregone conclusion that Bennett was a mere stopgap in the first place.
Obviously, Georgia didn't pursue Daniels on the transfer market just to have him on clipboard duty, and given the chance he's lived up to the hype, winning all 7 of his starts in the red and black dating to last November. Just as obviously, the Rudy-esque Bennett is never going to look the part of a future first-rounder. By any other measure, though, he has played his part as well as even the most unforgiving skeptic could ask for. With the regular season drawing to a close, he leads the SEC and ranks among the top 5 nationally in yards per attempt, overall passer rating and Total QBR. Against type, he also leads the conference in average depth of target (11.8 yards), defying doubts about his downfield arm strength. In fact, Bennett has connected on 56.5% of his attempts of 20+ yards, per Pro Football Focus, the best completion percentage among all Power 5 quarterbacks. Saturday's 41-17 win at Tennessee was his 5th straight game with a touchdown pass in that category.
Hell of throw and catch to cap a 90 yard touchdown drive.
Stetson Bennett ➡️ James Cook pic.twitter.com/UKXX3JPDrQ

— Dayne Young (@dayneyoung) November 13, 2021
Not exactly the stuff of controversy, under normal circumstances. If Daniels, the former 5-star recruit, was the one on pace to break the school record for pass efficiency in the course of a 10-0 start, he'd be hailed as the missing link in Georgia's championship ambitions and probably as a Heisman candidate, even in the shadow of a historically dominant defense. The fact that Bennett has to settle for the "game manager" tag doesn't change the results, which speak for themselves. If it ain't broke …
Of course, just how much faith you put in the status quo might depend on just how closely you've followed the ongoing saga of Georgia's quarterback position over the past five years. For their part, Dogs fans can be forgiven if the prospect of riding into the postseason with a golden national championship opportunity riding on the arm of a guy who's spent most of his career on the scout team continues to make them itch. They watched Bennett struggle last year in season-defining losses to Alabama and Florida, games in which his limits suddenly looked very obvious opposite a couple of blue-chip defenses, and they watched Daniels begin to fulfill his potential by taking immediate command of the job down the stretch. Before that, they endured one of the most gripping retroactive QB controversies of all-time after watching once-prized recruit Justin Fields make good on his enormous talent at Ohio State instead of in Athens.
The dynamics of the logical-but-doomed decision to ride with Jake Fromm while relegating a superior athlete to understudy are still fresh in the UGA hive mind, for good reason. It's not for nothing that the prevailing theme of the offseason was Daniels' capacity to finally open up the downfield passing game when it really matters — or that Bennett, who profiled as the type of player who tops out as a quality backup, didn't figure into the outlook at all.
The fact is, the lingering questions about Bennett's limitations against Playoff-caliber defenses can't be addressed until he actually steps on the field against a Playoff-caliber defense. The nearest approximations he's faced so far this season have yielded his best performance (vs. Auburn) and his worst (vs. Florida), both in games the defense had well in hand from start to finish. (Bennett didn't play in the opener against Clemson, which memorably held Georgia's offense to 3 points with Daniels at the helm and has continued to field an elite defense in the meantime.) Keeping pace with Alabama or Ohio State, explosive attacks that are actually capable of putting some points on the board against any defense, will be an entirely different challenge.
With each passing week, though, it's more clear that when that moment arrives it's going to be Bennett's challenge to meet. For better or worse, the fate of what may be Georgia's best chance yet to end its 41-year national title drought is largely in his hands.
Notebook
Around the conference.
Georgia 41 • Tennessee 17. Tennessee's offense is the best Georgia has faced to date and looked like it, setting season highs for an opposing offense in terms of total yards (387), first downs (22) and pass efficiency (130.2), not to mention points. The Vols' opening possession, an up-tempo, 10-play, 77-yard touchdown drive, was the most impressive drive of the season against UGA — the Bulldogs had not previously allowed a touchdown with less than a 14-point lead — and they wasted no time following it up with a 13-play, 76-yard march for a field goal. Georgia trailed at the end of the first quarter, 10-7, for the first time all year.
But even that relative success was fleeting: After taking the lead, Tennessee didn't cross midfield again until after halftime, by which point it trailed by double digits and was forced to leave QB Hendon Hooker at the mercy of the Bulldogs' pass rush; he was dropped 6 times in all and committed 2 turnovers, both of which set up short-field Georgia touchdown drives in UT territory. Despite some impressive garbage-time stat-padding (especially by Vols receiver Cedric Tillman, who tacked on 121 of his 200 receiving yards in the fourth quarter), any notable cracks in the facade of the Georgia D remain strictly hypothetical.
Ole Miss 29 • Texas A&M 19. Most of the offseason buzz surrounding Ole Miss involved speculation over what Lane Kiffin's Rebels might be capable of with even a marginally improved defense. At 8-2 with a New Year's 6 bowl and a top-10 finish squarely in their sights, I think it's fair to say we have our answer.
Speed kills. pic.twitter.com/PTx0slgpTj

— Ole Miss Football (@OleMissFB) November 14, 2021
Ironically, the Rebels' breakthrough has come despite diminishing returns on offense, where they're averaging almost a full touchdown less per game vs. Power 5 opponents than in 2020. The defense has more than picked up the slack, improving from 38.3 ppg allowed last year vs. Power 5 offenses to 30.0 ppg under second-year coordinators Chris Partridge and DJ Durkin, and has improved as the year has worn on. The unit that gave up 676 yards and 51 points in a towering inferno of a game against Arkansas a little over a month ago has been replaced by one that can finally hold its own.
Saturday night was Ole Miss' best win on Kiffin's watch, and adjusted for competition, the best defensive effort by a wide margin. Ole Miss dominated the first half, forcing 5 punts and a safety on the Aggies' first 6 possessions, and made just enough plays in the second to stave off a comeback, coming up with back-to-back interceptions in the fourth quarter — both leading directly to touchdowns via a short field and a pick-6, respectively — that slammed the door shut. On the other side, the offense came up empty on 7-of-10 trips into A&M territory, a blueprint for disaster in a shootout; for once, the defense had their back.
Beyond simple regression to the mean, much of the credit for the turnaround goes to a transfer brigade that has taken up roots across the depth chart. Against Texas A&M, 5 of the Rebels' top 8 tacklers on the night started their college careers elsewhere, all but one of whom are in their first year in the lineup. (The lone exception, safety Otis Reese, got on the field at the tail-end of the 2020 season after a protracted wait on an eligibility waiver following his transfer from Georgia.) The top 3 tacklers on the season, Reese, linebacker Chance Campbell (Maryland) and linebacker Mark Robinson (SE Missouri State), are all imports, as are secondary starters Jake Springer (Navy) and Deane Leonard (Calgary). The best of the holdovers, senior OLB Sam Williams, has emerged as one of the league's most feared edge rushers, and one of the most dramatically improved: His 52 QB pressures and school-record 11 sacks on the season already match his 2019-20 output combined.
Ole Miss is up to No. 10 in the updated AP and Coaches' polls, their highest standing since the final poll in 2015, with 2 imminently winnable games on deck vs. Vanderbilt and Mississippi State and a trip to the Peach or Fiesta Bowl theirs for the taking; if they pull off a finish in the single digits in the AP poll, it will be for the first time since 1969. Would any of it be possible in an alternate timeline wherein Elijah Moore doesn't lift his leg in the end zone at the end of the 2019 Egg Bowl? The world will never know.
Mississippi State 43 • Auburn 34. When Mississippi State hired Mike Leach, it had a specific vision of what it was getting from the icon of the Air Raid, and that vision looked something like this:

Not only did the Bulldogs storm back from a (yes) 28-3 deficit to drop a ranked SEC West rival on the road: They did it with plenty of room to spare, scoring the go-ahead touchdown less than 2 minutes into the fourth quarter on the 4th of their 6 consecutive touchdown drives. They did it without changing a thing. The 25-point rally set a new record for the largest comeback in school history for the second time this season, surpassing a 20-point comeback in the opener against Louisiana Tech.
Early hole notwithstanding, this is what it's supposed to look like. Since a humbling performance against Alabama on Oct. 16, sophomore QB Will Rogers has looked like a vintage Leach quarterback, throwing for 15 touchdowns to 3 INTs over the past 4 games with a passer rating north of 170.0 in each of the past 3, a mark he'd never hit before in 15 career starts. His final line Saturday (44/55, 415 yards, 6 TDs, 0 INTs) would be his best regardless of the opponent or the circumstances; on the road, at Auburn, facing a steep uphill climb almost right from the start, it was "playing within the offense" taken to its fullest extreme.
? 415 Pass Yds
? 6 Pass TD
? 25-point comeback vs. Auburn

What a day for Will Rogers. What a game for the @HailStateFB. pic.twitter.com/1hpuyxT7Hj

— SEC Network (@SECNetwork) November 13, 2021
Per the usual with Leach teams, the Bulldogs are capable of just about anything on any given Saturday, from ambushing Texas A&M or Auburn on the road to getting upset by Memphis. But Saturday's rally was a vision of what this system can be at its best, even when the talent on hand is not. The question now is how close they can come to hitting that mark again, and how often.
Obscure stat of the week
Florida won, but its defensive collapse in a 70-52 debacle against Samford was historic in all the wrong ways: One week after firing defensive coordinator Todd Grantham, the Gators matched the record for points allowed by a I-A/FBS school to a I-AA/FCS opponent going all the way back to the original I-A/I-AA split in 1978. The Bulldogs, whose last win over an SEC team came in 1934, scored touchdowns on 5 of their first 6 possessions in the first half and also took a punt to the house for good measure, hanging an astounding 42 points on The Swamp scoreboard before halftime. If there's ever been a worse effort by an SEC defense, I'm not sure I even want to know.
Superlatives
The week's best performances.
1. Georgia LBs Nakobe Dean, Quay Walker, and Channing Tindall. Superlatives policy re: Georgia's defense dictates that weekly recognition goes to an entire unit rather than attempting to single out an individual from the pack. This week's honors go (again) to the inside linebackers, who combined for 25 tackles, 6 tackles for loss, 9 QB pressures and 2 forced fumbles in the win over Tennessee, flashing the full range of their collective skill set in the process.
NAKOBE DEAN MAN COVERAGE ?

LB1 continues to improve ?? pic.twitter.com/ucpMMWTc0m

— Boom or Bust: The Draft Show (@BoomOrBustDraft) November 13, 2021
HOWEVER: As much as UGA's success is a collective effort, with awards season looming it's past time to start shining a spotlight on Dean, specifically, who's putting together an All-America campaign, at minimum, and potentially one capable of generating some late-breaking Heisman buzz in a year when the field of conventional QB/RB candidates is unusually thin. Week-in, week-out, Dean has been Georgia's most consistent, active, and versatile player, equally likely to show up on multiple sacks or a pick-6. (Or potentially both.) He ranks among the team leaders in almost every conventional category, as well in some of the less conventional ones, too, boasting elite grades from the film eaters at PFF as both a pass rusher (92.7) and in coverage (90.8). His overall PFF grade (92.1) is tied for 2nd among Power 5 defenders — only Michigan's Aidan Hutchinson comes out ahead — and, for now, is identical to the number posted by Roquan Smith in his All-America/Butkus Award-winning season in 2017. The Dogs have missed a Roquan-level force in the middle over the past few years, and Dean's leap this year is more proof of how much difference having one makes.
2. Mississippi State QB Will Rogers. Rogers' perfect second half at Auburn earns him his 4th Superlatives nod in as many weeks, making him arguably the hottest quarterback in the conference. As an occasional Air Raid skeptic, it's my turn to give credit where it's due: His growth from checkdown king into a consistently reliable downfield passer may be the most remarkable trend line of any current SEC starter.
3. Ole Miss RB Jerrion Ealy. Ealy slumped through a relatively blah October due to a concussion, but he's off to a blazing start in November, putting together his most productive games of the season the past 2 weeks in wins over Texas A&M and Liberty. On Saturday, he shredded the Aggies for a career-high 152 yards rushing on 6.3 per carry – virtually all of it coming after contact — while adding another 34 yards as a receiver.
Jerrion Ealy out here stealing souls. pic.twitter.com/s8s1A0jKxc

— Ole Miss Football (@OleMissFB) November 14, 2021
Although he's known as the more electric half of the Rebels' thunder-and-lightning rotation alongside Snoop Conner, Ealy is consistently one of the league's most efficient tackle-breakers: Per PFF, just shy of 75% of his total output on the ground this season has come after contact, easily the highest rate in the SEC among backs with at least 300 yards.
4. Missouri RB Tyler Badie. You might not have noticed unless you're a) A diehard Missouri fan, or b) An obsessive visitor to cfbstats.com, but Badie is quietly in the midst of one of the most productive campaigns in school history. As usual when the Tigers win, he was the star of Saturday's season-saving, 31-28 victory over South Carolina, turning in his 4th 200-yard rushing game of the year on a career-high 34 carries. That moved him within plausible striking distance of the single-season Mizzou rushing record, leaving him 339 yards short of the mark (1,578 yards, set by Devin West in 1998) with dates against Florida and Arkansas on deck to close the regular season. An upset in either of those games to secure bowl eligibility would go a long way toward moving Badie's name to the top of the list.
5. Arkansas CB Montaric Brown. Brown made the decisive play in Arkansas' overtime win at LSU, hauling in a jump-ball interception in the end zone in the extra frame to set up the game-winning field goal a few plays later. But the pick, his 4th of the year, was only the cherry on top of a career night for the 5th-year senior: Altogether, the 6 targets LSU aimed in Brown's direction yielded a single reception for 5 yards.
Honorable Mention: Georgia RB James Cook, who accounted for a career-high 147 scrimmage yards with 3 touchdowns against Tennessee. … Texas A&M RB Devon Achane, the Aggies' lone bright spot on offense with 110 yards and 2 touchdowns on 9.2 per carry against Ole Miss. … Texas A&M DL DeMarvin Leal, who played up to his first-round reputation in Oxford with 7 tackles, 4 QB pressures, 2 TFLs and a forced fumble. … Missouri DE Isaiah McGuire, who led Mizzou's front line with 5 QB pressures, 2 TFLs and a forced fumble in the win over South Carolina. … Arkansas LBs Bumper Pool, Grant Morgan and Hayden Henry, who continued their wildly productive rotation with 34 tackles, 5 TFLs and 6 QB pressures in the win in Baton Rouge. … LSU LB Micah Baskerville, who racked up 12 tackles with 4 TFLs in a losing effort against the Razorbacks. … Alabama OLB Will Anderson Jr., who continued his trail of destruction with 13 QB pressures and a pair of sacks in the Crimson Tide's blowout win over New Mexico State. … Alabama QB Bryce Young, who was nearly flawless against the Aggies, finishing 21/23 for 270 yards and 5 TDs. … His top receiver, Jameson Williams, who went off for 158 yards and 3 TDs on 6 receptions. … And Auburn WR Ja'Varrius Johnson, who caught four passes for a career-high 102 yards against MSU and added a 57-yard touchdown run.
– – –
The scoring system for players honored in Superlatives awards 8 points for the week's top player, 6 for second, 5 for third, 4 for fourth, 3 for fifth, and 1 for honorable mention, because how honorable is it really if it doesn't come with any points? The standings are updated weekly with the top 10 players for the season to date.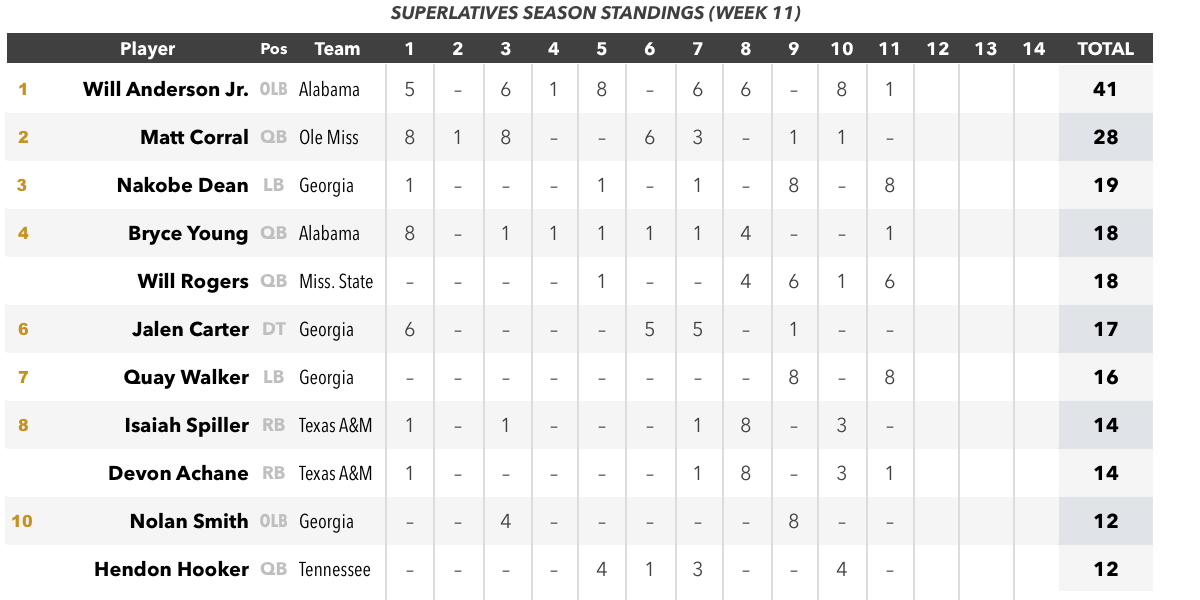 SEC Power Rankings
Updating the food chain.
1. Georgia (10-0). An underrated aspect of Stetson Bennett's success: He's done it with a badly depleted and inconsistent group of receivers whose availability has fluctuated from week to week. No UGA wideout ranks among the SEC's top 25 receivers in catches, yards, or touchdowns. (Last week: 1 ⬌)
2. Alabama (9-1). My WILL ANDERSON 4 HEISMAN t-shirt is prompting a lot of questions answered by my WILL ANDERSON 4 HEISMAN t-shirt. Extrapolated over 14 games, the man is on pace to finish with 32 TFLs. (LW: 2 ⬌)
3. Ole Miss (8-2). I've written more than 600 words about the Rebels in this post without once mentioning Matt Corral, and as valuable and compelling as Corral can be in one-man show mode, I suspect the team is better off when he has the luxury of being relatively ordinary. (LW: 4 ⬆)
4. Texas A&M (7-3). I predicted the Aggies would own the line of scrimmage on both sides of the ball in Oxford, but Ole Miss handed them their hats for most of the night. Somehow Zach Calzada's star turn against Alabama makes even less sense now than it did at the time. (LW: 3 ⬇)
5. Arkansas (7-3). Arkansas is the only team in the West that's yet to beat Alabama since Nick Saban's arrival in 2007, a streak they have a chance to snap this weekend in Tuscaloosa. Not a good chance, obviously, but just for the record: A chance. (LW: 6 ⬆)
6. Mississippi State (6-4). Last week Mike Leach said he had about 40 responses to his call for open tryouts at kicker, with the candidates who pass academic vetting set to audition this week. In the meantime, incumbent Nolan McCord rebounded from his last-second miss at Arkansas to hit 1 of his 2 field-goal attempts against Auburn and all 4 PATs. (LW: 7 ⬆)
7. Auburn (6-4). Bo Nix's roller-coaster of a season is done due to a broken ankle, a major loss for the Tigers despite his notorious volatility. He certainly wasn't the problem in the Tigers' deflating loss to Mississippi State, throwing for 377 yards and 2 TDs with no turnovers amid a wholesale implosion by the defense. Suddenly the Iron Bowl is in the hands of LSU transfer TJ Finley. (LW: 5 ⬇)
8. Kentucky (7-3). Wildcats trounced Vanderbilt, 34-17, all but securing the title of Second-Best Team in the East with a 5-3 conference record. That's just the second time they've finished with a winning mark in SEC in the past 40 years, the only other occasion coming in 2018. (LW: 9 ⬆)
9. LSU (4-6). The remaining Tigers are still playing for Ed Orgeron, which says something about something, but the scoreboard still says they're not very good. (LW: 10 ⬆)
10. Florida (5-5). One week after the worst loss of his head-coaching career at South Carolina, Dan Mullen refused to concede the premise that there's anything embarrassing about giving up 52 points to a mediocre FCS team, insisting to reporters that "calling a win disappointing is disrespectful to the game" and leading his team in a victory dance.
Florida's locker room was hype after beating FCS Samford ?

?: foreignwill_ / IG pic.twitter.com/q7nODCIaWA

— ??? ???????? ???? (@sportingnews) November 13, 2021
If there's any doubt, he's widely expected to be out by the end of the month. (LW: 12 ⬆)
11. Tennessee (5-5). Josh Heupel's debut hasn't been anything to write home about in the grand scheme of things, but closing out with easy wins over South Alabama and Vanderbilt to finish 7-5 looks good enough on paper to count as progress. (LW: 8 ⬇)
12. Missouri (5-5). Tigers salvaged a shot at a bowl game with a 31-28 win over South Carolina, and given Florida's ongoing nosedive this weekend's visit from the Gators could get them over the hump. (LW: 13 ⬆)
13. South Carolina (5-5). Gamecocks are likely home for the holidays with Auburn and Clemson standing in the way of bowl eligibility, but keep it competitive and Shane Beamer can dine out on 5-7 with a win over Florida for the next 6 months. (LW: 11 ⬇)
14. Vanderbilt (2-8). The 'Dores have 2 games remaining, both on the road. This has been your Vanderbilt Update. (LW: 14 ⬌)
Moment of Zen of the week
Pro Tip: Don't get drunk & sneak into #LSU's locker room. pic.twitter.com/DJon2BoSMR

— Hilary Scheinuk (@hscheinukphoto) November 14, 2021