SEC
Monday Down South: Georgia's defense is one for the ages, but its real challenges are still ahead
Weekly takeaways, trends and technicalities from the weekend's action.
Is it time yet to start talking about Georgia's defense in the pantheon of the all-time greats? Are we willing to go there with, what, a whole dang month left in the regular season? Because it seems like we've seen just about we need to see.
Through 8 games, the Bulldogs have played essentially the same sweltering game every time out, opponent be damned. On paper, Saturday's 34-7 win over Florida was actually a relatively ordinary effort by their usual standards – the Gators finished with 355 yards on 4.8 per play, both season highs against UGA – which says a lot more the usual standards than it does about how the game unfolded. By any other standard, the best offense on the schedule was subjected to a standard-issue beatdown. The yardage total was Florida's worst since 2019 (also against Georgia), and 7 points represented the first single-digit outing in Dan Mullen's 46 games as UF's head coach.
Take advantage of Underdog's special Jimmy Butler Game 4 offer!
...
When the Gators weren't hitting a wall, they were imploding. The end of the first half, in particular, was a defining moment for both teams' seasons. Leading just 3-0 after a slugfest of a half, Georgia's D cracked the game wide open by forcing 3 rapid-fire turnovers in a little under 3 minutes, resulting in a pair of short, 1-play touchdown "drives" by the offense and a dagger of a pick-6 that effectively ended the competitive portion of the proceedings at halftime.
? NAKOBE DEAN PICK SIX ?

It was 3-0 two minutes ago. Now it's 24-0 ???pic.twitter.com/9tSy3dzG6O

— 247Sports (@247Sports) October 30, 2021
At this point in the season there's very little left to be said about this unit that hasn't been said on a weekly basis right from the start, including the remarkable absence of any obvious, above-the-fold star. Statistically, no individual UGA defender ranks among even the SEC leaders in any major category. (Lately, a campaign is underway to draft massive and massively disruptive DT Jordan Davis as The Guy who best represents in the defense as a whole in the national consciousness, and potentially the Heisman race; it's debatable, though, whether Davis, who's only been on the field for 40% of the team's total defensive snaps, has been any more dominant or productive than rotation-mates Jalen Carter and Devonte Wyatt at the same position.) The entire lineup is next-level dude just playing their role, which only makes playing against them seem more like going up against a pack of unusually disciplined wolves. Or, I don't know, maybe like the '85 Chicago Bears? If any college defense in the past 25 years can invite the comparison, at 6.6 points per game, this is beginning to look like the one.
Anyway, the relevant comparisons may be in the distant past, but the focus for this team is squarely on the not-so-distant future. With their last real test of the regular season in the books, the big question going forward is whether any offense in America right now has the juice to put up a winning number on the Georgia D in the postseason.
Ohio State is certainly a candidate: The Buckeyes lead the nation in scoring behind a Heisman-caliber quarterback (CJ Stroud), a couple of first-round wideouts (Chris Olave and Garrett Wilson), an emerging, 5-star phenom in the backfield (true freshman TreVeyon Henderson), and a decorated, veteran o-line consisting entirely of future pros.
Alabama is close on OSU's heels in the scoring column, has a Heisman candidate of its own behind center, and boasts the most explosive WR combo outside of Columbus in John Metchie III and former Buckeye Jameson Williams.
After a lukewarm September, Oklahoma's offense has looked more like Oklahoma's offense since the promotion of freshman dynamo Caleb Williams to starting QB. The Bucks, Tide and Sooners aren't quite on the record-breaking track of some of the elite championship offenses of the past few years, but they are far more explosive than any offense UGA has seen or will see in the regular season, and they certainly don't lack for the potential to rise to the occasion by the time they really need to.
In the meantime, though, Georgia's defense has been maxing out its potential from the get-go, without yielding so much as a busted coverage or a sustained scoring drive with the game in doubt. The Bulldogs have trailed for all of 5 minutes and 24 seconds (a 3-0 deficit vs. Auburn) and allowed a single first-half touchdown (vs. Kentucky). Starters have missed a combined 2 games to injury. Man for man, they're as talented and deep as any offense they might eventually face. If there's a crack in the facade, it's yet to be identified, much less exploited.
That's not to say it can't happen, or that it won't, especially in a sport that exists to throw the conventional wisdom into the garbage disposal at random intervals. But each week that goes by, it looks a little less likely than it did the week before. At this point on the calendar, that's as good as it gets.
Notebook
Around the conference.
Georgia 34 • Florida 7. The flip side of the question is a familiar one for Georgia's offense: Do the Bulldogs have the juice to put up a winning number on a Playoff-caliber opponent if the defense gives way? Kirby Smart's teams have never been able to definitively answer "yes," and after Saturday, this one's not there yet, either. All 3 offensive touchdowns were set up by short fields following turnovers at the end of the first half and a late onside kick, respectively.
Stetson Bennett IV has been … fine. Statistically, at least, he's held up his end of the bargain in JT Daniels' absence, consistently ranking among the SEC leaders in pass efficiency and QBR without being asked to carry the offense with his arm or otherwise stressing his limited skill set in the process. But his stint in the starting lineup was supposed to be temporary while Daniels recovered from a muscle strain, a lingering injury that ultimately sidelined him for the entire month of October with no specified return date, and Saturday's game was the first time this season that relegating the future NFL Draft pick to clipboard duty in favor of the former walk-on actually looked like what it sounds like. Bennett turned in his worst outing of the season, finishing 10/19 for 161 yards, 1 touchdown, and 2 interceptions against the same Florida defense that brought his last run as the starter in 2020 to an abrupt end.
INTERCEPTION@GatorsFB takes advantage of the errant throw pic.twitter.com/L4anDOVeYi

— CBS Sports (@CBSSports) October 30, 2021
Daniels has been dressed out for the past 2 games, and while his official status remains TBD, at this point it's likely the reluctance to rush him back has more to do with limited practice reps and preserving continuity under Bennett than it does with Daniels' health. (Smart told reporters during Georgia's open week leading up to the Cocktail Party that Daniels was back at practice but looked "rusty.") If there was any doubt about Daniels' return in time for the SEC Championship Game, Bennett's regression opposite a blue-chip defense should put it to rest. If rust is still a concern, the next 4 games — against Missouri, Tennessee, Charleston Southern and Georgia Tech — are laid out in front of them like a nice, flat runway for Daniels to get back up to speed ahead of Dec. 4. Everyone and their mother sees the switch coming eventually; the longer they wait to make it official, the harder it's going to get until they're left with no choice.
* * * * * *
This time a year ago, Dan Mullen was on the shortlist for Coach of the Year at the helm of a legitimate Playoff contender. After Saturday's loss, Florida's 7th in its past 9 games vs. Power 5 opponents dating to last season, he's on the hottest seat in the conference. Even Ed Orgeron's stock at LSU didn't plummet that far, that fast.
It's one of those years in Gainesville where various aspects of the team look good at various times, but almost never at the same time. The offense played well enough to beat Alabama in September but couldn't deliver enough stops on defense; against Georgia on Saturday, those roles were reversed. The offense's best game in SEC play, a 42-point outing at LSU, was the defense's worst, by far, resulting in a 49-42 loss; the defense's best game, at Kentucky, was the offense's worst, resulting in a 20-13 loss in which Florida was slapped with 15 penalties. The much-anticipated decision to promote QB Anthony Richardson to the starting lineup against Georgia — a move endorsed by me and just about everyone else after his breakout performance off the bench at LSU — was a bust that yielded zero points and a flurry of game-changing giveaways. At one point in the third quarter, Mullen opted for a surrender field goal on 4th-and-5 from the UGA 6-yard line with his team trailing 24-0, which subsequently sailed wide.
Dan Mullen goes through a dozen emotions in two seconds when the sad FG attempt misses. pic.twitter.com/eGKPUzDnqG

— Bryan Fischer (@BryanDFischer) October 30, 2021
Yeah, it was that kind of month. Still, although patience is thin and schools seem more willing these days to make bold, prohibitively expensive decisions when it comes to setting struggling coaches adrift, it's hard to imagine Mullen could already beyond the point of no return only a year removed from trouncing Georgia to clinch the SEC East. (Not to mention the fact that, with LSU and USC already in the market for a new head coach and Nebraska and Miami looking like possibilities, the competition for top candidates figures to be cutthroat.) At 4-4, Florida will be heavily favored in its past 4 games against South Carolina, Samford, Missouri and Florida State, a straight shot to 8 wins with the possibility of a 9th in the bowl game. Settling on Richardson as the quarterback of the future over the next month could be a bridge to renewed expectations in 2022. Even assuming Mullen makes it that far, though, there's no denying the urgency that's going to be his life over the next 12 months.
Auburn 31 • Ole Miss 20. I was among the many, many people who came to bury Bo Nix after he was benched in Auburn's skin-of-the-teeth win over Georgia State on Sept. 25, so credit where it's due: October was the best month of Nix's career, even factoring in a lopsided loss to Georgia. Coming off back-to-back road wins at LSU and Arkansas, he stole the show again in the Tigers' win over Ole Miss, finishing 22/30 for 276 yards and 3 touchdowns (1 rushing, 2 passing) with the occasional dollop of Bo Nix Stuff.
Bo Nix is the king of schoolyard QB scrambles pic.twitter.com/bCQjuc236I

— Patrick Greenfield (@PCGreenfield) October 30, 2021
Nix's down-by-down consistency from the pocket has improved (at least for the time being), but it's the freewheeling aspect of his game lately that really gives us a glimpse into why he was as hyped as he was coming out of high school, traits he didn't flash nearly enough in his first 2 seasons on campus. Something about the prospect of losing his job seems to have freed him up to channel his instincts rather than sanding them down to fit inside a box assembled by pro scouts.
There's an alternate timeline where Nix doesn't bounce back as quickly from his demotion, gets permanently surpassed on the depth chart by TJ Finley, and spends the rest of the season plotting his exit. Instead, he handled it, came back better, and has the Tigers in position to control their fate in the West with Texas A&M and Alabama still on the schedule. I don't know if that makes him any more draftable at the next level when his size, footwork, and mechanics are what they are, but it's obvious both he and his team have been better off on the other side of the controversy, which never hurts.
Superlatives
The week's best performances.
1. Georgia LBs Quay Walker, Nolan Smith and Nakobe Dean. The linebackers have been slightly overshadowed this season by Georgia's dominance along the d-line, but the win over Florida was the 'backers' turn to shine as a group. The starting trio — all former 5-star recruits, as if that needed to be specified — combined for 24 tackles, 5 QB pressures, 2 INTs and a forced fumble on a ball Smith just flat out ripped from Anthony Richardson's hands to set up the first touchdown in the Dogs' 21-point rally just before halftime.
The Georgia defense is relentless. ???

Blitz, tipped pass, and then an interception by Nolan Smith. pic.twitter.com/9cAVGSaW1n

— The Comeback (@thecomeback) October 30, 2021
If it seems like these guys never miss a tackle, it's because they pretty much don't: Between them, Walker, Smith and Dean have combined for 102 stops on the season with a grand total of 5 missed tackles according to Pro Football Focus — all but 1 of them by Dean, owner of the highest individual PFF grade of any SEC defender of the year.
2. Mississippi State QB Will Rogers. Rogers was flawless in the Bulldogs' 31-17 win over Kentucky, finishing 36/39 for 344 yards and a touchdown in the most complete performance under Mike Leach, by far. Rogers averaged a career-high 8.8 yards per attempt and goes down as only the 11th FBS quarterback since the turn of the century to complete more than 90% of his passes in a game on at least 30 attempts.
3. Auburn QB Bo Nix. Nix's stock is on a strictly week-to-week basis until further notice, but if he plays as well this weekend at Texas A&M as he has his past 2 times out against Arkansas and Ole Miss, it will be the longest that the arrow has remained pointing up in his career.
4. Auburn LB Zakoby McClain. McClain led Auburn with 14 tackles, 4 QB pressures, and 2 sacks in the Tigers' win over Ole Miss, a game that somehow featured zero second-half touchdowns by either team. His first sack, a 3rd-and-goal takedown of Matt Corral on Ole Miss' opening series, forced the Rebels to settle for a field and ensured they'd be playing in comeback mode the night.
5. Missouri RB Tyler Badie. Badie went off against Vanderbilt, racking up 254 yards and 2 touchdowns on 8.2 per carry in a closer-than-it-looks, 37-28 win in Nashville. The biggest chunk of that total came on his last carry, a dagger that pushed the Tigers' lead from 2 points to 9 with 3 minutes to play.
Badie's 73-yard run marks a career long and also pushes the back to a career-high 254 rushing yards ?#MIZ?? pic.twitter.com/C4bIJ6hZq6

— Mizzou Football (@MizzouFootball) October 30, 2021
For the season, Baddie is the SEC leader in total touchdowns, rushing yards and yards from scrimmage, accounting for 354 yards more in the latter category than the league's No. 2 player in scrimmage yards, Texas A&M's Isaiah Spiller.
Honorable mention: Auburn RB Tank Bigsby, who makes his long-overdue 2021 Superlatives debut after racking up a season-high 140 yards on 6.1 per carry in the Tigers' win over Ole Miss. … Georgia RB Zamir White, who went off for a season-high 105 yards on 7.5 per carry against Florida. … Georgia DT Jalen Carter, who registered his 3rd sack of the year and finished as the Bulldogs' highest-graded d-lineman on the week per PFF. … Georgia CB Derion Kendrick, who reps the secondary after allowing 3 receptions for just 16 yards on 7 targets. … Florida DB Rashad Torrence, who gave up a touchdown but also came away with 2 interceptions and a fumble recovery in a losing effort. … Mississippi State CB Emmanuel Forbes, who recorded 5 tackles, 2 PBUs and didn't allow a reception in the Bulldogs' win over Kentucky. … Ole Miss QB Matt Corral, who accounted for 334 total yards and a rushing TD on two bad ankles in the Rebels' loss at Auburn. … And his most productive target, Western Kentucky transfer Jahcour Pearson, who turned in season highs for catches (7) and yards (135) with all 3 of the Rebels' opening-day WR starters on ice due to injury.
– – –
The scoring system for players honored in Superlatives awards 8 points for the week's top player, 6 for second, 5 for third, 4 for fourth, 3 for fifth, and 1 for honorable mention, because how honorable is it really if it doesn't come with any points? The standings are updated weekly with the top 10 players for the season to date.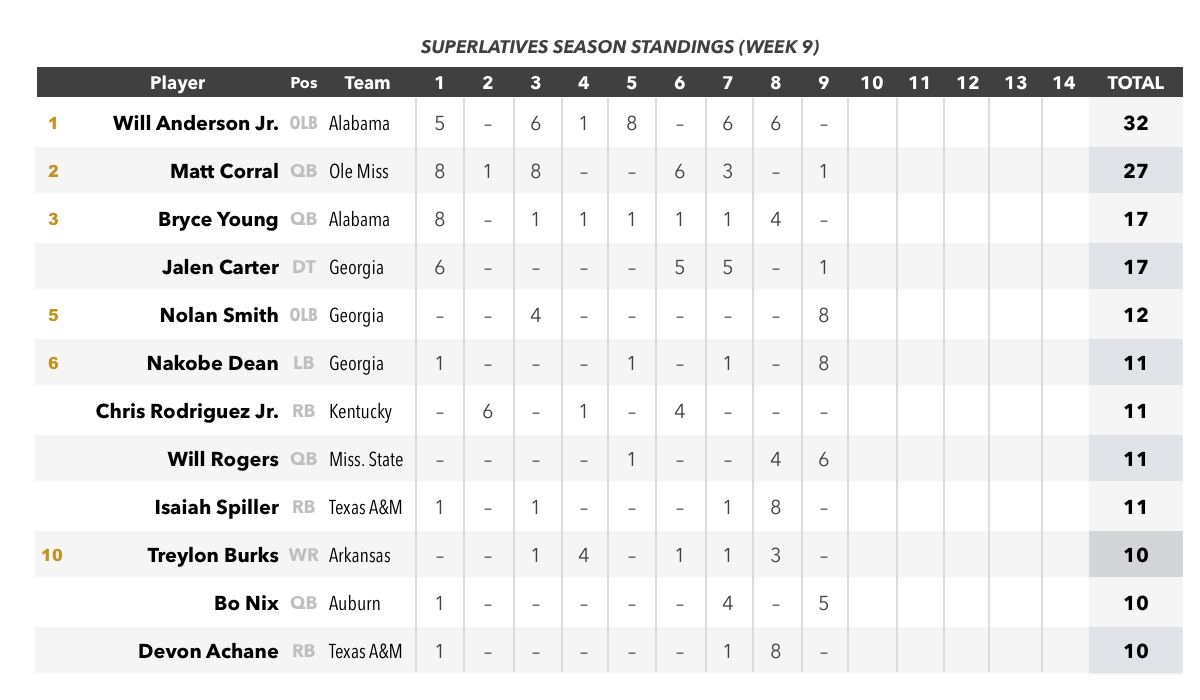 SEC Power Rankings
Updating the food chain.
1. Georgia (8-0). Bulldogs literally clinched the SEC East crown in record time: Oct. 30 matches the earliest division wrap since the league instituted the format, joining 1993 Alabama and 2004 Auburn. (Last week: 1 ⬌)
2. Alabama (7-1). An interesting subplot over the next month will be whether Bama's best player, OLB Will Anderson Jr., can generate enough hype down the stretch to surpass Bryce Young as the Tide's de facto rep in the Heisman race. Of course the quarterback is always the safer bet, but Anderson — still the national leader in tackles for loss coming out of an open date — is putting together the type of season even notoriously stat-driven Heisman voters cannot ignore. (LW: 2 ⬌)
3. Texas A&M (6-2). Aggies' path to a hypothetical West Division crown still runs through Auburn, Ole Miss and LSU over the next month, but survive that gauntlet and they're only an Alabama loss away from taking it via tiebreaker,(LW: 5 ⬆)
4. Auburn (6-2). Tigers don't need any help: Win out and they're going to Atlanta, which is a nice place to be as the calendar turns to November and also much, much easier said than done. (LW: 6 ⬆)
5. Ole Miss (6-2). Matt Corral's body has taken such a beating this season by the end of it he's going to be at least 10% Toradol. (LW: 3 ⬇)
6. Arkansas (5-3). One of my goals over the next month is to watch as much of WR Treylon Burks as I can in what will almost certainly be his last few weeks in college football before he's off the next level. With USC's Drake London joining LSU's Kayshon Boutte on the shelf for the rest of the season, Burks has a legitimate claim on the title of best active receiver in the country. (LW: 7 ⬆)
7. Mississippi State (5-3). Bulldogs' 31-17 thumping of the second-best team in the East was a reminder of the stark divide between the divisions, which is as wide this year as ever. The East's only win over an opponent from the West: Kentucky over LSU in Week 6, the final straw in LSU's decision to move on from Ed Orgeron. (LW: 11 ⬆)
8. Kentucky (6-2). Seriously: Scrap divisions! The expanded 16-team format on the way when Texas and Oklahoma join the conference is a perfect opportunity to scrap this outdated format — add a 9th conference game, assign each team 3 permanent annual rivals, and cycle through the remaining dozen teams on a home-and-home basis in a 4-year window. Every player who stays 4 years will have the experience of playing in every SEC stadium during his time without sacrificing competitive balance or the rivalries that matter most, which is much closer to what a conference ideally should be than what we have now. (LW: 4 ⬇)
9. LSU (4-4). Tigers seem capable of almost anything as they enter the home stretch of Orgeron's lame-duck phase, but that almost doesn't extend to a massive upset in Tuscaloosa. (LW: 8 ⬇)
10. Florida (4-4). Gators have good odds of running the table against a weak November schedule — 61.5%, to be exact, per ESPN's Football Power Index — but the margin for error in Dan Mullen's status is precarious. They need to win 'em all. (LW: 9 ⬇)
11. Tennessee (4-4). Vols may not like the idea of Kentucky serving a measuring stick, but a win in Lexington this weekend could be the difference between a "meh" debut for Josh Heupel and claiming his first season as a solid step forward. (LW: 10 ⬇)
12. Missouri (4-4). Mizzou handled Vanderbilt for its conference win, and quite possibly its last unless the nation's worst rushing defense manages a miracle turnaround. At this point it's not an outlier skewed by a bad game or two: It's who the Tigers are. (LW: 12 ⬌)
13. South Carolina (4-4). The most memorable part of Shane Beamer's first season in Carolina is still his viral interview expounding on the absurd talent level of Georgia's defense, which all things considered is probably better than people actually managing to recall anything the Gamecocks have done on the field. (LW: 13 ⬌)
14. Vanderbilt (2-7). QB Mike Wright accounted for 274 yards in the Dores' loss to Missouri, half of it coming on a couple of long runs covering 69 and 70 yards, respectively. Chalk that up to Mizzou's rock-bottom run defense — true freshman RB Patrick Smith racked up a career-high 95 yards rushing, too — but when the opportunity comes along to put a silver lining on Vandy's quarterback situation I'm going to take it. (LW: 14 ⬌)
– – –
Hat tip to Connor O'Gara for pinch-hitting on last week's column.