SEC
Urban Meyer news: What we know right now about Ohio State's head coach (August 22, 2018)
The Ohio State University's 20-member board of trustees have been meeting for over eight hours, and no decision has been made about Urban Meyer's future by President Michael Drake yet. In fact, a decision still may or may not happen Wednesday afternoon.
Afternoon football practice has started, too, across the street from where the media has gathered.
The board is discussing the independent working group's investigation into what Meyer knew and what he did with that knowledge regarding former assistant Zach Smith's alleged domestic incidents in 2015.
Urban Meyer arrived early Wednesday morning at Ohio State, which was a bit of surprise, and his wife, Shelley, arrived this afternoon. Both are still in the Longaberger Alumni House seemingly waiting on the decision.
6:00 pm ET update: Ohio State insider Jeff Snook says Meyer will not be fired, and there's an intense debate happening between the school president and board of trustees.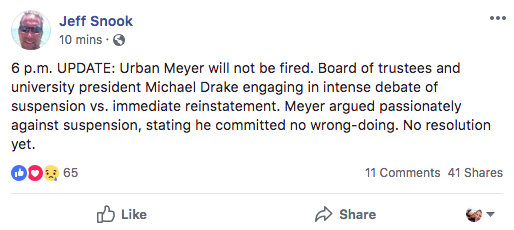 5:00 pm ET update: Ohio State AD Gene Smith arrives at the Longaberger Alumni House.
Mr. and Mrs. Gene Smith arrive at OSU. The Athletic Director enters the Longaberger Alumni House. pic.twitter.com/tBykEZtWqE

— 97.1 The Fan (@971thefan) August 22, 2018
4:45 PM ET update: On Ohio State insider says there's a disagreement between the school president and board of trustee members.
2:00 PM ET update: Board of trustees member Clark Kellogg briefly spoke to the media as he was on his way back into the building around 2:00 p.m. ET, and said, "Progress is being made."
Clark Kellogg says progress is being made… pic.twitter.com/01bGof0iOz

— 105.7 The Zone (@1057TheZone) August 22, 2018
The Urban Meyer rally coordinator, Tennessee Jeff, has now shown up on campus, too.
Ohio State fan Tennessee Jeff, who formed the Aug. 6 rally at Ohio Stadium in support of head coach Urban Meyer, is among the few fans to have trickled into the parking lot outside of Longaberger Alumni House as the trustees and investigators meet. He lives in Myrtle Beach, S.C. pic.twitter.com/XuShV85pIc

— Garrett Stepien (@GarrettStepien) August 22, 2018
Everyone has been waiting for so long outside the building that it appears media members are speaking with fans in the parking lot.
Update: This is where we are. Fans have shown up. With lawn chairs. And the media is talking to them because there's no information. We're nearing the seven hour mark. Urban has been in the building for almost six hours. pic.twitter.com/MY4ueLQeVn

— Pete Thamel (@PeteThamel) August 22, 2018
It's still unclear if the final decision on Meyer will be announced Wednesday afternoon, but it certainly appears like it might.