SEC
Week 11 SEC primer: For once, Bama-LSU is anything but business as usual
Everything you need to know about this weekend's SEC slate.
Game of the Century of the
Week

Century: LSU (+6) at Alabama
The stakes
It's the first game in college football history pitting No. 1 vs. No. 1. What isn't at stake?
At minimum, Bama-LSU will decide the SEC West and give shape to the races for the Heisman Trophy, the national championship, and the top pick in the 2020 NFL Draft. It's the crucial audition for a couple dozen aspiring pro prospects — most obviously Tua Tagovailoa and Joe Burrow, lead actors in the most anticipated quarterback duel in the regular season in years. If the offenses live up to the hype, it will put an exclamation point on just how much the game has changed: The same 2 teams that began the decade by staging the sport's most celebrated defensive slog, ending it by lighting up the scoreboard in a triumph for the spread revolution.
It's a must-win for both sides, of course, albeit not necessarily for the same reasons. For Alabama, it's strictly business: The Crimson Tide haven't faced a worthy opponent this season and can't count on the Playoff committee to forgive a loss in their only really big game. Reputation aside, beating LSU en route to winning the West is likely the only realistic path to Nick Saban's 7th national title.
For LSU, the vibes are more existential. Alabama is the Tigers' white whale: They've lost 8 consecutive in the series, managing a grand total of 3 touchdowns in the past 5 games. Last year's 29-0 thumping in Baton Rouge was LSU's most lopsided loss vs. Bama since 2002 and the 3rd-worst since World War II. After years of trying and failing to outmuscle the Tide on their own terms, it might have also been the moment that Ed Orgeron, ignoring every instinct in his body, decided to stop worrying and embrace the spread.
The result is the most dynamic offense in school history, led by a passing attack that has yet to be contained and (so far, anyway) looks like every bit the equal of the nuclear attack in Tuscaloosa, at least when Tua is healthy. Beyond setting LSU up for a Playoff run, a win on Saturday would vindicate Orgeron's willingness to innovate, his pursuit of Burrow and passing-game coordinator Joe Brady over the past 2 offseasons, and the initial, widely mocked decision to promote Orgeron to the full-time job in the first place. The Tigers haven't been nationally relevant past the first Saturday in November since 2011. If this isn't their year, when is it?
The stat: 62.9 percent
That's Joe Burrow's completion percentage on throws of 20-plus yards downfield, slightly better than the FBS average for all throws of any distance and the driving force behind LSU's offensive surge.
Joe Burrow on throws of 20+ yards this year:

– 22-of-35
– 62.9% completion
– 745 yards
– 11 TD
– 1 INT
– 134.9 Rating

Could you literally drop the ball into a better spot? pic.twitter.com/yzuUAFdvKS

— Cody Worsham (@CodyWorsham) October 30, 2019
Philosophically, the Tigers have evolved from the most consistently run-first outfit in the SEC to one that not only throws more often than it runs — even on 1st downs, an almost inconceivable mindset in Baton Rouge prior to this season — but throws downfield as routinely and efficiently as any other offense in the country, including Alabama's. That's a reflection not only Burrow's rapid growth under Brady but also his wide receivers', whose emergence as an elite group is at least as surprising.
Not that anyone has ever doubted LSU's raw talent at wideout, or anywhere else. But for all the words that have been devoted to the run-pass option, and Brady's precocious Xs-and-Os prowess in general, the key aspects of the Tigers' downfield success are in the execution: Burrow's ability to consistently place the ball in a vanishing window where only his intended target can come down with it, and the ability of Justin Jefferson …
Joe Burrow on a critical LSU drive before the end of the half:
• 19-yard completion
• 18-yard completion
• 21-yard touchdown pic.twitter.com/N7j3gdVYpM

— CBS Sports HQ (@CBSSportsHQ) September 8, 2019
… Ja'Marr Chase …
Ja'Marr Chase: GET UP THERE AND GRAB IT. pic.twitter.com/8lMDRZ7N6G

— CBS Sports HQ (@CBSSportsHQ) September 8, 2019
… and Terrace Marshall Jr …
Touchdown number THIRTY for Joe Burrow gets @LSUfootball on the board. pic.twitter.com/7IOFPPZv9S

— CBS Sports (@CBSSports) October 26, 2019
… to consistently do just that at the expense of an overmatched DB. Between them, Jefferson, Chase and Marshall have averaged 15.8 yards per catch and accounted for 32 of Burrow's SEC-best 41 completions of 20-plus yards. (That includes all passes that gained at least 20 yards, not just those that traveled 20 yards in the air.) Some of those, like Chase's game-clinching, 54-yard touchdown reception against Florida, have come as the result of the scheme working to pop a receiver into open grass; more often, they've come as a result of Burrow's receivers outrunning, out-leaping, and just plain out-athleting man-to-man coverage. Whether it's against Texas or Utah State, Vanderbilt or Auburn, no other group of wideouts this season has been better at coming down with contested catches.
Naturally, winning those 1-on-1 chances against Alabama's equally blue-chip secondary is a different task: Bama's allowed just 17 receptions that gained 20-plus yards, a notable improvement over last year, and starting corners Patrick Surtain II, Trevon Diggs, and Shyheim Carter all go 6-foot or better with the wingspans to match and enviable ball skills of their own. Burrow will have to give his group a chance to win the 50-50 balls with less margin for error than ever.
The big question(s)
For a super-sized edition of the Primer, this week's format is expanding from 1 question to 5:
1. Tua's playing, right?
Officially: Tagovailoa's status for Saturday is a "game-time decision" as he continues to recover from surgery to repair a high-ankle sprain. Unofficially: Of course the dude is playing. Come on.
Whether he's playing at or near 100 percent is a different question. Tua did return to practice this week in a limited capacity, splitting first-team reps with backup Mac Jones for at least the first half of the week. He famously returned from the same injury last December in a little less than a month — a quick turnaround — betraying no hint of rust in a near-perfect performance in the Orange Bowl just 28 days after going down in the SEC Championship Game. This time, the recovery window has been shortened to 21 days. Vegas does not seem concerned.
For a guy who's comfort zone is squarely in the pocket, open-field mobility isn't much of an issue. But short-area maneuverability and footwork could be if Tagovailoa isn't able to plant and change direction with full confidence, and accuracy and velocity can both suffer if he's unable to step into throws as forcefully as he's used to. Just how much the ankle is affecting him, or isn't, ought to be apparent fairly quickly.
2. Can LSU's secondary hang with Bama's wideouts?
As a group, the Crimson Tide's receivers are second to none, this year or almost any other. But they haven't come up against a secondary this season with anywhere near the next-level potential or depth of LSU's.
This one belonged to Derek Stingley. pic.twitter.com/fD0yOtfIho

— CBS Sports (@CBSSports) October 26, 2019
The prospective QB duel is worth the price of admission, but from a mano-a-mano standpoint the matchup between Jerry Jeudy, DeVonta Smith, and Henry Ruggs III on one side opposite Derek Stingley Jr., Kristian Fulton and Grant Delpit on the other might be the most compelling of the season in any context. All of the above are no-brainer 1st-round prospects in the very near future.
LSU didn't exactly shut down Bama's passing attack in last year's game, yielding 295 yards and 2 TDs on 25 receptions, but the Tigers weren't burned deep and generally were able to limit the damage to yards after catch without giving up the kind of haymaker the Tide have made look routine. The Tide's longest completion was 30 yards — in Tagovailoa's 22 starts, only 1 other defense (Mississippi State's the following week) has held Alabama to fewer yards per catch. Granted, against this group preventing the kill shot still sometimes entails getting posterized in the open field …
Jerry Jeudy could juke the dead. pic.twitter.com/0ZsLA1Al2N

— Bryant-Denny Stadium (@BryantDenny_UA) November 4, 2018
… but if gaining 30 yards requires them to channel Barry freakin' Sanders in the process, well, as a defense you can live with that. (That catch-and-run by Jeudy was Alabama's longest reception of the game.) As long as those plays don't wind up in the end zone, that's a tradeoff LSU will likely be willing to make again.
3. Is Alabama's youth in the front 7 a liability?
The Crimson Tide lost both starting inside linebackers and starting DE LaBryan Ray to injury by mid-September. In their place, the middle of the defense has been manned primarily by true freshmen: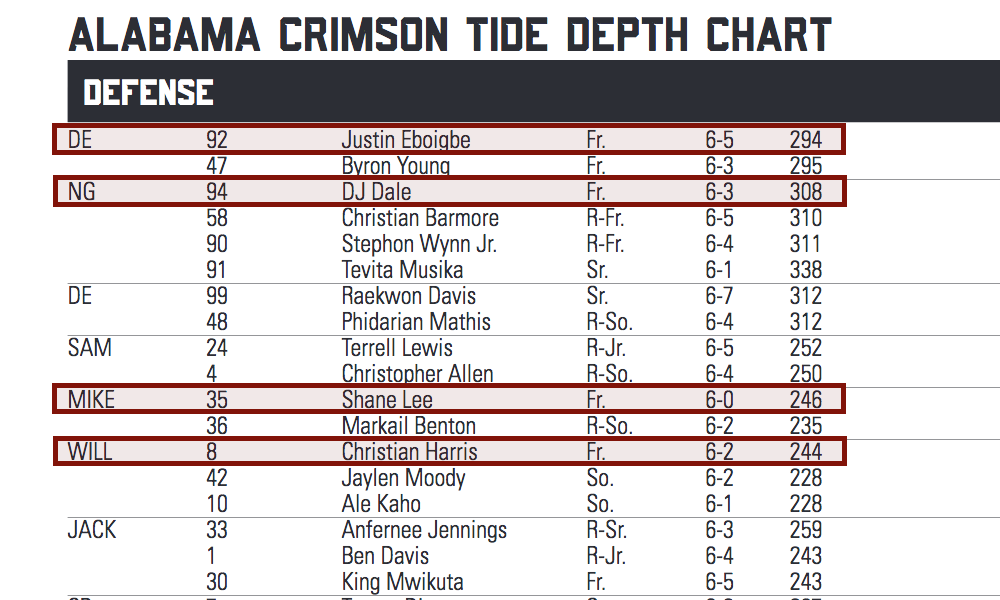 Eboigbe, Dale, Lee and Harris are all touted prospects (of course), all of whom except Harris have been on campus for nearly a year at this point after enrolling early in January. And to their credit, the rookies have held their own: Alabama ranks in the top 10 nationally in scoring defense at 15.3 points per game and is slightly ahead of last year's pace in yards allowed both per game and per play.
Still, even for Bama that's a lot of youth in key positions heading into their first big game. Some faint cracks are visible against the run, specifically, where the Tide have allowed more yards per game (127.4) and per carry (3.7) than any previous Saban-era unit. That's despite having faced just one opposing offense (Ole Miss) that ranks in the top 40 nationally in rushing; in that game, the Rebels racked up more yards on the ground (279) than any Alabama defense has allowed since 2013. (Ironically, their top 3 rushers were all true freshmen.) It's impossible to say at this point whether that's more signal than noise, but without a doubt LSU represents a dramatic step up in competition from anything they've seen so far.
4. Can LSU block Alabama on the edges?
If the interior remains TBD, veteran outside linebackers Anfernee Jennings and Terrell Lewis came on strong in October as arguably the strength of the defense.
Lewis, especially, has emerged almost overnight as the full-blown terror Bama fans have been promised over the past few years. Healthy for the first time in his career, Lewis entered the starting lineup in Week 6 at Texas A&M and looked like an instant force as a pass rusher; in the 3 games since, he's been credited with 4 sacks and 8 QB hurries, 6 of those coming against Arkansas alone. Together with Jennings, the duo has combined for an absurd 65 pressures on the year, according to Pro Football Focus.
Burrow has hardly been impervious in the pocket, having absorbed 3 sacks in each of the Tigers' past 2 games against Auburn and Mississippi State and 4 sacks in their Week 2 win at Texas. (Florida's pass rush came up empty in Baton Rouge, but played essentially the entire game without its 2 best rushers after DE Jonathan Greenard was injured on the first series.) Nor was he in last year's game against Bama, when the Tide harassed him consistently and dropped him 5 times.
Looks like Anfernee Jennings (#33) anticipates the snap count. If he wasn't, then his first step is just ridiculous. Explodes into the backfield for a near safety, either way pic.twitter.com/kQsS8VfaiT

— Fed Scivittaro (@MeshPointScout) November 4, 2018
The 2019 version of LSU's' offensive line is a year older — 4 of 5 starters on Saturday are holdovers — and won't have to deal with an interior presence remotely on the level of the departed Quinnen Williams, who wreaked maximum havoc last year from the nose. On the outside, though, the Tide are capable of bringing as much heat as ever. Tackles Saahdiq Charles and Austin Deculus have a chance to either make or cost themselves a lot of money in future earnings.
5. Does Bama have a kicker yet?
The eternal question gets the eternal answer: ¯\_(ツ)_/¯
After a shaky start in the season opener, true freshman Will Reichard looked like he was beginning to settle into the role, hitting 4 of his next 5 attempts, including a pair of 48- and 49-yard bombs against New Mexico State. Due to a lingering hip injury, though, Reichard hasn't attempted another kick since mid-September.
Instead, the Tide have called up the guy they recruited Reichard to replace, sophomore Joseph Bulovas, who picked up where he left off last year by immediately missing a 28-yard chip shot at Ole Miss. He's 4-of-5 since, the only miss coming on his only attempt from beyond 40 yards.
Barring a miraculous recovery by Reichard, Bulovas looks like the guy again on Saturday, which Bama fans can only pray doesn't come down to a last-second kick. If it does, LSU's kicking game is in the slightly more reliable hands (uh, feet?) of true freshman Cade York, who is 11-of-12 this season from inside of 50 yards … but has also missed 3 PATs. The last thing either team wants is for the fate of their finely tuned offensive machines to come down to a kick.
The verdict
The over/under for Saturday is 63 points, which for this rivalry qualifies as a bona fide shootout: In 81 meetings dating to 1902, both sides have combined for 60 points just once, in a wild, 41-34 LSU win in 2007. That's also the only time LSU has cracked 40 against Bama; the last time the Crimson Tide hit that mark themselves was in 1947.
Assuming Tagovailoa is more or less his usual, flame-throwing self, all of those marks could conceivably fall by the end of the 3rd quarter as both offenses barrel toward their season averages in mid-to-high 40s. Both defenses have had their share of lapses, talented as they are. But this also the feel of the kind of game where the defense that succeeds in breaking serve in the early going sets the tone for the rest of the afternoon.
LSU's offense might have turned a corner, and Alabama's defense might not be the monolith it's been in the past. I've seen enough of these games by now to know which one is the safer bet.
Alabama 36, LSU 31
Missouri at Georgia (-17)
Missouri (5-0 at home) has looked like an entirely different team away from Columbia, dropping all 3 road trips this season to underdogs Wyoming, Vanderbilt and Kentucky — the latter by 22 points in a game the Tigers were favored to win by 10. If that trend holds a trip to Athens could get ugly fast, especially if QB Kelly Bryant is limited or sidelined altogether by a bad hamstring.
Verdict: Georgia 34, Missouri 13
Tennessee at Kentucky (+1)
This isn't a literal must-win for bowl eligibility, but it becomes an awful lot harder for the loser. With 3 wins in its past 4 and coach Jeremy Pruitt no longer working with his heels over a ledge, Tennessee might have turned the corner toward respectability; since converted WR Lynn Bowden Jr. has taken over behind center, Kentucky is already there.
Verdict: Kentucky 23, Tennessee 19
Vanderbilt at Florida (-26.5)
The Commodores will show up to The Swamp without either of their top 2 quarterbacks, Riley Neal and Mo Hasan, both of whom are recovering from concussions. Just getting out of Gainesville in one piece should be the top priority.
Verdict: Florida 41, Vanderbilt 10
Western Kentucky (+1) at Arkansas
Jerry Jones' grandson John Stephen Jones is slated for his first career start for the Razorbacks, a game they desperately need to win less for any semblance of "momentum" — too late for that — than for simply avoiding the humiliation of losing to another Group of 5 outfit at home. Another L would be Arkansas' 3rd at the hands of a mid-major program in Fayetteville in 2 years, which along with an ongoing, 17-game SEC losing streak might well spell the end of the Chad Morris era after just 2 dismal seasons.
Verdict: WKU 24, Arkansas 20
New Mexico State at Ole Miss (-28)
New Mexico State is one of 3 winless FBS teams remaining, at least for one more week until hosting a very winnable game against Incarnate Word. Maybe the Aggies should rest their starters in Oxford in anticipation of the one they actually have a chance to come out on top.
Verdict: Ole Miss 45, New Mexico State 10
Scoreboard
Week 10 record 6-0 straight-up / 1-5 vs. spread (oof)
Season record: 64-15 straight-up / 35-44 vs. spread