SEC
Week 2 SEC Primer: LSU and Texas have their quarterbacks, at last. Which one will break through?
Everything you need to know about this weekend's SEC slate.
The Stakes: The logos speak for themselves, and there's still some residual juice left over from the Tom Herman sweepstakes in November 2016, if you're into that sort of thing. But the overriding dynamic in Austin is pretty straightforward: The winner will have a viable path to a Playoff bid, and the loser will not.
Brands notwithstanding, the fact that I can type the word "Playoff" in the vicinity of either of these outfits with a straight face is a testament to how far they've come since they were bidding for Herman's services. At that point, LSU was putting the finishing touches on a disappointing, 7-4 regular season defined by the abrupt sacking of the most successful coach in school history; hardly anyone imagined when Ed Orgeron assumed the interim role earlier that year that he would be promoted to the full-time job 2 months later. Texas, meanwhile, was hitting reset in the wake of its 3rd consecutive losing season, the most sustained run of futility at UT since World War II. At this time last year, both teams were still lingering on the fringes of the Top 25 with unproven quarterbacks and an air of uncertainty about the immediate future, if not outright skepticism.
So if any big, allegedly entitled fan bases should be able to appreciate a collision of top 10 teams with a pair of aspiring Heisman contenders behind center, it's these two. It was not a given when this game was scheduled that it would carry significant, GameDay-worthy ramifications. It's great for the sport that it does.
The stat: 20 percent
Those are Texas' odds of beating LSU, per ESPN's Football Power Index, their worst chances in any game this season, including the annual neutral-site date with Oklahoma. It's also a reflection of the huge gap between the conventional wisdom on the Longhorns and their outlook according to advanced metrics.
Officially, the Horns are a top 10 outfit, coming in at No. 9 this week in both traditional polls — exactly where they finished last year following their Sugar Bowl upset of Georgia. That tracks: Elite recruiting + 10-win season + big bowl win + returning quarterback = high expectations, as always. But the advanced rankings were far less impressed with the 2018 team, and those doubts have carried over to the new season: Texas barely cracks the top 20 this week according to FPI and comes in at No. 23 in Bill Connelly's SP+ ratings. (By contrast, LSU is No. 3 in both systems, behind only Alabama and Clemson.) That's the largest discrepancy between the "eye test" and the spreadsheets of any Top-25 team.
The disconnect comes down to experience, mostly: Besides face-of-the-program QB Sam Ehlinger, Texas returned just 6 full-time starters, along with a handful of part-timers; the offensive backfield and front 7 on defense were decimated by attrition, and the 2-deep is unusually light on seniors, which advanced-stat models are more likely to register as deficiencies than human pollsters. Then there's the fact that, until the bowl game, the Longhorns' resurgence in 2018 was a more close-run affair than the final record suggested — taking the entire season into account, the momentum-building triumph over Georgia was countered by an opening-day flop against Maryland, and 7 of UT's 10 wins came by 1 score.
On the other hand, by the end of the season the algorithms might have been weighing the loss to Maryland too heavily relative to how the Horns finished. All of the losses were close, too, including a couple of down-to-the-wire shootouts against Oklahoma State and West Virginia decided in the final seconds. For believers, the program's upward trajectory under Herman and Ehlinger is obvious enough, even if it's not yet reflected in the numbers. Saturday will be the first big test of whether they have a point.
The big question
Is LSU's offensive revamp for real?
LSU's first TD last night: basic RPO. Joe Burrow sees the LB/S (comes from left side of frame, below ref) crash down on the run, so he pulls it out and finds Ja'Marr Chase for the score.

As Tory Carter said last week, with the RPO, the defense is always wrong. pic.twitter.com/ZjwwhxajOQ

— Cody Worsham (@CodyWorsham) September 2, 2019
Last week's 55-3 romp over Georgia Southern was legit — as legit as a romp over Georgia Southern can be, anyway, which for a program that (like Texas) has spent the past decade lamenting its quarterbacks must have felt like trading in the station wagon for a Corvette. Dare I speak the words aloud? I dare: LSU has a quarterback.
The final score vs. GSU mattered less than the particulars. Senior Joe Burrow was in complete command of the playbook, which, while limited against a Sun Belt patsy, fulfilled Orgeron's promise to join the 21st Century by spreading the field, pushing the tempo, and mixing in a heavy dose of RPOs as part of the base offense. Burrow connected on 23-of-27 attempts for 278 yards and 5 touchdowns before calling it an early night, with 0 interceptions, 0 unnecessary hits, and the most picture-perfect deep ball of the weekend. By halftime the Tigers had reached the end zone of 6 of their first 7 possessions. If they'd felt like it, they could have shattered every record in the book.
The steep step up in competition is a crucial moment in LSU's evolution in more ways than one. For Burrow, obviously, it's a test of how well his game translates against a secondary that boasts somewhere between 3 and 6 future draft picks. (Sophomore safety Caden Sterns is the name to know and fear.) But it's a test for his coaches, as well, especially the head coach, of how committed they are to the up-tempo philosophy and how much they trust their quarterback against a real blue-chip opponent in a hostile environment. When things start to get hairy, and they will, that's when we'll find out.
The verdict
It would be nice, but LSU probably isn't going to need a Heisman-worthy performance from its quarterback. A major concern for Texas this week is the running game: 5-star freshman Jordan Whittington is out of commission for at least a month, leaving Ehlinger and sophomore RB Keaontay Ingram to carry the load by themselves. (That's not an exaggeration; the only other healthy running back on the roster is a true freshman who recently converted from QB strictly out of necessity.) The corollary concern is that, without the benefit of a viable ground attack, Ehlinger lacks the passing chops to consistently threaten LSU's dominant secondary.
The wild card in that equation is senior WR Collin Johnson, a freakish, 6-6 jump-ball specialist with absurd body control who passed on the draft and has the potential to simply out-muscle or out-leap smaller cornerbacks on any given snap. Even for future pros Kristian Fulton and Derek Stingley, Johnson is an issue. Unless Texas can assert itself along the line of scrimmage, though, he should be a manageable one. Nothing that's happened under these respective coaching staffs suggests that's likely.
LSU 33, Texas 20.
Kellen Mond's 2018 performance against Clemson was a revelation. The Aggies' down-to-wire loss at the hands of the eventual national champs was the best of his career to date, full-stop: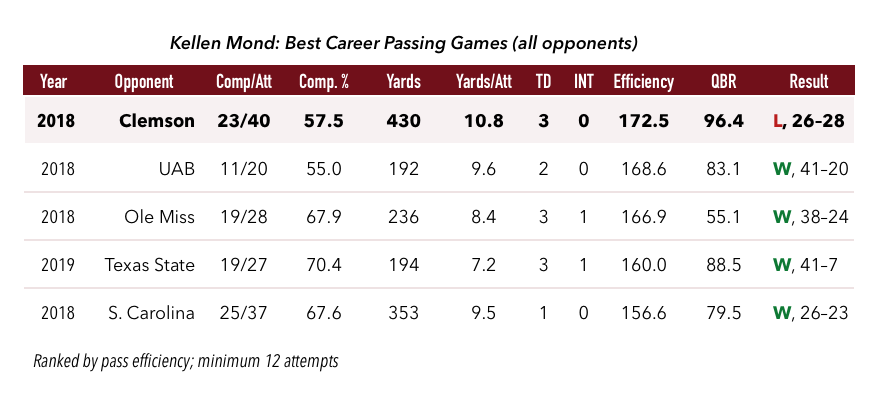 Mond is often described as a raw or unpolished passer, and often for good reason. But under pressure, against arguably the best defense he's faced in his life, he showed off a full toolbox: Strength in the pocket, elusiveness under pressure, accuracy in tight windows, vision down the field, creativity on the run, poise with rushers bearing down. More important, he made it look sustainable. After halftime, the Aggies scored a touchdown, or came within inches of one, on 4 of their last 5 offensive possessions. On those drives alone, Mond was 14-of-20 passing for 290 yards (not including multiple pass interference penalties by Clemson) with 6 completions that gained 20 yards or more. That would be a spectacular 4-quarter effort against a Brent Venables defense all by itself.
9/8/18—Texas A&M's Kellen Mond 9-yard TD pass to Kendrick Rogers vs. Clemson pic.twitter.com/2hGlhysWIe

— College Football Clips (@CFB_Clips) September 10, 2018
A full year later, that night remains the best example of Mond's enormous potential. It also begs the question: Why can't he look like that all the time? Overall, his improvement from 2017 to 2018 might have been the biggest leap of any quarterback in the college game — Mond was clearly in over his head as a true freshman — but his Week 2 peak remained a tantalizing, frustrating outlier as he settled squarely into the middle of the pack among SEC starters. The Aggies are still waiting for an encore.
Whether they finally get one Saturday night is one of the biggest X-factors of the season, both for A&M and the national race at large. We all know what to expect from Clemson. The Tigers are No. 1 in both major polls by big margins after blowing the doors off Georgia Tech in their season opener. Trevor Lawrence is a proven big-game quarterback surrounded by the most enviable cast of skill players in the country; the offense as a whole is significantly more explosive than the one that walked the edge in College Station last year, before Lawrence (9 attempts off the bench in the 2018 meeting), RB Travis Etienne (8 touches for 44 yards), and WR Justyn Ross (DNP) had fully emerged. The defense is "rebuilding" only in the sense that rising stars like DEs Xavier Thomas and Justin Foster are technically new to the starting lineup.
On the other side, all 4 A&M wide receivers who caught passes in last year's game are back, along with 3 starters on the o-line. The difference between another compelling upset bid and a routine blowout hinges almost entirely on which version of Mond shows up.
Verdict: Clemson 44, Texas A&M 24
What's up with this point spread? Coming off an embarrassing loss at Wyoming, Missouri –14 vs. any major-conference opponent that's not Kansas or Rutgers is one of those lines that makes you wonder what you're missing.
For their part, the Mountaineers' debut under coach Neal Brown didn't go great, either, although they did play enough defense to overcome an anemic ground game in a 20-13 win over James Madison. (A top-tier FCS team like JMU is at least as good as a mediocre mid-major like Wyoming and probably better.) Brown criticized his offensive line as "severely below average," a welcome omen for the Tigers after watching their defense get shredded in Laramie for 297 yards rushing on an astounding 7.1 per carry. The largest share of that came courtesy of Wyoming's quarterback, Sean Chambers, a performance West Virginia's pocket-bound QB Austin Kendall is no threat to replicate.
Whether Missouri can make any hay on the ground is another question — the Cowboys held Mizzou to a paltry 2.7 yards per carry, forcing QB Kelly Bryant to pick up the slack with his arm. The result: 423 yards and 2 touchdowns on 48 attempts, offset by a pair of costly turnovers. A version of that offense minus the mistakes could be a lot of fun, but when you're dropping back that many times in a non-Air Raid attack the mistakes go hand-in-hand.
Verdict: Missouri 34, West Virginia 28
Speaking of embarrassing losses. Tennessee has a lot to reckon with after bottoming out against Georgia State, but the first step is setting the tone for the rest of the season: Is this a nowhere-to-go-but-up situation, or a what's-even-the-point-now situation?
Talent-wise, there's no reason the Vols can't rebound against BYU. The Cougars were soundly whipped in Week 1 by their in-state rival, Utah, showing very little signs of offensive life in the process. The Utes piled up 262 yards rushing and forced 3 turnovers en route to amassing a 12-minute advantage in time of possession. Replicating those results could reassure Tennessee that the opening-day collapse was a fluke and put its season back on track.
Managing that, though, will require some semblance of consistency on the offensive line, where the Vols spent the opener shuffling the lineup in various combinations involving 9 players. Outside of Ty Chandler's 31-yard TD run in the 1st quarter, Tennessee managed just 98 yards rushing (not including sacks) on 3.8 per carry. Chandler himself only touched the ball once more on offense over the final 3 quarters. The offense isn't designed to win games with those kinds of numbers, and if they don't substantially improve against a vulnerable BYU defense it will be safe to say the Vols aren't going to.
Verdict: Tennessee 24, BYU 19
"Arkansas vs. Ole Miss" invokes images of a shootout with a dizzying number of lead changes spanning multiple overtimes, right? It's like a reflex. The past 4 games in the series have been decided by a total of 10 points, with an average score of Arkansas 39.5, Ole Miss 39.0. Even when the teams are bad, the rivalry is consistently entertaining.
So I'm truly sorry to report that early returns on these offenses point in exactly the opposite direction. In Week 1, the Razorbacks and Rebels combined to score 30 points with 3 touchdowns between them, against the powerhouse defenses of … uh, Portland State and Memphis. The starting quarterbacks, Ben Hicks and Matt Corral, both completed fewer than half their passes for a shade under 5.0 yards per attempt. The defenses, meanwhile, held up just fine for a change.
On the plus side, the old chestnut about young QBs improving most rapidly between the first game and the second certainly applies in this case, if only because it's hard to imagine them getting much worse. Hicks, the career passing leader at SMU, and Corral, a former top-100 recruit, are both capable of lighting up box scores in systems known for being quarterback-friendly. In conference play, at least, this is the best chance they're going to get.
Verdict: Ole Miss 30, Arkansas 26
Purdue's 34-31 loss at Nevada was the kind of defeat that feels like a disaster in real-time — the Boilermakers blew a 17-point lead and finished minus-5 in turnover margin — but looks slightly less damning going forward: After all, how often are they going to finish minus-5 in turnover margin? Even with the miscues, Purdue outgained Nevada by more than 100 yards of total offense and lost on a miracle field goal on the final play. Vandy's loss to Georgia yielded no silver lining whatsoever.
Verdict: Purdue 38, Vanderbilt 23
Tulane delivered one of the most quietly impressive performances of Week 1, thumping a presumably solid Florida International squad in a game every bit as lopsided as the 42-14 final suggests. If Auburn is experiencing any hangover at all from last week's thriller against Oregon the Green Wave's underrated defensive front is very capable of turning Bo Nix's Jordan-Hare debut into a slugfest.
Verdict: Auburn 31, Tulane 17
The Bulldogs and Golden Eagles hang their hats on defense, and neither figures to be in any hurry to press offensively unless the game is out of reach. Mississippi State has superior weapons offensively — see especially junior RB Kylin Hill, who gashed UL-Lafayette in the opener for 197 yards on a career-high 27 carries — but likely isn't going to feel compelled to hit the gas as long as the defense keeping USM under wraps.
Verdict: Mississippi State 27, Southern Miss 16
The Aggies were annihilated in their opener 58-7 by Washington State. Nick Saban might be less inclined to run up the score than Mike Leach, but he's going to have to try a lot harder not to.
Verdict: Alabama 55, New Mexico State 6
Of interest solely for the debut of true freshman QB Ryan Hilinski in place of the injured Jake Bentley. An FCS patsy is a fortunate spot on the schedule for a changing of the guard behind center before it ramps up to the maximum degree of difficulty next week against Alabama.
Verdict: South Carolina 38, Charleston Southern 10
Everybody be careful not to get hurt.
Verdicts: Georgia 58, Murray State 3.
Florida 52, UT–Martin 7
Scoreboard
Week 1 record: 7-4 straight up / 5–6 vs. spread