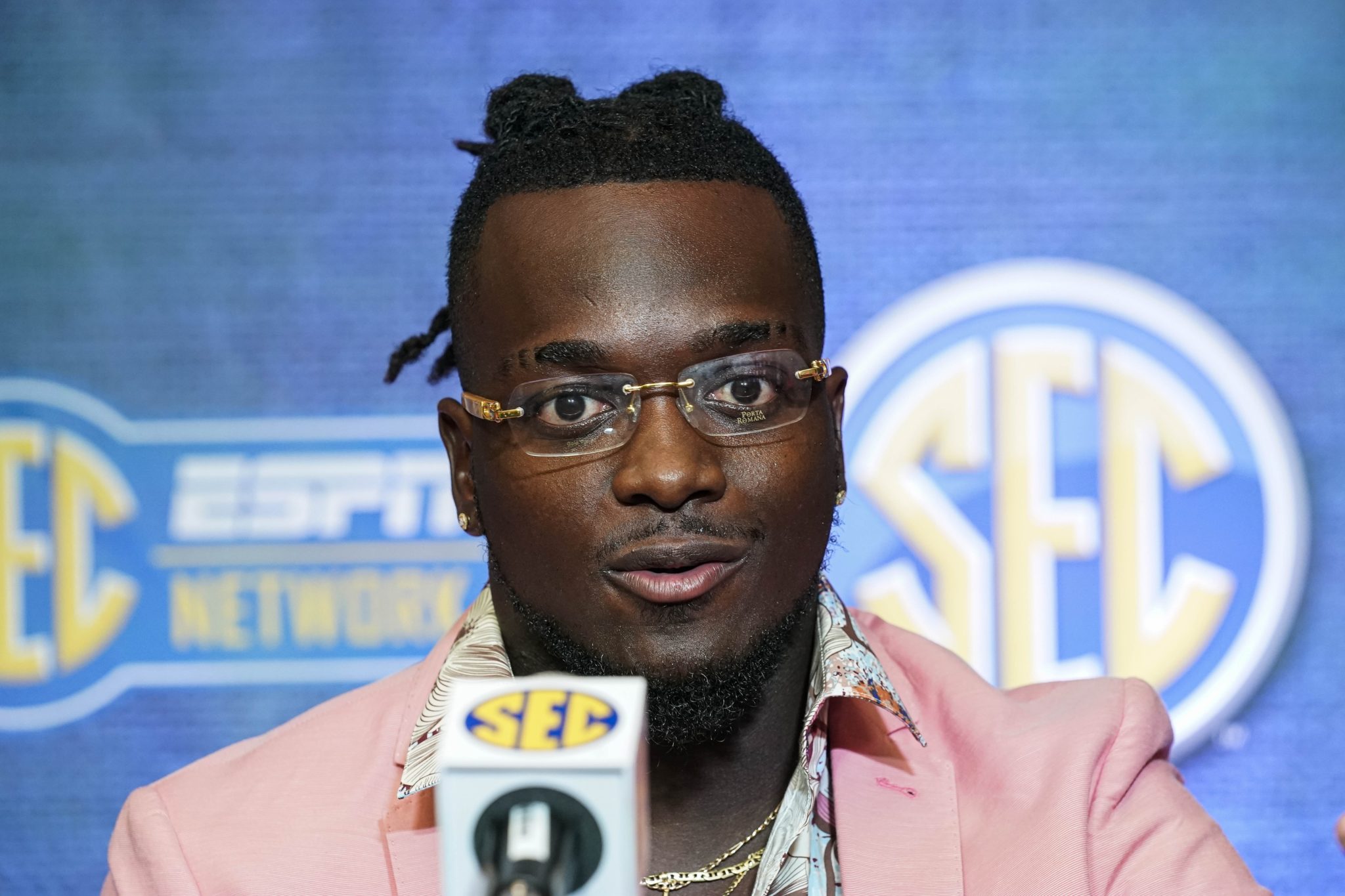 SOUTH CAROLINA
DK Joyner nearly quit college football but didn't, and instead became everything that's right about it
ATLANTA — Decked out in a salmon-colored suit and a floral shirt with gold chains poking through an open collar, Dakereon Joyner knew he looked good. His mom gave him the inspiration for the suit, though the shirt was his twist, which got his girlfriend's stamp of approval. With tan socks and brown dress shoes, Joyner showed up to SEC Media Days to represent South Carolina with every intent of looking like the best version of himself.
On his right hand was something that looked like a championship ring. It wasn't. It was a class ring that Joyner got when he earned his degree in sport and entertainment management. You better believe that was worthy of his Media Day look. "I take pride in it, man," he said.
Joyner's outfit stood out so much that he was asked about what he planned on doing with his suit after the afternoon was over.
"I may hang it up," Joyner said. "This is a legendary day."
If you know Joyner's story, you know he means that. His road to becoming 1 of 3 player representatives for the in-state program he verbally committed to back in June 2017 was far from ordinary. It's because of Joyner's commitment to South Carolina that he's not elsewhere and he's instead an ideal face for Shane Beamer's program. Lord knows there were plenty of exit opportunities out of Columbia.
There was the time true freshman Ryan Hilinski beat out Joyner for the backup role during his redshirt freshman season, which allowed Hilinski to start the majority of South Carolina's 2019 games when Jake Bentley suffered a season-ending injury.
There was the time Will Muschamp's staff asked the former Mr. Football in South Carolina to switch to receiver in Year 2 to accommodate a growing quarterback room … while also knowing the offense inside and out in case he was called upon to serve as the team's emergency quarterback (he did that in the 2019 Georgia win).
There was the time that the staff who recruited Joyner was fired after a COVID season in which he only got 9 total scrimmage touches in 6 games of action.
That exit point was about as real as any other. From the moment the 2020 season ended until the start of spring ball, Joyner's mindset wasn't on football.
"I was there, but mentally," Joyner said, "I wasn't there. I was checked out."
It wasn't like Joyner had a bevy of options after Year 3 concluded. He didn't really have enough college film at quarterback or receiver to have enticing transfer portal options. Even the most simple option — staying at South Carolina with another new coaching staff and playing in his 3rd different offensive scheme in as many years — seemed daunting.
That's why there was another option that became more realistic after his first season as a full-time, but lightly-used receiver.
"I was gonna hang it up and stop playing," Joyner said. "But Coach Beamer and Coach (Justin) Stepp changed that for me."
It helped that Beamer already knew Joyner from when he was on Kirby Smart's staff at Georgia.
Beamer visited Joyner in North Charleston (SC) with then-Georgia offensive coordinator Jim Chaney right around the time they were recruiting fellow 2018 quarterback Justin Fields. There was internal debate about whether UGA wanted to sign 2 quarterbacks in the 2018 class. Ultimately, Georgia ended up with Fields as their lone scholarship quarterback while Joyner elected to stay in state at South Carolina.
"Didn't get him," Beamer said, "thankfully."
Beamer might've had to talk Joyner out of retiring and into his program when he first arrived at South Carolina, but once spring ball began, that switch was flipped. In his first year with Beamer, Joyner was named 2021 Spring Special Teams Player of the Year, 2021 Spring Offensive Player of the Year and he earned the 2021 GPA Award (offense).
Even better, he stayed healthy and carved out a versatile role as a slot receiver and special teams weapon. For the first time in his career, Joyner was a significant part of the game plan in a variety of ways. Here was his 2021 snap count:
Slot receiver: 335 snaps
QB: 55 snaps
Punt coverage: 40 snaps
Kick return: 29 snaps
Wide receiver: 22 snaps
Punt return: 12 snaps
Inline: 2 snaps
Kick coverage: 2 snaps
Backfield: 1 snap
He played at least 25 snaps all but once. His career-high 44 snaps, of course, came in the Duke's Mayo Bowl.
After a regular season in which South Carolina was forced to start 3 different quarterbacks, offensive coordinator Marcus Satterfield wanted to shake things up with a 2-quarterback attack along with grad assistant Zeb Noland. That meant asking Joyner to make first career start at quarterback. It was a moment that 4 years in the making.
The only issue? Joyner wasn't really sold on the idea. He had moved on from playing quarterback and admitted that he didn't love the position. Leading up to the bowl game, he said he didn't have confidence that he could play the position anymore.
Yeah, about that.
All Joyner did in Charlotte was complete all 9 pass attempts for 160 yards and a touchdown in a blowout win against UNC. On top of that, the former 4-star dual-threat quarterback ran for a career-high 64 yards en route to Mayo Bowl MVP honors.
Joyner was at a loss for words following his career day in Charlotte. So much so that he was moved to tears.
Dak Joyner incredibly emotional after leading the #Gamecocks over UNC today. @abc_columbia pic.twitter.com/npKHH4Ekmw

— Mike Gillespie (@MikeABCColumbia) December 30, 2021
His afternoon made such an impression that Beamer shared in the spring that there were multiple programs who wanted to see if Joyner would leave South Carolina to play quarterback. Instead, Joyner elected for Year 5 in Columbia.
Was it difficult to turn down playing quarterback?
"Yeah, it was," Joyner said. "But my loyalty lies with South Carolina … my dad told me 'When you start something, finish it.' I wasn't gonna run away from my problems. I was gonna face them head on."
Joyner doesn't have problems anymore; he's got possibilities.
Ideally, Joyner and fellow versatile pass-catcher Jaheim Bell will line up all over the place. The Mayo Bowl stars should lead an improved offensive attack after last year's slow start. Joyner's willingness to run-block — he finished with the No. 8 PFF blocking grade among SEC receivers — is why he's not just a gadget player.
Joyner is well aware that in an ideal world, Oklahoma transfer Spencer Rattler starts every game at quarterback and his quarterback snaps are few and far between. No worries. Line him up where he's needed. Joyner said he'd support being listed on the depth chart as "football player," similar to fellow quarterback-turned-receiver Keytaon Thompson.
You can call Joyner many things — football player, leader, Dakereon, DK, Dak … actually, scrap that last one.
"I don't like 'Dak.' I ain't gonna lie to you," Joyner said. "I'm a 'DK' kinda guy."
Fair enough. Beamer prefers "Dakereon."
"Proud of Dakereon because he's shown that he is an outstanding quarterback. He's shown that he's an outstanding receiver. He's an outstanding special teams player. Just an outstanding leader and person," Beamer said. "I'm glad he's on our team."
Joyner isn't sure what his future holds. He's technically got 2 years of eligibility left — 2020 didn't count against him — but teased that he's got some "big news" for 2023 that he said could impact his decision to return for Year 6.
In the meantime, he'll continue to benefit off of NIL. He's got his own personal merchandise line "DK5." In May, he hosted his first annual "DK Joyner Football Camp" in his hometown of North Charleston, South Carolina. Teammates volunteered as counselors and trained kids in the community. Even Joyner's puppies — fittingly named "Duke" and "Mayo" — took in the festivities while wearing their own "DK5" merchandise.
The most important part of NIL?

We get to see DK Joyner's 14-week old Bully puppies — Duke and Mayo — with personalized and branded t-shirts.

(Mayo ditched his when the sun came out) pic.twitter.com/A71kwf16yM

— Ben Portnoy (@bportnoy15) May 14, 2022
Joyner is everything that's right about the new age of college athletics, and not just because he stayed at the same school. He likely won't end his career all over the books, but he already earned a special place in Gamecock lore.
Who knows, though? Perhaps more legendary days await.