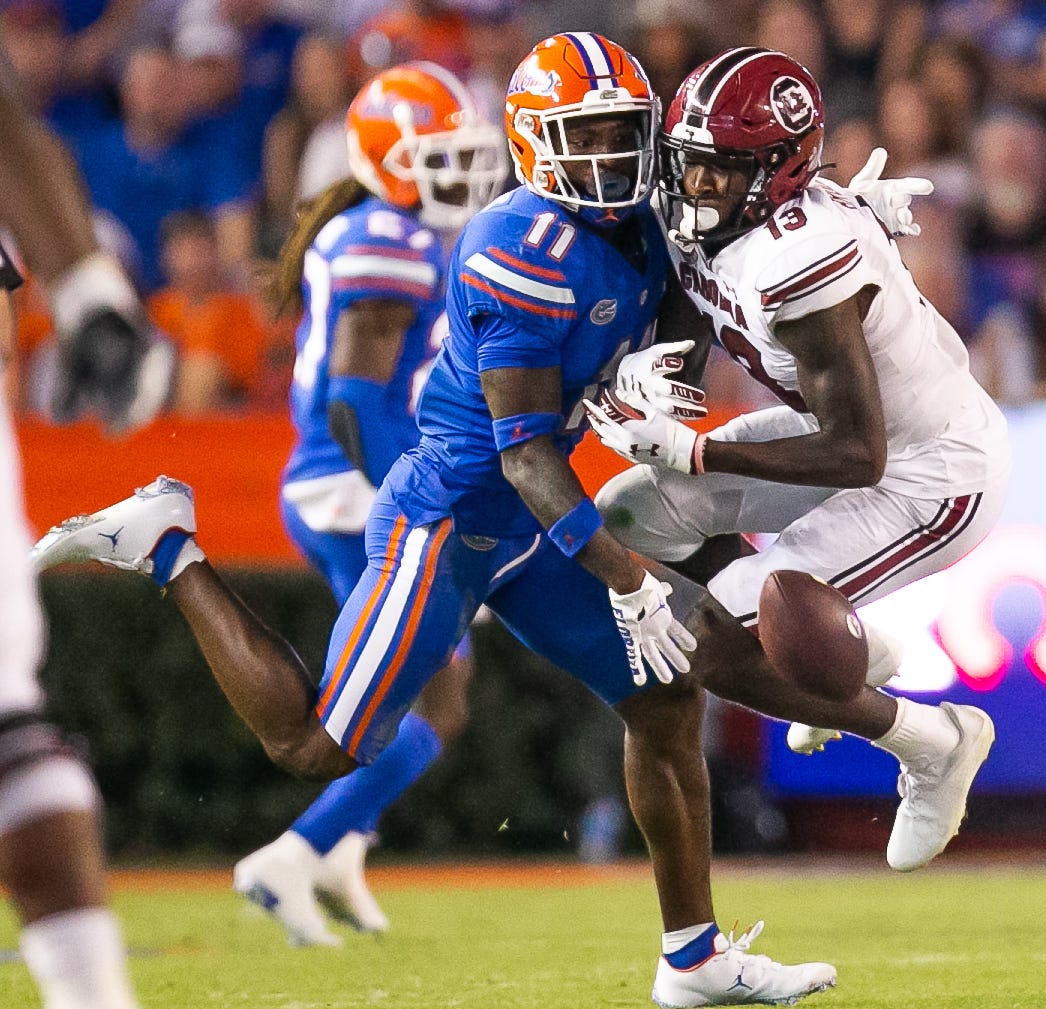 SOUTH CAROLINA
South Carolina football: Gamecocks fall flat in 38-6 Florida flop
To borrow a baseball expression for South Carolina football, there was no joy in Gainesville on Saturday night. Their performance looked more like it was in Mudville.
Whatever momentum and higher expectations the Gamecocks had to finish the season past the 6-win threshold and place a firmer hold on an attractive bowl bid quickly evaporated into the Florida air. More precisely, they were gone by halftime.
Florida's 38-6 whipping of the Gamecocks left football observers and the USC faithful scratching their heads again. Florida scored on its first three possessions and its 28-6 halftime advantage sealed the deal.
It's hard to blame this one on offensive coordinator Marcus Satterfield, a frequent scapegoat. The offense wasn't in sync, but the defense didn't show up most of the game.
The Gators' 281 yards rushing and 372 yards of total offense in the opening half didn't help either. South Carolina had negative yards rushing in its first 2 series, and 112 total yards in the opening half.
For further evidence, Florida averaged 10.4 yards a run, 9.1 yards a play and converted 6 of 7 third downs into first downs, while South Carolina averaged 1.6 a rush, 4.5 a play and converted 3 of 7 third-down attempts in the opening half.
Someone forgot to tell USC that the Gators had the second-highest yard-per-carry average in the nation (with 5.9), and they certainly reached their limits and beyond with a total of 372 yards on the ground. They wound up with 515 yards of total offense.
USC gained some momentum back when punter Kai Kroeger completed his 3rd pass of the season, this one for a 48-yard gain to Dakereon Joyner off a fake punt late in the first half.
But it soon disappeared when the Gamecocks lost fumbles on 3 of their first 4 plays of the second half.
Ouch. There were some highlights, but this one will sting.
"Unacceptable," deadpanned Gamecocks' head coach Shane Beamer. "Disappointing to say the least."
He was absolutely correct. This performance again deflated those budding aspirations.
This one was bad. And this one didn't come against the likes of Georgia. This was an average Florida team that overwhelmed the Gamecocks and became bowl eligible by winning 2 consecutive league games for the first time in 2 years.
USC's 38-27 victory against Vanderbilt last week left the Gamecocks with promise about reaching some sense of offensive consistency and allowing their defense to piece itself back together after a rash of injuries.
A trip to Gainesville – despite not winning there since 2014 when Steve Spurrier was at the helm – had the Gamecocks flying high with the thoughts of a 7th win and a chance to regain footing in the top 25.
Yes, they didn't have running back MarShawn Lloyd, who missed his second game in a row with a thigh bruise, and fellow back Christian Beal-Smith, who has been bothered all season with a foot injury.
Lloyd's presence certainly makes a difference. But Beal-Smith, Jaheim Bell and Juju McDowell picked up the slack last week against Vanderbilt with a combined 159 yards.
Against Florida, with Beal-Smith sidelined, Bell and McDowell had just 41 yards combined. Bell had 30 yards on 12 carries and never got on track all night except for an 18-yard burst.
USC is back again wrestling with the thoughts of mediocrity. The doubts have resurfaced about whether this team is ready to take the next step, as it was projected to do after a 7-6 campaign last season.
Questions will arise again about quarterback Spencer Rattler, who has fought inconsistency all season.
He was harassed and on the run most of the first half, and wasn't crisp with his 5-for-9, 40-yard showing.
Rattler finished 18-of-26 for 145 yards, and his highlights were an 18-yard high strike to Josh Vann and a 7-yard scramble out of the pocket.
He was pulled for 3 plays in the 2nd half when Dakereon Joyner ran a wildcat formation, but it wasn't successful. The Gamecock deployed some reverses on the night but had trouble sustaining drives.
"We did some great things last week in the running game and the pass game," said Rattler. "We expected to do the same stuff this week. But we didn't get it done. We just didn't get it done in anything, I felt like."
Both Beamer and Rattler both understood the impact of this loss. The next 2 weeks could have a devastating effect on the Gamecocks' bowl plans. This was supposed to be the cushion win with difficult matchups with ahead against No. 5 Tennessee and No. 10 Clemson.
If there is any consolation, the Gamecocks return to Williams-Brice Stadium for their home finale against Tennessee, which slapped 66 points Saturday on a Missouri squad that scored 1 more point (24) than it did against South Carolina.
The question is: Which Gamecocks team shows up next Saturday night?