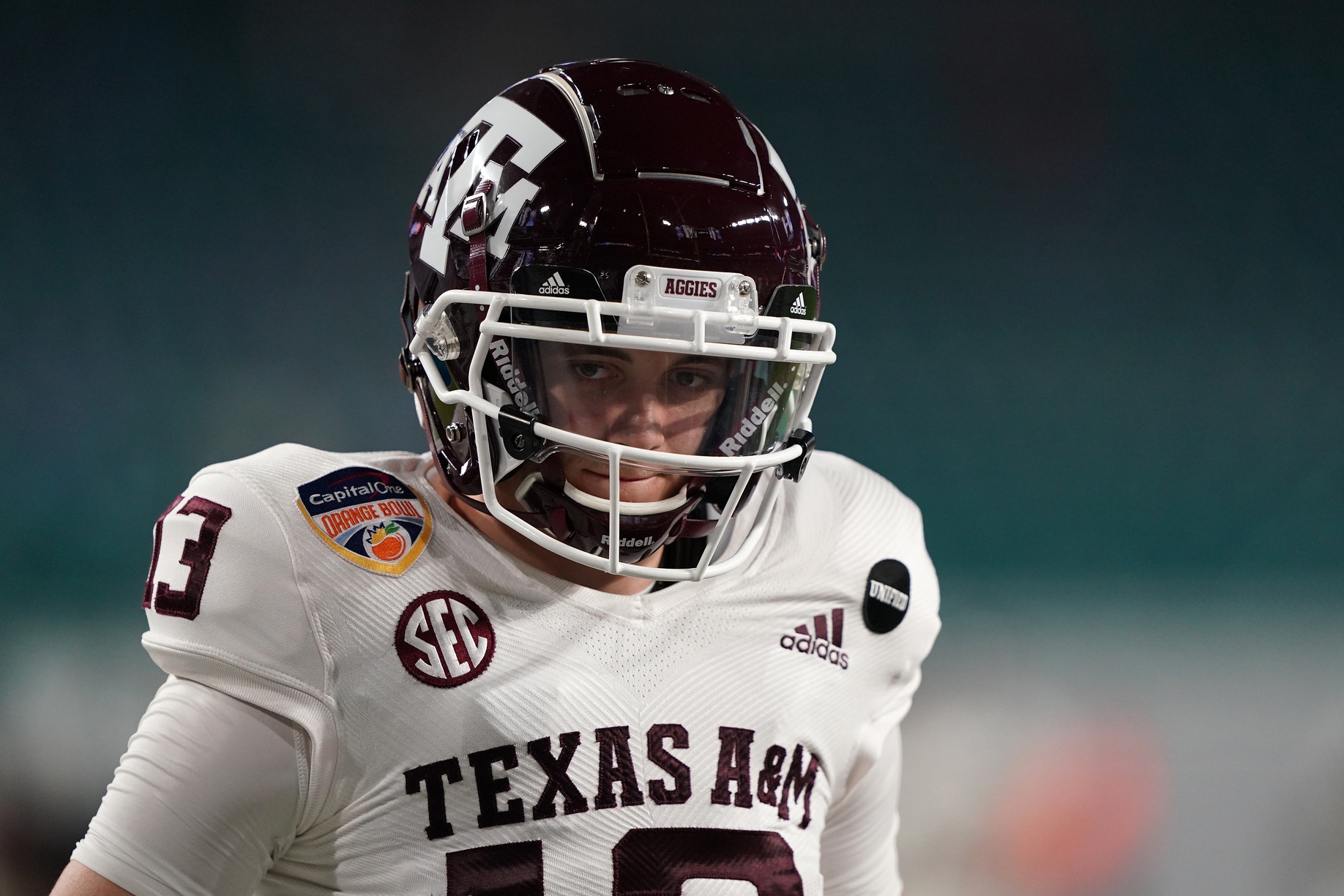 TEXAS A&M
Why Haynes King is the ultimate X-factor in the SEC for 2021
There's a fire burning in College Station. It's one that really got cooking in 2020 when Jimbo Fisher's team went from good to great. That fire was built on elite recruiting classes, a premier coaching staff (without turnover at either coordinator position) and a veteran-laden group that set the tone at the line of scrimmage.
The foundation is in place. Even after key pieces of the foundation like Kellen Mond and Bobby Brown left for the next level, there's no doubt that Fisher will add more wood, and the fire should keep burning enough to keep Aggies fans warm — er, satisfied. Yearly New Year's 6 bowls is the new standard fresh off the program's best AP Top 25 finish in 81 years. That team not only returns arguably the best 3-headed rushing attack in America, but it also returns 10 of 11 players who caught a pass in 2020.
Now enters Haynes King, AKA the potential gasoline on the A&M fire.
The redshirt freshman quarterback is the ultimate SEC X-factor. If there's one individual who can break up the inevitable overwhelming preseason consensus of an Alabama-Georgia SEC Championship, it's King.
That's right. The guy with 4 career pass attempts holds a whole lot of power.
It's true that King hasn't been named the starter yet, and if we're being honest, he might not be named the outright guy until fall camp. But barring some sort of setback, King will beat out Zach Calzada and Eli Stowers to become the guy. In the rare instance that Mond got a late-game breather in 2020, King was the guy.
And yeah, the sample size was small, but it was telling. Beyond the telling fact that King was the true No. 2 was what he did on his first pass attempt, which came against eventual unbeaten national champion Alabama.
One pump fake, 1 laser 22 yards downfield to Chase Lane on the far hash and 1 college completion. King showed poise while also displaying that gunslinger mentality that made him an Elite 11 star. On the next play, King stepped up in the pocket when the protection collapsed and he squirted through for an 8-yard gain. He didn't drift to his right, he didn't force a throw and he didn't shy away from contact.
After that, he had an incompletion, 3 more designed runs and a 22-yard scramble in which he missed a wide open Ryan Renick in the flat but he still managed to pick up the first down. Oh, and the drive ended on making a freshman mistake of throwing a fade in Malachi Moore's direction, which turned into an interception in the end zone.
It was sort of the perfect microcosm for a true freshman in that spot. You got to see the full arsenal. The wheels are absolutely a weapon, the arm talent isn't in question and the decision-making still leaves some room for improvement. That's to be expected, especially in Fisher's offense, which obviously demands a lot of the quarterback position.
What Fisher's offense can also yield is the type of success we saw when King made his second and last appearance of 2020. A&M utilized a little misdirection with King, who kept the zone read and this time found the tight end rolling to his right. King made the on-target throw with a defensive lineman in his face, and it turned into a walk-in touchdown.
We see you @maxwright2k18!!#GigEm pic.twitter.com/BLUVjXUKbN

— Texas A&M Football (@AggieFootball) November 8, 2020
It's not always going to be that easy for King. What Fisher will appreciate, however, is that the entire playbook can be opened up. King is plenty comfortable throwing on the move. With how much attention A&M's backfield is going to consume with the likes of Isaiah Spiller, Devon Achane and the slot receiver/tailback Ainias Smith, that's such a weapon. Fisher and Darrell Dickey will also be able to move Jalen Wydermyer all over the field, and there should be plenty of opportunities for him to benefit off those eyes in the backfield.
What A&M can do a better job of with King is stretching the field vertically. Mond was a veteran who adapted to the ball-control style that the Aggies thrived with. Not to throw the cliché "game-manager" tag on Mond, but A&M's personnel just wasn't built to consistently attack that way in 2020. Losing Quartney Davis and Kendrick Rogers early to the NFL Draft after 2019 didn't help, and neither did Jhamon Ausbon opting out or Camron Buckley's season-ending injury in fall camp.
Shoot, even when A&M did appear to find a potential deep target in Caleb Chapman, he went down with a season-ending knee injury after hauling in a 51-yard touchdown grab from Mond to tie it up against Florida:
Kellen Mond slings a 51-yard touchdown pass to Caleb Chapman, who makes a #YouGotMossed highlight on the Gator defender. Game tied at 38. pic.twitter.com/Vur24vgMfa

— Steve Helwick (@s_helwick) October 10, 2020
Now, Chapman is back. Well, at least he's expected to be full go by fall camp. Getting on the same page as the 6-5 wideout will be a top priority for King. The same will hopefully be true of former No. 1 overall tight end Baylor Cupp, who suffered consecutive season-ending injuries in fall camp to start off his college career.
The guy who can really add a different element to A&M's passing attack is Demond Demas. The former 5-star receiver didn't catch a pass in 2020, though Fisher's offense hasn't exactly been the easiest for true freshmen to pick up. Last fall, Fisher praised his development, but following his quiet freshman season, Demas was arrested for marijuana possession just before the start of spring camp.
The good news is that with how many proven pass-catching options A&M returns, King's success shouldn't necessarily depend on whether those 3 wild cards can become stars.
What King's success will depend on is how quickly he can pick up Fisher's system. We know he can make things happen when plays break down. We know that he can take shots downfield. We know he has the skill set needed to become a dynamic player in Fisher's offense.
Did I mention the dude is already an incredible athlete?
Yo LFG 🔥 pic.twitter.com/b7aBSdNKP1

— Art (@art_thecreator_) January 7, 2021
What we don't know is how he'll hold up physically hovering around 200 pounds (he was listed at 189 as a recruit). We also don't know if he's going to be more mistake-prone than the 2020 version of Mond, who only took 7 sacks and threw 3 interceptions all year. King can have more negative plays than Mond — I suspect he will given how he likes to take chances — and still be exactly what A&M needs to make that next push.
A redshirt freshman isn't necessarily destined to struggle in Fisher's offense, either. The last 2 times Fisher started a redshirt freshman quarterback, it yielded Deondre Francois' ACC Rookie of the Year honor in 2016 and Jameis Winston's Heisman Trophy season in 2013. Both of those guys won New Year's 6 bowls for teams that finished in the top 10 (Winston's year obviously being Fisher's national championship season).
In an ideal world, that's the type of year King will have for A&M. The yearly expectation in College Station is now to start racking up top-10 finishes. A&M hasn't had a consecutive top-10 finish since 1994, which was well before King was born (Fisher was actually a 20-something quarterbacks coach at Auburn).
King was, however, alive the last time that A&M beat Alabama back in 2012. It's no secret that until further notice, the Crimson Tide stand in the way of the Aggies reaching that next step among the college football giants. It's also no secret that one (usually) doesn't beat Alabama without a mobile quarterback who can also stretch the field vertically.
Perhaps Fisher putting King into that game against Alabama was a little bit of a pre-test for the young quarterback. As in "here's what you can expect next year." Whatever it was, King will have the chance to shift the balance of power in the SEC in 2021.
There could be some gasoline coming to that fire in a hurry.