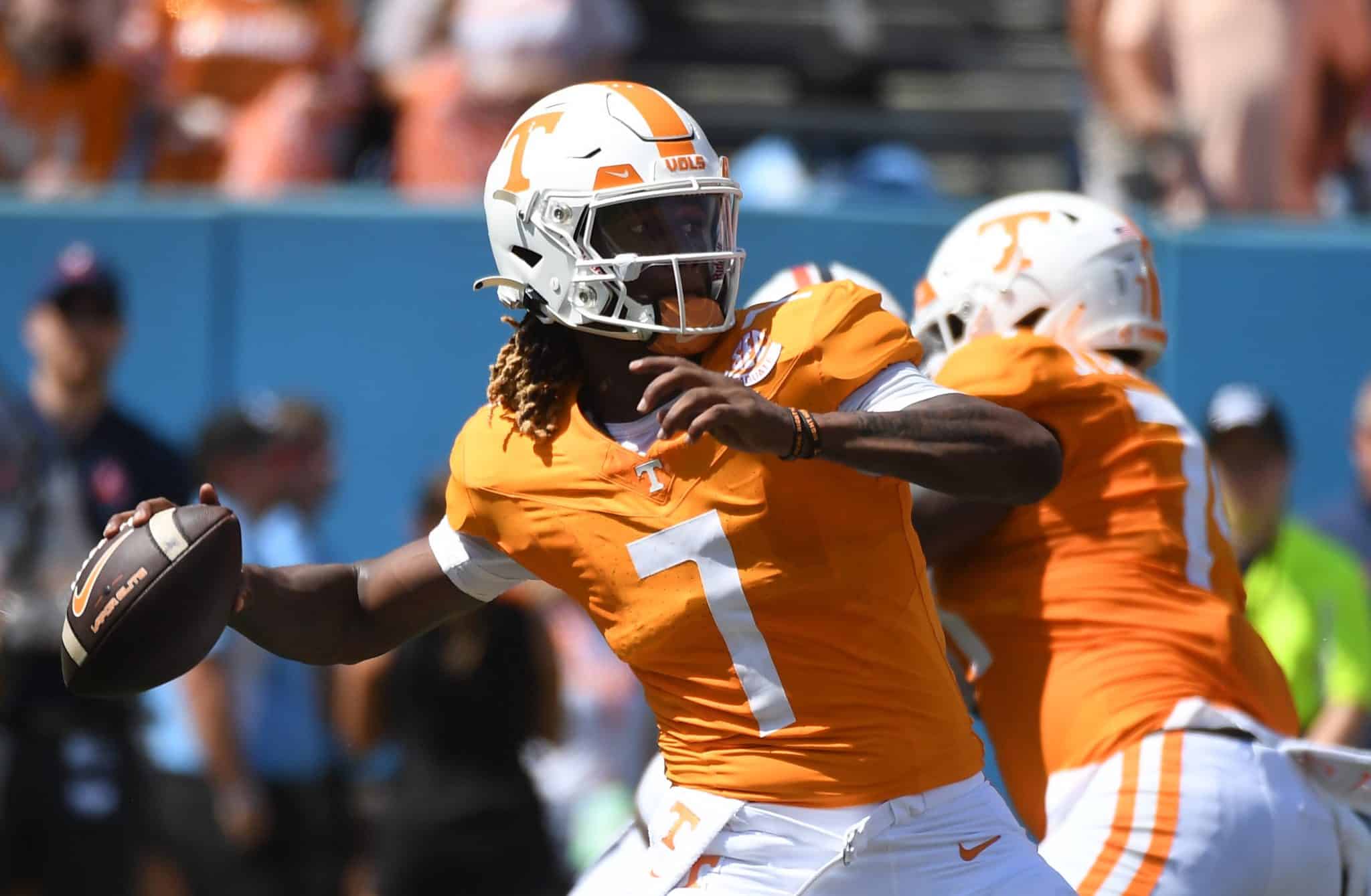 TENNESSEE
Temper your wildest Joe Milton expectations, but that Tennessee offense? Oh, it's still elite
It's OK to have excitement for Joe Milton.
If you start to stand up from your couch/armchair/stadium seat/barstool/beanbag chair every time the Tennessee quarterback is about to uncork a deep pass, you're not alone. It's majestic. When Milton effortlessly threw his first 60-yard attempt of the season to Ramel Keyton, it had "peak-Milton" written all over it. That is, until Keyton dropped it.
(Don't worry. Keyton made up for it later on.)
It's also OK to have some tempered expectations for Milton.
If you scratch your head when he has 3 consecutive off-target throws to 3 different open receivers, you're not alone, either. It's frustrating. When Milton airmailed a 3rd-down throw to Keyton downfield, it had "same old Joe" written all over it.
Welcome (back) to the Milton experience.
It's a bit of a roller coaster at times. One second, you can think you're watching someone built out of a lab to play football. The next, you can think you're watching someone who is shaking off the rust after an 8-month offseason.
Milton might've had some shaking off the rust to do, but he did so in the midst of a 49-13 win against an overmatched Virginia squad. That's perhaps the beauty of the Milton experience in 2023. That offensive floor is insanely high. Why? The Vols bully people at the line of scrimmage and with the tempo that Josh Heupel operates with, teams like Virginia can't stay on the field with them.
It's also helpful when James Pearce, Omari Thomas and Aaron Beasley make it a nearly impossible task for the Virginia offense to string first downs together. If Year 3 of the Tim Banks defense yields more days like this, that'll go a long ways in keeping Tennessee relevant.
But back to Milton, AKA the most intriguing player in America in 2023.
If you looked at the raw numbers, they didn't tell the full story. A 21-for-30 performance for 201 yards, 2 passing touchdowns and a pair of rushing touchdowns was, by any stretch, a nice day's work. Milton didn't turn the ball over, either. He still hasn't thrown an interception in a Tennessee uniform. Granted, most of that time has been spent as Hendon Hooker's backup.
It was 2 years ago that Milton began the Heupel era as the starter. At times, Saturday was a bit reminiscent of that game against Bowling Green in 2021. In both season-openers, the Tennessee offense looked unstoppable on an opening drive for 6, and it was an inefficient showing at times after that. Two years ago, Milton's second half was a 1-for-8 dud, with the only completion coming via a Hail Mary. He looked like he was out of rhythm, which was to be expected for his first game in his new scheme.
Against Virginia on Saturday, though, Milton was much more efficient in the second half. He was 8-for-9 for 67 yards with a dart of a touchdown pass to Jacob Warren.
An improved Milton? Possibly. Heupel certainly trusts the 6th-year signal-caller. That aforementioned opening drive touchdown wouldn't have happened if he didn't trust Milton to work through his progressions and find tailback Dylan Sampson in the flat on 4th down.
Dylan Sampson with a Touchdown ??

Tennessee is up 7-0 pic.twitter.com/WMEryuPD0f

— Tennessee DieHards (@DieHardsVols) September 2, 2023
That's encouraging. Milton's success won't be determined by Heupel's faith in him. That's never been lacking dating all the way back to when Heupel would tell Milton after his high school games that he could do great things if he joined him at Mizzou.
All Heupel has done in the 5 years since leaving Mizzou is post top-8 scoring offenses. Doing that with Milton is a major box to check for Heupel. Time will tell if he can make that happen. One would think Milton can't continue to get praise for his arm strength — he told the College GameDay crew that he threw a ball 90 yards this offseason — if he continues to get off to 1-for-7 starts on passes that travel 10 yards.
But at the same time, the beauty of Tennessee's offense is that it isn't predicated on hitting all of those deep shots. It changes things when you can run the football like the Vols do. Tennessee racked up 287 rushing yards, and only 1 of those runs went for 41 yards.
Think about that. Tennessee only had 2 scrimmage plays that went for 20 yards, and it still put up 49 points. With ease. Mind you, this was the team that had more 30-yard plays than anybody in America in 2022. It's possible that this year's group won't have the chunk-play ability that last year's did. It's also possible that it might've just been a slow start and the likes of Squirrel White, Dont'e Thorton and Keyton are all going to be a home-run play waiting to happen in 2023.
Whatever the case, Milton can still be the guy, even if it's different than the Hooker experience. It'll just take realistic expectations. He's going to miss throws. He's going to have rough stretches. He's going to have moments that'll make Tennessee fans wonder how soon the Nico Iamaleava era is coming.
For now, that's on hold. After Milton went to the sidelines with the game in hand, Iamaleava did make his college debut on Saturday. The ABC cameras picked up Milton on the sideline coming over to the true freshman on the bench to coach him up.
In an ideal world for Tennessee, Milton's final year of eligibility is all about bridging that gap and helping Iamaleava develop. It's also about Milton showing for the first time in his career that he can be trusted to be QB1 from week to week. The valleys don't have to be low in this Tennessee offense. Milton can thank his elite surroundings for that.
It's fine that Milton is still a work in progress. The good could very well outweigh the bad.
One thing is clear — Milton and the Vols offense will be worthy of getting up off the beanbag chair in 2023.
Read More
Sports betting in Tennessee officially launched on November 1, 2020, and many of the largest sportsbooks are live and operating in the volunteer state. Tennessee is only one of a handful of SEC football states with legalized sports betting.