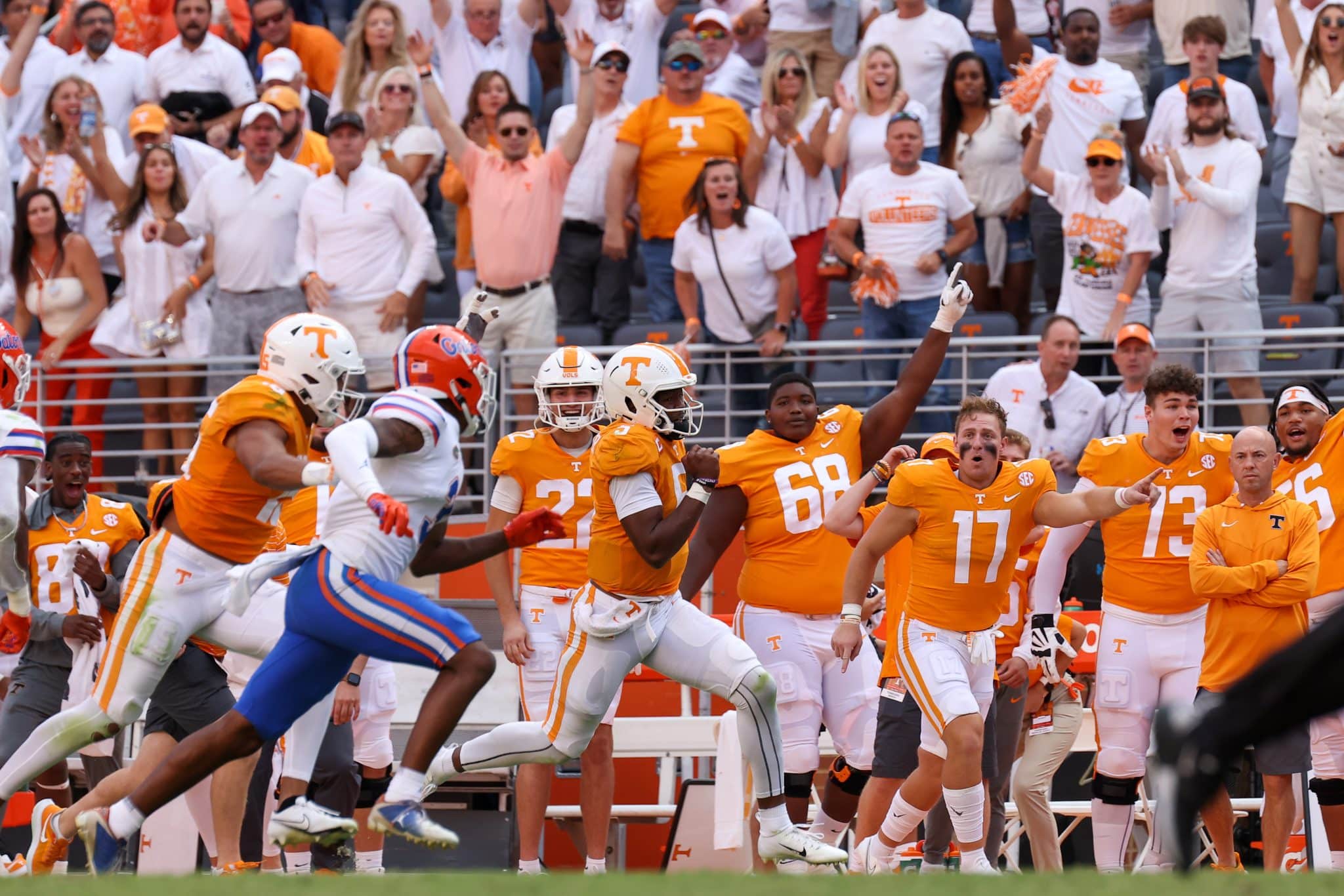 TENNESSEE
Tennessee football: Readjusting expectations for the remainder of the Vols' season
Tennessee football is in its best position since the early weeks of 2016. Let's put that into perspective.
Ask any serious Vols fan at the beginning of the season what Tennessee's record would be once all was said and done and some would offer 9-3 or 8-4. Many more would confidently say 10-2.
There were games of interest circled – Pitt, Florida, LSU and Kentucky – that stood to distinguish a 6-6 regular season from 10-2. Of those, the hopes were Tennessee could win at least 3. Preferably, the Vols might run the table.
It's hard to put into writing what an ask that is from an outsider's perspective. But thoughts of 10-2 were not unfounded. The Vols won just 7 last year but made every game interesting except the loss to Georgia. Hendon Hooker, a dark horse Heisman candidate in preseason, was returning along with one of the best receivers in the nation in Cedric Tillman.
If the Tennessee offense looked dangerous in Year 1 for coach Josh Heupel, what it could be in Year 2? After all, Tennessee danced with Alabama until things got out of hand in the 4th quarter.
But Tennessee also lost every close game except Kentucky. Ole Miss, Purdue, Pitt and Alabama all wound up in the loss column.
That seems to have gotten to Heupel.
Fast-forward. Tennessee picked up its best win of the Heupel era in Week 2 against Pitt, and then one-upped itself 2 weeks later with a monumental home win against Florida. So, 2 down and 2 to go.
Very quickly, Tennessee has proven it is for real and sick of messing around. So what should fans expect moving forward?
Let's take a look at the remaining schedule and have a crack at it.
LSU
Tennessee and LSU find themselves in a top-25 showdown. The Vols and the Tigers share an interesting history and an 11 a.m. kickoff in Baton Rouge, La., adds an element of strange.
Of the 4 difference-makers listed earlier, the LSU game could have been seen as the most solid chance for a win. Now, things have changed. Even if the Tigers are the not most talented team of the bunch, they probably pose the strongest chance for a Tennessee loss aside from Georgia and Alabama.
If Tennessee fans are overlooking this game, they should not. It resembles the Florida game, with a mobile opposing quarterback and an even stronger defense. And this one is on the road. The Tigers beat a very capable Mississippi State team and lost to Florida State in their opener after a ridiculous end-of-game chain of events. LSU is for real, at home and hungry to prove it belongs.
Kentucky
Kentucky is to Tennessee what Tennessee is to Florida. Despite recent history, Florida just beats Tennessee. Tennessee just beats Kentucky.
As previously stated, one of those things changed this season already.
Tennessee and Kentucky are similar in terms of their journey. The SEC East foes are both talented, sick of being disrespected and chomping at the bit to give Georgia a fight for a trip to Atlanta. Both are also exceeding expectations thus far in 2022.
Kentucky is the most talented team remaining on Tennessee's schedule not named Georgia or Alabama. But beating the Vols in Neyland Stadium will prove difficult if they continue their current trajectory.
Georgia and Alabama
Now wait just a minute.
If you've come to see Tennessee projected to beat Alabama and Georgia, you'll have to keep on going. Even now, the Vols appear outgunned against the 2 SEC powerhouses.
But the Vols also seem as close as ever. Tennessee chances against Georgia and Alabama now are better than 5 weeks ago. Alabama comes to Knoxville Oct. 15 and Georgia has proved it can have a off game or two.
Maybe a perfect storm can form.
The rest, and the expectations
Tennessee's offense was built to blast inferior opponents.
The Vols beat up on South Carolina, Missouri and Vanderbilt last year, and they're primed to do so again.
At the beginning of the year when South Carolina was a question mark, there were rumblings about Shane Beamers squad giving Tennessee some trouble. It's hard to believe the narrative has changed so much in just 5 weeks.
Right now, a 9-3 finish seems like a baseline expectation, with the ceiling possibly pushed to 11-1. But anyone considering 11 Tennessee wins first has to answer questions.
Above all, who is going to step up in a battered secondary? Warren Burrell is out for the season and he would have provided valuable experience despite having been a weak starter. Only Kamal Hadden has looked consistently good all season, and even he had iffy moments against the Gators. Tamarion McDonald has shown promise. Though inconsistent, Trevon Flowers seems to be getting there.
But "getting there" won't be enough against Bryce Young and Stetson Bennett.
Secondly, can Tennessee avoid injuries? That is trending towards a "no." Burrell is out, Jabari Small is banged up but still trucking and Tillman is out until at least the Alabama game, perhaps longer. The Vols probably can't withstand many more sidelined players and the schedule is not yet halfway complete.
If they can figure out these issues, Tennessee can be on its way to its best season it a long, long time.
Read More
Tennessee sports betting officially launched on November 1, 2020. Tennessee was the first SEC state to legalize sports betting.