ARKANSAS
Uniform update Arkansas: Nike redesign includes forward-facing Razorback
Leading up to gameday on Aug. 28, our in-house uniform expert Brad Crawford will look at every SEC team's apparel plans this season. Some programs are incorporating new alternates while others have made subtle alterations to helmets. We have our favorite looks and we're sure you do as well.
Here's a team-by-team glance at what you'll see this fall:
ARKANSAS RAZORBACKS (NIKE)

2014 HOME: Red helmet + red jersey + white pants OR Red helmet + red jersey + red pants
2014 ROAD: White helmet + white jersey + white pants
2014 ALTERNATES: White helmet + white jersey + red pants (road)
See our 2014 uniforms tomorrow at Hog Heaven in #DWRRS south concourse starting at 10a #WPS pic.twitter.com/eqkilKxrVP

— Razorback Football (@RazorbackFB) April 25, 2014
WHAT WE WOULD LIKE TO SEE: Matte grey helmet + blue jersey + grey pants — For the third time since 2010, Nike's given Arkansas a new uniform template for this season complete with an updated and stylized wordmark, sleek numerals and a forward-facing Razorback logo. Color fade numerals and helmets are gone (which we thought were pretty cool) in favor of a more traditional look. It doesn't appear the grey or black experiment has been included with Nike's updated combinations. The Razorbacks' white helmets with red chrome decal was one of the program's best in recent years.
#Arkansas and #Nike unveil new #Razorback uniforms and logo #Hawgs http://t.co/tyMGaYu4Aj

— Football Rumor Mill (@fbrumormill) April 22, 2014
RELATED: Arkansas gets new Nike threads
2014 HOME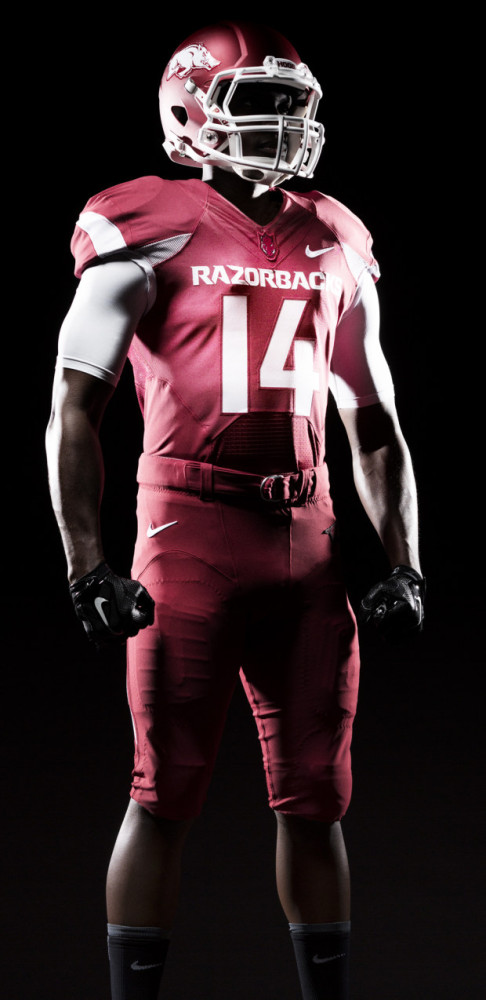 2013-2014 ROAD
2012-2013 HOME