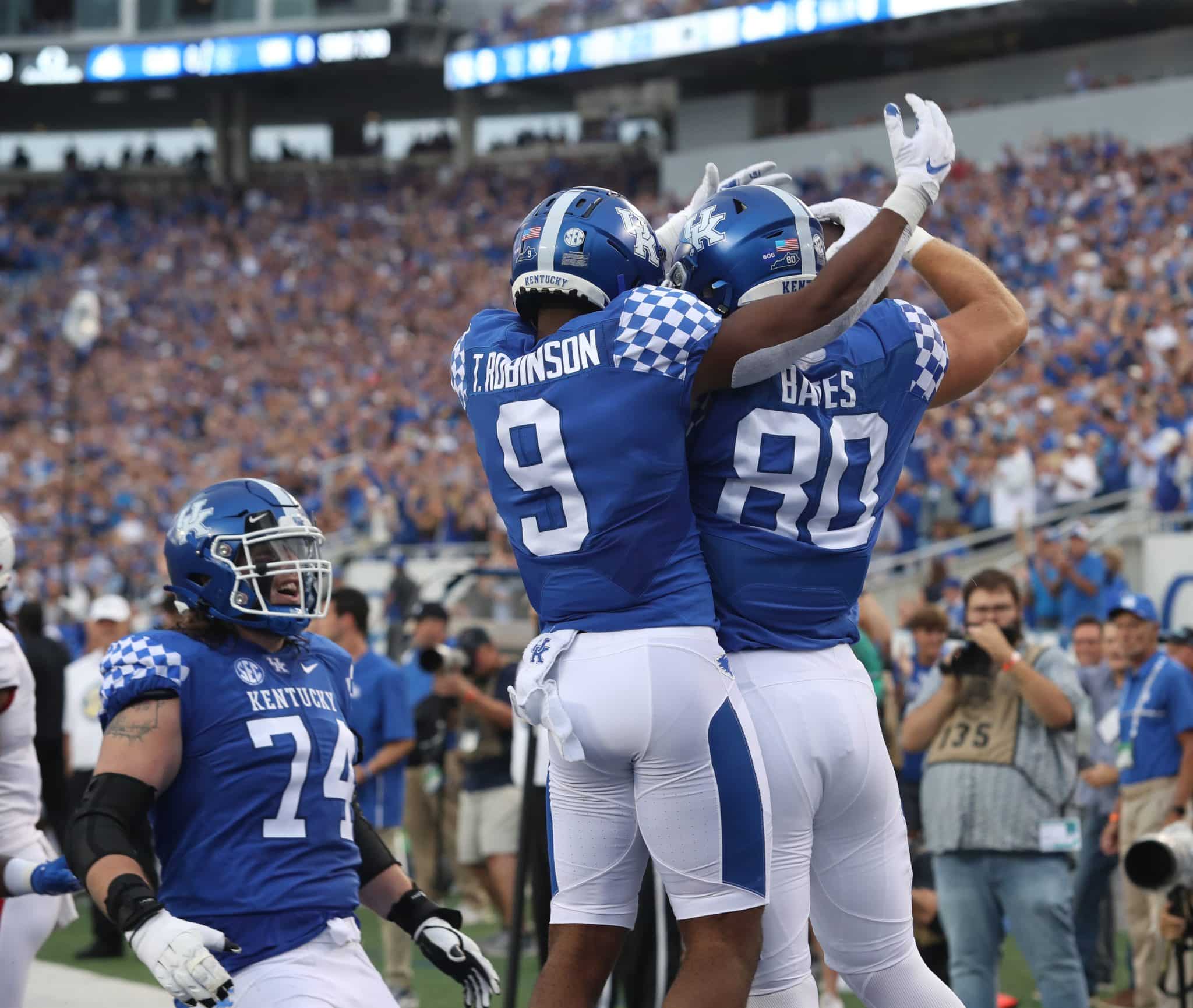 KENTUCKY
Kentucky football: 3 things we liked, 3 things we didn't like from Week 1
Kentucky opened its season with a 37-13 victory over Miami of Ohio on Saturday night in Lexington.
In many ways, the game was a typical Mark Stoops opener — the Wildcats flashed significant skills but also several areas in need of work ahead of their Week 2 visit to The Swamp.
Here's a quick look back at 3 things we liked and 3 things we didn't like from the Wildcats' opener.
What We Liked
1. The young receivers
Much of the talk of Kentucky's camp was the big-play ability of true frosh wideouts Dane Key and Barion Brown. With the loss of standout receiver Wan'Dale Robinson to the NFL, the Wildcats figured to have space for more playmakers. Week 1 showcased the new guys. Key snagged 4 passes for 53 yards and a touchdown, trailing only Virginia Tech transfer Tayvion Robinson in catches and yards. Brown snagged 3 passes for 45 yards and opened the second half with an electrifying 100-yard kick return for a touchdown, UK's first kick-return score since 2009. Moving forward, the true freshmen figure to be staples in the Wildcat attack, which is pretty impressive for a couple of guys who were in high school a few months back.
2. Tayvion Robinson
Speaking of receivers, Robinson was all he was supposed to be in his first action as a Wildcat. He snagged 6 passes for 136 yards, with 103 of those being yards after the catch. His elusiveness extended to a 23-yard punt return that gave UK a short field for another score. Will Levis is still making sense out of his bevy of receivers — he attempted passes to 12 Wildcats on Saturday. But Robinson's experience and skills certainly came in handy.
3. The young defenders
Not unlike their colleagues at wideout, big props are due to a couple of true freshmen who showed out on the defensive side of the ball for UK. Defensive back Alex Afari had 6 tackles, including a sack and a share of another tackle for loss. Massive defensive lineman Deone Walker had 4 stops, including the memorable sight of the well-over-300-pound lineman running down Miami's quarterback on one play. True frosh linebacker Keaten Wade also had 3 tackles and a pass breakup. While Stoops has generally not loved playing true freshmen, this 2022 squad had a surprisingly high number of prime-time players from Day 1, including Afari, Walker and Wade.
What We Didn't Like
1. The offensive line
There's no way to sugarcoat what was a rough performance by Kentucky's offensive line. New tackles David Wohlabaugh and Jeremy Flax had issues on the edge. But even the interior line struggled, with standout Kenneth Horsey playing only limited snaps. Levis was sacked 4 times and hurried twice more, while Kentucky's ground game went for 1.9 yards per carry with no carries longer than 9 yards. The offensive line has been a Kentucky strength, but Week 1 suggests that this is a group with some catching up to do.
2. Kentucky's first defensive series
The UK defense was solid overall, but it opened the game by allowing Miami to go 75 yards in 13 plays for a game-opening touchdown. The drive included a 3rd-down and a 4th-down conversion and culminated with a 22-yard run where the Kentucky defense parted like the Red Sea. After that first drive, UK allowed just 6 points and 215 yards for the rest of the game. But the poor start put UK in a hole that resulted in only a 13-10 lead at halftime.
3. Will Levis' consistency
It's a bizarre moment for UK's starting quarterback to pass for 303 yards and be a little disappointing. But expectations are high for Levis and while the highlights were there, Kentucky needs more consistency from its quarterback. One example was a 4th-and-2 pass at the Miami 4 early in the second quarter where Levis locked in on tight end Keaton Upshaw and threw an easy interception to an aggressive RedHawk defender. A few other passes were missed because Levis threw behind receivers or threw the ball harder than the situation merited. Again, it's an odd thing to say 21 for 32 for 303 yards and 3 scores was a little disappointing, particularly with the offensive line struggling to protect him, but Levis at his best can put Kentucky in better position to excel than he did at times on Saturday.