NFL
Dallas Cowboys vs. Tampa Bay Buccaneers Underdog fantasy player over/under picks
Dallas Cowboys vs. Tampa Bay Buccaneers is the final game of the first round of the NFL playoffs. The Buccaneers enter as the NFC's No. 4 seed after winning the NFC South. The Cowboys enter as the No. 5 seed after earning the top wildcard slot.
Tom Brady will look to make yet another Super Bowl run, but Dak Prescott and the Cowboys will be eager to prove they're the better team.
Monday night's game kicks off in Tampa at 8:15 p.m. Eastern time and can be seen on ABC, ESPN and ESPN+.
Over at Underdog, there are ways to get in on the action by making fantasy player over/under picks for the big game between the Cowboys and Buccaneers.
What is Underdog and why should SEC fans care?
Underdog is a new daily fantasy platform backed by investors such as Mark Cuban, Kevin Durant and Adam Schefter.
Through Underdog's "Pick'em" contests, you can bundle a few selections of player prop picks similar to what you find at sportsbooks and put real money against those picks.
Underdog Fantasy is available in 41 states, so you can do Underdog Fantasy picks for real money, as we're outlining here. It's really fun.
Underdog Fantasy is not available in the following states: CT, DE, HI, ID, IA, LA, MI, MT, NV.
Underdog is available in these states, but Pick'em contests as we outline here are not available: AZ, CO, MD, MO, NH, NJ, OH, PA, TN, WA, WV.
If you want to get started, Underdog will match your first deposit up to $100 by clicking here or using promo code SOUTH.
My picks for Cowboys vs. Buccaneers
I expect there to be plenty of passing in Monday night's game, so let's start with Tampa Bay's Tom Brady. Brady's over/under on pass attempts is set at 42.5. Last week at Atlanta, he threw 17 times, but that was a meaningless game for the Bucs.
Prior to last week, Brady's passing totals looked like this — 45, 48, 44, 55, 54, 43. Yeah. He throws a lot in games the Bucs need to win. Therefore, I love the "higher" option for Brady's 42.5 pass attempts.
That doesn't mean Tampa Bay RB Leonard Fournette will be an afterthought, though. Playoff Lenny is a real thing. In 1 playoff game last year, Fournette ran for 51 yards. In the 2020 playoffs, Fournette ran for 93, 63, 55 and 89 yards as the Bucs went on a Super Bowl run. Having his over/under on rushing yards for a playoff game set at 36.5 is way too low. Take the "higher" option for Fournette's 36.5 rushing yards.
Finally, let's talk about Dak Prescott, the Cowboys' quarterback. The Bucs have one of the better run defenses in the NFL, so expect them to limit the running room for Ezekiel Elliott and Troy Pollard. That means Prescott is going to have to throw if the Cowboys are going to win.
His over/under for passing attempts is set at 34.5. In 4 of his final 5 games this regular season, he's thrown at least 35 times. If he's going to go toe-to-toe with Brady, he'll need to throw it early and often. I like Prescott's "higher" option for 34.5 pass attempts.
How many picks should you make?
The more picks you string together, the higher the "multiplier" or payout. Of course, the more you string together, the less likely you are to win because all of the picks have to hit in order for you to win.
A 3-way parlay of the picks I listed above would pay out $60 on a $10 bet: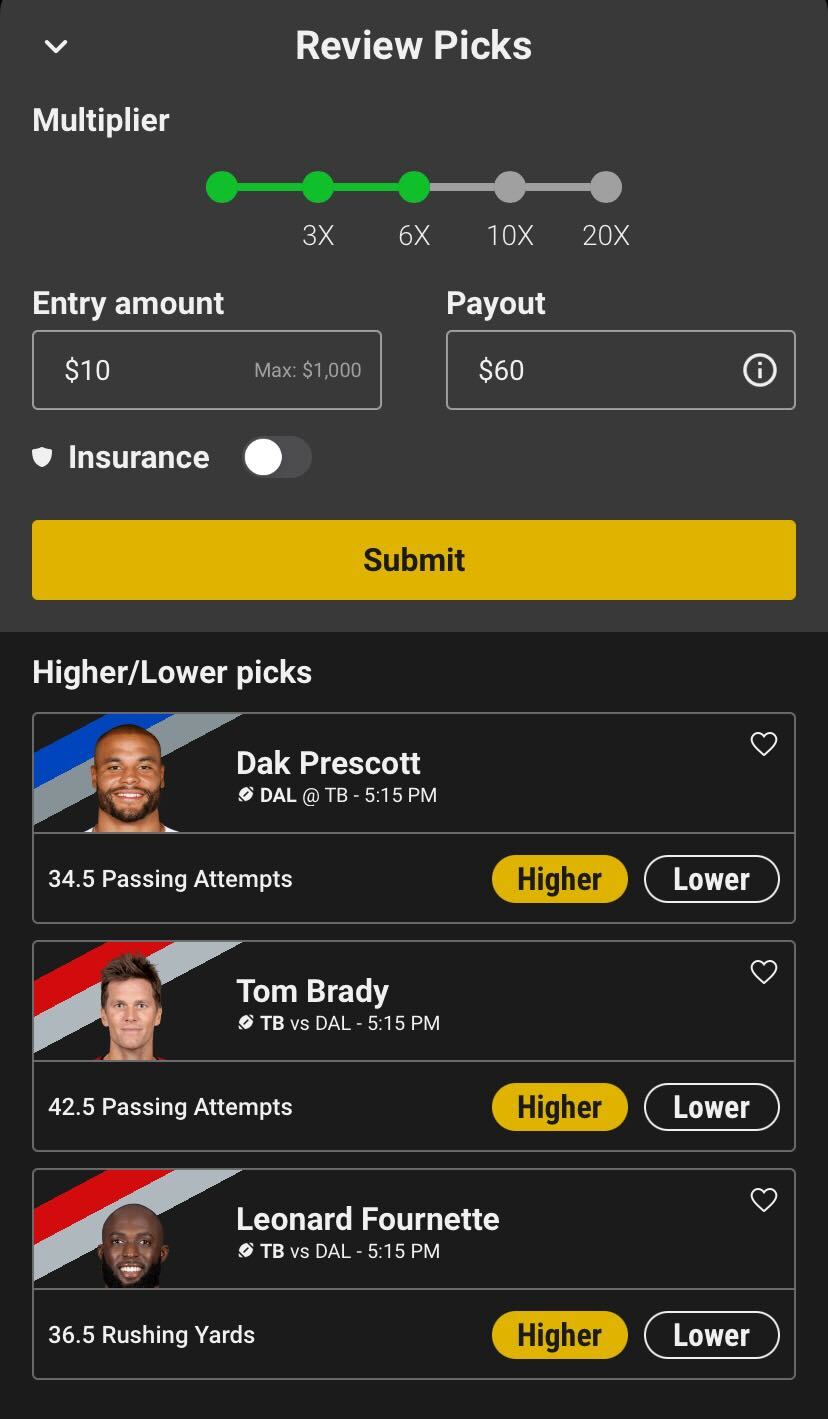 It should be an exciting game in Tampa on Monday night. Even if the score isn't very high, both offenses should be throwing the ball all over the field. Get your bets in before kickoff to join in on the fun!
Get started on Underdog by clicking here and make your picks for Cowboys-Buccaneers or other CFB, CBB, NFL and NBA games. Using this link means Underdog will match your deposit up to $100. If you deposit $25, you'll get an extra $25 to start playing right away.