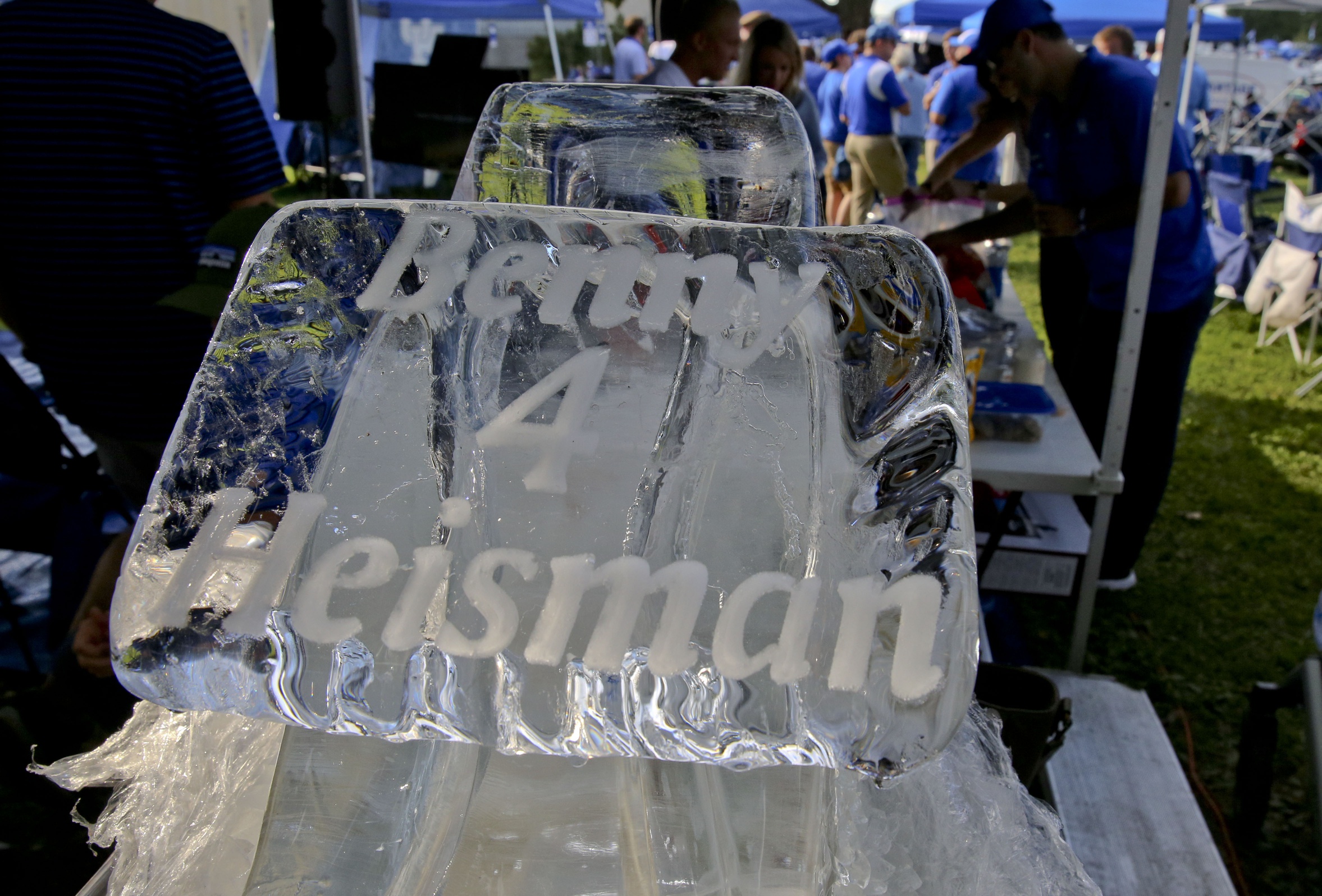 SEC
#ItMightMeanTooMuch: A tailgate wedding, an absurd Alabama wager and Benny Snell's Heisman ... ice sculpture?
A couple short weeks ago for #ItMightMeanTooMuch, I wrote what might've been my most unpopular take ever.
Fall weddings? Not that bad.
Crazy, I know. If you smiled politely through that column and you're here today, you're loyal. Super loyal.
Speaking of fall weddings and being super loyal, I got some photos sent to me (cogara@saturdaydownsouth.com, subject line #ItMightMeanTooMuch) from Bart Youmans, who witnessed something I certainly haven't — a tailgate wedding.
At last week's Tennessee-Georgia tailgate, a Vols fan groom (Michael) and a Dawgs fan bride (April) got hitched: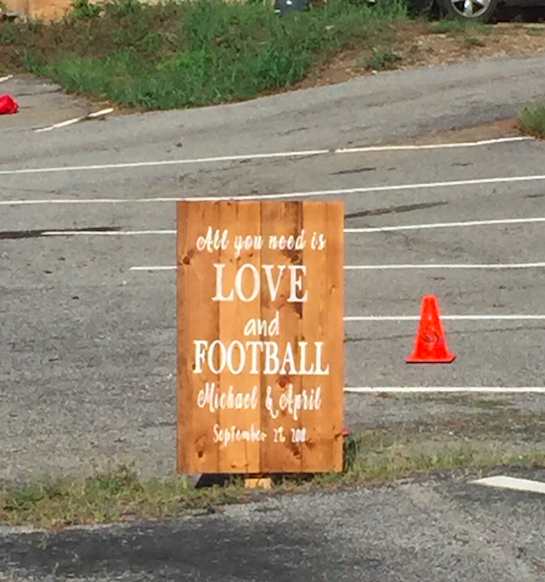 If you zoom in close enough, you can see that the officiant is rocking some Vol orange shorts. I mean, it is a tailgate after all.
There are a few things that stand out with this. One is that true fans get married at the tailgate so that they can still watch the game. A pregame wedding compared to a midgame or a postgame wedding makes much more sense, especially for a Tennessee fan.
And while the bride had bragging rights by day's end, she did get married in a Tennessee tent. If that's not compromise, I don't know what is.
Apparently there was a college football wedding theme last week, because we had a halftime wedding at the West Virginia-Texas Tech game.
We've got a midfield wedding ceremony at halftime of West Virginia-Texas Tech. pic.twitter.com/DK4RNavtVm

— Max Olson (@max_olson) September 29, 2018
I'm assuming those are Texas Tech fans. The problem is, that came after a first half in which the Red Raiders were outscored 35-10. Was the happy couple really "happy?" That's why our Georgia-Tennessee fan wedding at the tailgate made a bit more sense.
Because SEC.
They say that the odds of married couples staying together is 50-50, but it's a risk most of us are willing to take.
You know what's a risk that I'm not willing to take? BETTING $1,600 TO WIN $1.60.
Yes, you read that right.
ESPN's David Purdum wrote about someone who dropped big bucks on Alabama to win a bet with no upside:
Alabama is too powerful for Las Vegas bookmaking computers. The Crimson Tide were -99,000 favorites to beat Louisiana-Lafayette straight-up Saturday. That's bet $99,000 to win $100. "[It] should be higher," said South Point sportsbook director Chris Andrews, "but the computer won't take it."

According to Vaccaro, the overwhelming odds didn't stop one Tide supporter from placing a $1,579.65 money-line bet on Alabama. The Crimson Tide rolled to a 56-14 win, and the bettor won a cool $1.60.
WHY. WHY. WHY.
I'm sorry, but $1.60 is barely worth picking up off the ground, much less worth risking $1,600 for. Even though you knew there was zero chance that Alabama would lose to a 50-point underdog, can you imagine how nervous you'd feel even if the Tide fell behind 7-0? I'm not a gambling man, but I wouldn't be able to stop pacing and questioning WHY THAT $1.60 WAS SO FREAKING IMPORTANT.
The fact that someone has this much confidence in Nick Saban's squad is almost rat poison in itself. There's a difference between being confident and being insane. This bettor, even though he won that huge payoff, is much closer to the latter.
Confidence in college football comes in various forms. Sometimes it's betting on a game. Other times it's betting on someone to win the Heisman Trophy. In this case, it's going to extensive lengths to try to help someone win a Heisman Trophy.
Behold, the "Benny 4 Heisman" ice sculpture:
That, of course, is referring to Benny Snell. The Kentucky running back is the driving force behind the Wildcats' historic start.
The only thing missing from that ice sculpture is "Snell Yeah" written somewhere on it. That's probably the best thing about Snell's Heisman campaign. Whenever someone asks a question like, "Should Benny Snell be a legitimate Heisman Trophy contender?" the response is always "Snell Yeah."
After getting Kentucky off to its first 3-0 start in SEC play since 1977, Snell is all the way up to 60-to-1 in the latest Heisman odds. That's just a little bit behind Tua Tagovailoa at 5/7.
But hey, Snell has been counted out before. The Ohio native who couldn't get an offer from Ohio State is now getting ice sculptures made in his honor to fuel his Heisman campaign. The guy who ranks fourth in FBS in rushing (first in the SEC) is trying to become the program's first Heisman candidate since Tim Couch in 1998.
There's still a long way to go to make that happen, but I motion that if it does, the person who made Snell's ice sculpture should take it to the next level. How about an ice sculpture of Snell striking the Heisman pose? Can we get that done?
By the way, I just thought of something. Snell's potential Heisman speech. It would be epic. It'd be full of Snell dunking on the haters who doubted him. No question.
I do have one question, though. Would it go down as the best Heisman speech ever?
Snell Yeah, it would.