SEC
Monday Down South, Big 12 Preview Edition: Oklahoma's not going anywhere (deal with it, America)
The second entry in Monday Down South's weekly conference preview series ahead of the 2020 regular season. Last week: The ACC. Next week: The SEC.
Three years in, Lincoln Riley's tenure as Oklahoma's head coach is a smashing success by just about any measure, and by one in particular: Between Baker Mayfield, Kyler Murray and Jalen Hurts, Riley has quickly staked his claim to the most prolific line of quarterback succession on record. Collectively, his starting QBs have accounted for 15,451 total yards, 155 touchdowns, 2 Heisman trophies, a 36-6 record, 3 consecutive Big 12 titles, back-to-back-to-back trips to the College Football Playoff, and a burgeoning reputation for their wunderkind coach — still only 36 years old — as the game's preeminent offensive mind on any level.
Just about the only thing they haven't accounted for: A Playoff victory. On that front, Riley's teams have moved steadily in the wrong direction, putting the program on a collision course with infamy. As dominant as they have been and will almost certainly continue to be within their conference, on the biggest stage the Sooners are on the verge of becoming college football's answer to the early '90s Buffalo Bills.
The 2017 team, at least, looked like it belonged, pushing Georgia to the limit in an instant-classic overtime thriller in the Rose Bowl. (Sounds familiar.) But that's beginning to seem like a long time ago, in a narrative far away. The 2018 team never stood a chance in its semifinal date with Alabama, coming in as a 2-touchdown underdog and immediately plunging into a 28-0 hole in a game that was nowhere as competitive as the 45-34 final implied. And last year's edition was flat-out embarrassed vs. LSU, eviscerated by Joe Burrow for 400-plus yards and 49 points before halftime in a massacre that instantly defined Oklahoma's place — and, by extension, the Big 12's — as a permanent also-ran on the national scene. Together, the postseason flops are standing proof for the rest of the country that, when it really matters, gaudy stats at the expense of the Baylors and West Virginias of the world amount to a lot of empty calories.
And yet: COVID-related chaos notwithstanding, there's every reason to believe the Sooners will be in position again this season to reverse that trend, beginning with the heir apparent to the quarterback lineage. Given Riley's track record, redshirt freshman Spencer Rattler is an automatic Heisman candidate despite having yet to take a relevant snap at the college level. He was a highly decorated, 5-star recruit; he has as much time in Riley's system as Murray had before taking the reins 2 years ago, and more than Hurts had last year; he's surrounded by a typically stacked supporting cast. OU is, again, a default Playoff pick likely to be favored in every game up to that point.
Even more so than for his predecessors, though, the playoff busts loom larger for Rattler than any statistical benchmarks he might be chasing over the next two to three seasons. At this point, the numbers are baked in to expectations. Until further notice, the Big 12 title is, too. When the same can no longer be said for a perfunctory exit in the semis, then it will qualify as a genuine breakthrough.
THE FRONT-RUNNER
Oklahoma
About that supporting cast: It's been a rough offseason for the OU offense, above and beyond the standard departures for the draft. Unexpected attrition has hit the skill positions, especially, which were already facing plenty of uncertainty. One half of the starting tailback rotation, Trey Sermon, transferred to Ohio State. The other half, All-Big 12 pick Kennedy Brooks, opted out of the season. The third RB in 2019, Rhamondre Stevenson, remains suspended indefinitely for the same unspecified violation that sidelined him in the Peach Bowl, as does sophomore wideout Trejan Bridges. The leading breakout candidate at receiver, Jadon Haselwood, was lost in April to a torn ACL. A pair of key transfers, Obi Obialo and Theo Howard, are coming off medical redshirts that cost them most or all of last season at Marshall and UCLA, respectively, exacerbated in Howard's case by an Achilles injury in February. On the other side of the ball, projected defensive starters are out or in doubt due to suspension (DE Ronnie Perkins), injury (LB Caleb Kelly), and personal choice (DL Jalen Redmond).
Will any of that actually make a difference? TBD, but don't bet on it. Rattler is as close to a sure thing as a rookie starter can be. The o-line is a known quantity (see below). The backfield has no shortage of viable candidates between T.J. Pledger, Marcus Major, and incoming freshman Seth McGowan, all former 4-star recruits. Junior WR Charleston Rambo looked every bit the part of a rising star last year in his first turn as a starter, and almost certainly will be unless he's usurped by sophomore Theo Wease, a former 5-star on the rise. H-back and tight end roles that play such an integral role in Riley's offense are well-stocked. Kicker Gabe Brkic didn't miss last year. And even after factoring in attrition, the defense, reliable punching bag that it is, still boasts a ton of starting experience on all three levels, as well as a highly respected coordinator in second-year DC Alex Grinch.
It's true that the distance between Oklahoma and the rest of the top half of the Big 12 is not as insurmountable as Clemson's edge in the ACC, or possibly Ohio State's in the Big Ten. Eight of OU's past 14 conference wins have been decided by single digits. A minor step back on offense could be all it takes to close that gap. Man-for-man, though, the benefit of the doubt still belongs to the Sooners. For now, they remain the class of the league until proven otherwise.
THE CHALLENGER
Texas
Yes, the Longhorns fell well short of expectations in 2019, and in fact it could have been worse: The same midseason stretch that saw them lose to TCU, Iowa State and Baylor also featured skin-of-the-teeth escapes vs. Kansas and Kansas State as time expired, both via game-winning field goals. That's how close a merely disappointing season came to being an all-out collapse.
Still, from a certain angle, the failure to live up to the "Texas is Back" hype might wind up being a blessing in disguise for this year's team, which is arguably in better position to fulfill it. That starts, of course, with Tebow-esque QB Sam Ehlinger, who has improved in almost every aspect each of the past 2 years and brings legitimate Heisman upside to the most important position. But it also speaks to the quietly improved talent base under Tom Herman — for the first time the lineup will consist almost entirely of Herman's recruits, culled largely from 1 of 3 consecutive top-10 recruiting classes.
That's a meaningful milestone for a roster that lost its grip on the top players in Texas and notoriously struggled to develop blue-chip talent under Herman's predecessor, Charlie Strong. By contrast, the current depth chart boasts former top-100 talent at almost every position, including the No. 1 running back in the 2020 class, Bijan Robinson, who has the makings of an instant star at a spot that has too often underperformed. Whether all that potential will finally pay off is one of the defining questions of the 2020 season.
THE DAR KHORSE
Oklahoma State
Aside from RB Chuba Hubbard (see below), Oklahoma State's 2019 campaign wasn't much to write home about: 8-5 record, unranked finish, 5th consecutive loss to Oklahoma, etc. Needle unmoved. It did, however, set the stage for a potential run in 2020. Virtually everyone who touched the ball last year is back, including Hubbard, all-everything WR Tylan Wallace (a midseason injury casualty who was sorely missed down the stretch), and dynamic sophomore QB Spencer Sanders, a prime leap-year candidate in his second season as a starter. The defense, too, returns essentially intact.
Still, whether the pieces fit together as well on the field as they do on paper is an open question. Sanders was erratic before suffering a season-ending thumb injury in November, throwing 11 picks in his last 8 full games; the defense was prone to major lapses, allowing more than 7 yards per play in all 4 regular-season losses. And although the Cowboys have flirted with the occasional breakthrough under Mike Gundy – see their 4 10-3 finishes in 5 years from 2013-17 – the talent level hasn't managed to sustain that threat over a full season since their lone Big 12 championship season in 2011. This team has an opening to change that, health and consistency willing, but probably only if all the breaks go their way.
THE UPSTART
Iowa State
When then-36-year-old Matt Campbell arrived in Ames, he inherited a program with a limited recruiting base and a definite ceiling: At that point, Iowa State had eclipsed 6 wins just once in the previous decade, and 7 wins just once in Campbell's lifetime.
Cut to 4 years later, and ISU is on the verge of becoming a beacon of stability. The past 3 seasons on Campbell's watch have yielded a 23-16 record, 3 wins over top-10 opponents (at kickoff), and 12 total weeks in the AP Top 25 for the Cyclones themselves. The 2020 team landed in the preseason poll for the second year in a row, a distinction Iowa State hadn't previously enjoyed since 1978.
Much of the credit for that goes to the best QB in school history, Brock Purdy, who accounted for a higher share of his team's total offense in 2019 (73.3 percent) than any other returning Power 5 player. But Purdy is more the face of the program than he is a one-man show: A dozen other Cyclones have also come in for first- or second-team all-conference honors the past 2 years, half of whom are also back. That number includes sophomore RB Breece Hall, a rare 4-star recruit who paid immediate dividends as a Freshman All-American; sure-handed Charlie Kolar, the top senior tight end in the country; and senior DL JaQuan Bailey, the Big 12's active career leader in sacks and TFLs. That core is worth as much optimism as any in recent memory. But for possibly the first time ever, Iowa State fans don't necessarily have to believe this year is The Year to believe the payoff is coming sooner than later.
THE DOORMAT
Kansas
A decade of futility: From 2010-19 the Jayhawks posted an incredible 6-83 record in Big 12 games under 4 head coaches, a span that included 4 winless seasons in conference play and 10 consecutive last-place finishes. Whatever fleeting hints of progress the 2019 team managed in Les Miles' debut – a midseason upset at TCU, a close call at Texas – it didn't come close to breaking that streak and didnt give any reason to suspect it's about to in 2020.
Of the many, many issues plaguing the program, instability behind center ranks at the very top: Kansas cycled through 11 starting quarterbacks in the Lost Decade, only one of whom (Peyton Bender in 2017-18) led the team in passing in consecutive seasons. To that end, Miles hopes the winner of the ongoing competition between former JUCO transfers Thomas MacVittie and Miles Kendrick seizes the reins and doesn't let go. Considering both remained nailed to the bench last year behind the since-departed Carter Stanley, the prospects are not encouraging.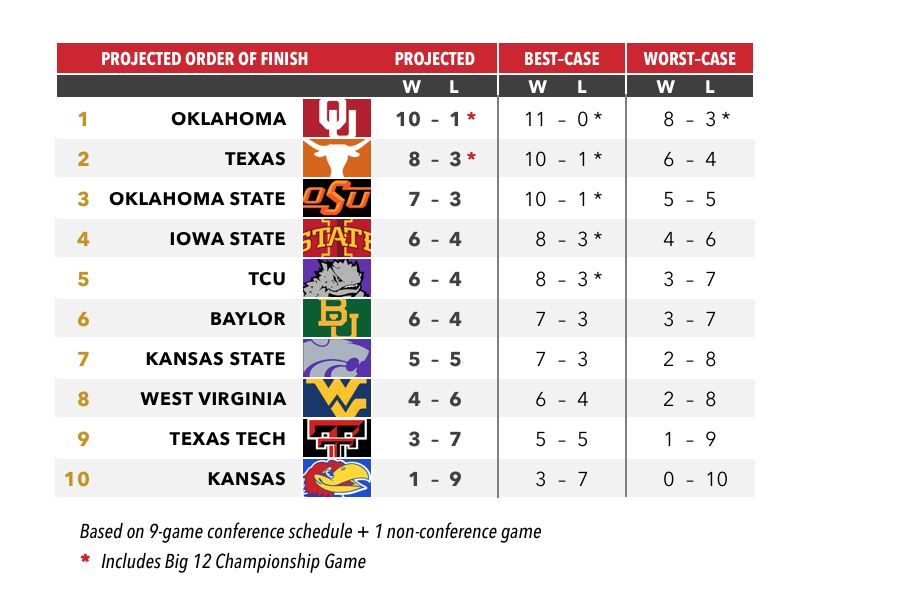 OFFENSIVE PLAYER OF THE YEAR
Oklahoma State RB Chuba Hubbard
An easy call. Hubbard's 2019 campaign – 2,292 scrimmage yards, 21 TDs on 6.5 per touch – was the best by a Big 12 running back since Adrian Peterson and the best by an OSU back since Barry Sanders, with no real competition for either distinction. He led the nation in runs of 30+ yards, easily eclipsed 100 yards in every game vs. an FBS opponent, and scored in all but two. He finished 8th in the Heisman vote (no minor feat these days for a running back on an unranked team) and earned a consensus All-American nod over the likes of Travis Etienne and J.K. Dobbins. Texas A&M can attest: Dude is legit.
Send help. pic.twitter.com/3k5wPSZm5b

— Pistols Firing (@pistolsguys) December 28, 2019
He also led the nation in both total offensive touches (351) and touches per game (27) – a testament to his durability, but not exactly an ideal blueprint for a serious pro prospect going into his fourth year on campus. Mike Gundy has conceded his bell cow was "fatigued and beat up a little bit towards the end of the season," which was not coincidentally the most run-oriented season of Gundy's 15-year tenure, by far. Chuba's stat line may not benefit from more balance, but ultimately it might be in his best interest along with the team's.
DEFENSIVE PLAYER OF THE YEAR
Texas DB Caden Sterns
A no-brainer Freshman All-American in 2018, Sterns was never quite right in '19, derailed by lingering ankle and knee injuries that hounded him throughout his sophomore campaign. He missed the entire month of October (including losses to Oklahoma and TCU), failed to record an interception after coming down with 4 INTs as a freshman, and was predictably shut out of postseason honors. Even at less than 100 percent, though, on the most basic level, the difference when he was on the field and when he wasn't speaks for itself:

Athletically, Sterns is a natural with the range and physicality to make plays all over the field, the kind of guy who gets singled out as a first-round specimen before he ever sets foot on campus. A healthy return to form in Year 3 will go a long way toward making that potential a reality.
BREAKOUT PLAYER, OFFENSE
Texas WR Brennan Eagles
Eagles was the third man among Texas wideouts in 2019, easing his way into the lineup behind seniors Devin Duvernay and Collin Johnson. Now a junior, his time as WR1 has come.
At 6-4/229, it doesn't take long to see why he was hyped as a top-100 recruit, and he flashed the kind of body control and balance last year that stands to make him a premium threat on jump balls and tight-corner grabs in the red zone. Just don't mistake him for some kind of glorified tight end: Eagles also supplied some legitimate downfield pop, averaging 16.3 yards per catch with 10 grabs that covered 20+ yards and 6 touchdowns, including a pair of long-haul scores vs. Oklahoma State and his hometown school, LSU.
Brennan Eagles flies right into the end zone for a Texas TD. pic.twitter.com/bOFhJi6ZQe

— CBS Sports HQ (@CBSSportsHQ) September 8, 2019
The Longhorns have no shortage of up-and-coming receivers, but there is a go-to void to be filled and as Ehlinger's most established target Eagles is the most obvious candidate to fill it. While he's not about to replicate Duvernay's prolific output from the slot, he should be more than capable of absorbing Johnson's production on the outside (38 for 559, 3 TDs), essentially doubling his own in the process.
BREAKOUT PLAYER, DEFENSE
TCU DB Ar'Darius Washington
Technically, Washington was a part-timer in 2019, coming off the bench for most of his redshirt-freshman season before moving into the starting lineup over the last 4 games. When he was on the field, though, he wasted no time turning heads. He ended the year with as many interceptions (5) as receptions allowed per Pro Football Focus, and generally put any doubts about his 5-8, 178-pound frame to bed with his aggressive, downhill mentality vs. the run (see his team-high 14 tackles at Oklahoma) and his advanced instincts in coverage.
This might be the best play I've ever seen a Quarters' Safety make… sees #2 going Vertical and bending for the Slot Fade, hears the China call which means he knows he's gonna get Corner help, so he peeks at #1 to see him running the Sluggo, comes off, bats the ball up. Unreal. pic.twitter.com/bLj4NskcY5

— Coach Vass (@CoachVass) June 8, 2020
PFF is all aboard the Washington bandwagon, touting him as the nation's 2nd-highest-graded safety in 2019 — trailing only his more decorated teammate, Trevon Moehrig-Woodard — and the best draft-eligible safety in 2020 despite coming in well below the baseline height/weight requirements for the next level. If he delivers on that distinction over a full season, here's guessing they won't be riding alone.
MOST EXCITING PLAYER
Kansas RB Pooka Williams Jr.
There's one reason and one reason only to tune in to Kansas football and Pooka is it. In 2 years Williams has accounted for 2,689 yards from scrimmage with 33 plays of 20+ yards, singlehandedly elevating the offense out of the cellar — his 2018-19 output accounted for more than 30% of the Jayhawks' total offense across both seasons — and quickly moving him onto the shortlist of the most productive runners in school history. (He's already the first KU back to eclipse 1,200 yards in multiple seasons, much less as a freshman/sophomore.) He's also been at his best vs. the best competition, averaging 137.1 scrimmage yards per game vs. opponents that finished with winning records, including an eye-opening, 270-yard romp at Oklahoma in 2018 and a 215-yard outing at Texas last October.
It's hard to get much traction when virtually all of your highlights inevitably come in a losing effort. But Williams' combination of vision, burst, and balance would make him a star anywhere, and after one more year of futility, he'll have the chance to prove it at the next level.
SLEEPER OF THE YEAR
Texas Tech DB Adrian Frye
Typically the last place you'd expect to find an emerging talent is Texas Tech's secondary, which (in accordance with being routinely torched by opposing offenses) has produced exactly zero draft picks in the past decade. If anyone has a chance to break that streak anytime soon, though, Frye is the guy. In 2018, he was a surprise all-conference pick as a redshirt freshman, finishing with a league-best 5 INTs and 18 passes defended; now, after a disappointing stint at safety last year, he's back in his comfort zone on the outside, where his size (6-0/190) and ball skills are better suited. If he returns to his freshman form he'll be as close as the Red Raiders have had to a bona fide shutdown corner in ages.
MOST VALUABLE TRANSFER
Baylor OLB William Bradley-King
At Arkansas State, Bradley-King was the Sun Belt's best edge defender over the past two years, racking up 24 TFLs, 14 sacks, 5 forced fumbles, and back-to-back all-conference nods (second team in 2018, first in '19). At Baylor, he'll have every opportunity to earn the same title in the Big 12: As soon as his transfer was approved, Bradley-King became the headliner of a pass rush that's effectively starting over from scratch. The offseason exodus from Waco included nearly the entire starting front seven, most notably All-American James Lynch, the conference's Defensive Player of the Year and MVP of the Bears' surprise run to the brink of a Playoff bid.
Arkansas State DE William Bradley-King takes setting the edge to a whole nother level.@Willgotthesack decleats his blocker right into the ball carrier's legs, gives great effort on the pursuit & gets in on the tackle at the end. Beautiful! #StopTheRun #WolvesUp pic.twitter.com/diZKYxZ1io

— DLineVids (@dlinevids1) September 10, 2019
For obvious reasons, shoring up the edge was a top priority for new head coach Dave Aranda, whose shape-shifting 3-4 scheme relies on bringing heat from unpredictable angles. Between his stints as defensive coordinator at Wisconsin (2013-15) and LSU (2016-19), Aranda has coached 6 DE/OLB types who went on to be drafted in the past 6 years, including first-rounders T.J. Watt and K'Lavon Chaisson. Adding Bradley-King's name to that list would be a very encouraging sign for the fate of his first season in charge.
BEST SEC ALUM
Iowa State DB Greg Eisworth
Eisworth was one of the more obscure names in Ole Miss' hyped 2016 recruiting class — the same one headlined by Shea Patterson, A.J. Brown and D.K. Metcalf, among others — and only lasted a semester in Oxford before quietly exiting via the JUCO route. Since landing at Iowa State, though, he's on track for arguably the best college career of the lot: As the "Star," a hybrid linebacker/nickel role, Eisworth is entrenched as the key playmaker in the Cyclones' innovative 3-3-5 scheme, coming in as a first-team All-Big 12 pick each of the past 2 seasons despite playing through a lingering shoulder injury for virtually all of last year. Another turn on the first team as a senior would make him the first Big 12 DB to pull off a three-peat in more than 20 years.
On a related note: Ole Miss' last all-conference pick in the secondary? Trae Elston in 2015.
BEST POSITION GROUP
Oklahoma's Offensive Line
The skill positions may be in flux in Norman but the front line is as solid as they come. Five starters are back who accounted for 87.8 percent of last year's OL snaps, per PFF, easily the highest returning rate in the conference. The holdover are anchored by redshirt-junior center Creed Humphrey, owner of 25 consecutive starts and widely regarded as the best returning center in the country; he didn't allow a sack last year in almost 800 snaps. Future pros Adrian Ealy, Tyrese Robinson and Marquis Hayes are also entrenched and due to level up in their second year in the lineup.
The intrigue is at left tackle, where the veteran option, 5th-year senior Erik Swenson, struggled to hold down the job in 2019 and was benched for the stretch run. More likely, the Sooners will roll with redshirt freshman Stacey Wilkins, a prototypical 6-6, 316-pound behemoth who got in his 4 games and is seen as the future. Given the track record here – 5 o-linemen drafted in the past 3 years with the next wave on deck – that's an enviable place to start.