SEC
Monday Down South: Georgia's offense is built to win one type of game. Alabama's is built to win them all
Weekly takeaways, trends and technicalities from the weekend's action.
If the past decade in college football has taught us anything, it's that offense reigns supreme. To quote Nick Saban himself: In the spread era, good offense beats good defense. And if there was any larger lesson in Alabama's 41-24 romp over Georgia in the SEC Championship Game, it's that absolutely nothing has changed.
In defense of the oddsmakers and pundits who installed the Bulldogs as clear favorites, there were many good reasons prior to Saturday to suspect that just maybe it had. Georgia's defense was not only the nation's best over the course of the regular season – it was the best in years, a deep, abundantly talented, consistently dominant force that swallowed up all comers and spit them out on a weekly basis. Through 12 games, opposing offenses had managed a grand total of 8 touchdowns, all but 1 coming with Georgia already leading by at least 14 points. The Dogs hadn't been challenged, or even close; they were the outliers, the vanguard of the counter-revolution, the total package.
Take advantage of Underdog's special Jimmy Butler Game 4 offer!
...
Meanwhile, what offense could say the same? Certainly not Alabama's. For all their talent, the Tide often looked like a unit in rebuilding mode following a mass exodus from the highest-scoring attack in SEC history in 2020. They were mediocre on the ground, at one point managing just 6 yards rushing in a close, low-scoring win over LSU; they struggled to protect Bryce Young, giving up more sacks (35) than in the previous 2 years combined; they closed out the regular season looking listless and exhausted in the Iron Bowl, where they were shut out for 3-and-a-half quarters and felt their national championship hopes hanging by a thread.
Auburn, a squarely middle-of-the-pack defense across the board, dropped Young 7 times and hit him a half-dozen more. And suddenly, what, this group is going to turn around and light up the college football equivalent of the '85 Chicago Bears?
Well, yeah, actually, as it turns out that's exactly what. When Alabama is at its best, even a defense that had yet to show so much as a sliver of vulnerability all season is at the Tide's mercy.
JAMESON WILLIAMS IS GONE@AlabamaFTBL strikes back. pic.twitter.com/JHFIBMwuwF

— CBS Sports (@CBSSports) December 4, 2021
After falling into an early, 10-0 hole, Bama achieved liftoff, scoring on 5 consecutive possessions (4 touchdowns, 1 field goal) covering at least 75 yards apiece – the cast majority of them courtesy of Young, who found himself with ample room to survey the field from the pocket, or to take off running, or generally to do whatever he pleased en route to accounting for 461 total yards and 4 touchdowns on a Heisman-clinching afternoon. The same o-line that all but collapsed in a heap at Auburn responded to its worst outing of the season with its best, by far, limiting UGA's vaunted front seven to zero sacks and just 3 hits, per Pro Football Focus. Wideout Jameson Williams, sidelined for most of the Iron Bowl following an ejection for targeting, stretched the secondary past the breaking point, finishing with 184 yards and 2 TDs on 26.3 per catch. As a group, Bama's receivers generated more yards after the catch (195) than 9 of the Bulldogs' 12 regular-season opponents managed through the air altogether.
Alabama blew past Georgia's season average for yards allowed before halftime, with plenty of room to spare. Between their 4 scoring drives in the second quarter and a quick strike from Young to Williams to open the third, the Tide scored more points in a span of about 18 minutes (31) than UGA allowed in all of September (23), October (30), or November (30).
"Jameson down there somewhere." – Bryce Young, probably pic.twitter.com/hdCRpnzus3

— CBS Sports (@CBSSports) December 4, 2021
What does a championship offense look like in 2021? Based on everything we know about how the sport has evolved over the past few years, it looks like that: A Heisman-caliber, NFL-ready quarterback – a Deshaun, a Tua, a Trevor, a Burrow, a Mac, a Bryce – blessed with next-level playmakers – a Mike Williams, a Calvin Ridley, a Justyn Ross, a Ja'Marr Chase, a De'Vonta Smith, a Jameson Williams – combining to make elite opponents in big games look like ordinary. It looks like good offenses not just beating good defenses, but treating them like speed bumps.
And based on everything we know about these two programs and their head coaches, maybe it should have been obvious all along which team was built to win big on those terms and which team clearly was not.
A "wake-up call"
Georgia, by virtue of its wall-to-wall dominance in the regular season, is in the extremely fortunate position of treating the loss as a mulligan. Once they sober up from the letdown, the Bulldogs are still Playoff-bound – albeit as the No. 3 seed against surging Michigan, rather than the No. 1 seed against a game but outmanned outfit from Cincinnati – and still have a realistic shot at winning it all. More importantly, they know now exactly what they need to do to maximize that chance: Bench Stetson Bennett IV for JT Daniels.
Admittedly, yes, at this point in the season demoting the starting quarterback reeks of desperation. And credit where it's due: Prior to Saturday, Bennett had done everything right, going 7-0 since taking over for an injured Daniels in early October while finishing second nationally (ahead of Young) in pass efficiency, yards per attempt and QBR. By the time Daniels was cleared to return to the lineup, even the skeptics had to admit the former walk-on had earned his keep, and by mid-November the window for getting Daniels back up to speed in time for the postseason had apparently closed. He hasn't taken a meaningful a meaningful snal since Week 4 against Vanderbilt, and that's only if you consider a game that may as well have been over before the coin toss meaningful in the first place. Bennett was playing well, or at least well enough to keep playing.
After Saturday, though, the next few weeks leading up to the Orange Bowl are looking more like desperate times. After a reassuring start, the final 3 quarters, and the second half, especially, were the Bulldogs' worst fears come true: The ground game stalled, the defense cracked, and the mounting deficit forced them to rely on Bennett's arm against a blue-chip defense that had very little reason to respect it. Although he finished with 340 yards (easily a career high) and 3 touchdowns, he had to put the ball in the air a staggering 48 times to hit those marks, more than twice his season average, and for the second year in a row against Alabama, the negatives were far more memorable than the positives.
PICK SIX!

The @AlabamaFTBL defense scores on a Jordan Battle INT. pic.twitter.com/XH0Mx8KYPE

— CBS Sports (@CBSSports) December 5, 2021
I think we've seen what we needed to see here. That was the second of 2 costly picks in the second half, the first of which had already snuffed out a crucial red-zone scoring opportunity in the third quarter. Going back to last year's regular-season loss in Tuscaloosa – a game that ended with an identical final score, 41-24 – Bennett has thrown 5 interceptions in the past 2 meetings, 4 of them with the Bulldogs trailing in the second half.
Bennett was hardly Georgia's only problem, nor, on a day when the running game made no impact, wide receivers generated no separation, and the defense got exposed at every level, was he necessarily the biggest. Still, it's clear enough that as long as he's in the lineup, the Bulldogs will always struggle to win games that deviate from a defensively-driven script that Alabama has no interest in playing along to.
In stark contrast to Young, Bennett offered very little in the way of downfield juice and inspired even less confidence in his capacity to transcend the team's larger issues. He connected on 1 attempt beyond 20 yards, an early jump ball to George Pickens that gained 37 yards and set up UGA's first touchdown, and didn't threaten the Tide deep again. All the while, Daniels, the blue-chip transfer with an NFL future, looked on idly.
Obviously, Kirby Smart is not paid $7.1 million a year to be obtuse about the most important position on the roster. On the contrary, he's made quarterback a priority, signing 5-star or borderline 5-star prospects in 4 of the past 6 recruiting cycles and pursuing Daniels and Jamie Newman on the transfer market to bridge the gap until the heir apparent, true freshman Brock Vandagriff, is ready to take the reins in 2022 (if Daniels leaves early) or '23. And yet here he is, again: On the losing end of a big game in which his team was outgunned in a career-making performance for the other side's star QB, while arguably the most talented signal-caller on his own depth chart remains nailed to the bench.
After the game, Smart described the loss as "a wake-up call," and technically he didn't rule out the possibility of making the switch to Daniels while reiterating his confidence in both quarterbacks. At the end of the day, though, nothing in his answer or his track record suggests the status quo is likely to come under serious scrutiny between now and New Year's Eve. Why would it, when it's already carried him this far? But there is still time to wake up before the next big opportunity, and in the wake of the latest reality check there's more urgency than ever. In the aftermath of the wipeout in Atlanta, how the Bulldogs got here is just a story. What matters now is the hard decisions they're willing make to give themselves the best chance to go all the way.
Superlatives
The best of the week year.
MVP/Offensive Player of the Year: Bryce Young
I might be more agnostic than the consensus about the inevitability of Young's pending Heisman win — of course he's going to win — only because he seemed to spend so much of the season in cruise control. But I'm not about to sit here and deny a man with 43 touchdowns to 4 interceptions. Not many campaigns have culminated quite as dramatically in the home stretch, either. Young's last 3 times out have been classics of very different stripes, with his record-breaking outing against Arkansas, death-defying comeback in the Iron Bowl, and slaying of the Georgia juggernaut serving to paint a much fuller picture of his game and his indispensable role in Alabama's offense. Other recent Heisman QBs have put up better numbers; arguably none have meant more to their team.
Defensive Player of the Year: Will Anderson Jr.
I've been on the Anderson For Heisman bandwagon since midseason and I'm riding it all the way across the finish line. Anderson closes the regular season as the FBS leader in sacks and tackles for loss, distinctions he held for virtually the entire year, and tied for 3rd nationally with 73 QB pressures; the film eaters at PFF also singled him out for the top run defense grade of any SEC defender, a reflection of his emergence as a balanced, every-down anchor who is even better than his elite pass-rushing rep suggests. He was on the field for more than 90% of Alabama's total defensive snaps and his tank never ran out of gas.
Most Exciting Player: Jameson Williams
Where would Williams have landed in Ohio State's stacked wide receiver rotation if he'd remained a Buckeye? The world will never know, and is better off for it. At Alabama, he burned white-hot, exploding over the second half the season to account for 1,081 yards and 12 touchdowns in the last 8 games alone, on a Jaylen Waddle-esque 21.1 yards per catch.
His home-run speed added a dynamic to the offense that was just as conspicuous in its absence against Auburn, where the offense nearly ground to a halt after his ejection for targeting, as it was when he was on the field. No player at any position who passed through the transfer portal in the offseason has had a bigger impact on his new team, and with running mate John Metchie III out of commission due to a torn ACL, it's very possible that Williams' share of the offense — like De'Vonta Smith's following Waddle's injury last year — is just going to keep on expanding.
Freak of the Year: Treylon Burks
Burks, an Arkansas native, could have taken his imposing size and decorated high school résumé just about anywhere. Instead, he opted to play close to home for a program at rock bottom, and his upward trajectory over the past three seasons has mirrored his team's. At 6-3/225, Burks' combination of high-rise skills in the red zone and legitimate breakaway speed in the open field are unmatched by any active college receiver, and may very well make him a first-round pick.
TWO PLAYS

TWO INSANE TREYLON BURKS CATCHES

— PFF College (@PFF_College) October 9, 2021
The only thing stopping me from comparing Burks to the guy who claimed the Freak crown in 2020, Kyle Pitts, is his height — Pitts stands a legitimate 6-6 and probably lacks Burks' straight-line speed. But in terms of ball skills, body control, mismatch potential, and the all-around absurdity of a human being that big moving with such fluidity, he's in the same class. There's no one else right now quite like him.
Fat Guy of the Year: Darian Kinnard
Kinnard has been a rock on Kentucky's o-line over the past 3 seasons, logging 38 consecutive starts at right tackle and consistently posting top marks for mauling. As a junior in 2020, he earned the top overall PFF grade of any SEC offensive lineman (91.5) en route to a second-team all-conference nod from league coaches; as a senior, he not only improved on that number, finishing with a SEC-best 92.2, but actually graded out as the conference's best individual lineman in both pass and run blocking while playing a little more 95% of the Wildcats' offensive snaps. Postseason accolades should be rolling in in due course, followed by what figures to be rising draft stock over the next few months; if he ultimately makes good on his first-round potential, Kinnard would be the first Kentucky OL to earn the distinction since 1977.
Sleeper of the Year: Josh Paschal
Paschal, a 5th-year senior at Kentucky, is a great player with a great personal story, overcoming malignant melanoma on his foot as an underclassman to grow into one of the league's steadiest and most productive edge defenders — he tied for 2nd in the SEC with 15.5 TFLs, trailing only Will Anderson, while rivaling Anderson as one of the conference's best players against the run, per PFF. And while he might not get much face time outside of Kentucky, in Lexington he should be a household name.
It's been great working with Steckler Pediatric Dentistry (@kykidsdentist) and the kids in the community with their oral health! I am the #DefenderOfDecay! @creativecaddie #ad pic.twitter.com/HT8OGg2Bx2

— Joshua Paschal (@JPaschalx) November 23, 2021
The next time someone tries to tell you NIL right are bad for the sport, just show them that.
Breakout Player of the Year: Antonio Johnson
Johnson, a true sophomore at Texas A&M, may have been most notable in his first year as a starter as a reliable ball hawk, finishing among the Aggies' leaders in tackles and TFLs from his nickel corner role. But he was arguably their most reliable player in coverage, too, limiting opposing receivers to just 5.6 yards per catch on 41 receptions — best in the SEC among all defensive backs with at least 100 coverage snaps. His name should become very familiar in the all-conference lineup very quickly.
Most Underrated: Cam Smith
Boring name, good player. Smith, another true sophomore at South Carolina, was the standout in a completely rebuilt Carolina secondary and very quietly one of the feistiest young cornerbacks in the conference, finishing with 14 PBUs and 3 interceptions in the Gamecocks' last 4 games.
THIS INT BY CAM SMITH ??pic.twitter.com/uEr98vuFUa

— PFF College (@PFF_College) November 7, 2021
Per PFF, Smith allowed just 184 yards and 1 touchdown on 32 targets, good enough to share the top coverage grade among SEC corners (89.7) with Auburn's Roger McCreary.
Most Improved: Charles Cross
Cross, the rare 5-star recruit to land at Mississippi State, has always projected as a future pro on raw talent alone, but the results haven't always been pretty: As a sophomore in 2020, he gave up an alarming 44 pressures and 6 sacks as the Bulldogs' starting left tackle, including 3 sacks in a single disastrous outing against Auburn. As a junior, though, he made the leap into one of the league's best lineman, allowing just 16 pressures and 2 sacks on more than 900 pass-blocking snaps. At 6-5/310, he looks like a no-brainer for the first round next April, and very possibly for the top 10.
Rookie of the Year: Brock Bowers
Bowers, a true freshman tight end with bona fide wide receiver skills, was the brightest spot in Georgia's SEC Championship loss to Alabama, finishing with season highs for receptions (10) and yards (139) in his introduction to a national audience.
Brock Bowers just went bulldozer mode for a TD pic.twitter.com/Fn95IhtzIq

— CBS Sports (@CBSSports) December 5, 2021
But his performance against the Tide was consistent with his role throughout the season, which saw him emerge as the only reliable target among an inconsistent and injury-plagued group of receivers. Bowers was the only UGA player to finish among the top 30 in the SEC in receptions (47) or yards (791), and he ranked among the top 3 in yards per catch (16.8, 3rd) and touchdowns (11, tied-2nd).
At the end of Year 1 he already looks like the complete package for a "move" tight end, equally comfortable in a traditional inline blocking role or as a receiver from the slot, and as he's healthy you may as well go ahead and pencil him in as an All-American in the next two.
Best Position Group: Georgia's Defensive Line
Yes, they ended on a low note in Atlanta, and yes, Jordan Davis' Heisman campaign was always destined to be more of an oddity than a legitimate run at the award. Nevertheless: Over the course of the season, the starting rotation of Davis, Jalen Carter and DeVonte Wyatt was the driving force of the Bulldogs' defensive dominance, overpowering blockers, absorbing double teams, and generally rendering opposing ground games irrelevant while supplying a better-than-credible pass rush for a trio of 300-pounders. No other offense prior to Bama's managed to make so much as a dent in the wall they formed up front, and if Georgia gets another crack at the Tide a more typical effort from the d-line will be essential to disrupting Bryce Young and flipping the result.
Moment of Zen of the Year: Lane Kiffin returns to Neyland
Ole Miss' 31-26 win at Tennessee in mid-October will be remembered less for anything that happened in the game itself than for the literal mob scene that broke out in the waning seconds, when a subset of disgruntled Vols fans capped a long, exhausting night by heaving an eclectic assortment of garbage, condiments, and foreign objects onto the field. Kiffin himself was hit with a golf ball, leading to a lengthy stoppage to hustle the band and cheerleaders to safety and allow the toxic energy to run its course. It eventually did, kind of, just long enough to play out the remaining 54 seconds.
Kid you not @Lane_Kiffin Odell'd a water bottle exiting Neyland pic.twitter.com/jDPq6JEiz2

— Josh Pate (@LateKickJosh) October 17, 2021
It's worth emphasizing again that this was a long night: From kickoff to triple zeroes, the game spanned just over 4-and-a-half hours, easily the longest non-weather-delayed regulation game involving an SEC team since at least 2009, finally ending at 12:13 a.m. local time. Pac-12 games that kicked off a full hour later finished earlier. The riot delay contributed to that, but it was already well over the 4-hour mark by the time the game was stopped. The 4th quarter alone dragged on at a brutal pace for more than an hour as players from both teams hit the turf at an alarming rate, some of them hurt, some of them cramped, and some of them just gassed despite mild temperatures. The thermometer may have read mid-50s, but emotionally the scene was at a fever pitch.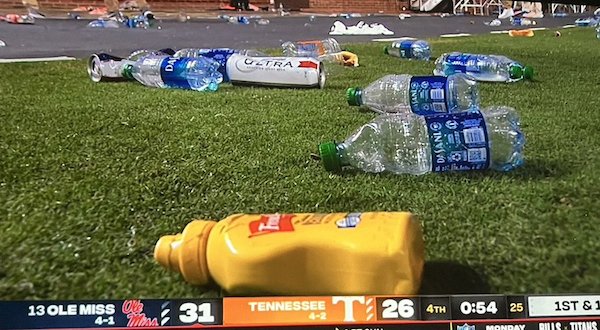 And now: The Monday Down South All-SEC team
Here's my personal all-conference lineup for 2021, based strictly on my own observations and opinions over the course of the season. (That is, it doesn't reflect the observations or opinions of anyone else at Saturday Down South.) If an obviously deserving player from your favorite team didn't make the cut, it can only be because I harbor a deep, irrational bias against him personally, and certainly not because some of these decisions were tough calls between more credible candidates than the format can accommodate.
Offense
Quarterback: Bryce Young • Alabama (So.)
Running Back: Tyler Badie • Missouri (Sr.)
Running Back: Chris Rodriguez Jr. • Kentucky (Sr.)
All-Purpose: Wan'Dale Robinson • Kentucky (Jr.)
Wide Receiver: Jameson Williams • Alabama (Jr.)
Wide Receiver: Treylon Burks • Arkansas (Jr.)
Tight End: Brock Bowers • Georgia (Fr.)
Line (T): Evan Neal • Alabama (Jr.)
Line (T): Darian Kinnard • Kentucky (Sr.)
Line (T): Charles Cross • Mississippi State (Jr.)
Line (G): Kenyon Green • Texas A&M (Jr.)
Line (C): Luke Fortner • Kentucky (Sr.)
Honorable Mention: QB: Matt Corral (Ole Miss); Stetson Bennett IV (Georgia); Hendon Hooker (Tennessee); KJ Jefferson (Arkansas); Will Levis (Kentucky); Will Rogers (Mississippi State) … RB: Brian Robinson Jr. (Alabama); Tank Bigsby (Auburn); Tyrion Davis-Price (LSU); Isaiah Spiller (Texas A&M); Devon Achane (Texas A&M) … WR: John Metchie III (Alabama); Kayshon Boutte (LSU); Makai Polk (Mississippi State); Dontario Drummond (Ole Miss); Cedric Tillman (Tennessee) … TE: Jalen Wydermyer (Texas A&M) … OL: Beaux Limmer (Arkansas); Jamaree Salyer (Georgia); Warren McClendon (Georgia); Dare Rosenthal (Kentucky); Michael Maietti (Missouri); Cade Mays (Tennessee); Layden Robinson (Texas A&M).
Defense
D-Line: Phidarian Mathis • Alabama (Sr.)
D-Line: Jordan Davis • Georgia (Sr.)
D-Line: DeMarvin Leal • Texas A&M (Jr.)
Edge (OLB): Will Anderson Jr. • Alabama (So.)
Edge (OLB): Josh Paschal • Kentucky (Sr.)
Linebacker: Nakobe Dean • Georgia (Jr.)
Linebacker: Damone Clark • LSU (Sr.)
Cornerback: Roger McCreary • Auburn (Sr.)
Cornerback: Cameron Smith • South Carolina (So.)
Nickel (CB): Antonio Johnson • Texas A&M (So.)
Safety: Jordan Battle • Alabama (Jr.)
Safety: Lewis Cine • Georgia (Jr.)
Honorable Mention: DL: Colby Wooden (Auburn); Jalen Carter (Georgia); Devonte Wyatt (Georgia); Neil Farrell Jr. (LSU); Jaquelin Roy (LSU); Matthew Butler (Tennessee); Jayden Peevy (Texas A&M) … Edge: Derick Hall (Auburn); Brenton Cox Jr. (Florida); Nolan Smith (Georgia); Travon Walker (Georgia); BJ Ojulari (LSU); Sam Williams (Ole Miss); Kingsley Enagbare (South Carolina); Byron Young (Tennessee); Micheal Clemons (Texas A&M) …LB: Christian Harris (Alabama); Hayden Henry (Arkansas); Grant Morgan (Arkansas); Bumper Pool (Arkansas); Zakoby McClain (Auburn); Channing Tindall (Georgia); Quay Walker (Georgia); Micah Baskerville (LSU); Chance Campbell (Ole Miss); Aaron Hansford (Texas A&M) … CB: Jalyn Armour-Davis (Alabama); Kaiir Elam (Florida); Derion Kendrick (Georgia); Kelee Ringo (Georgia); Kris Abrams-Draine (Missouri); Miles Battle (Ole Miss); Theo Jackson (Tennessee) … S: Smoke Monday (Auburn); Christopher Smith (Georgia); Yusuf Corker (Kentucky); AJ Finley (Ole Miss); Jaylan Foster (South Carolina).
Specialists
Kicker: Cade York • LSU (Jr.)
Punter: Nik Constantinou • Texas A&M (So.)
Returner (KR/PR): Velus Jones Jr. • Tennessee (Sr.)
Honorable Mention: K: Harrison Mevis (Missouri); Parker White (South Carolina); Seth Small (Texas A&M) … P: Oscar Chapman (Auburn); Grant McKinniss (Missouri); Paxton Brooks (Tennessee) … KR/PR: Jameson Williams (Alabama); Lideatrick Griffin (Mississippi State); Devon Achane (Texas A&M); Ainias Smith (Texas A&M).
Thank you for tuning in to another season of Monday Down South!