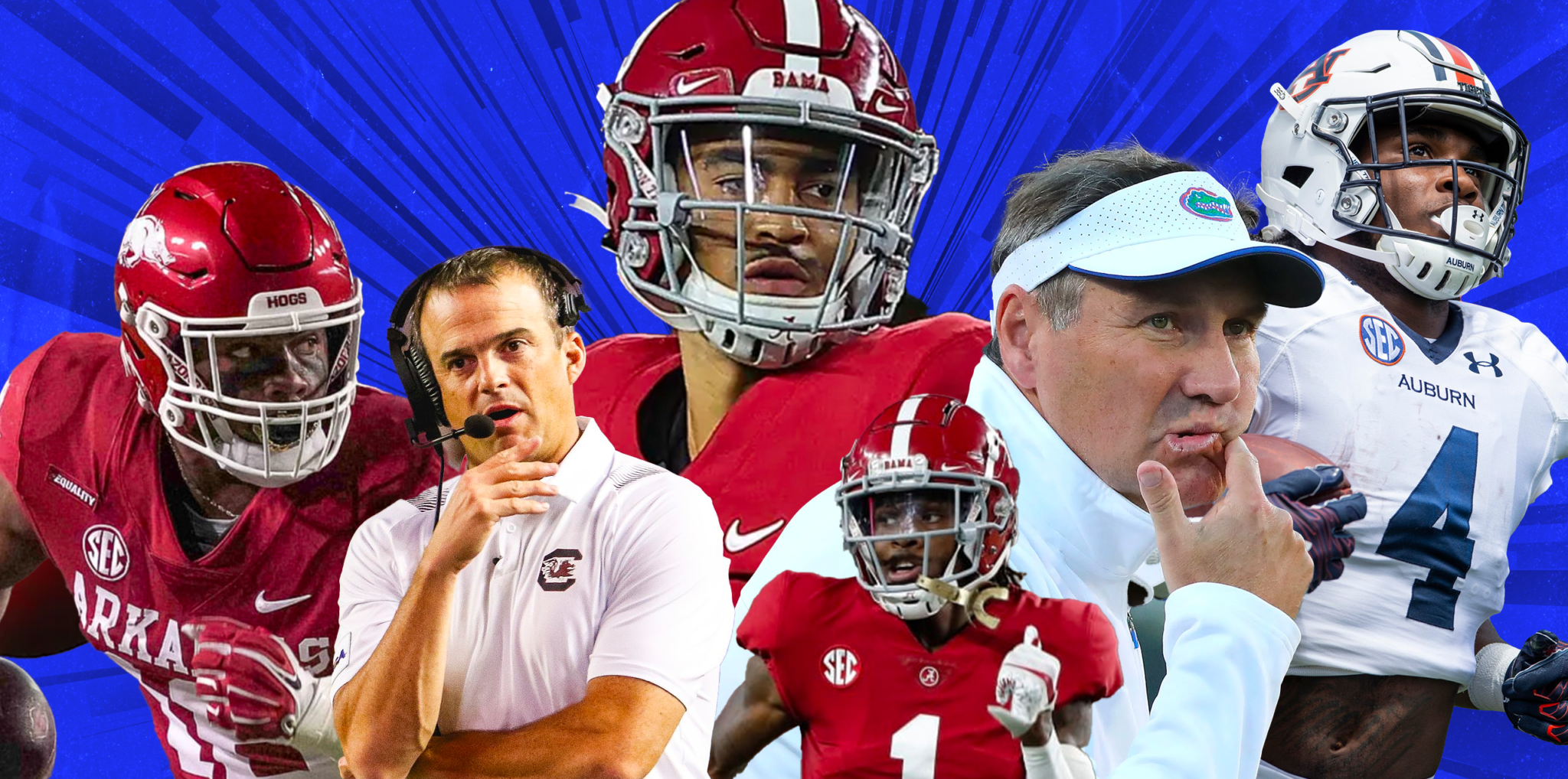 SEC
Monday Down South: Bryce Young has arrived, right on schedule
Weekly takeaways, trends and technicalities from the weekend's action.
Let's be honest: As Heisman campaigns go, Bryce Young's bid for history hasn't exactly been one for the ages. If anything, over Alabama's first 10 games, the impression was often not so much that he was playing his way into the race, which has remained as ripe for the taking for as long as any Heisman debate in years, as he was doing just enough to avoid playing his way out.
On paper, sure, he met most of the baseline requirements. He plays in one of the most visible positions in the sport for a perennial national contender in the thick of the Playoff race. He enjoyed the requisite preseason hype and weekly face-time in front of national audiences. His numbers, you know, they were fine — on the radar with other Heisman-contending quarterbacks over the past decade, anyway, if not quite in the stratosphere of the most recent winners. Young's production suffered in comparison to Mac Jones and Tua Tagovailoa (neither of whom won the award), especially throwing downfield. His game was more efficient than electric. Still, faced with a mass exodus of decorated, next-level talent from the highest-scoring attack in SEC history in 2020, Alabama's offense continued to rank among the most productive in the nation. And, midseason lapse at Texas A&M notwithstanding, the Crimson Tide kept on winning.
The fact that Young remained the safest bet in the Heisman field heading into Week 12 spoke volumes about the state of the race, which Vegas handicapped as a four-way affair between Young, two other quarterbacks (Ole Miss' Matt Corral and Ohio State's CJ Stroud) and Michigan State RB Kenneth Walker III — none of whom was obviously on his way to breaking records or inspiring lofty historical comparisons, either.
In an era when the bar for what qualifies as elite offense only seems to keep going up, it was easy to get the feeling that his front-runner status said less about Young's résumé in his first season as a starter, or lack thereof, than it did about everyone else's.
Coming out of Week 12, it's finally safe to say the race is on. By the time the sun set Saturday on Alabama's 42-35 win over Arkansas, 2 invitations to New York were already in the mail, and Young had made it abundantly clear at the Razorbacks' expense that his isn't going to depend on the vagaries of Heisman politics. In the course of a single, prolific afternoon, he transcended the system, confirmed the hype, erased the caveats, and announced his arrival as the full-blown star Bama fans were promised.
JAMESON WILLIAMS WITH THE HAT TRICK

What an effort for the @alabamaFTBL touchdown. pic.twitter.com/hq8P07K2Ia

— CBS Sports (@CBSSports) November 20, 2021
The headline number — 559 yards — went in the books as the single-game Alabama record for passing yards, shattering a mark that had stood, incredibly, for 52 years. (Young eclipsed the previous record, 484 yards by Scott Hunter in the 1969 Iron Bowl, by 75 yards, in 15 fewer attempts; ironically, Hunter was on hand Saturday as an honorary captain to watch his record fall.) He also set season-highs for touchdowns (5), yards per attempt (13.9), and overall efficiency (236.1) against a Power 5 defense. As a team, the Tide averaged nearly nine yards per snap, advanced every possession inside the Arkansas 40-yard line, and punted just once.
As usual when it comes to individual brilliance, though, the box score is only a window into a performance that had to be seen to be appreciated. Every aspect of the skill set that made Young one of the most coveted recruits of the Saban era was fully engaged: His elusiveness under pressure, his creativity on the fly, his sneaky arm strength for a guy listed (generously) at 6-feet and 194 pounds. Even his downfield accuracy, arguably the biggest question mark of his game prior to Saturday, leapt off the screen. Young was 4-for-6 with 3 touchdowns on attempts of 20+ yards, including a big-league, 79-yard touchdown pass to a streaking Jameson Williams in between two safeties that's going to make them both millions.
BRYCE YOUNG WITH A ROCKET ?#CFB

— PFF College (@PFF_College) November 20, 2021
(The All-11 replay angle on that throw illuminates just how perfectly timed and placed it was and had to be.)
In the context of the Heisman chase, Young's performance was an indelible, high-profile breakthrough — in a competitive game, opposite a ranked opponent — that came at the best possible time to serve as a response to Stroud's dominant performance against Michigan State in an even higher-profile matchup earlier in the day. Stroud's 432-yard, 6-touchdown bonanza vs. the Spartans in a game Ohio State led 49-0 at the half was more than enough to move him past Young into the pole position heading into the Buckeyes' season-defining, division-deciding trip to Michigan. But it's still very much a 2-man race with 2 weeks to go: Young is neck-and-neck with Stroud for the Power 5 lead in pass efficiency and right on his heels in Total QBR, where they rank 1-2 nationally. He also has above-the-fold opportunities ahead against Auburn and especially Georgia in the SEC title game.
In the context of Alabama's larger championship goals, hanging 671 total yards and 42 points on a perfectly respectable Arkansas defense was the most reassuring sign yet that the pieces are clicking into place at the right time for a sustained postseason run. Williams (8 catches for 190 yards, 3 TDs) and John Metchie III (10 for 173, 1 TD) both had career days against the Razorbacks, the culmination of their emergence since midseason. Early on, the receivers as a group were the Tide's biggest unknown; instead, Williams and Metchie have combined for more than 2,000 yards and 20 touchdowns, establishing them alongside the historically loaded receiving corps at Ohio State as the two units that might pose a legitimate threat to score on Georgia's defense. Lately that's looking less and less like a hypothetical.
Notebook
Around the conference.
Missouri 24 • Florida 23 (OT). Dan Mullen is officially out at Florida after watching his team inexplicably collapse in a heap in record time, a descent that only seemed to get more chaotic and depressing by the week as his imminent exit hung over the proceedings. Saturday's flop in Colombia was the Gators' 9th loss in their past 11 games vs. Power 5 opponents dating to last season, an astonishing run of futility made all the worse by the fact that they were favored to win most of those. Mizzou (+9) is the 4th team in less than 2 months to hand Florida a straight-up L in a game it was favored to win by at least a touchdown.
Although it was impossible to grasp at the time, in hindsight the line of demarcation separating Mullen's ascent in Gainesville from his decline is crystal clear: The Shoe Game.
Florida was flagged with unsportsmanlike conduct after this play: pic.twitter.com/BBsmOu64j9

— ESPN (@espn) December 13, 2020
Of course, there was never a doubt that blowing an imminently winnable game with Playoff implications as a direct result of a player randomly flinging an opposing player's shoe into the fog was dumb — in the immediate aftermath I enshrined it as "a first-ballot entry into the Dumb Loss Hall of Fame," which reflected the consensus. (LSU, it's worth remembering, limped into that game as a 23-point underdog with close to half the roster on the shelf due to COVID, injuries, and self-preservation ahead of the draft.) But it turns out it was also reflective of an undisciplined team only beginning to figure out different ways to lose games it should win. Up to that point, Florida's record under Mullen stood at 29-6 and the Gators had spent nearly all of the previous 2 seasons ranked in the AP top 10. Since that night, they're 5-9 with 5 of those losses coming at the hands of unranked opponents.
Still, before the news broke on Sunday, I was prepared to make the extremely lukewarm case that Florida would be better off swallowing its pride and giving Mullen a shot to correct course in 2022 than it would be hitting the reset button in a bad year to be in the market for a new head coach. Even factoring in the sustained nosedive since the end of last year, Mullen's overall win percentage at UF (.694) ranks 3rd among Florida coaches since World War II, trailing only his old boss, Urban Meyer (.813 from 2005-10), and Steve Spurrier (.817 from 1990-2001). The current pool of realistic, qualified candidates for blue-chip jobs is relatively thin, and LSU, USC, and Washington already have a significant head start in the vetting. The odds of landing a proven commodity with a better résumé than Mullen's when he came aboard in 2018 are distant compared to the odds that the Gators will wind up with a Muschamp/McElwain-level hire only to look up in three years and find themselves right back where they are today.
But that assumes there was still a chance of progress on Mullen's watch, when the trajectory suggests otherwise. At least some significant faction of the current locker room has clearly checked out. Recruiting, never one of Mullen's strengths, is in dire straits with a 2022 class that ranks 29th nationally and 10th in the SEC, according to 247Sports less than a month before the start of the early signing period. Of the 6 5-star recruits on the current roster, only 2 signed out of high school; the rest are transfers who washed out elsewhere. The idea that a program based on player development can compete with programs that recruit more talented players was a cornerstone of his success at Mississippi State, where he ranks as arguably the best coach in school history. But the Bulldogs never had serious pretensions of competing for championships, and Florida will never accept being content to be an overachiever when Georgia and Alabama are achieving at exactly the level their dynamic recruiting operations suggest they should.
South Carolina 21 • Auburn 17. The scene in Carolina was a tale of two sidelines, two first-year coaches with identical 6-5 records at the end of the night, and two teams with very different feelings about it.
??? pic.twitter.com/GBIqVn1tUc

— Gamecock Football (@GamecockFB) November 21, 2021
For Shane Beamer, bowl eligibility is a bonus that seemed to come out of nowhere. The program he inherited managed just 6 wins in 2019 and '20 combined, and left him with one of the SEC's most overmatched rosters. The role of starting quarterback for most of the season has been manned by a graduate assistant coach turned emergency QB and an FCS transfer coming off a torn ACL, respectively. The Gamecocks barely staved off upsets in a couple of come-from-behind, skin-of-the-teeth wins over East Carolina and Vanderbilt, and found themselves on the wrong end of one of the season's most lopsided beatdowns at Texas A&M, where they managed all of 15 yards of total offense through the first 3 quarters.
To go from that point in late October, when it seemed likely they wouldn't win again this year, to taking down Florida and Auburn in November is the ideal trajectory for a rebuilding outfit that harbored no expectations except to compete. Carolina exceeded that, and barring a complete disaster this weekend against Clemson, Beamer can look forward to 6 months of good vibes as a result.
Mood ? pic.twitter.com/ds2ARfc7sq

— Gamecock Football (@GamecockFB) November 21, 2021
For Bryan Harsin, the 6-5 mood meant the exact opposite. Less than a month ago, Auburn was 4-2 and ranked as high as No. 12 in the AP poll off back-to-back wins over Arkansas and Ole Miss. It's been downhill since. The Tigers have lost 3 in a row, each one a little bit worse than the one before it. In Week 10, they failed to score a touchdown in a 20-3 loss at Texas A&M; in Week 11, they blew a 28-3 lead at home to Mississippi State, losing Bo Nix for the rest of the season in the process; this past Saturday, they blew a 14-0 lead as a 7.5-point road favorite.
Patience, predictably, is already beginning to wear thin. For all the turbulence of the Gus Malzahn years, Gus' teams never lost 3 games in a row, and only once (in 2015) lost more than 5 in a season. Harsin's first Iron Bowl looms a little larger amid the slump — Auburn opened a 19-point underdog in Jordan-Hare — as does the upcoming Dec. 8 deadline for all university employees to be fully vaccinated against COVID-19, a mandate Harsin has repeatedly declined to address when asked about his status.
Normally, the end of Year 1 would be much too soon to start gesturing toward the door. But then, these days, normal in the big-time college coaching business is getting harder to define, except that the familiar cycles seems to be speeding up. If an exit plan presents itself, don't be surprised if Harsin takes it and Auburn lets him.
– – –
It shouldn't reflect on the outcome, but the instant replay sequence that effectively ended the game was an example of the system at its worst.
Trailing by 4 with a little over 2 minutes to play, Auburn's defense forced the Gamecocks to punt from their own 43-yard line; on the ensuing kick, the ball rolled dead around the opposite 20, apparently setting up Auburn's offense for a chance to drive for a game-winning touchdown. Instead, the officials stopped play to take another look at whether the ball grazed the leg of Auburn's Jaylin Simpson before being downed by Carolina, initiating a review that quickly descended into a frame-by-frame forensic analysis worthy of the Zapruder film, with equally murky results. When you look up inconclusive in the dictionary, you should see this video:
Remember, the ruling on the field was that the ball did not touch Simpson, meaning that to overturn the call replay officials not only had to conclude that it could have plausibly touched him — debatable at best here — but that it indisputably touched him, a verdict that's impossible to reach from this footage without bringing in a team of experts to break down the geometry of the various camera angles and examine the fibers of Simpson's pants on a molecular level. But reach it they did, and by giving the ball back to South Carolina as a result they allowed the Gamecocks to run out the clock without Auburn's offense taking another snap.
The point of instant replay is supposed to be to correct obvious mistakes, not to subject essentially routine and uncontroversial calls to a level of scrutiny that leaves the viewer doubting their ability to grasp reality. In this case, officials ended a game on a play that no one would have thought twice about had it not been reviewed in the first place. A certain level of imperfection and doubt is an inescapable part of the game. When you strain too hard to eliminate both, you only wind up blowing them up far out of proportion.
Obscure stat of the week
Auburn sophomore Ben Patton connected on a 37-yard field goal in the 3rd quarter of the Tigers' loss at South Carolina, Auburn's first successful field goal by a kicker not named "Carlson" since 2013. Between Daniel (2014-17) and his brother Anders (2018-current), who's out for the season with a torn ACL, the Kicking Carlsons had handled 207 consecutive attempts for the Tigers over the past eight years.
Superlatives
The week's best performances.
1. Alabama QB Bryce Young and WR Jameson Williams. To anyone who ever complained about the transfer portal (you know who you are), Williams' emergence as one of the nation's premier deep threats in Tuscaloosa is a powerful rebuttal. At Ohio State, he was buried on a stacked depth chart that likely would have relegated him to an afterthought in his 3rd year in the program. At Alabama, he's filled a glaring need in his first year and is well on his way to becoming an All-American and a first-round draft pick while the Buckeyes have yet to realize he's gone.
2. Arkansas WR Treylon Burks. Burks, looking to generate a little first-round/All-America buzz himself, torched Alabama's secondary in a losing effort, coming down with 8 catches against the Tide for a season-high 179 yards and 2 TDs on 9 targets.
Treylon Burks just outran the entire state of Alabama for @RazorbackFB. pic.twitter.com/X1k1gb7L89

— CBS Sports (@CBSSports) November 20, 2021
His production accounted for more than half of QB KJ Jefferson's 326 yards through the air, also a season-high against Bama's defense.
3. Alabama OLB Will Anderson Jr. The top quarterbacks made their statement, but they haven't moved me off my weekly Will Anderson For Heisman bandwagon just yet. Despite Bama's issues on the back end against Arkansas, Anderson was his usual dominant self up front, finishing with 11 tackles, 4 TFLs and 6 QB pressures, per Pro Football Focus. For the season, he leads the nation in pressures (64) for the second year, as well as in tackles for loss, where he's recorded multiple TFLs in 8 of the past 9 weeks.
4. Auburn RB Tank Bigsby and South Carolina RB ZaQuandre White. Bigsby delivered his best game of the season in Bo Nix's absence, running for 164 yards and 1 TD on 7.5 per carry against South Carolina, with a significant majority of that output (116 yards) coming after contact, per PFF. Not to be outdone, his Carolina counterpart, White, accounted for a career-high 168 scrimmage yards against the Tigers (99 rushing, 69 receiving) with a 28-yard touchdown catch to put the Gamecocks on the board in the first half.
5. Missouri RB Tyler Badie. Badie continued his wildly productive senior campaign in Mizzou's win over Florida, running for 146 yards on 5.4 per carry and scoring the decisive touchdown in overtime from 13 yards out. (The Tigers succeeded on the ensuing 2-point conversion to win.) In fact, compared to the rest of his season, that number actually brought his per-game average on the ground slightly down.
Honorable mention: Missouri LBs Chad Bailey and Blaze Alldredge, who combined for 17 tackles, 5 TFLs and 7 QB pressures in the Tigers' win over Florida. … Florida DB Ty'Ron Hopper, who recorded a team-high 12 tackles and 2 TFLs against Mizzou without allowing a reception longer than 3 yards. … Alabama LB Henry To'o To'o, who offset a mediocre afternoon in coverage against Arkansas with a ball-hawking 13 tackles and 3 TFLs. … Ole Miss DE Cedric Johnson, who had 6 QB pressures and a sack in the Rebels' 31-17 win Vanderbilt. … Kentucky OLB Joshua Paschal, who racked up 6 tackles, 2 TFLs and 7 QB pressures in a blowout win over New Mexico State. … Kentucky QB Will Levis, who torched NMSU for a career-high 419 yards and 4 TDs, the vast majority of that output going to his top wideouts, Wan'Dale Robinson (8 for 181 yards) and Josh Ali (7 for 164, 2 TDs). … Tennessee WR/KR Velus Jones, who hauled in 6 receptions for 103 yards and scored on a 96-yard kickoff return in the Vols' 60-14 win over South Alabama. … LSU WR Malik Nabers, who went for 143 yards and his first career touchdown in the Tigers' 27-14 win over UL-Monroe. … Mississippi State QB Will Rogers, who finished 28/34 for 391 yards and 5 TDs in a 55-10 romp over Tennessee State. … And Ole Miss QB Matt Corral, who passed for 326 yards and 2 TDs against Vanderbilt in his farewell performance in Oxford — his 9th career game with 300+ yards and multiple TDs.
– – –
The scoring system for players honored in Superlatives awards 8 points for the week's top player, 6 for second, 5 for third, 4 for fourth, 3 for fifth, and 1 for honorable mention, because how honorable is it really if it doesn't come with any points? The standings are updated weekly with the top 10 players for the season to date.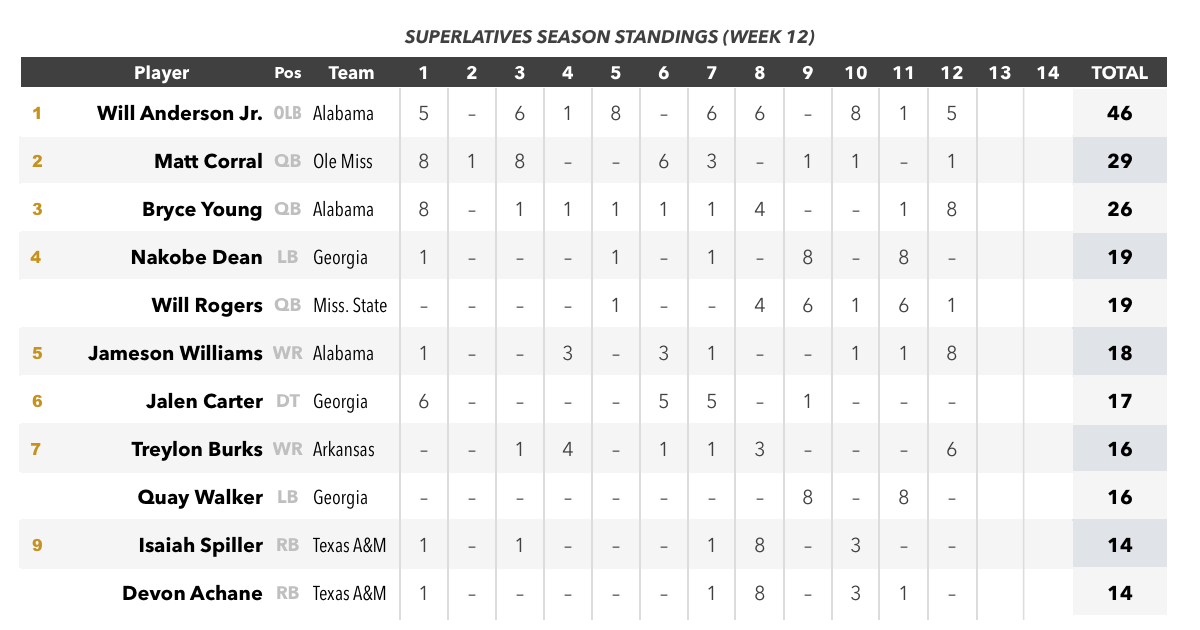 SEC Power Rankings
Updating the food chain.
1. Georgia (11-0). Kirby Smart called off the dogs with a 49-0 halftime lead over Charleston Southern, settling for a 56-7 final. Just once I'd like to see a coach say "screw it, let's see how high the scoreboard goes" in one of these games, but no, in the end, sportsmanship and fair play always carry the day. (Last week: 1 ⬌)
2. Alabama (10-1). On one hand, it remains slightly mystifying that Bama continues to show no interest in exploiting Bryce Young's mobility on designed runs, if only as a change of pace from riding workhorse Brian Robinson Jr. between the tackles. On the other, the risk of handing over the offense to Paul Tyson or true freshman Jalen Milroe if Young gets hurt is clearly a powerful deterrent.(LW: 2 ⬌)
3. Ole Miss (9-2). I'll expand on this thought later in the week, but as Matt Corral's career winds down there's a solid case to be made that he edges out the Mannings as the best quarterback in school history. Beyond the stats, he has the Rebels on the verge of their best finish in the AP poll since integration. (LW: 3 ⬌)
4. Texas A&M (8-3). Assuming they both play in the Aggies' last 2 games, RBs Isaiah Spiller (984) and Devone Achane (861) are on pace to become the first teammates in school history to run for 1,000 yards apiece in the same season. The last SEC duo to pull that off: Georgia's D'Andre Swift and Elijah Holifield in 2018. (LW: 4 ⬌)
5. Arkansas (7-4). God bless Sam Pittman for signing off on the fake field goal that kept his team within striking distance of an upset in the 4th quarter at Alabama, arguably the defining play of Arkansas' season out of sheer YOLO exuberance.
FAKE FIELD GOAL JUMP PASS TOUCHDOWN@RazorbackFB ??? pic.twitter.com/vLwkHMiQ0F

— CBS Sports (@CBSSports) November 20, 2021
Has there ever been a team that's had more fun on the way to a 5th-place finish in its division? There can't be many. Given that the Razorbacks won't have the benefit of low expectations again anytime soon, they should enjoy the moral victories while they still can. (LW: 5 ⬌)
6. Mississippi State (7-4). Mike Leach's attitude toward time of possession as a statistic is well established: He's derided it as "nearly useless" and "entirely idiotic." Nevertheless! With 1 game to go, the Bulldogs lead the conference in time of possession at just shy of 34 minutes per game. (LW: 6 ⬌)
7. Kentucky (8-3). It's a credit to the stability Mark Stoops has achieved in Lexington that he can no longer avoid speculation over his interest in leaving for Florida or LSU, and maybe more so that it actually seems like a tough decision. True, he's not on the verge of competing for championships at Kentucky. But they're paying him like he is, without the constantly looming threat of the hot seat in the meantime. (LW: 8 ⬆)
8. Auburn (6-5). Along with their earlier loss to Georgia, the Tigers' flop at South Carolina leaves them as the only SEC West team with an 0-2 record on the season against the East. (Arkansas, which also lost to Georgia, can still get on the board this week against Missouri.) The only other East win over the West: Kentucky's Week 6 romp over LSU. (LW: 7 ⬇)
9. Tennessee (6-5). Vols scored touchdowns on their first 7 offensive possessions against South Alabama, with a kickoff return TD in that sequence for good measure. Even when they punted, they scored: UT's only 2 punts of the game led directly to a pair of USA safeties on back-to-back possessions in the 4th quarter. (LW: 10 ⬆)
10. LSU (5-6). QB Max Johnson went the distance against UL-Monroe for the sake of preserving true freshman Garrett Nussmeier's redshirt, which will presumably be the case again this week against Texas A&M. Looking ahead, though, the situation still heavily favors Nussmeier and incoming 2022 commit Walker Howard in the spring under a new coaching staff. (LW: 11 ⬆)
11. Missouri (6-5). Dan Mullen joins Derek Dooley (2012), Joker Phillips (2012), Butch Jones (2017), Bret Bielema (2017), and Derek Mason (2020) on the list of SEC head coaches fired within a week of losing to Mizzou since the Tigers joined the conference. (LW: 12 ⬆)
12. South Carolina (6-5). Carolina was 1 of 3 SEC teams coming into the season (along with Arkansas and Vanderbilt) with low enough expectations to define success as being bowl-eligible, and here they are despite no shortage of setbacks. The next step: Playing Clemson within 20 points, a bar the Gamecocks haven't cleared since 2015. (LW: 13 ⬆)
13. Florida (5-6). Thank goodness for Vanderbilt. (LW: 9 ⬇)
14. Vanderbilt (2-9). Anybody here getting fired? No? Commodores close out another winless conference season this weekend as 31-point underdogs at Tennessee. (LW: 14 ⬌)
Moment of Zen of the week
MIC DROP from #Mizzou football coach Eli Drinkwitz after beating Florida in OT! ?

"May the force be with you." pic.twitter.com/cVw9CcvXK0

— Andrew Kauffman (@A_Kauff) November 21, 2021