SEC
SEC QB Power Rankings, Week 12: Bo Nix's season is over. What does that mean for his future?
Quarterbacks: There are a lot of them! Each week throughout the season, we'll help you keep the game's most important position in perspective by ranking the SEC starters 1-14 according to highly scientific processes and/or pure gut-level instinct. Previously: Week 1 … Week 2 … Week 3 … Week 4 … Week 5 … Week 6. … Week 7 … Week 8 … Week 9 … Week 10 … Week 11.
1. Bryce Young, Alabama
Young remains one of the safest bets in the Heisman field as voters begin to zero in on a handful of candidates, and fittingly for a relatively uninspired race to this point, he remains a relatively uninspiring front-runner in terms of indelible, highlight-reel moments or high-stakes heroics. On paper, he comes in more or less on pace with your standard-issue Heisman finalist over the past 5 years, but notably below the bar set by the most recent winners: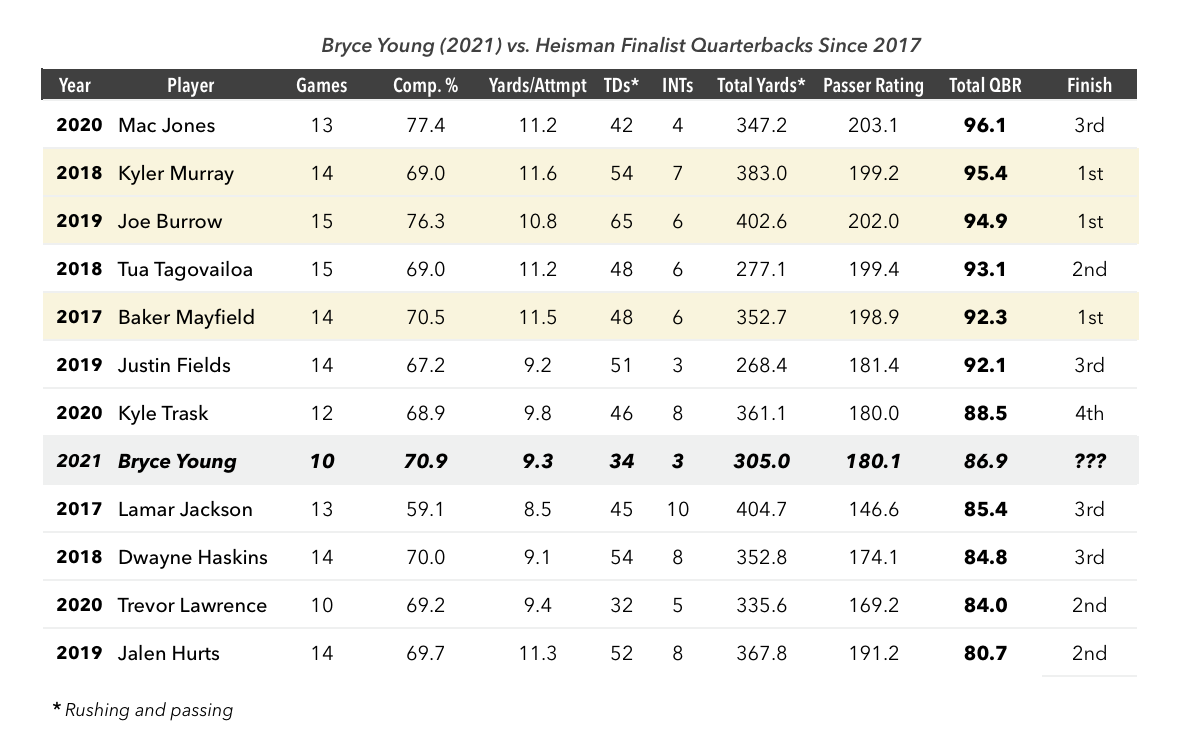 Naturally, all of the above can change in a hurry over the next few weeks with high-profile games on deck against Arkansas, Auburn, and especially Georgia in the SEC Championship Game, the ultimate litmus test against the most dominant defense in college football in a decade. Not coincidentally, every other name on the list save Lamar Jackson in 2017 (as the reigning winner in 2016) and Kyle Trask last year earned the distinction after leading his team to the Playoff, which in Young's case — as the de facto rep for an elite team, rather than an undeniable force of nature in his own right — may as well be a minimum requirement. No one in the race has much momentum at the moment, so when the time comes for the national hive mind to coalesce around a candidate, it's likely to break hard based on their final statements. Even if the numbers don't quite stack up, beating Georgia would be about as convincing a statement as they come.
– – –
(Last week: 1 ⬌)
2. Matt Corral, Ole Miss
As valuable as Corral is to his team, it's not for nothing that Saturday's 29-19 win over Texas A&M — Ole Miss' biggest win of the Corral/Kiffin era to date — coincided with a relatively pedestrian performance by his usual standards. The defense and ground game picked up most of the slack against the Aggies, allowing Corral to play it close to the vest for a change: He averaged just 6.7 yards per attempt, about 2.5 yards below his season average coming in, and was just 1/3 for 30 yards on attempts of 20+ yards downfield. Beating a ranked opponent without a monster game from the quarterback is a luxury the Rebels haven't been able to afford in a long time.
– – –
(Last week: 2 ⬌)
3. Stetson Bennett IV, Georgia
Bennett leads the conference in most of the relevant quality-over-quantity categories — yards per attempt, pass efficiency, QBR — which as much as anything else is a reflection of his offensive line's success in keeping him clean. Under pressure, it's a different story: Per Pro Football Focus, he's connected on just 33.3% of his pressured attempts, the lowest completion rate among SEC starters, with only 1 touchdown. If Bennett's lack of next-level athleticism and arm strength is going to matter in the postseason, it's most likely to be in the face of oncoming rushers, and if the Bulldogs really are committed to Bennett for the long haul, one of their top priorities will have to be minimizing those situations at all costs.
– – –
(Last week: 3 ⬌)
4. Hendon Hooker, Tennessee
On the other side of the coin, arguably no SEC quarterback has been better under pressure than Hooker, who leads the league in yards per attempt on pressured throws (10.7) with 6 touchdown passes and no INTs. The caveat: Hooker has also been sacked more than any other SEC quarterback, going down 33 times. Sometimes just getting rid of the ball at the expense of the stats is the better part of valor.
– – –
(Last week: 4 ⬌)
5. Will Rogers, Mississippi State
The Bulldogs plunged head-first into a 28-3 deficit at Auburn barely midway through the second quarter, at which point they could have said "not our day" and spent the next 2 hours looking forward to the ride home. Instead, Rogers settled in and spent the rest of the afternoon running the offense to perfection.

Perfection is not too strong a word here. Not only did the Bulldogs storm back from a massive deficit to drop a ranked SEC West rival on the road: They did it with plenty of room to spare, scoring the go-ahead touchdown less than 2 minutes into the 4th quarter on the 4th of their 6 consecutive touchdown drives. Beginning with the first TD drive, Rogers finished 31/35 for 345 yards with a school-record 6 TD passes in roughly 27 minutes' worth of game time. The 25-point rally set a record for the largest comeback in school history for the second time this season, surpassing a 20-point comeback in the opener against Louisiana Tech.
Sluggish start notwithstanding, when Mississippi State hired Mike Leach, this is what it hoped the result would look like. Since a humbling performance against Alabama on Oct. 16, Rogers has looked like a vintage Leach quarterback, throwing for 15 touchdowns to 3 INTs over the past 4 games with a passer rating north of 170.0 in each of the past 3, a mark he'd never hit before in his first 15 career starts. His final line on Saturday (44/55, 415 yards, 6 TDs, 0 INTs) would be his best regardless of the opponent or the circumstances; on the road, at Auburn, facing a steep uphill climb almost right from the start, it was "playing within the offense" taken to its fullest extreme.
– – –
(Last week: 6 ⬆)
6. KJ Jefferson, Arkansas
Jefferson is a long way removed from the September buzz that accompanied Arkansas' 4-0 start, to the extent that you could argue his most important contribution to Saturday's 16-13, overtime win at LSU was not doing anything to put the defense in trouble. Meanwhile, though, the Razorbacks have regrouped from a 3-game losing streak at midseason to put together a 3-game winning streak heading into this weekend's trip to Alabama. There's still plenty of buzz for sale in Tuscaloosa.
– – –
(Last week: 5 ⬇)
7. Will Levis, Kentucky
The middle of the pack suits Levis, whose first year in Lexington has consisted of one brilliant performance (vs. LSU), one miserable performance (vs. Mississippi State), and a whole bunch of nondescript outings that fall somewhere in between. Consulting the wonks doesn't clarify much, either: His PFF grade for the season ranks second among SEC starters, trailing only Bryce Young, while his QBR rating he ranks 9th. With remaining dates against New Mexico State and Louisville, there's still some room to narrow the gap.
– – –
(Last week: 7 ⬌)
Read More
Online sports betting has come or is coming to many southern states. Residents of states where legalized sports betting exists can bet on things like the Heisman race, SEC football games each week and more... all right from their mobile device.
8. Emory Jones and Anthony Richardson, Florida
Jones went the distance for the second week in a row against Samford, accounting for a school-record 550 total yards (464 passing, 86 rushing) and 7 touchdowns in a game that's going to be remembered exclusively for Florida's equally historic collapse on defense against an FCS patsy. C'est la vie. For his part, Richardson is reportedly healthy again after dealing with assorted injuries throughout the year – including, most recently, a knee injury he suffered while dancing at the team hotel the night before the Gators' loss at South Carolina – but barring disaster on Jones' part, he's likely to be limited to situational duty at best the next 2 weeks vs. Missouri and Florida State.
The more interesting question going forward is what the dynamic at the position looks like next spring. If Jones and Richardson both stick around and Dan Mullen remains the coach, there's no reason to expect anything less than a wide-open competition. But right now, I don't know that any of those variables looks like an especially safe bet.
– – –
(Last week: 9 ⬆)
9. Zach Calzada, Texas A&M
A&M's loss at Ole Miss was the worst possible blueprint for Calzada: The ground game stalled, the Aggies trailed throughout, and it fell on Calzada's arm to throw them back into it in a raucous environment on the road. (He finished with 45 attempts, easily a season-high.) The result was one of his worst outings of the year according to both efficiency (95.0) and QBR (21.8), as well as the costliest single throw: a pick-6 in the 4th quarter that put the game on ice.
Speed kills. pic.twitter.com/PTx0slgpTj

— Ole Miss Football (@OleMissFB) November 14, 2021
I don't know that it really needs to be clarified, but with every passing week, it's a little safer to say the guy who inexplicably balled out against Alabama is not walking through that door again.
– – –
(Last week: 10 ⬆)
10. Connor Bazelak, Missouri
Bazelak has gradually yielded Face of the Offense status to prolific RB Tyler Badie, who carried the day in Saturday's 31-28 win over South Carolina with his 4th 200-yard rushing game of the season. For his part, Bazelak offset 2 touchdown passes against the Gamecocks with 2 interceptions, a recurring issue: Compared to 2020, his TD and INT rates have both roughly doubled on the same number of attempts.
– – –
(Last week: 11 ⬆)
11. Max Johnson or Garrett Nussmeier, LSU
Nussmeier took the vast majority of the snaps in the Tigers' overtime loss at Arkansas and turned in more or less exactly the kind of performance you'd expect from a talented freshman in his first extended action on the road. On the freshman side of the ledger, he was picked twice, including a decisive INT in the extra frame that set up the Razorbacks' game-winning field goal, while averaging just 5.8 yards per attempt. In the talent column, though, he left an immediate impression.
Insane TD! Garrett Nussmeier spins away from pressure and hits Jack Bech in the back of the end-zone for the 29 yard TD! Great job by Jack Bech getting a foot down! #LSU pic.twitter.com/gQT9tiQdtI

— ✯✯✯✯✯ (@FTBVids_YT) November 14, 2021
Officially, at least, Ed Orgeron isn't ready to concede that the torch has been passed: On Monday, he told reporters that Johnson will start this weekend against UL-Monroe despite spending the last 3 quarters in Fayetteville watching from the bench. Normally, a Sun Belt patsy would be the perfect opportunity for a 4-6 team playing out the string under a lame-duck head coach to turn the offense over to the up-and-comer, especially when he looks like the odds-on favorite to take over full-time in 2022; instead, Orgeron seems more inclined to hold Nussmeier back over the last 2 games to preserve his redshirt. Saturday was his 4th appearance of the season, meaning if he were to play again it would count against his eligibility.
That call will ultimately be up to Nussmeier and his father, Dallas Cowboys quarterbacks coach Doug Nussmeier, who was reportedly involved in negotiating his son's status last week. (The elder Nussmeier is well acquainted with the variables dictating playing time in the college game, having served as offensive coordinator at Alabama, Florida and Michigan, among other stops.) At that point, the redshirt plan seemed to be off, with Orgeron describing Garrett as "adamant" about getting on the field after watching Johnson struggle in a close loss at Alabama. Now that he's gotten his feet wet, the prospect of burning his freshman eligibility for the sake of playing in a couple of largely meaningless games at the end of a lost year in Baton Rouge seems almost reckless. "If I were him," Orgeron said on Monday, "I'd redshirt."
– – –
(Last week: 11 ⬌/ n/a)
12. TJ Finley, Auburn
Bo Nix is out for the season due to a broken ankle, a sobering end to an … uh, eventful junior season. Nix has always been a polarizing player, and expectations entering Year 3 weren't probably high enough in the first place to chalk the campaign up as an outright disappointment. (In this space he opened at No. 5 in the preseason, largely due to the uncertainty and inexperience at that point across the bottom half of the conference.) But that's an accurate reflection of his bipolar output over the course of his career.
If anything, this season was his most volatile, with peaks and valleys capable of turning skeptics into believers and back again on a weekly basis. Tracking his stock according to ESPN's Total QBR metric was a roller coaster: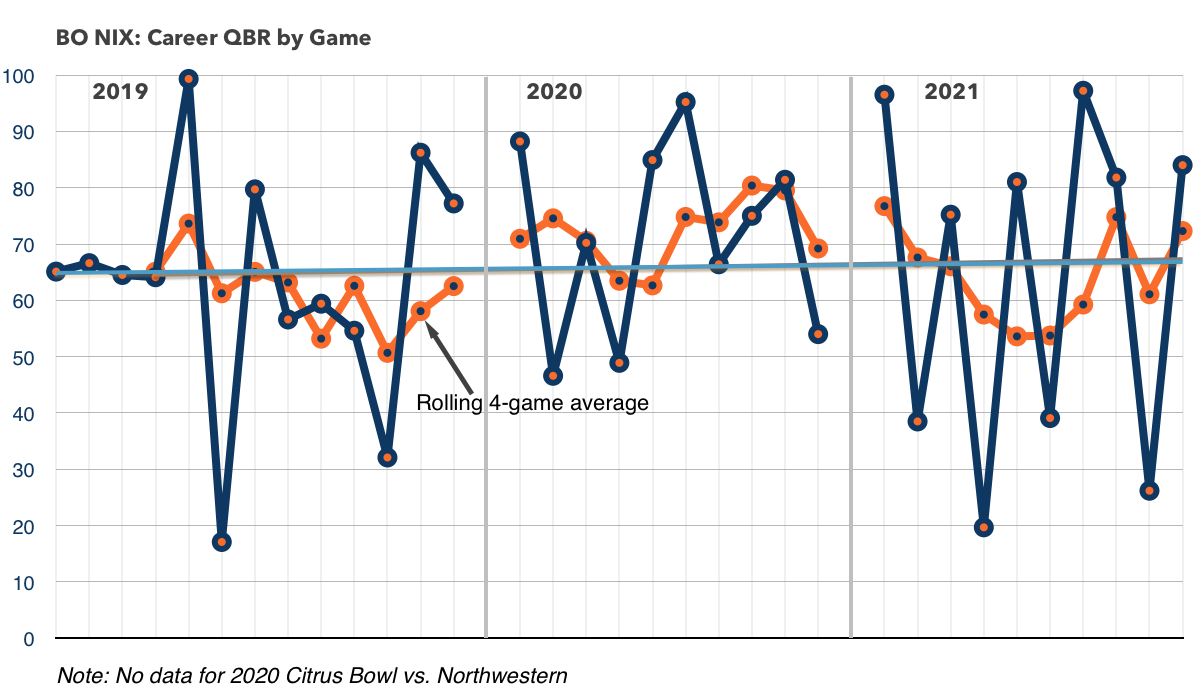 The lowest point over the past 2 years, predictably, was Auburn's skin-of-the-teeth escape against Georgia State earlier this year, when Nix posted an abysmal 20.3 rating before getting sent to the bench with the Tigers trailing 24-19 in the 4th quarter. At that point, it was easy to imagine — a little too easy, in retrospect — that Nix's tenure as the starter had run its course, especially after his understudy, Finley, came off the bench to lead a 98-yard, game-winning touchdown drive capped by one of the season's most memorable plays. That Nix rebounded, reasserted his grip on the starting job, and turned in one arguably the best run of his career in the month of October is to his credit. (The next big dip on the chart came against Georgia, which we can chalk up to Georgia's defense being Georgia's defense; otherwise, he was as at his freewheeling best in wins over LSU, Arkansas and Ole Miss.)
Just when it looked like he was on the verge of turning a corner, though, his dismal, turnover-marred effort at Texas A&M in Week 10 reset the baseline to Same Old Bo.
The fact is, at the end of Year 3 Nix is back at an all-too-familiar crossroad. He remains as volatile as ever, arguably more so, and the baseline has hardly budged from where he set it as a freshman. Finley, who's only taken a handful of snaps since leading the comeback against Georgia State, probably has a legitimate opportunity to audition for the full-time gig over the next couple of weeks against South Carolina and, of course, Alabama in the Iron Bowl. He started 5 games at LSU in 2020 as a true freshman, and at 6-7, 246 pounds he's a towering physical specimen a la former Bama slayer Cardale Jones. He has the raw tools to make a big impression in a short time, as he's already proved in a high-pressure scenario. At the very least, he can make things interesting heading into the offseason. At this point, frankly a little competition is long overdue.
– – –
(Last week: n/a)
13. Jason Brown, South Carolina
Last week, Brown, a 5th-year transfer from FCS St. Francis (Pa.), presided over one of the season's most unlikely triumphs in a 40-17 stunner over Florida. Against Missouri, he turned back into a pumpkin. Making his first road start, Brown was picked on the game's opening series, had another INT wiped out by a penalty, and gacked up a fumble that Mizzou recovered for a touchdown – the crucial swing play in an eventual 31-28 win for the Tigers.
BOOM 💥 @MizzouFootball pic.twitter.com/0fRTzbXpNP

— SEC Network (@SECNetwork) November 13, 2021
(Niche complaint: I am begging the SEC Network's social media team to fix the random cropping on these highlights. The broadcast is not formatted for a square! Please.)
The Gamecocks badly needed that win to secure bowl eligibility, which would have qualified as a significant milestone in Shane Beamer's first season. Now, at 5-5 with Auburn and Clemson on deck, their shot at a postseason trip or winning record is rapidly receding into the distance.
– – –
(Last week: 13 ⬌)
14. Mike Wright and Ken Seals, Vanderbilt
Seals and Wright split snaps as usual in the Dores' 34-17 loss to Kentucky, with Wright coming off the bench to lead a couple of extended touchdown drives in the second half. Seals is "day to day" this week (aren't we all) with an unspecified injury ahead of a trip to Ole Miss, continuing a season-long theme. Given that Wright has been the more productive of the two, anyway, he may just as well be finishing out as the starter on merit.
– – –
(Last week: 14 ⬌)