SEC
Monday Down South: Taking stock of every SEC team's trajectory as the 2022 season yields to 2023
Weekly takeaways, trends and technicalities from the final weekend's SEC action.
Well, that flew by, didn't it? Although there's plenty of football left to be played over the coming weeks, and plenty of conclusions left to draw from it, for all but a very small handful of teams with championship ambitions the relevant portion of the 2022 season is in the books and 2023 commands their full attention. The postseason news cycle has arrived in full force: Coaches are on the move, recruiting is in the home stretch ahead of the December signing period, and the transfer portal is filling up fast. Who has time to, like, reflect?
So, while the headlines march on, the regular-season finale of Monday Down South is devoted to doing just that: Taking stock of each SEC outfit's progress and prospects at the end of what was, for most of them, a tumultuous year.
In contrast to the usual stat-driven outlook in this space, teams are categorized here strictly by vibes, based on their relative expectations coming into the season and how the season actually unfolded — not necessarily by how good it was, but by how good they feel about it in the final accounting.
Welcome to the first annual Emotional Stock Index.
Cruising at altitude
⬌Georgia (12-0). The final verdict won't be in until January, but the defending champs have experienced such little turbulence en route to their second consecutive 12-0 regular season they've often seemed bored by the trip.
Ideally, the SEC Championship Game should be a destination in itself. But Georgia opened as a 17.5-point favorite in this weekend's collision with LSU, and just like last year remains so far ahead of the pack nationally that it's effectively a lock for the Playoff field, win or lose. The Dawgs also just watched the team that seemed best equipped to give them trouble down the road, Ohio State, crash and burn (again) vs. a Michigan team that was woefully overmatched against UGA in last year's semifinal.
As top-ranked juggernauts go, they have some issues, and it's worth remembering that the 2021 title run was not quite as inevitable in the end as it seemed at this point on the calendar. It's also worth asking, who is going to stop them? The path to L.A. is wide open.
Life is good
⬆South Carolina (8-4). Roughly 10 days ago, the Gamecocks looked like a demoralized outfit headed for a 6-6 record and a 6th-place finish in the East. Instead, with historic upsets over Tennessee and Clemson, they eliminated two Playoff contenders in as many weeks, snapped a 7-game losing streak against their blood rival, broke even in conference play, and ended the regular season as the only SEC team outside of Athens, Ga., with no caveats, complaints, or regrets about where the 2022 campaign ultimately set them down.
Nothing beats coming home to the BEST fans in the nation! pic.twitter.com/cDgOgkjmYP

— Gamecock Football (@GamecockFB) November 27, 2022
"Momentum" heading into the offseason is overrated in a sport defined by its unpredictability from one week to the next, much less one season to the next, and that goes especially for a team that stands to lose resurgent QB Spencer Rattler to the NFL Draft. Nothing about South Carolina's baseline talent level or track record prior to the past 2 weeks suggests it's on the verge of becoming an ascendant contender. But then, who knows? The offseason is all about possibilities, and if you're only as good as your last game, Shane Beamer's positivity is well on its way to winning over plenty of willing converts.
So close, so far away
⬌LSU (9-3). When it's all said and done, LSU will look back on Brian Kelly's debut as an obvious success: A team with no real expectations in the preseason beat Alabama, won the West, and still has a chance to claim the conference crown this weekend against Georgia.
In the short run, Saturday's 38-23 flop at Texas A&M was an inexcusable buzzkill. The Tigers went into College Station as 2-touchdown favorites to extend their 5-game winning streak to 6, and to keep their distant Playoff hopes alive with a potential upset over UGA.
Now, the SEC title looks like an even bigger pipe dream (on top of the lopsided spread, QB Jayden Daniels' status for Saturday is in doubt due to an apparent ankle injury), and a CFP bid is out of the question, regardless. After a 4-2 start, the prospect of crashing the Playoff wasn't even on the radar until their Week 10 upset over the Crimson Tide, the first game LSU played all season as a ranked team. Once the possibility crystalized, though, to let it slip away in the final hours of the regular season against a lame-duck A&M squad 2 months removed from its last SEC win can't be written off as anything less than a wasted opportunity.
⬆Tennessee (10-2). All of the above also applies to the Volunteers, who remained very much in the Playoff hunt following their Week 10 loss at Georgia, only to melt down in catastrophic fashion as a 3-touchdown favorite at South Carolina. After 15 years in the wilderness, this was a landmark season for Tennessee; between vanquishing Alabama in one of the greatest games in SEC history, debuting at No. 1 in the initial CFP committee rankings, and Hendon Hooker's Heisman campaign, it will have a place in Vols lore for many years to come. The immediate future of the program under Josh Heupel is brighter than it's been in ages. But the moments that made the season special are ultimately inseparable from the ones that cut it down to size.
Stable or stagnant?
⬇Alabama (10-2). The broader trajectory of the dynasty is up for debate. (I doubt the Tide are going anywhere anytime soon; your mileage may vary.) But the 2022 edition is undeniably going down among the most underwhelming of the Saban era. Not only did Alabama lose 2 games in the regular season for the first time since 2010 but it was dangerously close to dropping a couple more, narrowly escaping upsets at the hands of Texas and Texas A&M in the dying seconds.
When you hear the argument that the Tide were only 2 plays against Tennessee and LSU from going 12-0 — a common one lately, for no other reason than people can't seem to get their heads around Bama being reduced to a non-factor in the Playoff race — remember that they were also just 2 plays against the Longhorns and Aggies from going 8-4, and that's not factoring in another close call at Ole Miss.
Likely departures include Bryce Young, Will Anderson, Jahmyr Gibbs, Henry To'oTo'o, and both coordinators (although most Bama fans at this point probably don't consider the idea of Bill O'Brien and/or Pete Golding shipping out as a negative). That doesn't mean Alabama can't or won't still be Alabama in '23, Saban being Saban and the baseline talent level being what it is. But it is suddenly much less of a foregone conclusion than it has been in a long time.
⬇Arkansas (6-6). Remember when Arkansas was ranked in the top 10? No? It happened, I promise. The Razorbacks seemed bound for much of the year to match their 9-4 finish in 2021, but the combination of a flammable defense, untimely injuries, and miserable luck in close games relegated them to .500. They went out on a down note Friday in a 29-27 loss at Missouri — their 3rd loss in their past 4. No shortage of what-ifs for a team that was 0-4 in games decided by a field goal or less.
⬇Kentucky (7-5). Another team that managed to climb into the top 10 in September, just in time for its season to hit the skids in October. The Wildcats opened the season with their first appearance in the preseason AP poll (at No. 20) since 1978; they ended it with 5 losses in their last 7 SEC games, including a deflating, 44-6 debacle at Tennessee and a home loss to Vanderbilt that snapped the Commodores' 26-game conference losing streak.
Will Levis struggled through nagging foot and shoulder injuries and never looked like the version of himself the mock draft industry keeps touting as a first-round pick next April. Mark Stoops remains among the most secure coaches in America — and now qualifies as one of the best paid, as well — but he's yet to field a team that has finished within 2 games of first place in the SEC East standings and isn't getting any closer.
⬌Mississippi State (8-4). The Bulldogs posted a winning record and (narrowly) beat Ole Miss in the Egg Bowl, which automatically amounts to a cromulent season at Mississippi State. Otherwise, not much to write home about. In their major tests, the Dogs lost by double digits at LSU and got blown out by Alabama and Georgia.
Will Rogers passed a few career milestones by virtue of the sheer volume of the repetitive, mostly risk-averse passes he's tasked with executing in Mike Leach's system. (As of last week, Rogers has attempted more passes than any player in SEC history, and still has at least one more year of eligibility remaining — two if he exercises the free COVID year.) As long as Leach is in charge, only the name on the back of the quarterback's jersey will ever change.
⬇Ole Miss (8-4). Lane Kiffin declined overtures from Auburn and has a new contract extension and salary bump to show for it. Still, they're not exactly throwing a parade for the guy in Oxford after a 7-0 start cratered into a 1-4 finish. The Rebels' backloaded schedule backfired: On one hand, they remained relevant well into November for the first time since anyone can remember; on the other, a normal 8-4 record suddenly feels like a massive disappointment for a team that a couple of weeks ago still figured prominently in hypothetical Playoff scenarios.
Long-suffering Ole Miss fans always knew better than to buy into that kind of hype, but at least it was more fun than closing out the season with none to speak of.
Construction zone
⬌Florida (6-6). The Gators flashed glimpses of Billy Napier's vision early, in a season-opening upset over Utah, and late, in back-to-back November routs over Texas A&M and South Carolina. In between, they were just another rebuilding project preaching patience. QB Anthony Richardson, for his maddening inconsistency, is the rare talent who actually lends the line "wait until next year" some degree of optimism. But that's only if he actually comes back next year, which is an open question.
⬌Missouri (6-6). The Tigers finally pulled out a close one in the season finale vs. Arkansas after going 1-4 in their previous 5 games decided by single digits. Getting to a bowl game after a 2-4 start doesn't come close to justifying a $2 million raise for Eli Drinkwitz, but it does give Drink a chance to even up his overall record at Mizzou (currently 17-18), which would at least force people to stop saying "for a coach with a losing record" when they complain about it.
⬆Vanderbilt (5-7). The Commodores had one goal in 2022: Win a conference game. They won two. Full speed ahead entering Year 3 under Clark Lea.
Hitting reset
⬇Auburn (5-7). As of this writing, Auburn has not announced a new head coach, although that could change at any moment and render this entry dead on arrival. (Always fun.) Reports over the weekend that Hugh Freeze was waiting in the wings to be introduced after the Tigers' Iron Bowl loss at Alabama turned to be either a) premature, or b) the spark for enough of a backlash due to Freeze's scandalous departure from Ole Miss in 2017 to force new athletic director John Cohen to think twice.
There is some urgency to get a full-time hire in place ASAP, for all of the reasons cited at the top of this post: Recruiting — both the traditional variety and via the transfer portal — is entering its crucial phase over the coming weeks. More to the point, with a month's head start on filling the vacancy a delay at this stage would, fairly or unfairly, signal some degree of dysfunction behind the scenes, which is the last thing Auburn needs after the well-publicized infighting that accompanied its last coaching search just 2 years ago.
Disaster area
⬇Texas A&M (5-7). The Aggies' out-of-nowhere upset over LSU was a cathartic moment for a team and a fan base that has endured a nightmare of a season, but make no mistake: A&M was every bit as bad in 2022 as its record and its underachieving reputation suggests, and still faces all of the same challenges going forward that it would have if it had limped into the offseason on a 7-game conference skid.
It's tempting to look at a depth chart stacked with blue-chip freshmen and sophomores and imagine them turning the corner in '23, and once the ruins of this year's expectations stop smoldering you can bank on a certain level of preseason hype based on exactly that premise.
QB Conner Weigman, specifically, is a potential cornerstone who'll go through an entire offseason as the undisputed QB1 after getting his feet wet as a true freshman. Jimbo Fisher is expected to concede to handing over play-calling duties to a new offensive coordinator, as well, which is the kind of change on paper that makes it a little bit easier to justify why this time will be different than last time.
It will all sound very plausible, and there won't be any shortage of pundits looking to buy low on a potential dark horse. Buyer beware.
Superlatives
The week's best individual performances.
1. Texas A&M RB Devon Achane. Achane, a junior who's likely bound for the NFL Draft, could have easily called it a career and opted out of the Aggies' finale against LSU, no questions asked: He missed the previous 2 games with a bum ankle, and nothing was at stake against the Tigers except his health.
Instead, he suited up and went harder than ever, carrying 38 times for a career-high 215 yards and 2 touchdowns in an instant-classic performance. A 5-9, 185-pound track star, Achane has never been typecast as a workhorse, and certainly won't be at the next level. Injury notwithstanding, though, he embraced the role Saturday night, grinding out consistent chunks even without popping free on a breakaway run. (His long gain covered 29 yards.) Per Pro Football Focus, he generated 161 yards after contact and forced 19 missed tackles — the most PFF has credited to any FBS back in any game this season.
How about that start ⚡️

? ESPN | #GigEm pic.twitter.com/DklSTZGHTB

— Texas A&M Football (@AggieFootball) November 27, 2022
From beginning to end, Achane was the one part of a dysfunctional A&M offense that consistently worked, ultimately accounting for 30% of the team's total offense on the season despite missing 2 full games. Add in his contributions as a return man, and his 170.6 all-purpose yards per game vs. FBS opponents led the nation.
2. Alabama QB Bryce Young and Alabama Edge Will Anderson Jr. Young and Anderson came in together as the highest-rated prospects in Bama's 2020 recruiting class, and went out Saturday on arguably their best individual efforts of the season against Auburn, a worthy coda in their last game in Bryant-Denny Stadium and likely their last game in an Alabama uniform.
On offense, Young was his usual, efficient self, throwing for 343 yards, accounting for 4 touchdowns, and finishing with a season-high 98.1 Total QBR score. On defense, Anderson made his presence felt off the edge with 7 QB pressures and 3 tackles for loss, 2 of them sacks. His 59 pressures on the season leads all Power 5 defenders, and his 17.0 TFLs ranks 2nd behind USC's Tuli Tuipulotu.
3. Georgia RB Kenny McIntosh. In Week 12, McIntosh went off for a career-high 162 scrimmage yards (143 rushing, 19 receiving) on 21 touches against Kentucky. On Saturday, he raised the bar again, accounting for 182 yards (86 rushing, 96 receiving) on just 14 touches in the Dawgs' win over Georgia Tech, singlehandedly supplying a big-play spark to an offense sorely lacking in it otherwise. His 83-yard reception early in the fourth quarter, which set up his own game-clinching TD run on the next play, was Georgia's only completion longer than 11 yards.
The play that set up the score.

?: Watch live on ESPN#GoDawgs | @1_blueprint pic.twitter.com/Op7dSihZLj

— Georgia Football (@GeorgiaFootball) November 26, 2022
In the end, it also turned out to be Stetson Bennett's last completion in Sanford Stadium — a Hallmark moment all the way around. But McIntosh can't serve as the resident deep threat with a championship on the line … can he?
4. South Carolina CB Marcellas Dial. Clemson's D.J. Uiagalelei singled out Dial for target practice on Saturday, throwing in his direction 13 times, per PFF. The result: An 11-yard TD pass offset by a dozen balls clanging to the turf. Aside from the touchdown (on which Dial apparently failed to switch off of the outside receiver and onto the slot receiver on a standard-issue pick play), Uiagalelei was 0-for-12 aiming Dial's way, including 3 passes broken up and a crippling interception that preserved South Carolina's 31-30 lead in the fourth quarter.
Altogether, Uiagalelei was a dismal 8-for-29 passing for 99 yards, setting new career lows for completion percentage (27.6%), yards per attempt (3.4), and overall efficiency (60.8).
5. Missouri LB Ty'Ron Hopper. Hopper, a Florida transfer in his first season at Mizzou, played his best all-around game as a Tiger against Arkansas, finishing with 11 tackles, 2 TFLs, 3 QB pressures, and an 83.5 PFF coverage grade, easily his best of the season in SEC play. As a team, the Razorbacks ran for just 113 yards, their lowest output of the season, on a little under 3.0 per carry. If he returns for a 5th year in 2023, Hopper has a chance to be an All-SEC candidate. But as emphatically as he came on this season, that's a big if.
Honorable Mention: Georgia CB Kelee Ringo, who faced 9 targets against Georgia Tech and broke up as many (3) as he allowed to be completed. … Missouri QB Brady Cook, who accounted for 380 total yards (242 passing, 138 rushing) and 2 touchdowns in the Tigers' win over Arkansas. … Cook's top receiver, Dominic Lovett, who had 6 catches for 130 yards in what now appears to be his final game at Mizzou. … South Carolina WR Antwane Wells Jr., who had 9 catches for 130 yards and 2 touchdowns in the Gamecocks' win over Clemson, most of that output coming on a 72-yard bomb. …Texas A&M WR Moose Muhammad III, whose 5 receptions against LSU yielded 94 yards and a wild one-handed touchdown catch. … Florida WR Ricky Pearsall, who had 148 yards and 2 TDs on five catches in a losing effort at Florida State. … Florida Edge Antwaun Powell-Ryland, who turned in his best game of the year against FSU with 6 pressures, a strip sack and a deflected pass. … Kentucky RB Chris Rodriguez Jr., who ground out his customary 120 yards on 5.0 per carry in the Wildcats' win over Louisville. … Auburn RB Jarquez Hunter, who accounted for 191 all-purpose yards on 16 touches in the Tigers' loss at Alabama. … And South Carolina punter Kai Kroeger, who dropped 5 of his 7 punts inside Clemson 10-yard line and netted a season-high 48.6 yards per attempt.
– – –
The scoring system for players honored in Superlatives awards 8 points for the week's top player, 6 for 2nd, 5 for 3rd, 4 for 4th, 3 for 5th, and 1 for honorable mention, because how honorable is it really if it doesn't come with any points? The standings are updated weekly with the top 10 players for the season to date.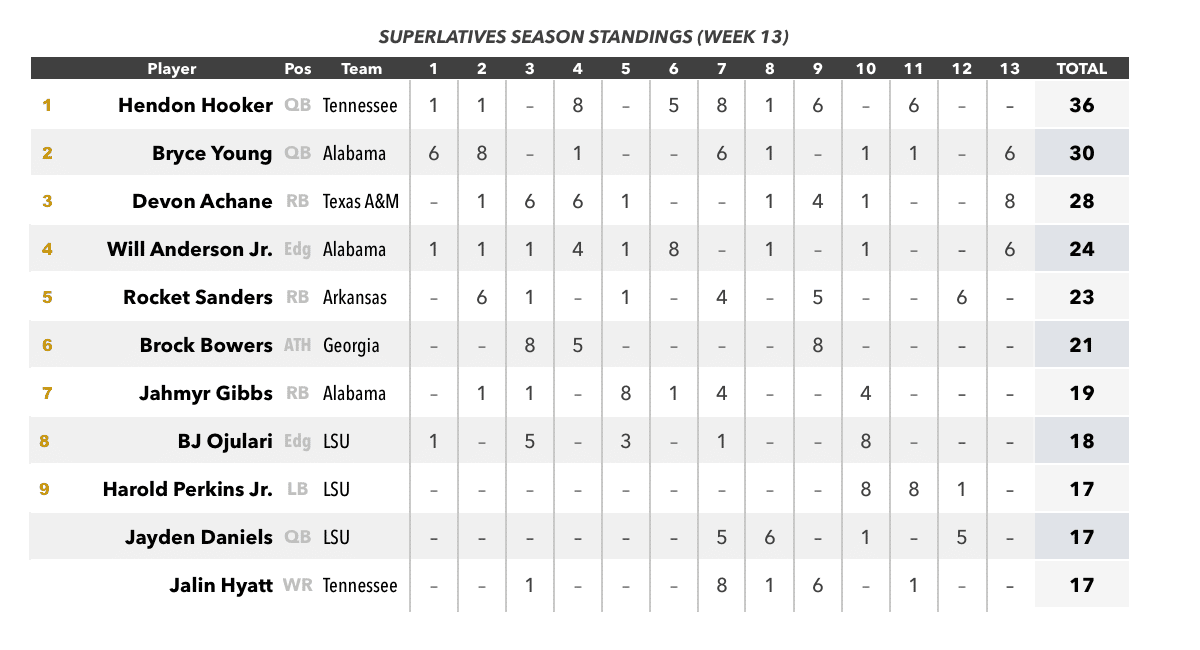 Obscure stat of the week
Auburn racked up 318 yards rushing on 7.4 yards per carry in its loss to Alabama, setting new highs in both categories for an FBS offense against a Saban-era Bama defense. (Georgia Southern, an FCS school at the time, finished with 302 yards on 7.7 per carry against the Tide in 2011.)
The last FBS offense to crack 300 yards on the ground against Bama: Arkansas in 2007, when the Razorbacks piled up 301 yards behind Darren McFadden and Felix Jones in Saban's third game as the Tide's head coach. The closest any other has come in the intervening 15 years: Auburn in the 2013 "Kick Six" game, when the Tigers ran for an astounding-at-the-time 296 yards en route to the upset.
Catch of the year of the week
South Carolina TE Nate Adkins. Adkins, a grad transfer from East Tennessee State, came into Saturday's game at Clemson with 4 catches on the season for 28 yards. He eclipsed that on one play against the Tigers, in absurd fashion:
— pickett's pool (@PickettsPool) November 26, 2022
Besides challenging the laws of physics, Adkins' one-handed grab also changed the complexion of the game, setting up Carolina's first touchdown and generally sparking an offense that had languished up to that point. Both the guy throwing him the ball, Spencer Rattler, and the guy covering him, Barrett Carter, are former 5-star with likely NFL futures. But part of the beauty of the sport is that, occasionally, the walk-on from a directional FCS school still manages briefly to steal the show.
Moment of Zen of the week
Lane Kiffin's son with the fire extinguisher on the sidelines in the Egg Bowl. ? pic.twitter.com/UFTdTBEvyE

— Sporting Minute (@sportingminute) November 25, 2022
• • •