SEC
Monday Down South: Tennessee's dream season is done, but it doesn't have to defined by the South Carolina nightmare
Weekly takeaways, trends and technicalities from the weekend's action.
– – –
Vols' clock strikes midnight
In the long run, Tennessee fans will appreciate this season for what it was: A gift. The best kind of gift, in fact. The one you've looked forward to for as long as you can remember, but long ago stopped hoping would finally arrive until one day, out of the blue, it actually does. Nobody saw the 2022 Vols coming, and no one who was there will ever forget their monumental victory over Alabama. For that alone a high place in Rocky Top lore awaits. Eventually.
In the short run, with the shock of a 63-38 bloodbath at South Carolina still fresh, it feels more like the gift has shattered all over the floor. As quickly as lofty expectations coalesced around the Volunteers, as of Saturday night they are strictly past tense. Their Playoff hopes, still a very real goal at kickoff — ESPN made a point of running graphics all weekend touting Tennessee's 65% chance of making the cut, based on the inscrutable Football Power Index — were trampled underfoot by the Carolina student section a few hours later.
The highest-scoring offense in America, only a week removed from its highest-scoring outing of the year against Missouri, fell behind early, never caught up, and ultimately ran out of gas opposite a defense in the midst of a full-blown, five-alarm meltdown. The Heisman Trophy, only a few weeks ago Hendon Hooker's to lose, went up in smoke when Hooker went down in pain at the start of the fourth quarter, victim of perhaps the cruelest possible ending to his prolific season and college career — an all-too-literal injury on top of the insult of watching all the possibilities the Vols had built up for themselves laid to waste by a 3-touchdown underdog with nothing at all to lose.
Thank you @henhook2 ?#VFL pic.twitter.com/7IlJWpFOmj

— Tennessee Football (@Vol_Football) November 20, 2022
By the time Hooker, the face of Tennessee's ascent, limped into the injury tent, the collapse was so total that it really did feel like some kind of charm had worn off. Or that South Carolina, a nondescript, 6-4 outfit just playing out the string, had somehow absorbed its power. That outrageous number in the home column, 63, represented the Gamecocks' most points in an SEC game since 1995, and the most ever by an unranked team against a top-5 opponent. (Ever as in ever, since the AP poll's introduction in 1936.) They racked up 606 yards of total offense, their best output in SEC play since a 2014 overtime loss to Tennessee, and 278 yards above their season average in conference games. They scored touchdowns on 9 of their 10 non-half-ending possessions.
It was supposed to be the other way around. Their last time out prior to Saturday, the Gamecocks had managed a measly 6 points against Florida in a blowout loss in Gainesville that seemed to mark the end of Carolina's interest in this season; two weeks before that, they'd limped in with just 203 yards and 10 points in a random, demoralizing loss to the same Mizzou team that was subsequently incinerated in Knoxville. Their best offensive player, sophomore RB MarShawn Lloyd, was on the shelf for the third consecutive game due to a thigh bruise. This was a team and an offense with zero observable juice, going up against one that had it in excess all year.
There's no point in trying to make sense out of such demonstrably different teams appearing to switch bodies for a little shy of 4 hours at this point in the season, even when it's kind of your job to build narratives out of randomness. Sometimes, depending on which side of the point spread you're rooting for, it's better to accept that this often chaotic, unpredictable sport is at its best the more chaotic and unpredictable it gets. (Although ideally, the chaos will not involve potentially career-threatening injuries to star players.)
On Saturday night, the inexplicable yin to Hooker's yang was his counterpart, Spencer Rattler. In keeping with the bizarro theme, Rattler, arguably the most underachieving quarterback in the country in 2022, turned in not just his best game in a South Carolina uniform, but a near-flawless performance that bore no resemblance the rest of his campaign.
Rattler's stat line against the Vols almost doesn't even belong on the same page as his others. In his first 7 SEC games, he threw 5 touchdown passes, 3 of them coming against Vanderbilt; against Tennessee, he threw for six, a school record. In his last six SEC games, he topped out at 200 yards passing, also against Vandy; against Tennessee, he went off for 438 yards on 11.8 per attempt. He easily set season highs for completion percentage (81.1), passer rating (234.0), and Total QBR, best among all Power 5 quarterbacks in Week 12 on all three counts. After failing to attempt a pass 20+ yards downfield in Carolina's loss to Florida, he was 4-for-6 on deep shots vs. the Vols, including 2 of his 6 touchdowns. He was patient, decisive, creative and more accurate than ever. For the first time since he landed last winter, he looked like the guy the Gamecocks thought they were getting when they won the offseason sweepstakes for his services.
— Chet Ubetcha (@chetUbetcha__) November 20, 2022
Is that "redemption" for Rattler's plummeting stock over the past year, proof that he still has first-round potential waiting to be tapped? Or a random spin of the wheel that happened to land in exactly the right place at the right time to alter the national landscape for one night only? Scouts, who have broadly relegated Rattler to a fringe prospect, will want to see his encore at Clemson in this weekend's regular-season finale before they even think about addressing the first question. South Carolina fans, basking in a guaranteed winning record and their biggest win in Williams-Brice in a decade, have already gotten their money's worth.
Raw as their disappointment may be, at the end of the day Tennessee fans can say the same. Yeah, the Vols blew a huge opportunity. The comparisons to LSU's 2019 championship run aged like milk in the sun. (I plead guilty.) Still, a team with no real expectations vanquished two nagging losing streaks vs. annual rivals, won one of the greatest games in SEC history, reached No. 1 in the CFP rankings, and made Tennessee relevant after nearly two decades in the wilderness. Ultimately, for this team, the victories that made those expectations possible in the first place will loom larger than the ones that snuffed them out.
Future teams, which will have the burden of finishing what this one unexpectedly started, may not be judged on quite so generous a curve. In that sense, the 2022 edition also fulfilled its mission of sustaining a sense of forward momentum in Heupel's second season. They'll have a lot to do with how the current team is remembered, as well: As the one that kicked off a sustained run of top-10 showdowns and Playoff intrigue under Josh Heupel, or as the one that missed its shot before the program returned to earth. The Vols have a taste of the big time again. Right now, that's a blessing. If it turns out to be a curse, it won't be lost on anyone exactly which night it descended.
Georgia: Where have all the big plays gone?
At 11-0, Georgia is a virtual lock for the Playoff even in the unlikely event of an upset in the SEC Championship Game, which means it's about that time again to begin sizing up the Dawgs' potential Achilles' heel in a hypothetical matchup against the likes of Ohio State, Michigan or USC. Throughout Kirby Smart's tenure, the weak link has always been the same: A general lack of downfield explosiveness compared to other Playoff-caliber offenses. Eleven games into their title defense, here we are again.
Admittedly, there is a little bit of a chicken-or-egg quality to the question. In a game like Saturday's brisk, 16-6 win against Kentucky, in which Georgia's defense was in firm control throughout and Stetson Bennett IV attempted a season-low 19 passes, which came first: A limited quarterback, a shortage of proven deep threats, or a game plan that saw no reason to put either to the test? Bennett was 0-for-3 against the Wildcats on attempts 10+ yards downfield, per Pro Football Focus, with his average depth of target landing at a pedestrian 5.4 yards per attempt. UGA's longest gain, a 35-yard connection from Bennett to Dominick Blaylock, came mostly after the catch on a throw that was within a hair's breadth of going the opposite direction.
Game of inches.

From looking like it could be a pick to being a HUGE gain for the Bulldogs. pic.twitter.com/u3Lmh2gBvc

— CBS Sports (@CBSSports) November 19, 2022
The approach against Kentucky was more conservative than usual (Bennett's average depth of target for the season is 9.1 yards, just slightly below the SEC average), but it reflected a philosophy that has been far more methodical than explosive even when putting the ball in the air more often.
As a team, the Bulldogs rank near the top of the conference in passes that gain at least 10 yards and 20 yards; on the other hand, they're in the middle of the pack in passes that gain at least 30 yards, and next-to-last in passes that have gained at least 40. None of the top 4 targets, Brock Bowers, Ladd McConkey, Kenny McIntosh and Darnell Washington, are reliable vertical threats, as reflected in the fact that they all have more yards after the catch than before. A significant percentage of the passing game under OC Todd Monken consists of short, safe throws that function as an extension of the running game. Whether that's in an effort to play to Bennett's strengths, hide his limitations, or just how Monken prefers to call it, the result is that successful downfield shots remain relatively few and far between.
None of which has mattered yet, and may not as long as the defense keeps opposing offenses under wraps. Of course, that becomes a much more difficult proposition if the opposing offense is Ohio State's or USC's.
A pressing question for weeks has been the status of 6-4 sophomore Adonai Mitchell, who has barely seen the field since the opener against Oregon due to a nagging ankle injury that has been a "week to week" situation for the entire regular season. Mitchell was on the receiving end of the go-ahead, 40-yard touchdown pass from Bennett in last year's CFP Championship Game against Alabama, a play that singlehandedly alleviates much of the concern about Bennett's capacity to make that kind of throw on a big stage. This time around, though, who will catch it?
Closing 'Dores
On the other end of the food chain, it's time to acknowledge the only other SEC East team riding a 2-game winning streak: Vanderbilt!
???#AnchorDown pic.twitter.com/DjdxOPtMzF

— Vanderbilt Football (@VandyFootball) November 19, 2022
Vandy has been the resident doormat for the vast majority of this column's existence — well, for the vast majority of any given time span since World War II, really — including most of this season, which prior to the Commodores' Week 11 stunner at Kentucky was indistinguishable from the previous two. With their first SEC win since 2019 under their belt, though, they kept it rolling Saturday in a 31-24 upset over Florida, only their second win over the Gators in 31 meetings as East Division rivals… colleagues? Whatever: The 'Dores never beat Florida is the point, and they just did it.
That leaves Vandy within 1 more upset of a 6-6 regular season and the nation's most improbable bowl bid in Clark Lea's second season as head coach. And given the uncertain physical and psychological state of Tennessee following its nightmare trip to South Carolina, the prospect of the surging 'Dores ambushing the demoralized Vols in Nashville is not completely out of the question. (Now that would be an existential crisis for Tennessee.) The 14.5-point spread is identical to last week's spread against Florida, and slightly less than the 17.5-point spread Vanderbilt faced against Kentucky.
Either way, the Commodores' promotion from automatic W to active upset threat at this late stage of what was shaping up as another doomed season is a credit to Lea and the direction of the program in Year 2. Vanderbilt is not about to turn into a sustained winner a la Kentucky anytime in the foreseeable future. But suddenly it's not an outfit the rest of conference can get away with taking for granted, either, which for now counts as an enormous first step.
Brian Kelly is probably going to run away with the SEC Coach of the Year voting, but just for convincing a bunch of outmanned guys who have routinely had the brakes beaten off them for the past 3 years that it's possible for them to be on the other side of the story should put Lea right in the mix.
Superlatives
The week's best individual performances.
1. South Carolina QB Spencer Rattler. The raw talent is obvious, and when it comes together the results are impressive. Rattler was lights out against Tennessee in a performance that ranks among the best by any SEC quarterback this year. Whether that's the beginning of a rise from the ashes on draft boards or a one-off for the ages is TBD.
2. Arkansas RB Rocket Sanders. Arkansas-Ole Miss is always good for a mind-bending box score and the Razorbacks' 42-27 win on Saturday night did not disappoint: The offenses combined for 1,206 yards, 56 first downs and 8 touchdown drives covering 70+ yards. Beyond the numbers, though, in real-time it was all Hogs. Arkansas scored on 6 of its first 8 possessions, sprinting out (literally) to a 42-6 lead early in the third quarter before allowing the Rebels to make the margin look halfway respectable in the fourth.
CLEARED FOR TAKEOFF pic.twitter.com/VL6gWs9RaC

— Arkansas Razorback Football (@RazorbackFB) November 20, 2022
Watch Ole Miss' defensive front on that play displaying what can only be described "get us the heck outta here" energy. Sanders' final line for the night came to 232 yards and 3 touchdowns rushing, both career highs, with less than 20% of that total coming after contact, per PFF. For the year, that puts him at 1,628 scrimmage yards, 3rd nationally and the most in a season by any Razorback ever not named Darren McFadden.
Incredibly, given the way the night unfolded, it was Ole Miss that put up the really eye-popping numbers on paper. The Rebels outgained Arkansas by exactly 200 yards overall (703 to 503) while producing a pair of 200-yard rushers in the same game, Quinshon Judkins and Zach Evans, for the first time in school history. (They also got a 140-yard receiving effort from Jonathan Mingo.)
In part, yes, that was due to 3 long, meaningless touchdown drives after the outcome was decided. Even before garbage time, though, the Rebels moved the ball, with a couple of caveats. One, they faced consistently bad field position, starting every possession inside their own 25-yard line; and two, they struggled to finish drives. Despite the long fields, Ole Miss managed to cross into Razorbacks territory 6 times in the first three quarters. The fruit of those opportunities: 6 points on 2 field goals.
3. LSU QB Jayden Daniels. On a bad Saturday to bet the favorites, the Tigers covered a 14.5-point spread with plenty of room to spare against UAB, cruising to a 41-10 win that was over at the half. Daniels, looking as comfortable as he has yet in an LSU uniform, accounted for 408 total yards (297 passing, 111 rushing) and 2 touchdowns, yielding his best QBR score of the season (95.8) vs. an FBS opponent. Full speed ahead to Atlanta.
4. Kentucky WR Barion Brown. With Will Levis on his way out, Kentucky's best recruiting pitch to prospective transfer QBs this offseason will be Brown's highlight reel. The electric freshman had his best game as a receiver against Georgia, hauling in a season-high 10 catches for 145 yards, including the Wildcats' only touchdown — an 8-yard, 4th-down strike from Levis that capped a 99-yard march and briefly woke the audience from its stupor in the fourth quarter. A few plays earlier, Brown also supplied the biggest chunk of the drive on a 42-yard bomb, 1 of his 3 gains of 30+ yards on the day.
BIG PLAY: Will Levis 42-yd pass to Barion Brown#GoDawgs 16 #Wildcats 0 4th pic.twitter.com/n1gJgeOE1G

— Sᴘᴏʀᴛs 24/7 (@Sports_24x7_) November 19, 2022
If he manages to put on a little weight without sacrificing the speed that makes him special, Brown is going to be a problem for the next couple of years in multiple facets. As it stands, he's already separated himself as the Wildcats' go-to target even against the most imposing defense on the schedule.
5. Mississippi State CB Emmanuel Forbes. Alright, it can't be all offense here. Forbes, likely playing in his last home game in Starkville, was targeted 4 times in the Bulldogs' 56-7 romp over East Tennessee State, resulting in 1 completion, 2 PBUs, and the coup de grace, an 82-yard INT return for a touchdown that put the game on ice midway through the second quarter. That went down as his 3rd pick-6 of the season, best in the nation, and the 6th of his career, a new FBS record.
????-? ???? ?#HailState? pic.twitter.com/N167DYUtBw

— Mississippi State Football (@HailStateFB) November 19, 2022
Altogether, Forbes' 14 career interceptions over 3 seasons leads all active FBS players and leaves him tied for 8th among SEC players since 2000. He has at least one more game to go.
Honorable Mention: LSU LB Harold Perkins Jr., who followed up his breakout performance in Week 11 with two TFLs and a batted pass in the Tigers' win over UAB. … Arkansas LB Drew Sanders , who recorded 10 tackles, an interception, and a fumble recovery against Ole Miss. … Auburn DB Jaylin Simpson, who picked off one pass and broke up three others in a 41-17 win over Western Kentucky. … Auburn RBs Tank Bigsby and Jarquez Hunter, who rang up a combined 219 yards and three touchdowns against the Hilltoppers, plus a touchdown pass by Hunter. … Georgia RB Kenny McIntosh, who turned in his first career 100-yard rushing game at Kentucky with 143 on 7.5 per carry. … Florida WR Daejon Reynolds, who easily exceeded his previous career output at Vanderbilt with 165 yards and two TDs on eight catches in a losing effort. … Missouri QB Brady Cook, who finished 19/27 for 251 yards and three TDs in a 45-14 win over New Mexico State. … And Mississippi State QB Will Rogers, whose 301 yards and 5 touchdowns passing against ETSU moved him into the top 10 in SEC history in both categories.
– – –
The scoring system for players honored in Superlatives awards 8 points for the week's top player, 6 for 2nd, 5 for 3rd, 4 for 4th, 3 for 5th, and 1 for honorable mention, because how honorable is it really if it doesn't come with any points? The standings are updated weekly with the top 10 players for the season to date.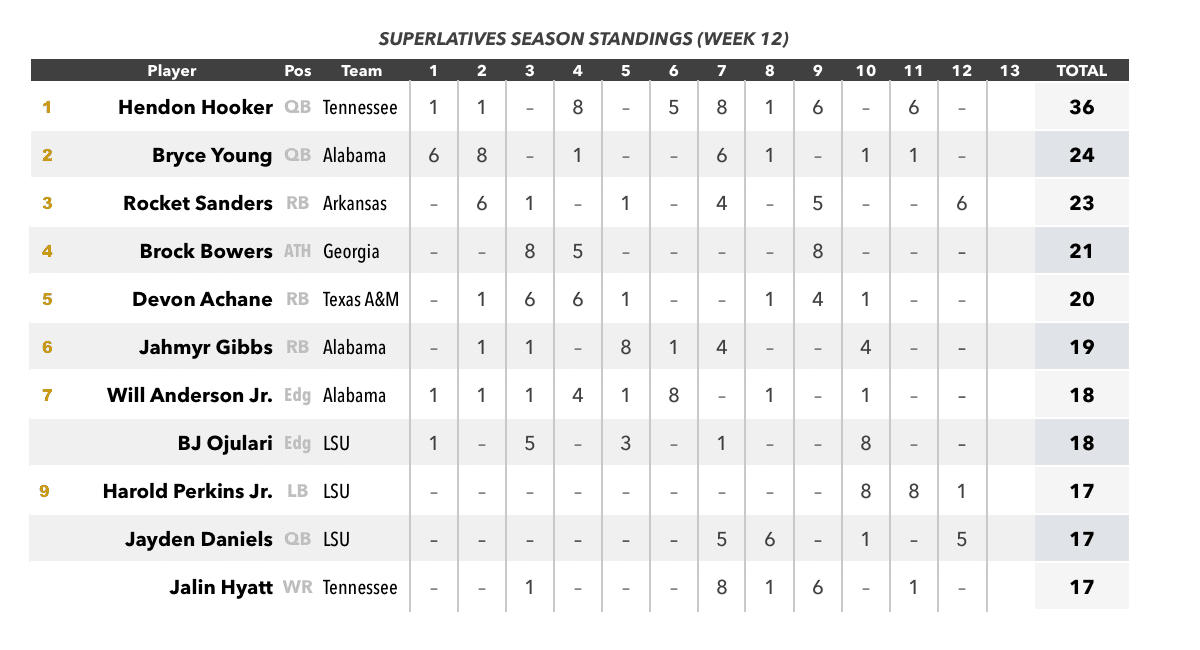 Obscure stat of the week
Kentucky is the type of team that needs to excel in the kicking game, but special teams have been a nagging issue all year long. Matt Ruffolo's 10 missed field goals and PATs are the most of any individual kicker in the country, and they're not all on him.
Laces in ? pic.twitter.com/AGBRAx3bBE

— CBS Sports (@CBSSports) November 19, 2022
SEC Power Rankings
Updating the food chain.
1. Georgia (11-0). Bulldogs are not necessarily entertaining, but they will get you home on time. They finished off Kentucky in three hours flat, which for a prime-window CBS game is about as efficient as it gets. (Last week: 1⬌)
2. LSU (8-2). Tigers completely neutralized UAB's star running back, DeWayne McBride, holding him to career lows for rushing yards (34) and yards per carry (2.6) with a long gain of just 6. That snapped McBride's streak of 14 consecutive 100-yard games dating to last season. (LW: 3⬆)
3. Alabama (8-2). Just a couple more years of November cupcakes before the SEC adds a 9th conference game and puts the kibosh on mismatches like Alabama-Austin Peay for good. Here's an idea: Reschedule those games as preseason exhibitions, or play them in the spring in place of the traditional intrasquad scrimmage. (LW: 4⬆)
4. Tennessee (9-2). There's a case for keeping the Vols ahead of LSU and Alabama, but those head-to-head triumphs in October seem like a long time ago compared to the massive egg they just laid. Godspeed to Hendon Hooker, one of the season's most compelling players and best quarterbacks in school history. (LW: 2⬇)
5. Ole Miss (8-3). If you were reluctant to take the Rebels' 7-0 start seriously, well, you were right. Their only wins over teams currently above .500 are at the expense of Kentucky and Troy. (LW: 5⬌)
6. Mississippi State (7-4). No larger stakes in the Egg Bowl, as usual, but either way the winner will come out of it feeling about a thousand times better about its season than the loser, which is how it should be. (LW: 6⬌)
7. South Carolina (7-4). Florida and Auburn last year. Texas A&M and Tennessee this year. If you're a flawed road favorite, Columbia after dark is quickly becoming the site where your season goes to die. (LW: 10⬆)
8. Arkansas (6-5). Razorbacks have turned out to be much too inconsistent to justify their brief stay in the top 10 back in September, but when they're on they look the part. Between their bizarre losses to Texas A&M and Liberty and KJ Jefferson's absence against Mississippi State and LSU, there are plenty of what-ifs to ponder over the next few weeks. (LW: 8⬆)
9. Kentucky (6-5). Mark Stoops just signed a contract extension that will reportedly raise his salary by more than $2 million, to $8.6 million a year plus incentives through 2031. Eight point six million for a coach who has never finished closer than 2 games out of first place in the SEC East and isn't getting any closer? Who arguably has less leverage now, in the midst of the most disappointing campaign of his tenure, than he's had at any point in the past 5 years? Nothing against Stoops, who has raised the bar in Lexington to the point that 6-5 is considered a down year; he and his argent are just getting what they can get out of a broken market while the getting's good. But this is monopoly money, pouring into big-time college football so quickly and such huge quantities right now schools literally cannot spend it fast enough. In an actual free market, a significant chunk of these ridiculous salaries would be going to the players, and the more ridiculous they get, the nearer that day looms. (LW: 8⬇)
10. Florida (6-5). Gators turned a corner in wins over Texas A&M and South Carolina, only to get blindsided by the Vandy bandwagon. An upset over surging Florida State could salvage some of the positive vibes, otherwise Billy Napier's debut is going down as a mulligan, and not the friendly kind. (LW: 7⬇)
11. Auburn (5-6). Everybody likes Cadillac Williams, but again, he's only a candidate for the full-time job if Auburn beats Alabama. (LW: 11⬌)
12. Missouri (5-6). Tigers are still trying to figure out ways to gin up opportunities for 5-star freshman Luther Burden III, whose 53 offensive touches on the season have yielded just 7.4 yards a pop with 1 play of 20+ yards. (Compare that to fellow freshman Barion Brown, who has 9 plays of 20+ yards, or Texas A&M's Evan Stewart, who has 8, both on fewer touches than Burden in more conservative offenses.) Burden has scored 6 red-zone touchdowns, 2 of them as a Wildcat QB, but a big part of the offseason calculation at quarterback has to be determining whether Brady Cook or a potential transfer option gives them the best chance of unlocking their most talented player's full skill set. (LW: 12⬌)
13. Vanderbilt (5-6). Break 'em up! The way schools are unloading money onto coaches these days, 2 consecutive SEC wins might get Clark Lea a lifetime contract. (LW: 14⬆)
14. Texas A&M (4-7). It's come to this. Watching your underachieving team struggle against UMass in a 39-degree rain at the end of a historically disappointing season under a coach you can't fire is the deepest circle of college football hell and Aggies fans are in it. (LW: 13⬇)
Moment of Zen of the week
Fixed it for you. pic.twitter.com/CKH3MnBpgH

— Gamecock Football (@GamecockFB) November 20, 2022
• • •