SEC
SEC QB Power Rankings, Week 10: It's Hendon Hooker's Heisman to lose, but don't count out Bryce Young yet
Quarterbacks: There are a lot of them! Each week throughout the season, we'll help you keep the game's most important position in perspective by ranking the SEC starters 1-14 according to highly scientific processes and/or pure gut-level instinct. Previously: Week 1 … Week 2. … Week 3. … Week 4. … Week 5. … Week 6. … Week 7. … Week 8. … Week 9.
1. Hendon Hooker, Tennessee
Hooker is your consensus Heisman favorite entering the final month of the regular season, which might ultimately mean little if he fails to deliver this weekend against college football's most respected defense.
As prolific as he's been so far, a November trip to Georgia is the kind of game that can make or break a campaign.
Last year, Bryce Young was considered a relatively uninspiring front-runner until he lit up the Dawgs for 421 yards and 3 TDs in the SEC Championship Game, turning what was shaping up as an indecisive vote into a landslide on the final Saturday of the regular season. Hooker may not have to wait that long: He already has one instant-classic performance on the books in the Vols' high-flying, curse-defying win over Alabama, a repeat of which in Athens would elevate him from front-runner to virtual lock. Of course, there's a very good reason it carries that kind of weight, which is that the vast majority of opposing quarterbacks leave Athens looking shell-shocked.
It's a little early still to be boiling the race down to a single, defining game. All of the leading candidates at the moment have big showcase opportunities in front of them, most notably Ohio State QB CJ Stroud and Michigan RB Blake Corum in another blockbuster entry in that rivalry on Nov. 26.
USC's Caleb Williams and Oregon's Bo Nix — yes, that Bo Nix, the man is genuinely thriving as a Duck — are on a collision course for the Pac-12 title game, which could have major Playoff Implications. And Young will have his say, with above-the-fold dates against LSU, Ole Miss, and (probably) the UGA/Tennessee winner looming. There's time left for any of the above to make his move, and space for a surprise or two, as well. But if Hooker looks like himself Saturday in another high-stakes epic, the path for everyone else is about to get extremely steep.
– – –
(Last week: 1⬌)
2. Bryce Young, Alabama
Young's season to date is a good example of why the idea of anybody winning back-to-back Heismans is such a dubious prospect. Stuff happens: You lose key pieces of your supporting cast, you miss a game or two to injury, your best performance comes in a losing effort, you don't automatically move the needle every time out.
Mostly, though, by the "reigning Heisman winner" phase of your career, the audience has simply come to take your excellence for granted. On paper, Young has put together a broadly similar statistical profile over the first half of the season that earned him the distinction last year: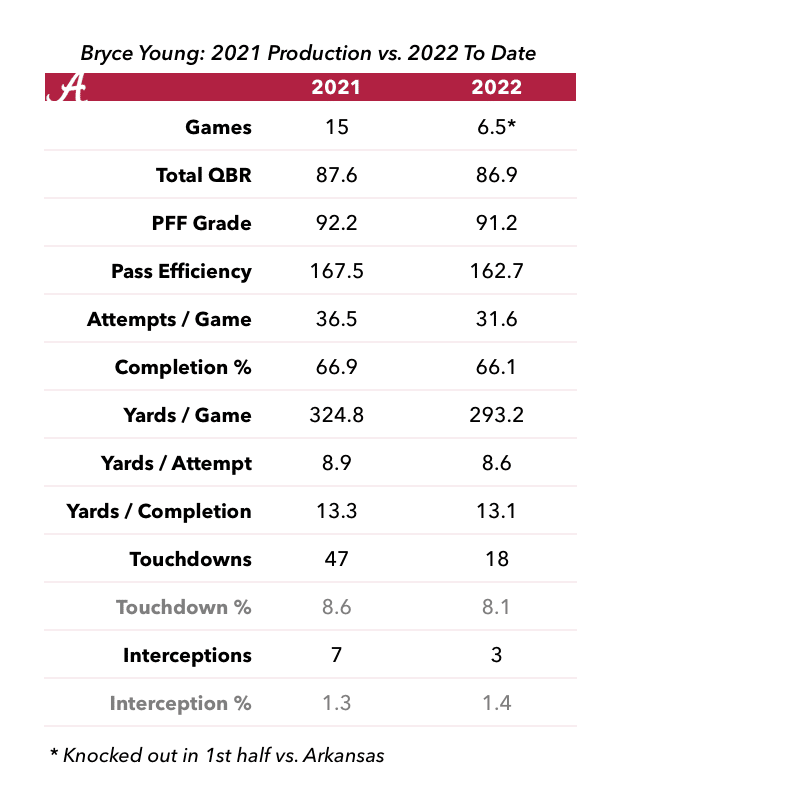 From one year to the next, it doesn't get much more consistent than that. But Young's ascent in 2021 wasn't only (or even primarily) about the numbers, and much of what made his game compelling feels more routine this time around. In lieu of sheer statistical dominance, what's the hook? Besides deciding the SEC West, the next 2 weeks at LSU and Ole Miss will go a long way toward answering that question. Ultimately, his case is going to come down to another convincing closing statement in Atlanta.
– – –
(Last week: 2⬌)
3. KJ Jefferson, Arkansas
Jefferson gets plenty of attention for his size and "man among boys" presence as a runner, but not nearly enough for his efficiency as a passer. His 162.3 passer rating against Auburn was his 6th 160+ performance in 7 games this season (the lone exception coming in a Week 5 loss to Alabama), putting him on track to finish in the top 10 nationally for the second year in a row. In many respects, Jefferson is actually performing like the guy pro scouts desperately want Will Levis and Anthony Richardson to be — he just, what, plays in the wrong type of offense for them to notice?
– – –
(Last week: 4⬆)
4. Stetson Bennett IV, Georgia
Bennett's 318-yard afternoon against Florida was a good example of why raw passing yardage is often a misleading stat: It took him 38 attempts to get there, he completed just 50% of them, and the stat line was distorted by a 73-yard tip-drill touchdown that could have just as easily been intercepted. (Bennett actually was picked off twice.) For the record, he was also kept extraordinarily clean in the process, with the Gators generating zero sacks or hits and just 5 pressures, per Pro Football Focus.
As long as the defense is holding up its end of the deal, Bennett will always have a significant margin for error. Against Florida, OK. Against the likes of Tennessee this weekend, or potentially Alabama down the road, that's not a given. In the really big games, Georgia needs him back to operating a low-risk, spread-the-wealth philosophy at maximum efficiency.
– – –
(Last week: 3⬇)
5. Jayden Daniels, LSU
Dual-threat quarterbacks have often given Alabama fits in the past, and Daniels' effectiveness as a runner is well-established. As a passer, he remains a wild card. His past 2 outings, high-scoring wins over Florida and Ole Miss, were his best as a Tiger, by far; across both games, he averaged just shy of 10 yards per attempt with 5 touchdowns and no picks. At the same time, he's still barely a month removed from doubts over his job security coming off limp efforts against Auburn and Tennessee. Over the first half of the season, he was sack-prone and so risk-averse that at one point Brian Kelly openly mused that he'd trade a few interceptions for more big plays.
He's gotten them lately without the INTs, and if Daniels has legitimately turned a corner he has the firepower at his disposal to give the Tigers a chance every time out. But Alabama, while not as invincible as it has seemed in the past, is still the defining test, especially with hyped LSU transfer Eli Ricks finally settling into a starting corner role opposite Kool-Aid McKinstry. Up front, Bama's NFL-ready pass rush opposite a couple of true-freshman tackles is as lopsided a matchup on paper as you're ever going to get between two top-10 teams. As it usually is for the opposing QB, the bar for beating the Crimson Tide is set at Daniels playing the game of his life.
– – –
(Last week: 5⬌)
6. Will Rogers, Mississippi State
The Bulldogs' open date fell at exactly the right time for Rogers coming off deflating outings at Kentucky and Alabama. So does this weekend's visit from Auburn, against whom Rogers played arguably the best game of his career last year in the course of leading the biggest comeback in school history. In retrospect, that collapse also marked the moment the vibe shifted against Bryan Harsin at Auburn — from that point on, he subsequently went 2-8 vs. FBS opponents before getting shown the door earlier this week. If the locker room takes that as a signal to pack it in for 2022, Rogers could be in for another big night.
7. Jaxson Dart, Ole Miss
Through 9 games, the book on Dart is straightforward: Plus athlete, efficient in the context of a run-first/play-action scheme, not there yet as a straight dropback passer. So far, only LSU has managed to force Dart into the position of carrying the offense with his arm, a test he largely flunked in the second half of Ole Miss' only loss in Baton Rouge. Yeah, he's just a sophomore; that aspect of his game will come in time. With Alabama waiting on the other side of an open date, though, will it come soon enough to keep the Rebels' championship window open?
– – –
(Last week: 8⬆)
8. Will Levis, Kentucky
The enthusiasm surrounding Levis' draft stock has always been more about his size, athleticism and proven ability to make "NFL throws" in a pro-style system than his numbers, and his abysmal performance at Tennessee wasn't a deal-breaker on any of those fronts.
Still, even for a guy whose production has never quite justified the hype, it was a nightmare: 3.6 yards per attempt, 3 interceptions, 4 sacks, zero big plays in a high-profile, 44-6 blowout. Levis was 1-for-8 on attempts 10+ yards downfield, and finished with career lows for efficiency (67.5), PFF grade (39.8) and Total QBR (16.4) by wide margins.
Say a little prayer every night that your favorite NFL franchise doesn't draft Will Levis early in this Springs draft. pic.twitter.com/Ds7ALZ55Oz

— Greg Brandt (@devywarehouse) October 30, 2022
Mitigating factors: Levis was clearly playing hurt, as he has throughout the season due to multiple nagging injuries; he was playing from behind from the second quarter on, which he's rarely been forced to do; and Kentucky's revamped o-line is a far cry from the "Big Blue Wall" that produced 5 draft picks in the past 4 years.
Ideally, though, aren't franchise quarterbacks supposed to overcome their circumstances in big games? The trip to Knoxville was a prove-it opportunity against an opposing offense that was obviously going to force him to level up to keep pace, and he responded by melting down.
The vagaries of predicting who's going to succeed as a pro being what they are, it's impossible to declare flat-out that Levis is a lost cause. The scouts obviously don't think so, and if you've ever been in the habit of making bold statements about NFL-bound QBs you have plenty of experience being wrong. (If you thought, say, Sam Darnold was obviously a better prospect than, say, Josh Allen, join the club.)
So let's just say the red flags in Levis' game when it's up to him to carry the day with his arm are not encouraging. At some point, the vision of what a talented player might be, eventually, has to make room for what he actually is. Right now, Levis is a solid, experienced college QB who isn't quite good enough to elevate his team against top competition. At 23, betting he's ever going to be more than that is increasingly looking like wishful thinking.
– – –
(Last week: 8⬇)
9. Anthony Richardson, Florida
Richardson is still generating first-round buzz in his own right, for obvious reasons, but it's impossible to square the hype at this point with the boom-or-bust product on the field. (It must be noted, too, that mock drafts on the Internet do not necessarily reflect the opinions of actual NFL scouts.) Richardson is a redshirt sophomore with 3 seasons of eligibility remaining beyond this one due to the free COVID year. What's the rush to add his name to a crowded class of far more polished passers in 2023? Another year on campus to hone his mechanics and grow into his potential could make him a star and erase any doubts about the next level.
– – –
(Last week: 9⬌)
10. Brady Cook, Missouri
Cook turned in easily his best game of the season in a 23-10 win at South Carolina, finishing with 277 total yards, a rushing TD and an 86.4 QBR score. Mizzou is still likely to be aggressive on the transfer market this winter – Eli Drinkwitz can't afford not to be – but with a strong finish, Cook can at least buy himself a fair shot at competing for a starting job next spring. Whether he gets it in Columbia or somewhere else is TBD.
– – –
(Last week: 11⬆)
11. Conner Weigman, Texas A&M
Traditionally, there's no better time to introduce a touted freshman QB than right after your season has gone in the tank — the official signal that the mission has shifted from winning now to building for the future. By that standard, A&M executed the rollout of the Weigman Era to perfection. He came in hot in his first career start, going 7-for-7 with 2 touchdown passes on his first 2 possessions against Ole Miss, and despite cooling off considerably over the final 3 quarters, the Aggies finished with season highs for total yards (480) and points (28) vs. an FBS opponent. The result, a 31-28 loss, mattered significantly less than the kid looked alright.
Went on a drive ?

? @SECNetwork | #GigEm pic.twitter.com/OkADqXAVXP

— Texas A&M Football (@AggieFootball) October 29, 2022
Should Weigman have been playing sooner? Eh. Given the enormous expectations coming into the year, it's understandable that Jimbo Fisher didn't want to entrust them to a fledgling. By the time it was clear the wheels were coming off, the Aggies were due for a trip to Alabama, where throwing him to the Bama defense would have been cruel and unusual. A Week 8 trip to South Carolina coming off an open date might have been an opportune time, but it also would have meant burning Weigman's redshirt at a point when he only needed to wait 2 more weeks to preserve it. It was only after he was forced into the Carolina game late due to an injury to Haynes King that the call going forward was suddenly obvious.
At any rate, it's Weigman's show now and for the foreseeable future. If he plays reasonably well down the stretch, go ahead and mark A&M down for enormous expectations again in 2023, whether you like it or not. That's one of the perks of being the kind of place with the luxury of having a 5-star prospect waiting in the wings: Even at your lowest point, you're never more than a week or two from restoring some glimmers of hope.
– – –
(Last week: n/a)
12. Spencer Rattler, South Carolina
The race for the title of Most Underachieving Player in America is crowded, but if Rattler isn't quite setting the pace, he's certainly making a run at it. His performance in Saturday's 23-10 loss to Missouri was just another flop in a campaign full of them: Adjusted for opponent, his dismal QBR score against Mizzou (46.8) was somehow his 3rd-best of the season, in a game in which he averaged just 5.7 yards per attempt with 2 turnovers. It's just been that kind of year. The Gamecocks were banking on the version of Rattler who once projected as a Heisman favorite and top draft pick; instead, it's becoming more clear by the week they got a bust who has looked traumatized from the jump.
– – –
(Last week: 10⬇)
13. Robby Ashford, Auburn
Bryan Harsin's fate was sealed a long time ago, so the decision to make it official earlier this week doesn't change the outlook here: The Tigers will play out the string, announce a new head coach, and pursue a new starter via the portal. In a vacuum, Ashford might be too talented (and too young) to dismiss outright, especially if he plays well in the lame-duck phase. In reality, the mandate for the next administration will be a full-scale house-cleaning. The last thing they need is to trot out a familiar face who played a leading role in getting the last regime canned.
– – –
(Last week: 14⬆)
14. AJ Swann, Vanderbilt
Swann is "heading in the right direction" this week after leaving Vandy's last game, a Week 8 loss at Missouri, with an undisclosed injury. If there's any doubt about his long-term job security beyond this season, the next few weeks against South Carolina, Kentucky, and Florida are a great opportunity to go ahead and clear that up. The Commodores haven't had a real, entrenched QB1 since the legendary Kyle Shurmur manned the position from 2016-18.
– – –
(Last week: 12⬇)