SEC
Monday Down South: Yes, Alabama can still be a Playoff team. But it doesn't look like one
Contrary to the rhetoric that surrounds it most of the time, Nick Saban's Death Star has never been invincible. Intimidating, yes. Infuriatingly consistent, yes. Invincible, no.
It's been eight years now since Alabama's only start-to-finish undefeated season on Saban's watch, in 2009, a span that includes just one perfect run through the SEC schedule alone. More than any other team, though, the Crimson Tide are perennially on the cusp — close enough to perfection, for long enough, that most of us have come to take for granted that their falling short feels like a more momentous twist than their actually achieving it could ever be. When Bama loses the earth shakes.
Just a little, mind you, and mainly due to the inevitable implications for the national championship. But it's also because each defeat has tended to feel like such an epic struggle in and of itself: Before last weekend, Alabama's previous 10 losses (dating to 2010) had been decided by a combined 55 points, the last eight of those in games that kicked off with the Tide ranked in the top three of the AP poll.
Eight of the ten came in November or later, amplifying the tremors; in six of them Bama led at some point in the fourth quarter. Each game unfolded in distinct, memorable fashion. Collectively they were instant classics that featured career-defining performances by some of the most venerated players of the decade and the single most dramatic play in the history of the sport. It's Alabama; that's what it takes.
In that context, the most shocking thing about Saturday's 26-14 loss at Auburn was frankly how not shocking it was. If anything, it was the opposite of shocking: It was almost … routine, in the vein of any other one-sided, by-the-book butt-kicking that unfolds without the benefit of an emotional turning point or nerve-wracking finish.
The Tigers didn't need any of that; they scored first, scored last, and scored more in between. Offensively, they didn't even need any memorably big plays; Auburn's longest gain of the game covered just 25 yards, its longest run just 16, by quarterback Jarrett Stidham. Its ostensible Heisman candidate, Kerryon Johnson, averaged a pedestrian 3.5 yards per carry before leaving with an apparent shoulder injury in the final minutes. It was enough to inflict the kind of nondescript, one-down-to-the-next clichés that Alabama usually inflicts on opponents — limit turnovers, convert on manageable third downs — on the Tide themselves. It was a humbling of an outfit with no use for humility.
For all its flaws, Alabama arrived Saturday as the near-unanimous No. 1 in the AP poll, a distinction it had held every single week for the past two seasons running, and the effect of Auburn slowly but surely asserting itself as the superior side in all phases was disorienting enough to make the 12-point margin feel much larger than it would if we were talking about any other opponent.
For Bama, it was the first double-digit defeat since the random, 45-31 lapse against Oklahoma in the 2014 Sugar Bowl, and the worst in a regular-season game (vs. any opponent) since a 35-21 loss at South Carolina in 2010. Coincidentally, those also happen to be the only teams since the end of Saban's first season at Alabama that failed to make either the SEC or national championship game.
While the former is now out of the question for the 2017 edition, for his part Saban wasn't content to abandon hope for the latter, telling reporters after the game that he believes this team still deserves a shot at the Playoff on the strength of its 11-1 record.
He still might get his wish — in fact, from a pure probability standpoint Bama has about as good a chance of making the cut as any team still in the mix, if only because the Crimson Tide are the only serious contenders not at risk of suffering a fatal loss on the final Saturday. As it stands, the presumptive Playoff field heading into the climactic weekend looks this, with current records in parentheses:
• Wisconsin (12-0)
• Oklahoma (11-1)
• Winner of Clemson (11-1) vs. Miami (10-1)
• Winner of Auburn (10-2) vs. Georgia (11-1)
If the status quo holds, it's safe to assume those are your final four teams. If Wisconsin or Oklahoma loses, though, the debate for the final spots(s) will almost certainly fall to Alabama vs. Ohio State (if the Buckeyes beat Wisconsin in the Big Ten title game, as they're favored to do) and/or TCU (If the Frogs upset Oklahoma for the Big 12 crown), a debate the Crimson Tide stand a decent chance of winning even as an at-large team.
Depending on the various scenarios this weekend and the subsequent whims of the committee, technically there's still a possibility that Bama will turn out to be a Playoff team, at which point all future bets are off. This is a season where every frontrunner is potentially flawed; the team that took Bama's place at No. 1 in the AP poll, Clemson, suffered a loss to Syracuse, for heaven's sake. Technically the national championship that slipped through the Tide's fingers in January is still in front of them, even if the SEC championship is not.
But does Alabama look like a Playoff team? For the first time in years, even in the wake of a loss, it's hard to argue that the answer is yes. Over the past month the Tide have looked more like a machine beginning to succumb to rust: Against the three best teams on their schedule, they slugged out a sloppy-looking win over LSU, narrowly survived a legitimate upset scare at Mississippi State, and were just rocked in convincing fashion by the only remotely Playoff-worthy opponent they've encountered.
In retrospect, all of the Tide's impressive, blowout wins in SEC play came against four teams (Vanderbilt, Ole Miss, Arkansas, and Tennessee) that finished with a combined 5-27 record in conference play, including wins against each other.
Beyond the scoreboard, this is a team suddenly struggling even to pass the proverbial test, arguably a first under Saban. Jalen Hurts has made almost no discernible progress from Year 1 to Year 2 as a downfield passer; the running backs have a weird tendency to disappear from the game plan for long, random stretches of time; the receiving corps lacks a reliable complement to No. 1 target Calvin Ridley; the offensive line struggles with speed rushers; the pass rush has run hot and cold after losing all of last year's headliners to the draft, and lately very cold down the stretch; the linebackers are depleted by injury.
All of those deficiencies were on display to some extent against Auburn, along with a handful of uncharacteristic gaffes for good measure. In the fourth quarter, especially, the Crimson Tide looked more disoriented and out of sync on a big stage than we've seen them in years.
If they make the Playoff next Sunday, obviously the Tide are talented enough to render all of the above obsolete as they surge toward the title that, as of just a few weeks ago, looked like their birthright.
If not — and this is a very real possibility, folks — the season will go down as arguably the biggest blown opportunity on Saban's watch, on par with the 2013 team that saw its undefeated season go bust at Auburn in similarly deflating fashion. At least that team could point to the slings and arrows of the Kick-Six, a fluke play that cost them a game they statistically dominated. Until further notice, the 2017 edition will have to live with the fact that with everything on the line it was simply outplayed by the clearly superior team.
NOTEBOOK
Around the conference.
Read More
Online sports betting has come or is coming to many southern states. Residents of states where legalized sports betting exists can bet on things like the Heisman race, SEC football games each week and more... all right from their mobile device.
Auburn 26, Alabama 14: Ignore the polls: Auburn is clearly the best team in college football right now, and the best thing about it is its defensive line, which effectively shut down Bama's vaunted ground game between the tackles and hounded Jalen Hurts into one of the more dispiriting afternoons of his young career.
Alabama's final offensive stats are grossly misleading in a couple of ways. Most obviously, Hurts completed a meaningless pass to Cam Sims on the final play of the game that netted 65 yards but had no impact whatsoever on the outcome; subtract that play, and Hurts was just 12-of-22 passing for 112 yards, or a paltry 5.1 yards per attempt.
There was also the fact that Bama made surprisingly little effort to keep its Herculean running back tandem, Damien Harris and Bo Scarbrough, consistently involved; the pair finished with 12 carries for 97 yards — good for a whopping 8.0 yards per carry — but more than two-thirds of those yards came on the Tide's opening possession of the second half, which they took straight down the field for a go-ahead touchdown. It doesn't make sense to "subtract" a key scoring drive, but on Alabama's other 10 possessions Harris and Scarbrough managed a grand total of 30 yards on just eight carries, or 3.8 per attempt. They were largely a non-factor, just like Georgia's Sony Michel and Nick Chubb against Auburn two weeks ago.
That left most of the running game to Hurts, who carried 15 times for 91 yards (excluding sacks) but did almost no significant damage outside of a couple of short, chain-moving runs on Alabama's first TD drive in the first half. Altogether, Hurts wasn't responsible for converting a single third down by ground or air until Bama trailed by double digits in the fourth quarter, at which point Auburn started to give him more room to scramble outside the tackles in exchange for not allowing him any decent windows to throw downfield. Most of Hurts' rushing yards came on the Tide's last three possessions (not including the last-second heave to Sims as time expired), all three of which ended in a turnover on downs.
Georgia 38, Georgia Tech 7: Given the utter chaos across the rest of the league this weekend, this game was a pleasantly unremarkable footnote that revealed nothing whatsoever about Georgia that we didn't already know. The Bulldogs piled up 247 yards rushing, the majority of it courtesy of Sony Michel and Nick Chubb; Jake Fromm was lethally efficient, averaging 14 yards per pass with two touchdowns and no picks; the defense swallowed up Georgia Tech's triple-option attack, holding the Yellow Jackets to season lows for total yards, rushing yards, yards per carry and points. Par for the course.
Along with last week's 42-13 win over Kentucky, that makes two reassuring, standard-issue romps in a row for Georgia following the wipeout loss at Auburn, which should go a long way toward restoring confidence that that game was a one-off anomaly in an otherwise dominant season rather than a sign of what's to come in the rematch. I'll have a more in-depth look at that matchup later in the week, but suffice to say the outlook for UGA will not be substantially different than it was going into the first one. The Bulldogs are who they are; the results in Atlanta will be a matter of execution.
Vanderbilt 42, Tennessee 24: Tennessee lost by 18 points to its traditional in-state whipping boy, at home, to wrap up an 0-8, last-place finish in SEC play. And still, somehow, the game itself wasn't even the weekend's lowest point.
When news first broke on Sunday that the Vols were nearing a deal to make Greg Schiano their full-time head coach, my initial reaction was "that's a solid hire that fans are going to haaaaate." On the first part, most of the national media seemed to agree: As far as his prospects at Tennessee were concerned, the most important line on Schiano's résumé was his program-defining tenure at Rutgers, which remains one of the most impressive ground-up rebuilding jobs of the century. (Two years as Urban Meyer's defensive coordinator at Ohio State doesn't hurt, either.)
His name didn't come out of nowhere. But Schiano never won big at Rutgers — no conference championships or major bowl games, because it's Rutgers — and to most fans he's better remembered for his brief, frequently embarrassing stint with the Tampa Bay Buccaneers. And following up Butch Jones with a guy whose coaching style can be fairly described as "autocratic" was never going to go over well in any case.
What actually ensued on Sunday afternoon was unprecedented in college sports: A full-on, social media-led mob stormed the virtual barricades by the thousands, hijacked the narrative, enlisted multiple state and local politicians in its efforts, and ultimately succeeded in sabotaging the deal. Tennessee athletic director John Currie reportedly planned to introduce Schiano at a press conference on Sunday night; instead he was left with a coaching search in shambles, a potential lawsuit over the scuttled paperwork, and his own future in significant doubt.
To be clear, when I use the word "mob" to describe the collective backlash I mean it was just that. Beyond the skepticism over Schiano's track record, the most damning complaint against him — that he was once implicated in the Jerry Sandusky scandal as a young assistant at Penn State — turns out on closer inspection to be flimsy at best: A prosecutor who reviewed the accusation last year dismissed it as "double and triple hearsay and of no value." The charge was old, dating to the early 1990s, and uncorroborated; Schiano denied it, and it never amounted to anything more than a routine investigation that led to, again in the words of the prosecutor, "dead ends all around."
A former Tampa Bay exec who was involved in vetting and hiring Schiano in 2012 vouched for his background. If nothing else, trust that Ohio State is not actively employing a coach in a high-profile position who was legitimately tarnished by the most infamous scandal in college football history.
Once the old headlines began to spread, though, arriving at that point would have required a level of nuance and patience that's totally incompatible with a rapidly unfolding coaching search in the SEC. By mid-afternoon on Sunday, it was obvious that the allegation had taken on a life of its own, and the reaction had reached such toxic levels of angst and vitriol that the hire couldn't possibly go through — if it had, the (false) perception that Tennessee had hired some kind of criminal enabler would have dogged the program for as long as Schiano was there, and possibly defined it.
The anti-Schiano graffiti that protesters painted on the UT campus would have been replicated on every campus in the conference when the Vols came to town, in addition to the daily barrage of bile they'd be certain to face online. A booster revolt was probably inevitable. The narrative could be refuted, debunked and ignored by reputable outlets; it could never be erased.
Of course, it's fair to wonder how many of the concern-trolling fans sharing links and screenshots to a certain Washington Post article were genuinely appalled by the prospect of Schiano's baggage reflecting negatively on Tennessee compared to the number who latched onto it cynically, as a more convenient means of rejecting a coach they truly opposed for more pedestrian reasons. (Presumably the outcry would have been less flammable if Schiano's win-loss record looked more like, say, Chip Kelly's.)
But the vast majority of Volunteer fans are not frothing Facebook vigilantes wearing Corona-stained "Gruden or Bust" t-shirts, and their concerns about this particular hire are not off the deep end — the head football coach at UT is the face of the program, the university, and to some extent the entire state. Maybe an irate mob is what this hire deserved. Fairness aside, in the real world is someone who can potentially be discredited as quickly and effectively as Schiano was in the hours after his name was linked to the job really the best a program with Tennessee's resources can do?
Beneath all the other layers in play, that's the six million-dollar question that's been gnawing at the heart of the Vols' coaching search from the beginning. And whatever other outrages and indignities they've had to endure, the one that sets off the loudest alarms is the implication that, when all is said and done, the answer is increasingly likely to be yes. Yes it is.
Florida State 38, Florida 22: By contrast, Florida's pursuit of Dan Mullen proceeded with such little drama it felt almost quaint. Mullen wasn't the Gators' first choice (Chip Kelly chose UCLA and Scott Frost reportedly took his name out of the running on Sunday morning), but he was the obvious one, with connections both to Florida, as Urban Meyer's wildly successful offensive coordinator from 2005-08, and UF's new athletic director, Scott Stricklin, who was also Mullen's boss at Mississippi State for seven of his nine seasons there. In that span Mullen won 23 more games than he lost, easily the best margin of any MSU coach in the past 70 years. It's such a safe, sensible move on both ends it's a wonder it didn't happen years ago.
In fact, it probably should have happened years ago: Mullen seems like such a natural fit in Gainesville that he was arguably the most obvious choice the last time Florida had an opening, when it passed him over in 2014 in favor of the constitutionally underwhelming Jim McElwain, and the time before that, when the opportunity to succeed Meyer in 2010 went to rookie head coach Will Muschamp. After all that time, seeing Mullen in orange and blue again is like watching two old on-again, off-again college flames whose paths keep crossing finally say the heck with it and elope.
Happy to have you back, @CoachDanMullen.#GoGators pic.twitter.com/TuwSN6yyGz

— Coach Steve Spurrier (@SteveSpurrierUF) November 26, 2017
That's the good news. The bad news: Just about everything else in the wake of Florida's slow-motion shipwreck of a season, beginning with the quarterback. The incumbent, Feleipe Franks, was clearly in over his head as a redshirt freshman and exhibited almost zero signs of progress; against FSU he was a full-blown disaster, committing four turnovers that led directly to 28 of the Seminoles' 38 points. (See below.) With three years of eligibility remaining, it would be unfair to write off a player with Franks' obvious raw talent as a lost cause, especially given Mullen's stellar track record at the position … and given the fact that there are no other returning QBs who have taken a live snap.
On the other hand, if Franks is irreparably broken the Gators might be forced to start from scratch with an incoming freshman, Matt Corral, who remains (for now) the top-ranked commitment in Florida's 2018 recruiting class but is still visiting other schools. One glimpse at Franks' game tape or box scores should make clear that keeping Corral in the fold is Mullen's No. 1 priority.
Ole Miss 31, Mississippi State 28: If you're feeling generous, Matt Luke's promotion to full-time head coach at Ole Miss is a feel-good story about a guy who made the best of a bad situation, held his team together amid adversity, and seized his opportunity to land his dream job.
If you're feeling realistic, it's a tacit admission by his bosses that the next few years are likely to be rough ones, pending the announcement of further NCAA sanctions in the coming weeks. (Months? Years? In our lifetimes?) Either way, Luke fits both of the Bulldogs' most important requirements: He beat the Bulldogs and he said yes without demanding to know exactly what he's in for.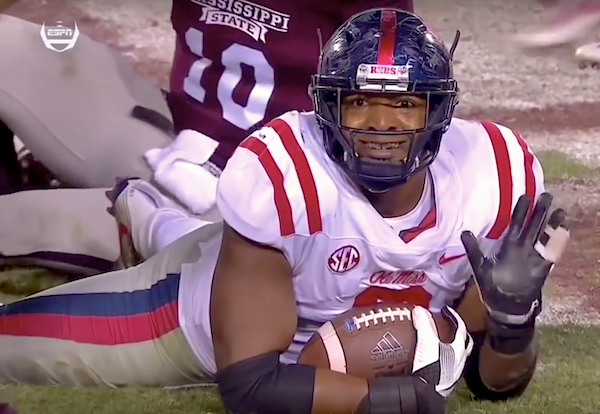 The immediate future in Oxford isn't necessarily bleak. NCAA verdict notwithstanding, Ole Miss should return an intriguing lineup on paper next year, especially on offense, where face-of-the-program QB Shea Patterson is expected to return from the knee injury that cost him the final month of this season; barring any unexpected departures, all of this year's top five receivers will be back in the fold as well, including no-brainer All-American A.J. Brown. (Even on the off-chance Patterson opts to transfer in response to sanctions, there was no drop off in production down the stretch under backup Jordan Ta'amu, who's also coming back.)
At their absolute worst the 2018 Rebels should be interesting, whether or not they have anything in particular to play for. The real test of Luke's staying power should begin in Year 2 … er, 3, in 2019.
As for the vacancy in Starkville, Mullen leaves a stable program that is vastly more capable of competing in terms of facilities and recruiting than the relative backwater he took over in 2009, and Mississippi State's search should reflect that his successor will not be inheriting a rebuilding job.
The best-case scenario: Clemson defensive coordinator Brent Venables, who's long overdue for a promotion if he wants one. (Arkansas is reportedly interested in Venables as well, although a Clemson win in this weekend's ACC title game could complicate matters if Venables wants to devote his attention to another Playoff run.)
A more down-to-earth target could be UAB's Bill Clark, whose commitment to a program that ceased to exist in 2014 paid off this year in an astonishing 8-4 finish in the Blazers' first season back. Ole Miss could have done a lot worse than to give Clark a call, and the Bulldogs can, too.
SUPERLATIVES
The best of the week …
1. A.J. Brown, WR, Ole Miss. Brown, a Starkville native, burned the hometown Bulldogs on Thursday night for 167 yards on six catches, including a 77-yard touchdown grab in the second half that extended the Rebels' lead to double digits and inspired intense emotions in the locals. He ends the regular season as the SEC leader in receptions, yards, touchdowns, and sympathy engendered on behalf of opposing defensive backs.
2. Roquan Smith, LB, Georgia. Roquan was Roquan against Georgia Tech, assuming his usual place in this section after recording nine total tackles (eight of them solo) and three tackles for loss in the process of holding Tech to its worst rushing output of the season. Smith remains the most complete linebacker in the nation and there may not be a close second.
Roquan Smith put on a sideline/sideline CLINIC vs GT… Put him a little deeper off-ball and allowed him to flow laterally… #UGAvsGT

🔥🔥🔥 pic.twitter.com/N8ya01hasy

— Ben Fennell (@BenFennell_NFL) November 25, 2017
3. Derrius Guice and Darrel Williams, RB, LSU. The Tigers' lightning-and-thunder tailback duo accounted for 231 yards and two touchdowns on 5.8 per carry against Texas A&M, adding 73 more on two receptions in a prolific, 45-21 win. Flipping their reputations, it was the 230-pound Williams who supplied the Tigers' two biggest plays of the night: The first, a 56-yard gain on a screen pass that set up LSU's second touchdown in the first half; the second, a 77-yard run out of the Wildcat that set up the icing TD early in the fourth quarter.
4. Benny Snell Jr., RB, Kentucky. Snell was cast in the familiar role of "Lone Bright Spot" in the Wildcats' loss to Louisville, running for 211 yards and 2 TDs with virtually no air support. He'll end the regular season as the SEC's leading rusher, at 1,318 yards, and the owner of Kentucky's single-season record for rushing touchdowns, with 18.
5. David Reese, LB, Florida. Normally I wouldn't consider a linebacker whose team allowed 38 points in a loss here, but in fact the Gators' defense was dominant against an FSU offense that looked almost as overmatched as their own: The Noles finished with jus 216 yards of total offense, with almost all of the points coming either directly or indirectly via turnovers. For his part, Reese led the charge with career highs for total tackles (14) and TFLs (4) in addition to a QB hurry, setting himself for some likely preseason All-SEC love next summer heading into his junior season.
Honorable Mention: Vanderbilt QB Kyle Shurmur dropped 283 yards and 4 TDs on a beleaguered Tennessee secondary. … Ole Miss DTs Breeland Speaks and Benito Jones combined for 18 tackles, 4 TFLs, and one jubilant fumble recovery. … And Missouri QB Drew Lock wrapped up his late-season surge with a 448-yard, five-touchdown bonanza in the Tigers' last-second win over Arkansas, also throwing two picks amid the carnage.
Catch of the Year of the Week: D.J. Chark
Danny Etling had a career night in his final game in Tiger Stadium, bombing Texas A&M for 347 yards and three touchdowns without an interception. For a significant chunk of that, he can thank D.J. Chark:
Your weekly DJ Chark deep ball. This one is special. pic.twitter.com/5j0WBxSwd1

— Jake Burns (@jake_burns18) November 26, 2017
That set up LSU's first touchdown, extending the early lead to 13-0, and the rout was on. For the season, Chark is second in the nation among receivers with at least 30 receptions (trailing only Missouri's Emanuel Hall) at 23.2 yards per catch.
DEMERITS
… and the worst.
Levonta Taylor's pick six stuck a dagger through Florida in today's @FSUFootball victory! #MustSeeACC pic.twitter.com/WLTKuWiK0v

— ACC Digital Network (@theACCDN) November 25, 2017

Feleipe Franks. I'd rather not pile on Franks at this point in the season, because no one needs to be reminded the kid has struggled. But four turnovers leading to 28 points by an opposing rival with no functioning offense of its own is four turnovers leading to 28 points by an opposing rival with no functioning offense of its own. Florida State's defense scored two touchdowns itself off Franks' giveaways, returning a fumble and and INT for scores, and would have had a second pick-six if not for a brain-dead move at the goal line by FSU linebacker Matthew Thomas that effectively summed up both teams' seasons on a single play.
The Seminoles wound up tacking on a touchdown off that one, anyway, one of four they likely would not have had if Florida had replaced all of Franks' dropbacks with kneel downs.
Kentucky's Defense. Kentucky gave up 44 points on 562 yards of total offense against Louisville, possibly ensuring Lamar Jackson a return trip to New York for the Heisman ceremony in the process. That's a disappointing finish for the Wildcats, who dropped three of their past four — the last two by a combined margin of 56 points — after a hugely promising 5-1 start. Mark Stoops: Welcome back to the hot seat.
An Indifferent Universe re: Nick Fitzgerald's Ankle. Fitzgerald's first-half ankle injury against Ole Miss was horrible, the kind that gets routinely described as "gruesome" over the remainder of his career. But he will almost certainly make a full recovery next year under whoever takes over as the Bulldogs' new coach. Spring practice might be a little bit optimistic — just a guess there, having witnessed the aftermath of the injury along with the rest of America with a mouthful of leftovers — but at any rate, he'll be back.