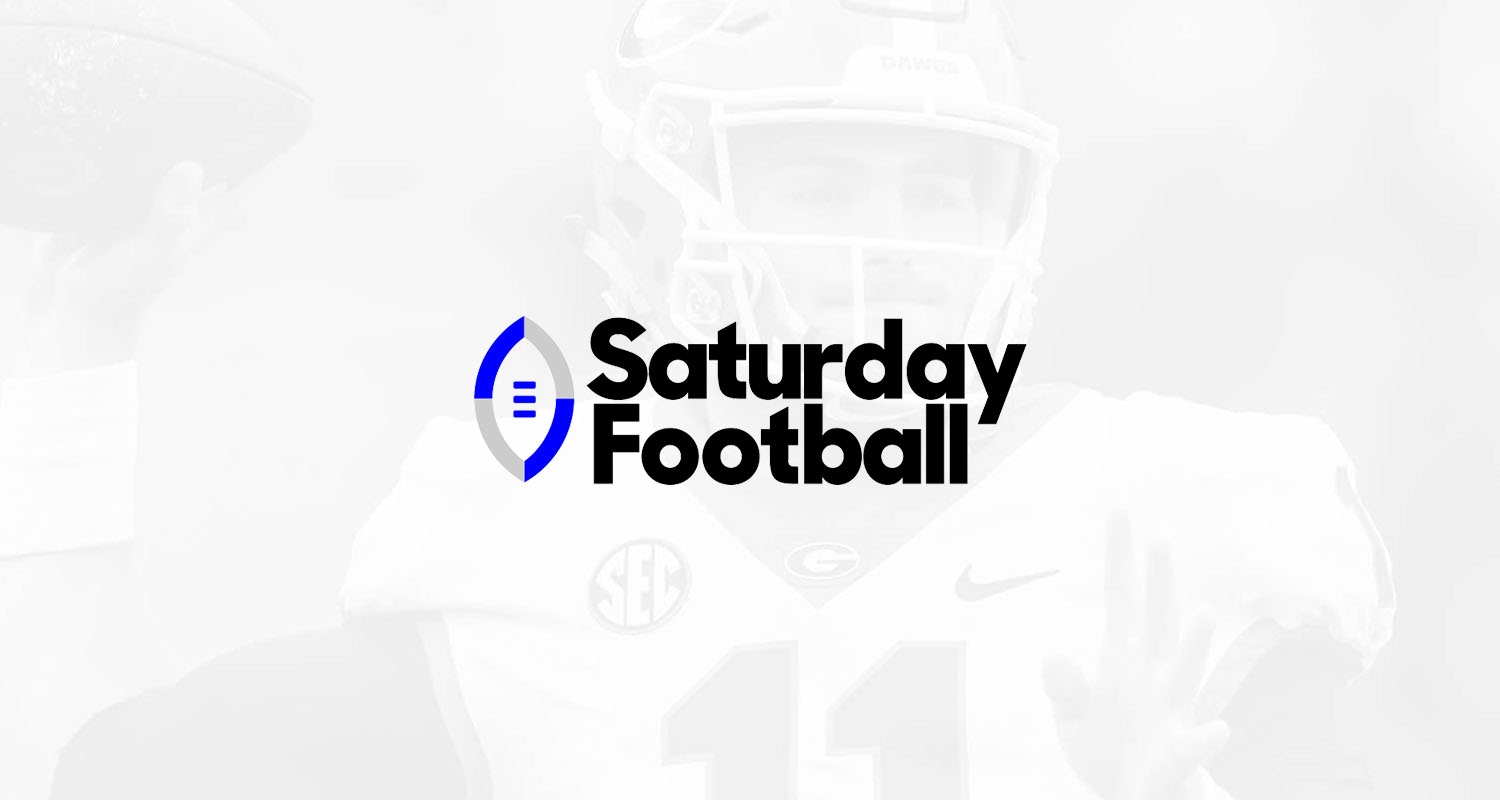 SEC
Saturday Football: Bama-TCU rumors, Pac-12 problems and a June 1 return?
The Saturday Football newsletter goes out to subscribers up to 3 days a week and discusses the major events going on around the nation in college football. You can subscribe by clicking here.
Good morning and happy Monday! Now that we've hit the middle of May, it seems there is some momentum toward having players return to certain campuses around the country on June 1. That's a topic we'll discuss in today's newsletter.
Then, there's also a Pac-12 topic worthy of a deep dive and some other stories worth our time. Let's get started with this week's Saturday Football newsletter, shall we?
RETURN TO THE FIELD?
Momentum is building for a June 1 return to campus for some players. Will it actually happen?
As we continue to deal with the fallout from the COVID-19 pandemic, there still isn't a set date for when football players can return to campus and resume activities. However, there is momentum building for a return sooner rather than later, especially as more and more states start to ease restrictions on public gatherings.
So, when could college football return? That's been a hot topic of discussion once again this week. Let's take a look at the latest headlines:
There is some serious momentum building for a June 1 return to campuses. The SEC presidents and chancellors are reportedly set to vote on that this week. Mizzou AD Jim Sterk confirmed that news, adding that June 1 and June 15 are potential return dates being discussed. Auburn president Jay Gogue firmly believes the conference will have football this fall. The SEC announced the formation of the Medical Guidance Task Force, made up of 14 experts, 1 from each SEC school, to help guide the conference as it returns to action.
However, not everyone is on board with the June 1 target date. In a virtual meeting between the SEC's 14 athletic directors, Tennessee's Phillip Fulmer reportedly was the only one who didn't want a June 1 return. He reportedly prefers the June 15 date. In the Big 12, Oklahoma coach Lincoln Riley called a potential June 1 return "one of the most ridiculous things I've ever heard." He believes football will be played this fall, but he says rushing players back to campus is a bad strategy.
SEC Network host Paul Finebaum agrees with Riley's sentiments. Finebaum joined ESPN's "Get Up" last week and reminded everyone just how quickly things spiraled back in March during the college basketball conference tournaments. "If college football comes back — or this goes for any sport — comes back too quickly and is not prepared, it is going to be catastrophic," Finebaum said on the show. "Remember the NCAA Basketball Tournament? On Tuesday we were debating fans, on Wednesday we said, 'Well, we'll put more hand sanitizer out.' By Thursday, there was no sports."
The simple fact at the moment is that no one knows for sure what will happen or what the right move is. Could this June 1 plan backfire? Sure. Could it work out just fine? Certainly. For now, though, we'll see what the SEC decides this week and what other conferences decide to do moving forward. We still have a long way to go before we reach September.
GOOD READS
WEEK 1 CHANGES?
If the Pac-12 can't play, Week 1 could be reshuffled this fall. What are the latest rumors about Alabama and others?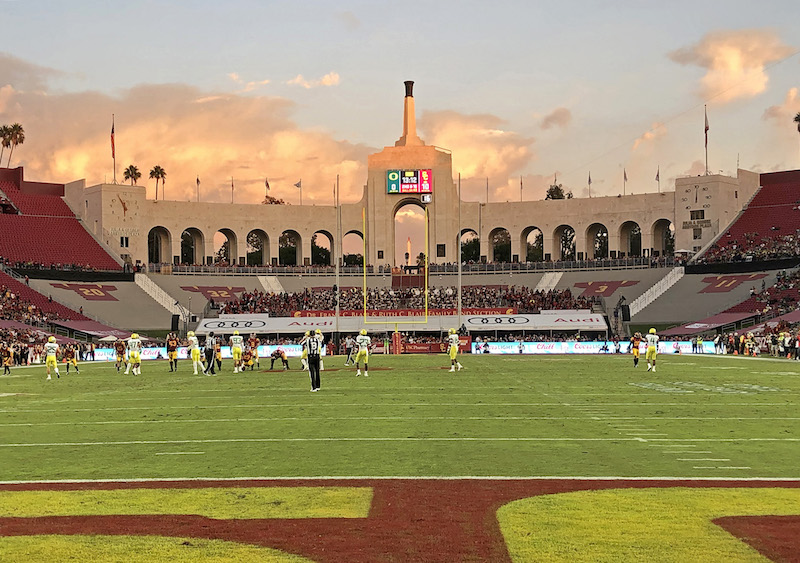 The 2020 college football season is scheduled to start the first weekend of September, but obviously, that is all up in the air at the moment amid the COVID-19 pandemic. California and other western states are under some of the strictest quarantine rules, so there are some concerns that some West Coast teams won't be allowed to play by the time other teams are set to start in September.
We'll do a deep dive into the Pac-12's situation in the next section, but for now, let's take a look at what schools like Alabama, Ohio State, Michigan, TCU and others who are scheduled to play western teams in the first two weeks of the season could do:
First, we'll start with the rumors surrounding the Alabama-USC Week 1 game. That game is scheduled to be played in Dallas, but if USC isn't allowed to practice, that could force Alabama to make a change. Rumors have surfaced that the Tide are in contact with the TCU Horned Frogs, who are scheduled to play Cal in Week 1. SEC Network host Paul Finebaum said he guarantees there have been discussions between Alabama and TCU about playing each other in Week 1. Meanwhile, FOX Sports host Colin Cowherd cited 2 sources who said there is no way Bama-USC in Dallas is happening.
However, both Alabama AD Greg Byrne and USC AD Mike Bohn insist otherwise. Last week, Byrne said the plan is still to play USC and said this about rumors of TCU talks: "That's news to me. I guess I missed that contract coming across my desk." Bohn said last week he has been in frequent contact with Byrne and that USC is also planning on playing the game as scheduled.
What could be done elsewhere when it comes to rescheduling? Well, Saturday Down South's Connor O'Gara took a look at the Big Ten teams and SEC teams that face Pac-12 and Mountain West teams in Weeks 1 and 2. Could we get Michigan-Alabama in Dallas? Ohio State-Alabama in Dallas? Purdue-Florida State in Orlando? There are several intriguing possibilities if the West Coast teams aren't able to start along with everyone else.
Sorting out these contingencies and backup plans would be a mess, as contracts and TV deals would have to be redone and reconstructed. Still, some of these proposed matchups would actually be pretty fun to see, especially if the West Coast teams can't play. There's still time for those schools in California, Oregon, Washington and other states to return to the field ahead of the 2020 season, though.
JUST FOR FUN
Today, let's see how much you know about the top passers in each Power 5 conference's history. Can you name the all-time leader in touchdown passes for each of those conferences (ACC, Big 12, Big Ten, Pac-12 and SEC)? Bonus points if you can name what school they attended, too.
Scroll down to see the answers to today's quiz.
PAC-12 PROBLEMS
What if the Pac-12 can't play football this fall? The ramifications could be massive.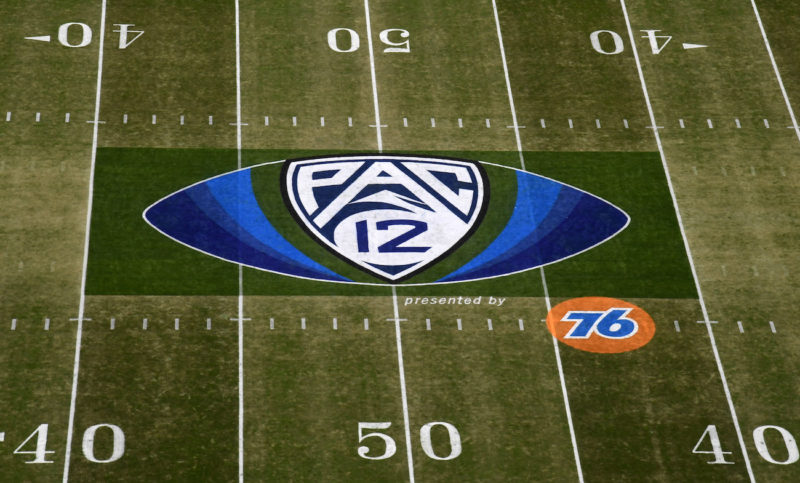 We promised a more in-depth discussion of the Pac-12's situation, and here it is. The situation in California and other western states is different from many other states. As other economies start to reopen and restrictions are eased, California remains under quarantine.
That puts the Pac-12 in a tough situation, as 4 Pac-12 schools — Cal, Stanford, UCLA and USC — are located in California. Then there are 2 in Oregon and 2 in Washington. So, what's the situation out West? Let's take a look:
Things can quickly change, so there's still a chance the Pac-12 could be ready to go in Week 1. There's also a chance no conferences can play in September. It's too early to be making any final calls. Still, the stories in this section show just how important college football is to these universities across the country.
ANSWERS
Here are the answers to today's career touchdown pass leaders quiz:
ACC: Tajh Boyd, Clemson (107)
Big 12: Graham Harrell, Texas Tech (134)
Big Ten: J.T. Barrett, Ohio State (104)
Pac-12: Luke Falk, Washington State (119)
SEC: Aaron Murray, Georgia (121)
QUOTE OF THE WEEK
"We are going to play football in the fall, I really do believe that — even if I have to suit up. You know, and I got my ankles taped, I'm ready to go in."
— West Virginia president E. Gordon Gee, who is 76 years old, delivered that hilarious quote on playing the 2020 college football season.
TWEET OF THE WEEK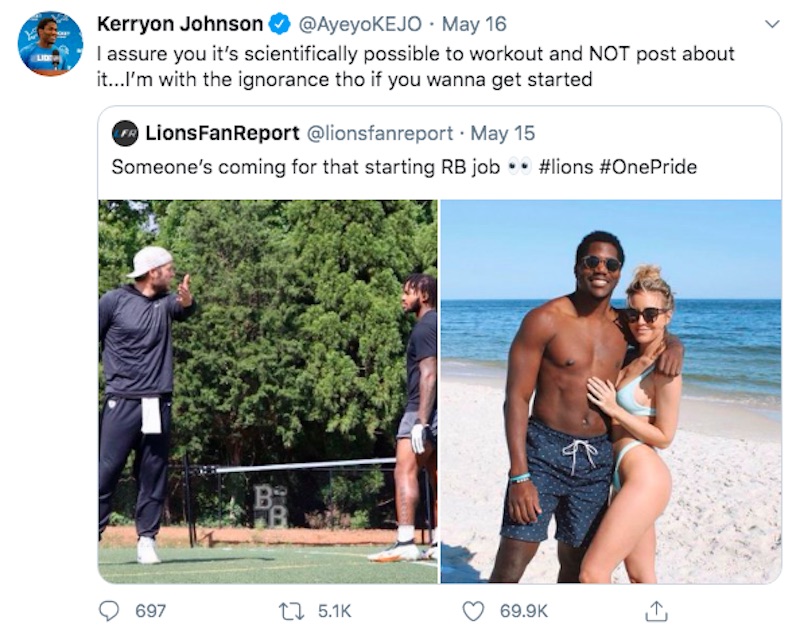 Former Auburn star Kerryon Johnson had a great response after a fan posted a picture of former Georgia standouts Matthew Stafford and D'Andre Swift working out. We'll see what happens with the Detroit Lions' offense this season.