SEC
Saturday Football: Clemson complaints, USC mess and Bama-LSU
The following originally appeared in the Saturday Football newsletter. The Saturday Football newsletter is a multiple-times-a-week email that goes to over 150,000 subscribers and covers the key events going on in the world of college football. You can click here to subscribe and receive this newsletter directly in your inbox.
Good morning and happy Friday! We're heading into a huge weekend of college football action, and there are a pair of interesting games on tonight — UCF at Tulsa and Washington at Oregon State. Then, on Saturday, Penn State visits Minnesota and Alabama hosts LSU.
What are people talking about around the country as we head into an important Saturday? Here's a look at the buzz nationwide ahead of Week 11 action.
Clemson was put at No. 5 in the first Playoff rankings. Should the reigning champs feel disrespected?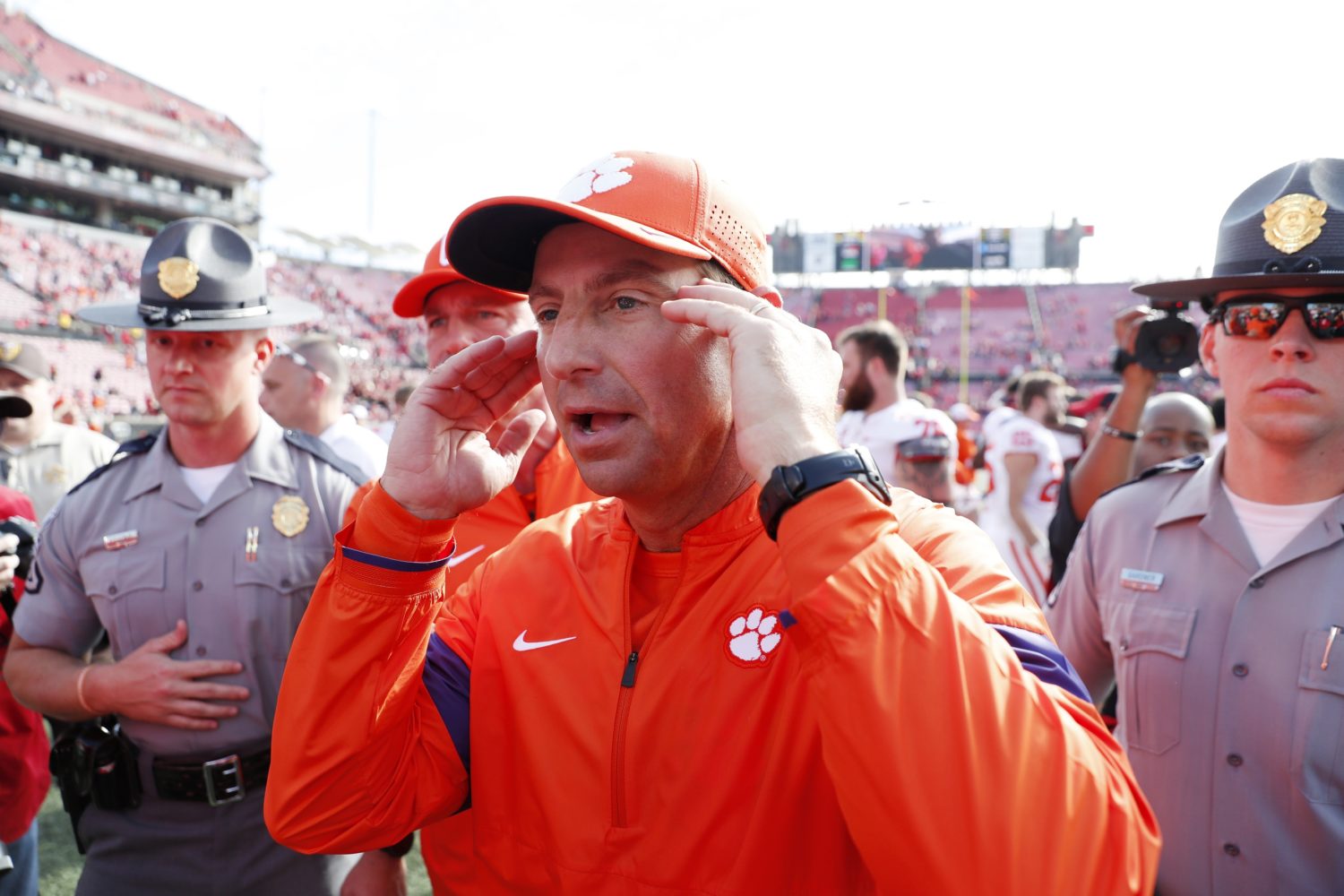 When the first College Football Playoff rankings of the 2019 season came out on Tuesday night, many fans were surprised to see reigning national champion Clemson at No. 5, behind Ohio State, LSU, Alabama and Penn State. Of course, there are still opportunities for the Tigers to move into the top 4 before the season ends, and that's all that really matters.
However, many think the No. 5 ranking shows disrespect to the reigning champs. Should the Tigers feel disrespected? Let's take a look at some of the reaction around the country:
So, as of right now, being No. 5 in the rankings doesn't matter. Clemson could be in the top 4 by this time next week. For now, the rankings only serve as debate fodder, and there has certainly been plenty of that around the Tigers this week.
Key Week 11 lines
There are a ton of important games this weekend that will have impacts on conference standings and the College Football Playoff picture. With so many high-stakes games, we're sure to see some upsets and some other surprising results.
So, as we head into the weekend, here's a look at who is favored to win some of the biggest college contests of the Week 11 slate:
No. 4 Penn State (-6.5) at No. 17 Minnesota
No. 2 LSU at No. 3 Alabama (-5.5)
Florida State at Boston College (-2.5)
Maryland at No. 1 Ohio State (-43)
Vanderbilt at No. 10 Florida (-26.5)
No. 12 Baylor (-2.5) at TCU
UConn at No. 20 Cincinnati (-35)
Illinois at Michigan State (-14.5)
No. 19 Wake Forest (-2) at Virginia Tech
USC at Arizona State (-1.5)
No. 16 Kansas State at Texas (-7)
Appalachian State at South Carolina (-6)
Mizzou at No. 6 Georgia (-16)
Washington State (-7.5) at Cal
No. 5 Clemson (-33) at NC State
No. 15 Notre Dame (-8) at Duke
Tennessee at Kentucky (-1)
Iowa State at No. 9 Oklahoma (-14)
Wyoming at No. 22 Boise State (-13.5)
How many ranked teams will go down this weekend? How will the CFP rankings change? We'll find out on Saturday as these big games get underway.
The potential game of the year takes place in Tuscaloosa on Saturday. Will Alabama or LSU take control of the SEC?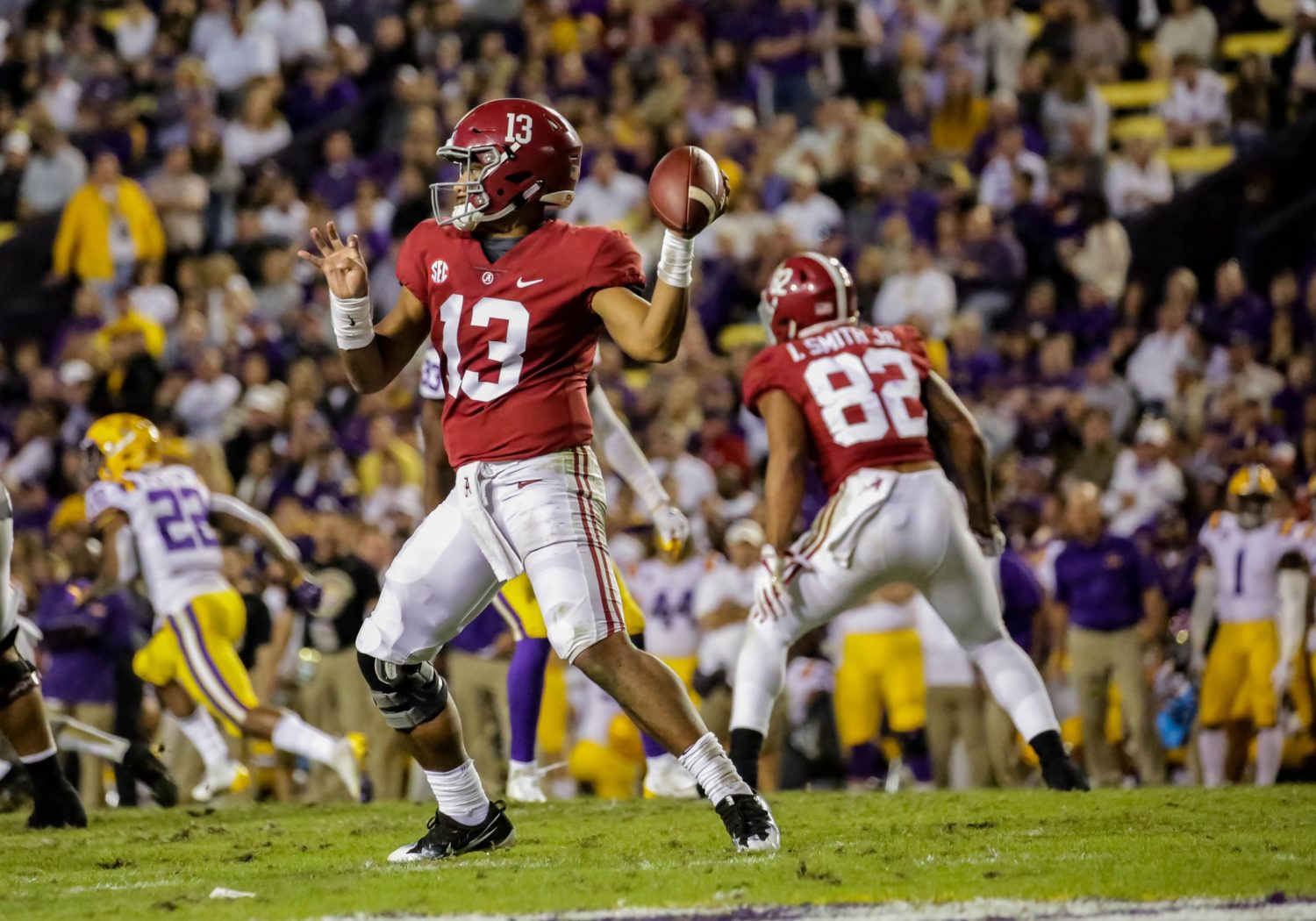 Is it the game of the century, the game of the year, or just a game? No matter how you look at Saturday afternoon's matchup between No. 2 LSU and No. 3 Alabama, it's a big one. And it will have a major impact on the College Football Playoff rankings.
The Crimson Tide have beaten the Tigers the last eight times they've played, dating back to the national championship game following the 2011 season. But, many think this is the year the Tigers have the squad to snap that streak. Let's take a look at what people are saying about this huge SEC West showdown:
Who will win and take control of the SEC West on Saturday afternoon? Will LSU snap its losing streak against Alabama? Tune in to CBS at 3:30 p.m. Eastern time to find out.
Good Reads
USC has a new AD (finally). Is the race for Urban Meyer on or not? Does anyone know?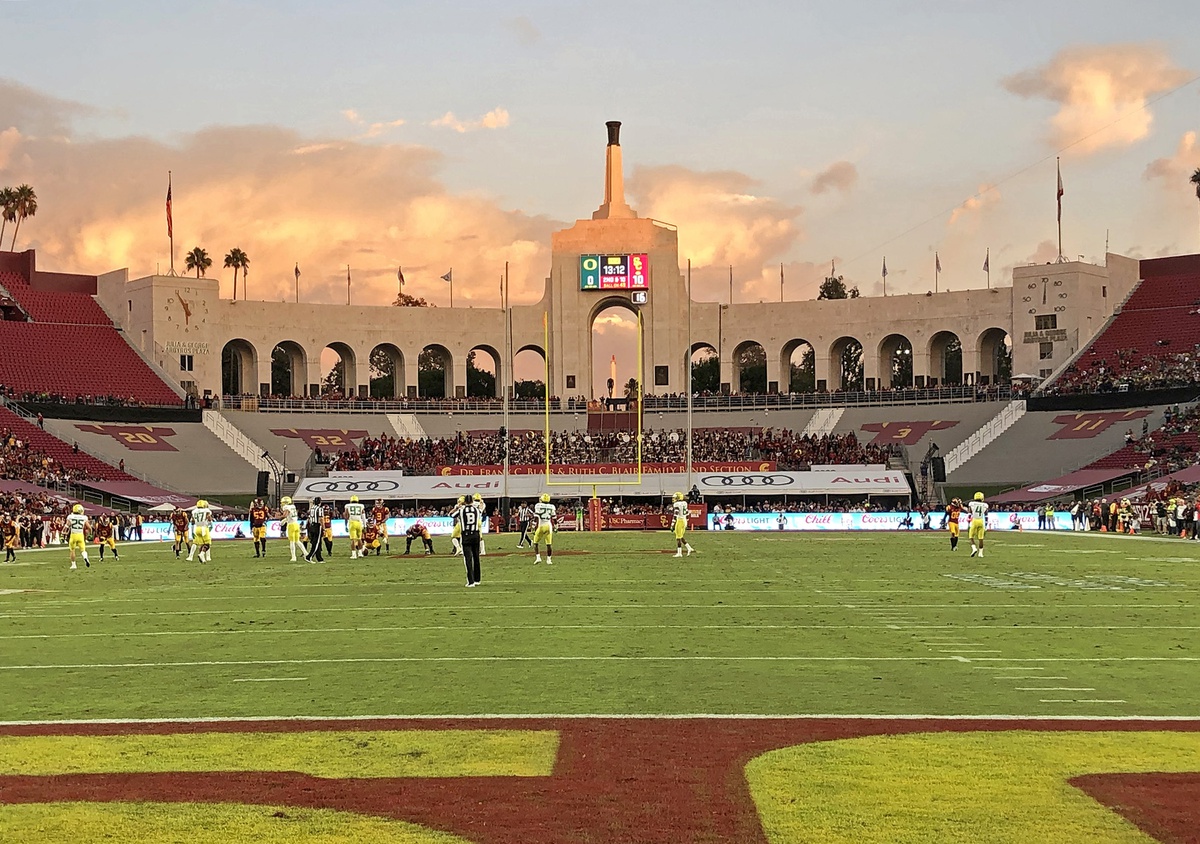 The USC Trojans have a replacement for Lynn Swann two months after he resigned from the school. The Trojans are bringing in Mike Bohn from Cincinnati to be the new athletic director, and this was an important hire for USC, especially for the future of the football program.
Current coach Clay Helton doesn't have the program where many think it should be, so this could be his final season in Los Angeles? And, where will Bohn go for the new coach if he does indeed decide to part ways with Helton? Let's take a look at the rumors swirling at USC this week:
Bohn faces some big questions right out of the gate in his new position. How he handles them will shape USC athletics for years to come. No pressure, Mike!
The Week 11 slate is full of potential trap games for top teams. Which squads are on upset alert?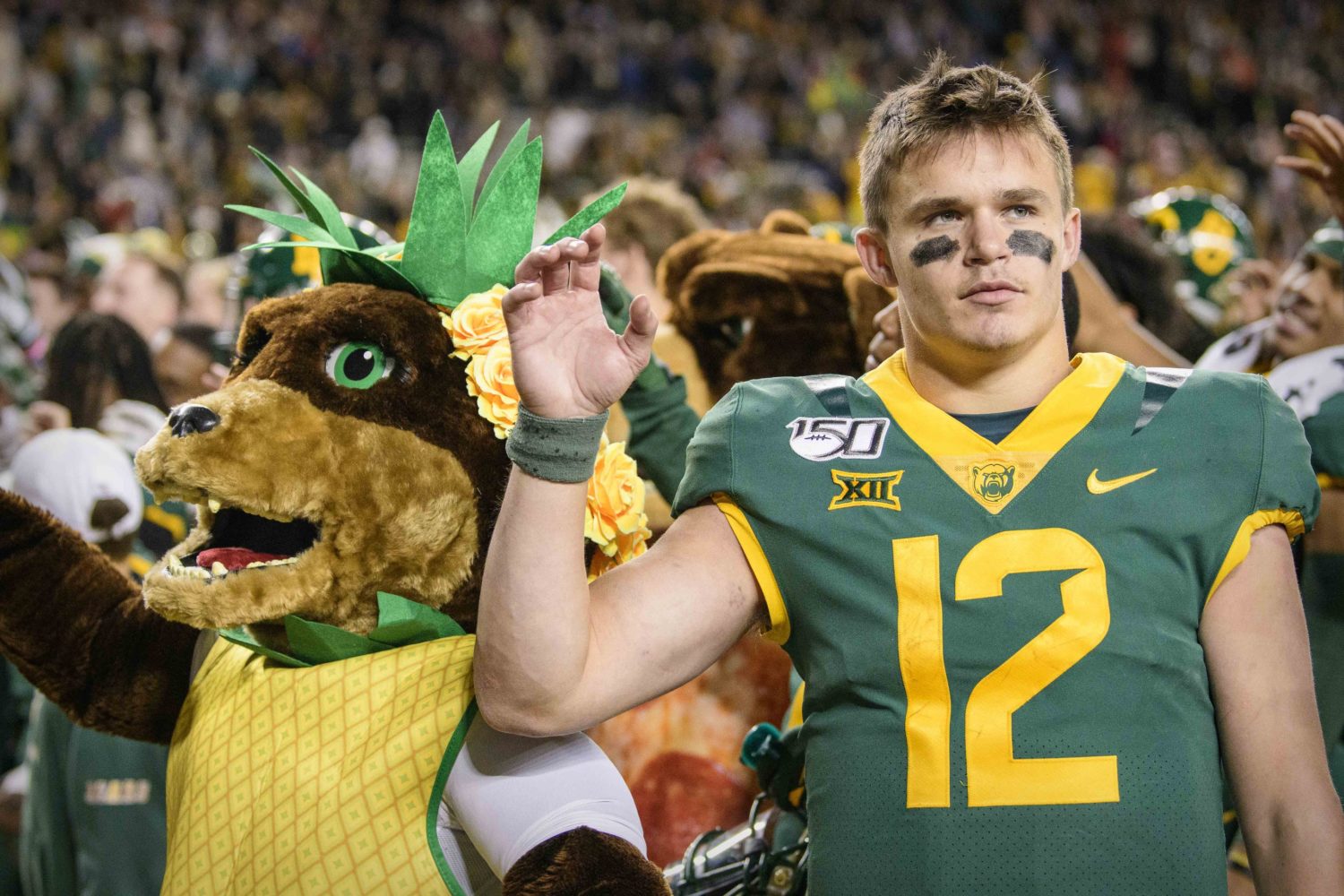 This weekend features some big matchups between top teams. We previewed LSU-Alabama above and discussed Penn State-Minnesota on Wednesday, but there are other ranked teams that face major challenges against unranked foes.
Which teams are on upset alert? We scoured the schedule and came up with five ranked squads that should be watching their backs on Saturday:
The Baylor Bears are one of the feel-good stories of the season so far. This year, they're 8-0 and ranked No. 12 in the CFP rankings. However, this weekend, they must travel to Fort Worth to take on a feisty TCU squad. Yes, the Horned Frogs lost at Oklahoma State last week, but this is a different squad in Fort Worth. TCU is 2-0 at home in Big 12 play and 0-3 on the road. The Horned Frogs took down Texas two weeks ago, so Baylor will have its work cut out for it. Helping the cause for Matt Rhule's squad is that TCU is absolutely devastated with injuries at the quarterback position. The Frogs could be down to their sixth-string QB if starter Max Duggan can't play. Yikes.
The Notre Dame Fighting Irish haven't shown much fight lately. In fact, after a narrow escape against Virginia Tech at home last weekend, the Irish face another tough ACC challenge. This time, they head to Duke. For a 6-2 team, there sure is a lot of negativity around the program. One writer is even calling for QB Ian Book to be benched. Both of Notre Dame's losses this year have come on the road, so this trip to Duke isn't as easy as it might have appeared before the season.
Wake Forest is No. 19 in the first Playoff rankings of 2019. That makes this game at Virginia Tech a huge one for the Demon Deacons (and for the ACC as a whole). However, it's probably most important for Clemson — the team Wake Forest plays next weekend. If the Deacons remain ranked, it will give the Tigers a chance at their first quality win of the season. We linked to the story about the time Virginia Tech and Wake Forest battled to a 6-3 final five years ago in the "Good Reads" section, so we know anything can happen this Saturday night. Clemson will be watching closely.
The Wyoming Cowboys have proven capable of upsets this year. They have a Week 1 win over Mizzou on their resume and could add to that with a win over No. 22 Boise State on Saturday night. Boise State is going with all-black uniforms for some reason, eliminating their blue uniforms on blue turf advantage. Could spell trouble for the Broncos.
Oklahoma had an entire off week to stew about a loss at Kansas State. That could mean Iowa State is in for a long night in Norman on Saturday, but the Cyclones are no stranger to upsetting the Sooners. In fact, since Matt Campbell took over as Iowa State's coach, the Cyclones are 1-2 against the Sooners with every game being within 10 points. The Cyclones actually won their last game at Oklahoma, upsetting the Sooners in 2017. Oklahoma will be a big favorite, but Lincoln Riley's crew will have its hands full trying to avoid another upset.
Which of these teams will go down on Saturday? Will there be upsets we didn't see coming? Saturday's sure to be full of excitement, so tune in early and watch late!
Quote of the day
"When you watch Ohio State, they have performed at a very consistent level. … Explosive offensive playmakers and Chase Young is probably as disruptive a defensive player as there is in the country. They perform at a consistently high level every week."
– CFP chair Rob Mullens on what makes Ohio State the No. 1 team in the first CFP rankings.
Subscribe
Like what you read? You can click here to subscribe and receive this newsletter directly in your inbox several times a week.