SEC
Saturday Football: Football is back, Ja'Marr Chase opts out and a potential B1G restart?
The Saturday Football newsletter goes out to subscribers up to 3 days a week and discusses the major events going on around the nation in college football. You can subscribe by clicking here.
Good morning and happy Monday! College football is officially back, as Central Arkansas took down Austin Peay in an exciting FCS showdown Saturday night. Now, Central Arkansas will prepare for a quick return to the field, playing at UAB on Thursday night.
We'll discuss that game in today's newsletter. Then, we'll discuss a big-time player deciding to opt out and dive into the latest rumors out of the Big Ten. Let's get started!
JA'MARR CHASE OPTS OUT
Reigning Biletnikoff Award winner Ja'Marr Chase has opted out of the 2020 season. What does this mean for LSU?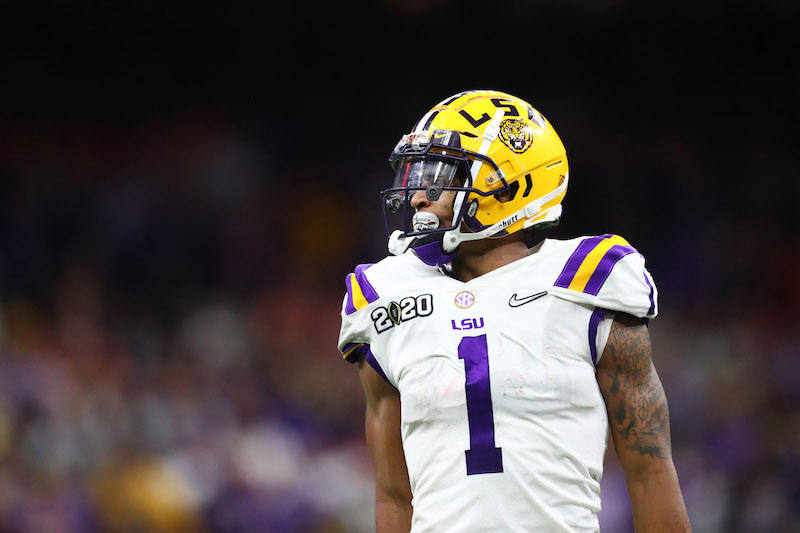 On Sunday afternoon, the college football world was rocked by a report that star LSU WR Ja'Marr Chase — the reigning Biletnikoff Award winner — had decided to opt out of the 2020 season. He will instead focus on preparing for the 2021 NFL Draft.
Obviously, that's bad news for LSU as the Tigers prepare to try to repeat as national champions. So, let's take a look at some of the fallout from Chase's reported decision:
Chase's decision is a big one, and it comes on the heels of a COVID-19 outbreak that caused many LSU offensive linemen to miss practice. We'll see what happens in the coming days, and if Chase explains his choice further. For now, though, this is something that has the potential to have a major impact on the SEC West race this fall.
GOOD READS
BIG TEN RESTART?
The Big Ten is reconsidering its decision to postpone football. Will any of these ideas actually work?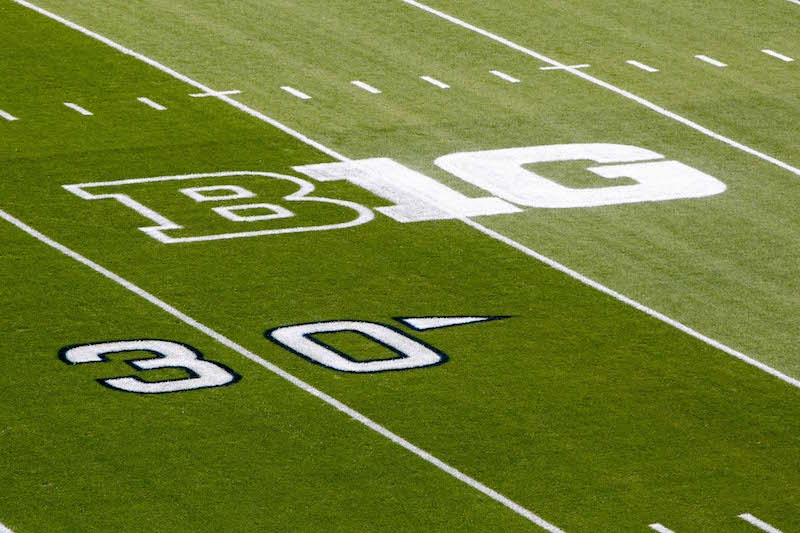 If we told you the Big Ten was back in the news this week, would you be surprised? Of course not. Well, the league is indeed making more headlines, and there are a couple of things going on. From a lawsuit filed against the conference by a handful of Nebraska players to potentially reconsidering the decision to postpone the season until the spring semester, it's been another busy week.
So, what's the latest out of Big Ten country? Let's dive right into these big headlines and what it could mean for the conference moving forward:
Let's start with that pesky lawsuit, filed by 8 Nebraska players. That was done last week and could have wide-ranging impacts. The lawsuit contends that the B1G's decision to postpone the season didn't follow proper protocols, and thus should be overturned. That, of course, will be tough to prove, but there could be another impact. An attorney for the Big Ten said the "harm would be incredible" if B1G board of directors' documents were made public as part of this case. With that comment from the attorney and FOIA requests filed by other lawyers, Saturday Tradition's Phil Ervin wonders what the Big Ten is hiding.
OK, now let's move on to potentially restarting the B1G season. After originally postponing it until the spring semester at the earliest, new plans are being bandied about. A report surfaced late last week that the Big Ten was considering a start around Thanksgiving. Add that to other proposed plans that have the league starting in early January and another that has a February start date. Saturday Tradition's Dustin Schutte breaks down the plans here. Schutte also explains why a spring season would mean the B1G is talking out both sides of its mouth regarding player safety. (For the record, the Pac-12 is reportedly planning a shortened winter season.)
Media reaction to the league's drama has not been kind. SEC Network host Paul Finebaum has been one of the B1G's biggest critics, and last week, he was at it again, calling the conference a "laughingstock" for how it has handled everything the past couple of months. Meanwhile, ESPN's Scott Van Pelt called it "nonsense" that the league would start the week of Thanksgiving after deciding to postpone a few weeks ago.
The fact of the matter is that no one knows exactly which way the Big Ten is leaning right now. This is a situation that will develop over the coming days and weeks. So, perhaps it's best to listen to Saturday Tradition's Phil Ervin, who encourages us to take a deep breath, look around and let the situation in the Big Ten play out in its own time.
JUST FOR FUN
At the FBS level, 15 teams play in their state's capital city. Can you name all 15? Bonus points if you can also name the capital cities. Extra bonus points if you name the only capital city that is home to 2 FBS squads!
Scroll down to see the answers to today's quiz.
COLLEGE FOOTBALL IS BACK!
Central Arkansas held off Austin Peay in the first CFB game of 2020. What should we take away from that game?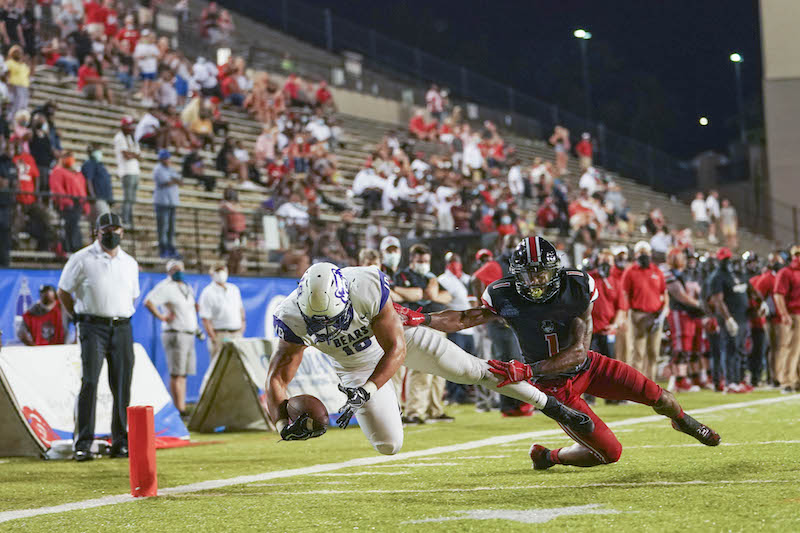 Big news, everyone! College football is officially back! Central Arkansas took on Austin Peay in Montgomery, Alabama, on Saturday night, with the Bears defeating the Governors 24-17. It was a bit of normalcy in an otherwise crazy year, and hopefully it will be a sign of good things to come with regards to college football.
So, what should we take away from the first game of the season? Let's take a look at some of the interesting happenings from Saturday night in Alabama:
It certainly didn't take long for us to get our first TD of the season. Literally the first play from scrimmage was a 75-yard touchdown run by CJ Evans of Austin Peay. It was as good of a start as the Governors could have hoped for, considering they were without a few key players due to COVID-related quarantine procedures.
The game also featured the return of turnover props. Austin Peay definitely did it right. After this interception by Jack McDonald, he was rewarded by getting to wear the turnover top hat. Yes, that's right, the turnover top hat. Things like that are what make college football the best.
This was the first major football game in the era of social distancing. That, naturally, led to a unique atmosphere in the limited-capacity stadium. From face masks for fans to distancing to a hot mic on a referee to big plays on the field, it was an interesting night all around. ESPN's Alex Scarborough was there to break down what it was like going to a game during the COVID-19 pandemic.
We're off and underway with the 2020 season. Did you enjoy watching Central Arkansas play? Well, the Bears will be back in action in the first FBS game of the year, too! They'll return to Alabama to play UAB at 8 p.m. Eastern time on Thursday night.
ANSWERS
Here are the answers to today's FBS team-state capital quiz. The 15 teams that play in capital cities are:
Boise State — Boise, Idaho
Florida State — Tallahassee, Florida
Georgia State — Atlanta, Georgia
Georgia Tech — Atlanta, Georgia
Hawai'i — Honolulu, Hawai'i
LSU — Baton Rouge, Louisiana
Navy — Annapolis, Maryland
NC State — Raleigh, North Carolina
Nebraska — Lincoln, Nebraska
Ohio State — Columbus, Ohio
South Carolina — Columbia, South Carolina
Texas — Austin, Texas
Utah — Salt Lake City, Utah
Vanderbilt — Nashville, Tennessee
Wisconsin — Madison, Wisconsin
QUOTE OF THE DAY
"As soon as Kirby Smart shares with us who his starting quarterback is going to be."
— New Arkansas head coach Sam Pittman played coy when asked when he'd reveal the Razorbacks' starting quarterback. He said he'd wait until Georgia, Arkansas' Week 1 opponent, reveals its starter. So, basically, don't expect either team to officially name a starter until their opening drives on Sept. 26.
TWEET OF THE DAY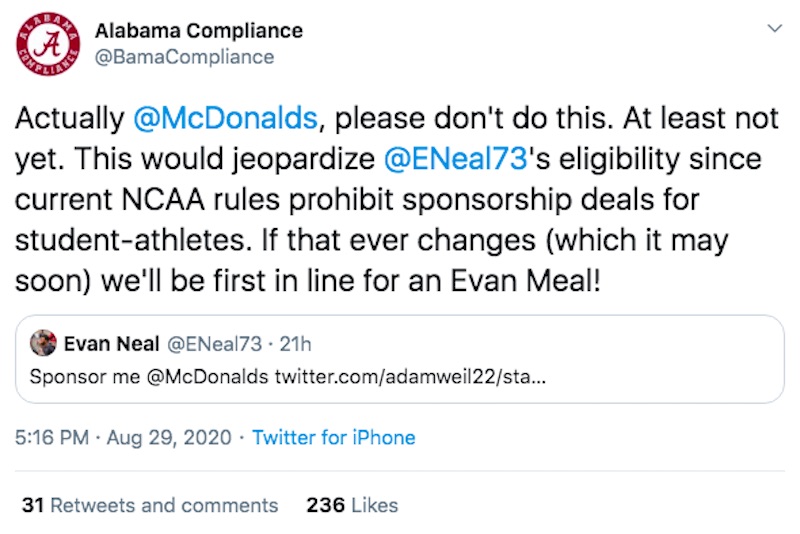 Alabama OL Evan Neal tweeted that McDonald's should sponsor him after his name was accidentally misspelled "Evan Meal" on a TV graphic. That led a Twitter user to make a Happy Meal box with Neal's face on it. However, Alabama's compliance office quickly took to Twitter to jokingly ask McDonald's not to sponsor Neal until NCAA NIL rules take effect.