SEC
Saturday Football: Georgia's QB battle, Alabama's schedule and high school choices
The Saturday Football newsletter goes out to subscribers up to 3 days a week and discusses the major events going on around the nation in college football. You can subscribe by clicking here.
Good morning and happy Wednesday! We'll be back to our regular Monday newsletter next week, and soon, we'll go back to multiple newsletters per week in the buildup to the 2020 season (hopefully). For this week's edition, though, there's plenty to discuss.
Today, we'll discuss a new wrinkle in Georgia's QB battle, Alabama's Week 1 opponent, some interesting decisions 2021 recruits are facing and more. Let's get started with this week's newsletter!
GEORGIA'S QB BATTLE
With JT Daniels eligible, Georgia's QB battle is heating up. Who will start for the Bulldogs in Week 1?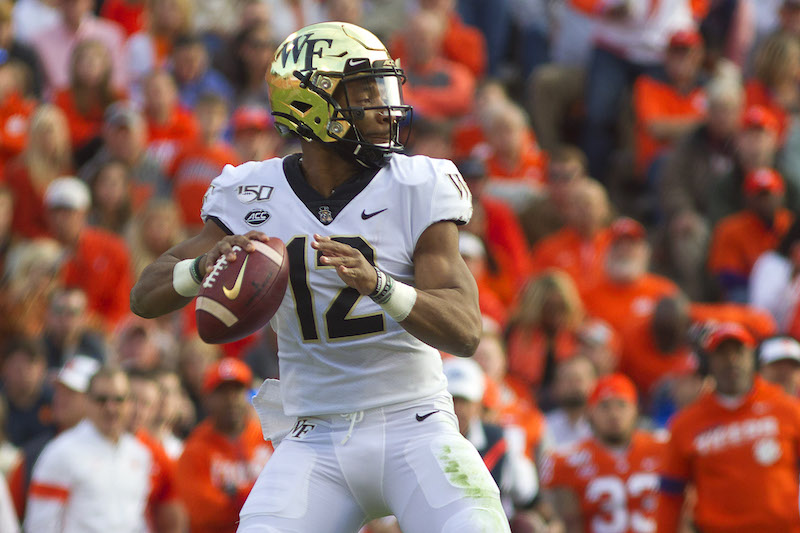 The Georgia Bulldogs got a bit of surprising news last week, as former 5-star recruit and USC transfer QB JT Daniels was declared immediately eligible by the NCAA. That means he'll compete with Wake Forest graduate transfer Jamie Newman for the Bulldogs' starting job this fall.
It also means plenty of people will share opinions on what Kirby Smart and the Dawgs should do at the QB position. Here's some of the early chatter surrounding the upcoming battle in Athens:
First, this obviously makes Newman's life a bit tougher. After news of Daniels' eligibility broke, Newman started trending, with plenty of people saying they'd be mad if they were in his situation. That was followed by media members sharing their early thoughts on the battle. PFF's Anthony Treash went as far as to say he thinks it's a no-brainer that Newman should start.
The Georgia defense is expected to be elite this year. As we all know, a great defense can be a quarterback's best friend. SEC Network analyst Jordan Rodgers said the Bulldogs' defense is a championship-caliber unit. He said if either Newman or Daniels can be a playmaker, the Dawgs can win it all. However, Saturday Down South's Connor O'Gara looked at it from a different angle. He said the Bulldogs' new high-tempo offense could make life tough on the Georgia defense.
Even if Newman starts, Daniels is still valuable to Georgia. Last year, the Bulldogs had very little depth behind starter Jake Fromm. This year, their QB room will be absolutely loaded. O'Gara wrote about the flexibility Daniels and Newman give the Georgia offense regardless of who is named starter.
Prior to last week, it was almost a guarantee Newman would be the starter. Now, that's not necessarily the case. This QB battle between two highly-regarded transfers will be closely watched throughout the college football world.
GOOD READS
ALABAMA'S WEEK 1 OPPONENT
With the Pac-12 playing conference games only in 2020, Alabama needs a new Week 1 foe. Who will it be?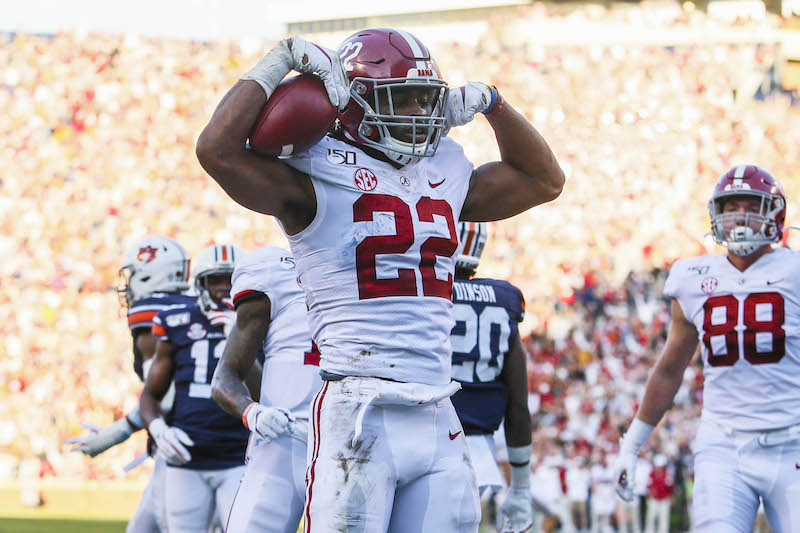 For the past few seasons, the Alabama Crimson Tide have started the year by playing a nonconference opponent in a neutral-site game. Working backward from 2019, the Tide have played Duke, Louisville, Florida State, USC, Wisconsin, West Virginia, Virginia Tech and Michigan dating to 2012. That's as impressive a slate of games of any Power 5 team starting the season in that time frame.
This year, the Tide were supposed to play USC at AT&T Stadium in Arlington, Texas, but the COVID-19 pandemic led the Pac-12 to declare it would only play conference matchups this season. The SEC has made no such claim as of Tuesday night, so the Tide are looking for a new Week 1 foe. Here's the latest on that search:
The Tide's open week should be finalized soon, if it hasn't been already. It's possible BYU and Alabama could be waiting to see how things shake out with the pandemic over the next couple of weeks before officially announcing anything. But, if it's possible, SEC teams are still willing to play nonconference games, so we'll see what sort of new matchups pop up between now and September.
JUST FOR FUN
Last week, we discussed the top offenses at the FBS level in 2019. This week, we'll see how much you remember about the elite defenses from 2019. Last year, 6 FBS teams allowed 15 points or fewer per game. How many of them can you name?
Scroll down to see the answers to today's quiz.
HIGH SCHOOL DECISIONS
High schools are making decisions about the 2020 season. What position does this put 2021 recruits in?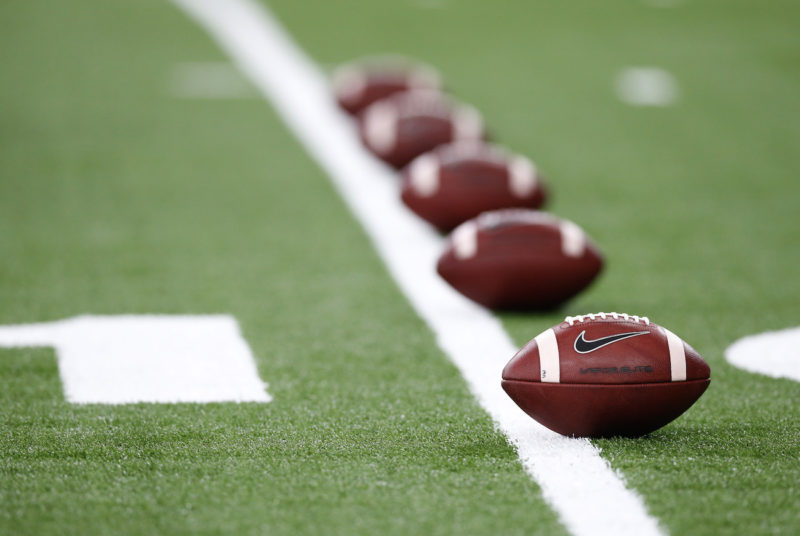 The COVID-19 pandemic is still making headlines across the globe, particularly in the U.S. It is also having an impact on the upcoming football season, with some conferences canceling their fall campaigns and others delaying them. At the high school level, things are also getting heated. Some states won't play this fall and others are planning to keep things the same.
So, let's talk about those state decisions with regards to how it affects 2021 recruits. Here's the latest with the situation involving top high school athletes:
First, California announced it was moving football to the spring semester. Almost immediately, top recruits from the state took to Twitter to weigh in. Prized Texas A&M commit Victory Vaka said he'd forego his senior season and enroll in College Station early. California-based DE Korey Foreman, the No. 1 player in the 2021 class, also said he'd choose his first college camp over a spring senior season. QB coach Rudy Carpenter recently did a radio appearance on WJOX in which he explained how that decision from California could impact the Pac-12.
Not every part of California is abiding by that rule, though. In the state's Northern Section, the plan is still to play this fall, breaking with the CIF decision. It contains 73 schools in some of the least-populated parts of the state.
Additionally, other states are making their own decisions. This week, Georgia voted to start football two weeks late and then play a full season. Florida will proceed as scheduled with its football season. Texas will push back its season by a couple of weeks, too.
The four states mentioned in this section provide a huge number of elite Division I recruits. Thus, college coaches will be closely watching how these states' decisions impact players. Top 2021 athletes will likely sit out if forced to play in the spring, but this will have ramifications on the classes of 2022, 2023 and 2024, too. We'll see what other state high school associations decide to do moving forward.
ANSWERS
Here are the six FBS programs that allowed 15 or fewer points per game in 2019:
Georgia — 12.6 points per game
San Diego State — 12.7 points per game
Clemson — 13.5 points per game
Ohio State — 13.7 points per game
Iowa — 14.0 points per game
Utah — 15.0 points per game
QUOTE OF THE WEEK
"In the case of Nick Saban and Dabo Swinney, I really have to question the questions about them taking pay cuts. These are two guys that bring in more money to their universities, are worth more than probably any coach imaginable. And top of that, none of us really know how much money, let's say Nick Saban, has helped to raise for that university by calling people, by meeting with people, by having dinner with people. And on top of his own foundation.
"So I know I'm in somewhat of an awkward spot here commenting on an article written by the company I work for, and I interviewed Paulo Levine the other day about it, and I struggled with it because if Nick Saban was the head of a Fortune 500 company, and had done what he has, and did there what he has done at Alabama, he would be paid $100 million a year. He's worth that much money. So I think I think we're splitting hairs to talk about you know why he did not take a 15% pay cut."
– As many college coaches around the country take pay cuts amid the COVID-19 pandemic, SEC Network host Paul Finebaum said he doesn't necessarily think Alabama's Nick Saban should decrease his pay, based on the profitable behemoth he's turned Crimson Tide football into.
TWEET OF THE WEEK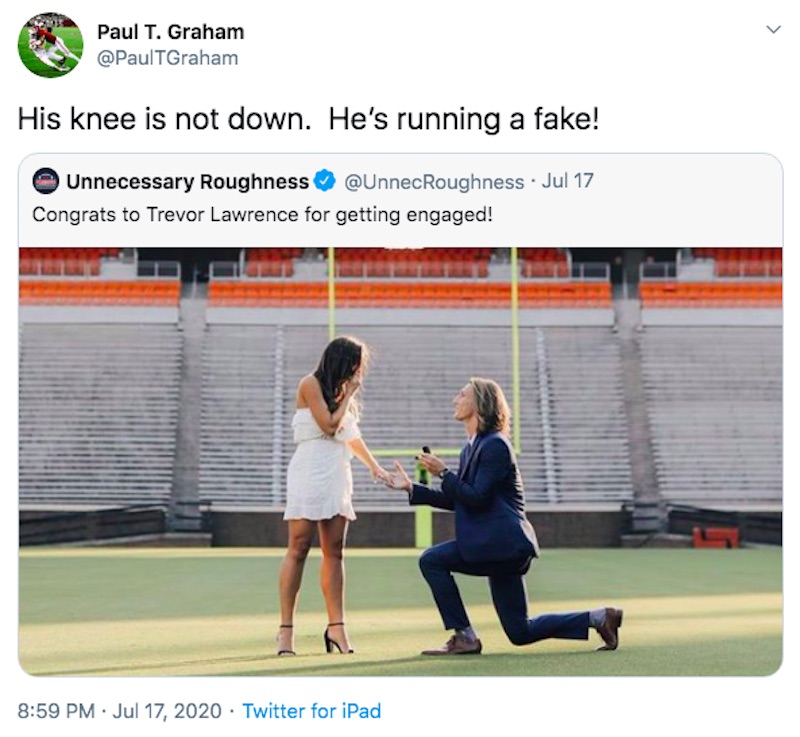 Clemson star QB Trevor Lawrence got engaged last week, proposing on the field at Memorial Stadium. Fans had some fun with the fact that Lawrence didn't have his knee all the way down in the above picture. Congratulations to Lawrence and his fiancé!