SEC
SDS 64-team Playoff: Sweet 16 Results
Not happy with a four-team Playoff?
More football is good, so we've decided to expand the season by several weeks with the introduction of the SDS 64, a 'Winter Madness' style tournament with an emphasis on conference championships, strength of schedule and any factors we see fit.
Each region has its own theme, dominant teams and laughable neutral site hosts. Hint: 12 SEC teams made the field.
THE SDS 64 SCHEDULE
TODAY: Round of 16 results
THURSDAY: Round of 8 results
SUNDAY: Final Four, Champion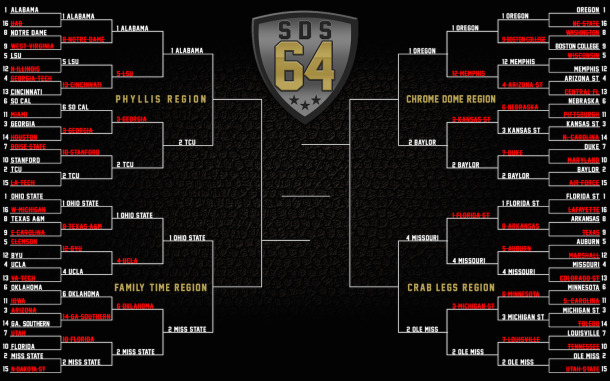 PRETENDERS SEPARATED FROM CONTENDERS
Storylines: Mizzou quarterback Maty Mauk came through in the clutch against defending national champion Florida State, knocking off the top-seeded Seminoles with a late touchdown pass to Jimmie Hunt; Alabama outlasted LSU in a classic Phyllis Region duel that went to overtime. T.J. Yeldon's dive over the top on 4th-and-Goal gave the Crimson Tide a 23-17 victory.
Biggest blowouts: No. 1 Ohio State 34, No. 4 UCLA 7; No. 2 Ole Miss 31, No. 3 Michigan State 10
Upsets: No. 4 Missouri 34, No. 1 Florida State 32
Most impressive stat line: Mississippi State became the SEC's fourth team to reach the Elite 8 with a convincing win over sixth-seeded Oklahoma thanks to quarterback Dak Prescott's five total touchdowns.