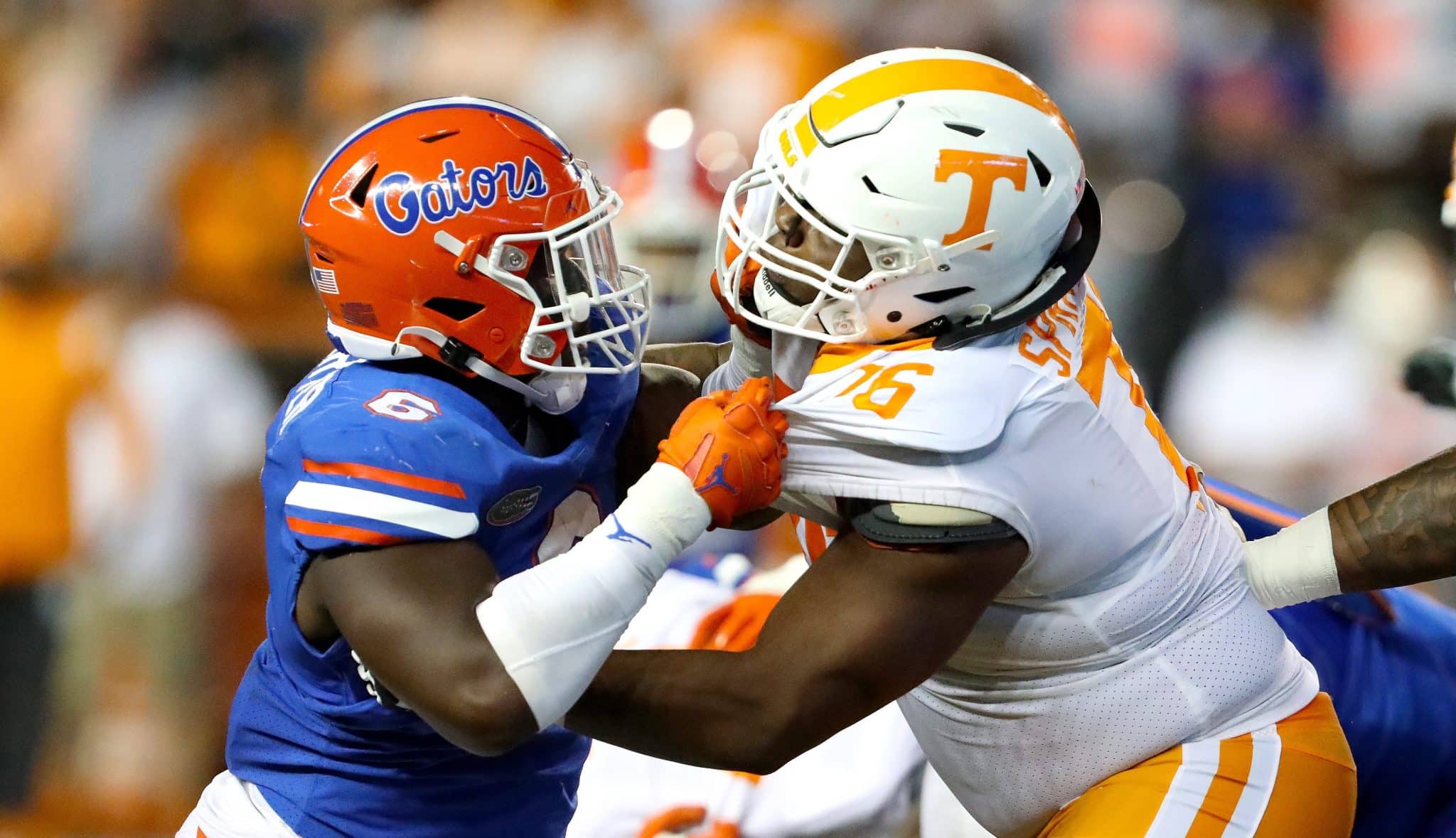 SEC
Week 3 SEC Primer: After 20 years of pain, the time is right for Tennessee to turn the tables in The Swamp
Breaking down Week 3's SEC slate, all in one place.
Game of the Week: Tennessee (-6.5) at Florida
The stakes
National ramifications? The inside lane in the SEC East? The upper hand in a charged rivalry? That era is long gone. With Georgia's ascent in the East and both teams experiencing extended bouts in the wilderness, Gators-Vols these days is just the first step in a gauntlet that hasn't ended with either of them atop the SEC since 2008. It's very possible, to the alarm of those of us who came up in the rivalry's heyday in the 1990s and early 2000s, that when the conference finally settles on a long-term scheduling format that incorporates Oklahoma and Texas and scraps divisions, Florida-Tennessee will cease to be an annual concern.
Of course, that doesn't mean there's not plenty of urgency on both sides for Saturday night's renewal, albeit for different reasons. This year's matchup represents a role reversal: A ranked Tennessee team facing an unranked Florida team for the first time since 1971. The Volunteers (No. 11 in the AP poll) have played the underdog role plenty of times since then — prior to last year's win in Knoxville they'd lost 16 of the previous 17 games in the series — but have never been up at this point on the calendar at the same time the Gators are down. It's probably going too far to describe Saturday night as a routine outing for the Vols, given that they haven't won in Gainesville in two decades, but if they have any chance at making good on their dark-horse Playoff ambitions, it's obviously one they can't afford to lose. History notwithstanding, "routine" is exactly what they need it to be.
Florida, on the other hand, is desperate for the faintest glimmer of progress in what already feels like a stalled project under second-year coach Billy Napier. Napier's Gators are 4-8 vs. Power 5 opponents, the most recent loss coming in a 24-11 flop at Utah in the season-opener that left very little room for optimism. The one silver lining of last year's 6-7 campaign was the promise of maddeningly gifted QB Anthony Richardson returning to make good on his talent as an upperclassman. Now that Richardson is taking snaps for the Indianapolis Colts instead, what is there to look forward to in Year 2? An upset in the conference opener would deliver a much-needed answer to that question.
The stat: 7.3 yards per attempt
That's Tennessee QB Joe Milton III's average depth of target this season by "air yards," per Pro Football Focus, one of the lowest rates in the SEC and a full 10.5 yards below his astounding 17.8 yards per target in 2022. For some context, the next-highest ADOT last year among SEC quarterbacks belonged to Milton's teammate, Hendon Hooker, who averaged 11.7 yards.
This Joe Milton bomb looked crazy on the broadcast but the A-22 angle is even crazier. A 61-yarder or so, with so much ease… pic.twitter.com/VnnN5q5pPc

— Full-Time Dame ? (@DP_NFL) September 4, 2023
Milton's military-grade arm strength is one of the most compelling variables in college football this season. In a limited role last year, he let it rip with abandon: 29 of Milton's 82 attempts traveled 20+ yards downfield, per PFF, predictably the highest rate in the SEC by a wide margin; more surprisingly, given his reputation for scattershot accuracy, Milton also led the conference in completion percentage on those throws, at 48.3%. (Among regular starters, Hooker and Spencer Rattler tied for the SEC lead at 44.1%.) Small sample size, etc., but at year's end, Milton was the only FBS passer in 2022 with at least 10 touchdowns and zero interceptions.
The accuracy concerns, however, have not abated. Through 2 games this year Milton is just 2-for-9 on attempts of 20+ yards, and although drops have factored into that (see above), he's had at least 1 would-be interception dropped, too; his overall PFF grade on downfield throws (66.5) ranks 13th out of 14 SEC starters. Again, take the small sample size in a couple of lopsided wins over Virginia and Austin Peay for what it's worth. But Josh Heupel, of all coaches, is not about to rein in his artillery. When it matters, the Vols will live or die by the bomb.
The big question: Can Florida the run the ball?
Napier's success at his last stop, UL-Lafayette, was built from the trenches up, and the Gators were consistently productive on the ground in 2022, running for at least 200 yards in 8 of 13 games. (Tellingly, they were 6-2 in those games and 0-5 in the rest.) The leading rushers, Montrell Johnson Jr. and Trevor Etienne, both returned as arguably the SEC's best 1-2 punch. But Florida also lost 4 of last year's regular o-line starters, including All-American guard O'Cyrus Torrence, and the 1 holdover, center Kingsley Eguakun, began the season on the injury list. Against Utah, the rebuilt front never stood a chance: The Gators fell behind early, struggled to sustain drives, and were forced to abandon the ground game in the second half. The running backs as a group managed a grand total of 43 yards with a long gain of 9.
After that, last week's 327-yard, 6-touchdown effort on the ground against McNeese State was a relief, if only so they didn't have to face the grim implications of getting stuffed by a sacrificial FCS squad, too. This week, Eguakun returned to practice and is expected to man the middle on Saturday night. The line doesn't have to dominate, but it does need to make enough hay on early downs to keep the clock moving, keep the ball out of Milton's hands, and most important, keep beleaguered QB Graham Mertz out of obvious must-pass situations: In Salt Lake City, Mertz wound up putting the ball in the air 44 times and taking 5 sacks. In this offense, that kind of ratio will always equal disaster.
The key matchup: Florida RT Damieon George Jr. vs. Tennessee Edge James Pearce Jr.
George, an Alabama transfer who was lost in the mix in Tuscaloosa, settled into the vacancy at right tackle over the offseason; in his first start he was dinged by PFF for allowing 2 QB hurries against the Utes. Pearce, on the other hand, has been an early-season revelation: A true sophomore who barely saw the field on defense in 2022, he's already registered an SEC-best 10 QB pressures and three sacks on just 34 pass-rushing snaps.
Learn the name. James Pearce. pic.twitter.com/cKHLD9YMrO

— More Important Issues (@More_Issues) September 5, 2023
So far, Tennessee has platooned Pearce at its hybrid DE/OLB position (Leo) along with 5th-year senior Roman Harrison, who handles the bulk of "standard down" snaps with the lankier Pearce serving as a pass-rushing specialist off the bench. At his current growth rate, though, it won't be long before he's simply too productive to remain a part-timer.
The verdict:
Florida is in a dark, boring place. The Gators aren't bad — well, probably — but the stench coming off the opener, combined with the stunning absence of star power on the roster, smells like an extended bout of mediocrity for the foreseeable future. Frankly, the fact that a veteran portal addition like Mertz doesn't move the needle behind center is less concerning right now than the fact there's nobody waiting in the wings who might. Richardson's unexpected departure put them in a bind there (not to mention the defection of touted signee Jaden Rashada, who's currently QB1 at Arizona State and would likely be at least pushing Mertz if he'd remained a Gator), but the same can be said across the roster.
On paper, the talent level hasn't really declined as much as it's often implied: Florida still ranks 15th in 247Sports' Team Talent Composite, 1 spot ahead of Tennessee, and 11th according to the Blue-Chip Ratio, for which the Vols don't qualify at all. On the field, the Gators are palpably juiceless.
The defense is fine, and there's something to be said for a 9-game winning streak against Tennessee in The Swamp. Enough to overcome the explosiveness gap between Milton and Mertz? Not even close.
– – –
• Tennessee 30 | Florida 19
South Carolina at Georgia (-27.5)
It's a little early to be battling the injury bug, and it's probably wise to take Georgia's lengthy list of walking wounded with a grain of salt. Other than sophomore RB Branson Robinson, who's been ruled out for the season, most of the injuries that sidelined key contributors in last week's blowout win over Ball State — most notably RB Daijun Edwards, WR Ladd McConkey and DB Javon Bullard — are of the "day-to-day" variety, or, in Edwards' case, strictly precautionary. The 2-deep for Saturday should be essentially intact for what will be most of the country's first look at the defending champs.
For South Carolina, the prospect of an upset bid begins and ends with QB Spencer Rattler, and specifically with keeping him upright. The Gamecocks failed miserably on that front in their season-opening loss to North Carolina, giving up 21 QB pressures and 9 sacks to a UNC defense that ranked dead last in the ACC in sacks in 2022. Obviously, Georgia's front seven poses a much steeper challenge. When it all comes together, Rattler's combination of experience and arm talent is up there with any quarterback in the college game. When he feels the heat, he starts to look ordinary very fast.
– – –
Georgia 36 | • South Carolina 16
LSU (-9.5) at Mississippi State
If LSU has anything in the playbook against a real opponent that doesn't register under Jayden Daniels' name in the box score, now might be a nice time to break it out. Daniels personally accounted for 410 of the Tigers' 459 total yards in their Week 1 loss to Florida State, with the running backs adding just 49 yards rushing on 12 carries — 35 of them coming on 1 run. For all the formerly highly touted names on the RB depth chart, none of them has yet to emerge as a reliable presence in 16 games under Brian Kelly and offensive coordinator Mike Denbrock.
There is, however, a new candidate: Notre Dame transfer Logan Diggs, who went off for 115 yards on 15 carries in last week's blowout win over Grambling after sitting out the opener with a nagging hamstring injury. Is Diggs the dude? For the sake of keeping Daniels in one piece through December, Kelly and Denbrock owe it to themselves to find out.
– – –
LSU 33 | • Mississippi State 24
Alabama (-31.5) at South Florida
Not a typo: Why the heck is Alabama playing at South Florida? The Crimson Tide haven't played a true road game against a non-power opponent in 20 years, since closing the 2003 season at Hawai'i. (The '02-03 teams booked a 2-game series in the islands after getting hit with a postseason ban by the NCAA; a quainter time.) Prior to that, you have to go all the way back to a 1992 trip to Tulane.
As for this weekend, Bama agreed to visit USF as part of a 2-for-1 arrangement that will bring the Bulls to Tuscaloosa in 2024 and '26 at a significant discount compared to the going rate for sacrificial lambs these days. And of course "recruiting" is a nominal factor, as well, for all the blue-chip recruits in the state of Florida who have yet to be sufficiently exposed to the Alabama brand.
At any rate, the timing could hardly be worse for USF, which was hoping to catch the Tide in a lull between Texas in Week 2 and Ole Miss in Week 4. Instead, last week's loss to the Longhorns and the subsequent speculation about the end of the Bama dynasty guarantees they'll show up fully alert and with a chip on their shoulders big enough to blot out the sun. (Or at least the pirate ship.) If the Bulls have even the faintest glimmer of life left in their eyes at halftime, then Nick Saban might really be losing his edge.
– – –
• Alabama 45 | South Florida 13
BYU at Arkansas (-8.5)
Arkansas is still waiting on All-SEC RB Rocket Sanders, who's expected to miss his 2nd consecutive game with a swollen knee. With the Hogs' most dynamic weapon on the shelf, BYU can count on a heavy dose (literally) of colossal quarterback KJ Jefferson in the run game. After a sluggish first half last week against Kent State, the Razorbacks gave Jefferson the green light as a runner in the second half, calling his number 9 times for 44 yards; their final 3 drives subsequently drained more than 20 minutes off the clock, yielding 2 touchdowns and a kneel-down to end the game. Until Rocket returns and/or a viable No. 1 target emerges from a pack of anonymous receivers, the grind-it-out approach figures to serve as the blueprint again.
– – –
• Arkansas 34 | BYU 23
Georgia Tech at Ole Miss (-18.5)
What's up with Ole Miss ground game? The SEC's top rushing offense a year ago is off to a slow start, averaging just 3.4 yards per carry (including sacks) against Mercer and Tulane. For a scheme that relies as heavily on play-action and RPOs as any offense in America, that filters up to the passing game, as well. Early returns are good on QB Jaxson Dart's progress as a straight drop-back passer, but putting the game on his arm against Tulane is very different than putting the game on his arm against LSU or Alabama. (On that note, he'll also be without his top target, Louisiana Tech transfer Tre Harris, for at least the next few weeks.) They should be able to beat Georgia Tech any way they please, but ideally the Rebels would love to get workhorse Quinshon Judkins revved up before next week's trip to Tuscaloosa.
– – –
• Ole Miss 41 | Georgia Tech 18
Kansas State (-4.5) at Missouri
K-State humiliated Missouri last year in Manhattan, and QB Brady Cook, in particular, who averaged a dismal 4.7 yards per attempt with 2 interceptions in just his 3rd career start. Cook has come a long way in the 12 months since, solidifying himself as a viable SEC starter who generally hits his marks and is not prone to melting down. He also has an emerging weapon in WR Luther Burden III, a former 5-star on the cusp of a major breakthrough as a sophomore — that is, if Cook is good enough to give him the chance. Mizzou fans have been frustrated by the offense's lack of explosiveness over the first 2 games, in large part out of fear of wasting Burden's obvious potential. A big game against the defending Big 12 champs would announce his arrival as a full-blown star.
– – –
• Kansas State 29 | Missouri 20
UL-Monroe at Texas A&M (-36.5)
After 15 years, ULM no longer holds the title of "last nonconference opponent to beat Alabama in the regular season." The Warhawks have worn the distinction with … dignity? Anyway, they've worn it. In the meantime, they're 1-20 vs. SEC teams by an average margin of defeat of 29.9 points per game.
– – –
Texas A&M 47 | • UL-Monroe 14
Akron at Kentucky (-25.5)
Kentucky offensive coordinator Liam Coen is expected to be with the team as usual on Saturday after suffering an unspecified "medical episode" in the UK facilities earlier this week, although coach Mark Stoops declined to clarify whether Coen will be calling plays. Akron, which has allowed 50+ points to each of its past 4 Power 5 opponents dating to 2021, shouldn't offer much resistance to whomever assumes the role.
– – –
• Kentucky 39 | Akron 10
Vanderbilt (-4.5) at UNLV
Vandy is the first SEC team to visit Las Vegas in the regular season, for a game that's critical to both teams' hopes of snapping their respective bowl droughts: The Commodores haven't been bowling since 2018, and UNLV hasn't made the postseason cut since 2013. Given the long odds against either cracking .500 in conference play, the loser on Saturday may as well go ahead and add another year to the streak.
– – –
• Vanderbilt 31 | UNLV 25
Samford at Auburn (n/a)
Auburn takes it as a minor point of pride that many of the "body bag" checks it writes for easy wins go to in-state schools — as opposed to the Crimson Tide, who haven't played (or paid) a nonconference opponent from Alabama since World War II. Samford, located in Birmingham, has never beaten Auburn in 29 tries, and in 5 meetings since 1992 has been outscored 208-30.
– – –
Auburn 44 | Samford 6
SCOREBOARD
Week 2 Record: 6-3 straight-up | 5-4 vs. spread
Season Record: 6-3 straight-up | 5-4 vs. spread
• • •