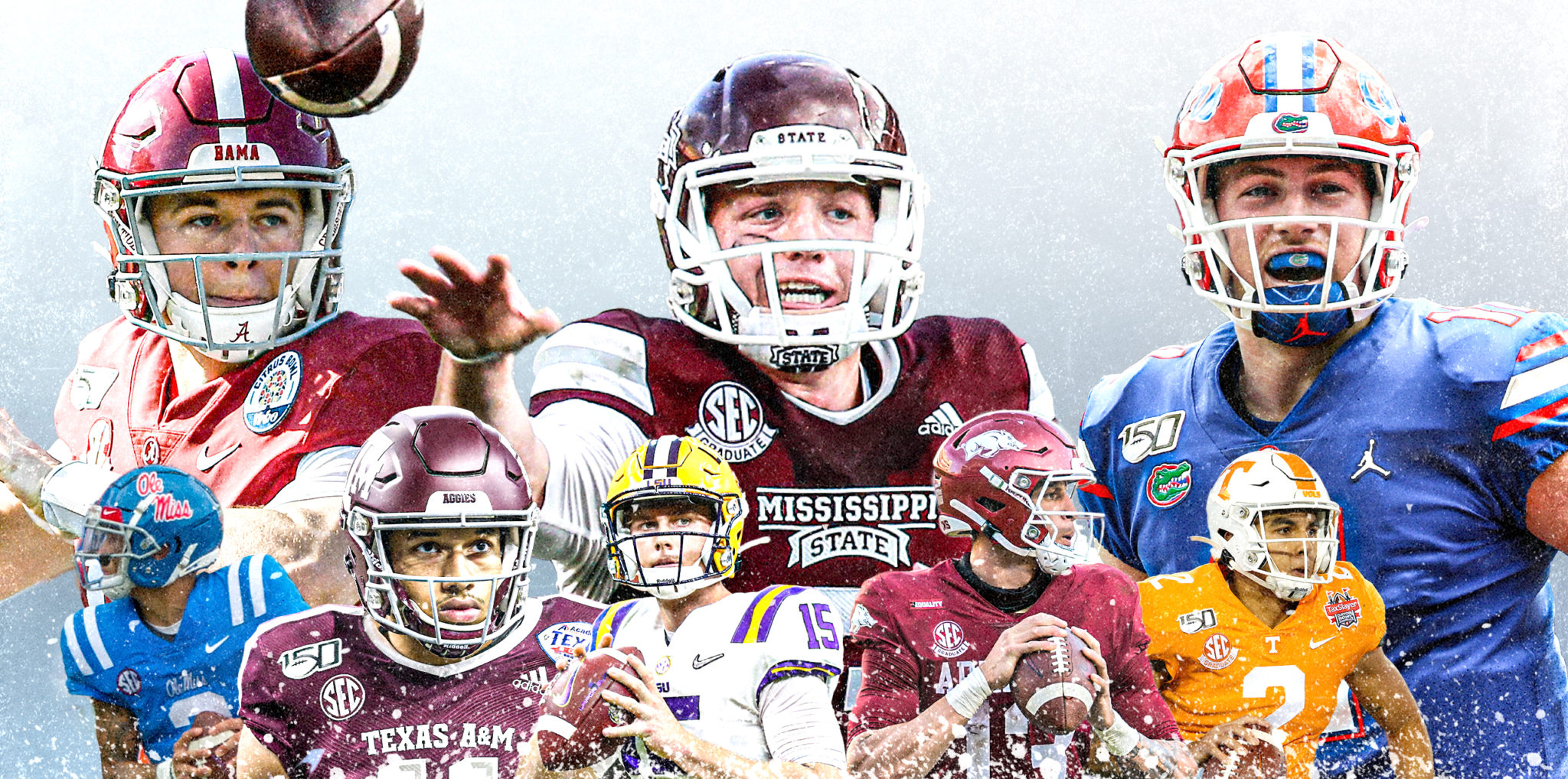 SEC
SEC QB Power Rankings, Week 4: Yes, it's past time to believe in Mac Jones, even with Georgia on the way
Quarterbacks: There are a lot of them! Each week throughout the season, SEC QB Power Rankings will help you keep the game's most important position in perspective by ranking the SEC starters 1-14 according to highly scientific processes and/or pure gut-level instinct. Previously: Week 1 … Week 2 … Week 3.
1. Mac Jones, Alabama
Jones is a different player in a different offense, and the last thing he deserves is to be saddled with comparison to his former 2017 classmate, Tua Tagovailoa. But suffice to say that Jones' production across his first 6 career starts – 77.1% completion rate, 12.7 yards per attempt, 219.1 passer rating – stacks up very nicely against whomever happens to be on the other side of the scales. After Saturday's 63-48 extravaganza at Ole Miss, he leads all FBS passers in two of those three categories (YPA and efficiency) and ranks 2nd in the other at the helm of the nation's highest-scoring offense.
Georgia's defense, of course, is on another level entirely – the Bulldogs will arrive in Tuscaloosa this weekend sitting at or near the top of every column on that side of the ball, too. The collision of the No. 1 offense and No. 1 defense in the country is only one of the infinite number of reasons that Tide-Dawgs is the most compelling matchup of the regular season. But if Jones' line lands even within shouting distance of his season averages it will go in the books as the game that established him as Heisman material in his own right.
– – –
(Last week: 2)
2. Kyle Trask, Florida
Expectations have risen so quickly for Trask that his big losing-effort stat line at Texas A&M (23/32, 312 yards, 4 TDs, 0 INTs) seemed almost pedestrian. In fact it was his most efficient to date: Florida scored on 6 of its first 7 possessions with Trask's arm accounting for more than 75% of the team's total offense. At that rate, only a self-inflicted catastrophe could have stopped the Gators from marching for the winning points on the 8th … which is exactly what they got when RB Malik Davis fumbled at midfield with under 4 minutes to go. The Aggies drained the rest of the clock, buried the game-winning field goal as time expired, and didn't allow Trask to set foot on the field again.
– – –
(Last week: 1)
3. Matt Corral, Ole Miss
I think it's safe to say no quarterback in America has benefited more from a coaching change than Corral. Imagine a timeline in which Ole Miss wasn't flagged for the dumbest penalty in sports history last Thanksgiving, won the Egg Bowl instead, didn't see fit to fire head coach Matt Luke after just 2 years in the full-time job, and retained offensive coordinator Rich Rodriguez, as well. Where is Corral today in that scenario? Probably not in Oxford, and certainly not on pace for the most prolific passing season in school history.
Corral always projected as a more natural fit for Lane Kiffin's style than John Rhys Plumlee, the athlete with a suspect arm, but the leap from a guy who was effectively benched as a redshirt freshman to a guy giving Nick Saban nightmares as a sophomore is about as dramatic as it gets. Through 3 games, Corral has improved his yards-per-attempt average from a respectable 7.7 to an absurd 12.3 while throwing more touchdown passes (9) than he had all of last year (6) in half as many attempts.
Efficiency-wise, he's also posted a passer rating north of 200 in each game, which hardly seems sustainable over a full season. (For the record, only 3 other QBs have achieved a 200+ rating vs. Bama in the Saban era: Johnny Manziel in 2013, Cam Newton in 2010, and the legendary Stephen Garcia in 2010.) Then again, if he's capable of posting that kind of number at the expense of Florida, Kentucky and Alabama in consecutive weeks, he's capable of posting against any defense on the schedule, and Kiffin and offensive coordinator Jeff Lebby are more than capable of giving him the opportunity. We may never know how close Corral was to portaling out last winter, and thank goodness for that.
– – –
(Last week: 3)
4. Stetson Bennett IV, Georgia
It's a testament to a) The astonishing level of trust Bennett has earned in just a few weeks, and b) The astonishing mediocrity of Alabama's defense, that a former walk-on making his first road start in Tuscaloosa is arguably the safer bet. In his unlikely emergence over the past month, Bennett has been been nothing if not safe: He's 1 of only 2 Power 5 quarterbacks with at least 75 attempts this season who has yet to throw an interception, joining Trevor Lawrence.
– – –
(Last week: 5)
5. Kellen Mond, Texas A&M
Adjusted for the opponent, Mond's 338-yard, 3-TD effort against Florida was the best of his career, by far, and put to bed any rumblings that he may not be long for the top of the depth chart after a rocky start to his senior season. Not coincidentally, it was accompanied by the best team rushing effort A&M has managed against a ranked opponent under Jimbo Fisher — 205 yards on 5.4 per carry, the bulk of that coming via a breakout 174-yard performance by sophomore thumper Isaiah Spiller.
The absence of a viable ground game against the top half of the schedule has been a running theme for the Aggies, whose big-game performances tended to fall into a reliable pattern: Big early deficit, futile rally led by Mond, respectable final numbers that don't quite tell the story of how the game actually unfolded. Not this time. With some bonafide run support for a change, Mond's share of the offense against Florida (63.7%) fell right on the sweet spot between "productive" and "overburdened" that he has rarely managed to achieve in big games: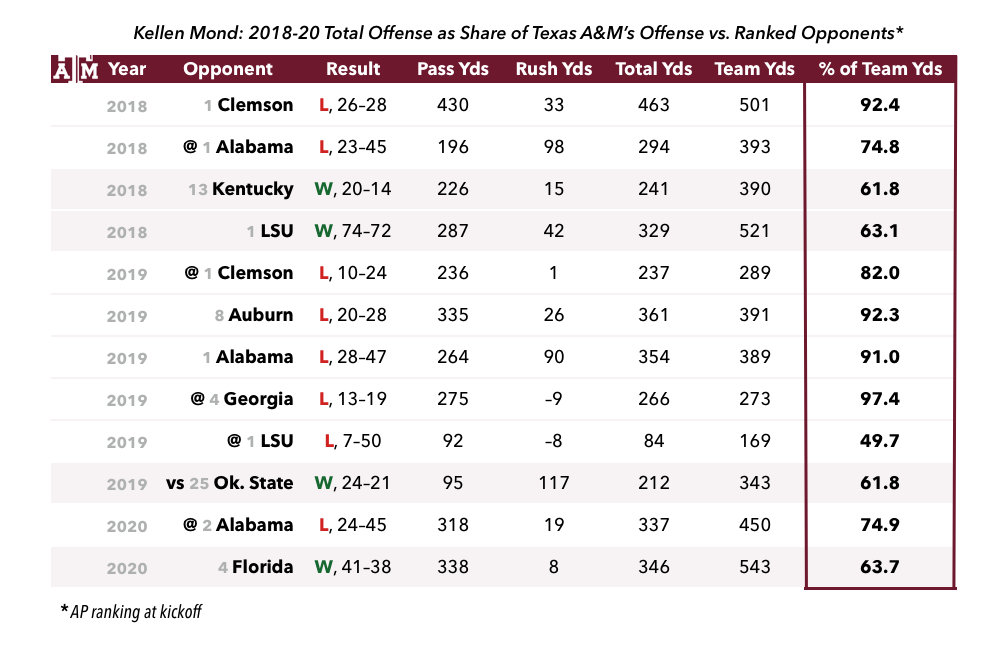 It's not rocket science: An offense designed for run/pass balance is more successful when it achieves run/pass balance. Going forward, it could turn out that Spiller's breakthrough had more to do with Florida's less-than-stellar run defense than with A&M's ability to consistently grind out the kind of living on the ground that keeps defenses honest. In which case Mond will be back to attempting to throw the Aggies out of trouble in short order. If it's sustainable, though, Spiller's emergence along with fellow sophomore Ainias Smith is the key to finally unlocking Fisher's offense and Mond's potential within it.
– – –
(Last week: 7)
6. Feleipe Franks, Arkansas
Franks also delivered the best game of his beleaguered career in the Razorbacks' down-to-the-wire, 30-28 loss at Auburn, finishing with career highs for yards (318), touchdowns (4), and efficiency (206.4) vs. an FBS opponent with no turnovers. After falling into a 17-0 hole in the first half, Arkansas rallied to score on 5 consecutive possessions and take the lead midway through the 4th quarter.
— SportingVids (@VidsSporting) October 10, 2020
Ultimately that lead didn't hold for, uh, reasons you may or may not have some very strong feelings about. But coming on the heels of their streak-breaking upset at Mississippi State, pushing another ranked opponent to the brink was another signal that the Razorbacks are in much better hands behind center than they've been in many years. (Remember, Arkansas lost to Auburn and Mississippi State in 2019 by a combined margin of 71 points.) If you saw that coming to this extent this quickly, bless you.
– – –
(Last week: 9)
7. Myles Brennan, LSU
No one in Louisiana is about to let Brennan off the hook for overseeing a 1-2 start with losses to Mississippi State and Missouri, but the reality is that the passing game is the only aspect of the rebuilding project that has remained functional in the losses. Against Mizzou, Brennan finished 29-of-48 for 430 yards with 4 touchdowns and no INTs, thereby joining Joe Burrow as the only LSU quarterbacks to throw for 400+ yards and 4 scores in a single game. Yet the most indelible moment of the afternoon was a pitiful goal-line effort with the game on the line in the final minute.
Watch this goal-line stand again. And again pic.twitter.com/8shkGL0EuF

— Represent Mizzou (@RepresentMizzou) October 11, 2020
The Tigers couldn't trust a defense that gave up 45 points or a ground game that eked out 2.5 yards per carry against a depleted defensive line. If they have to rely on Brennan to put up Burrow-esque stat lines just to give them a chance, it's going to be a longer year than anyone imagined.
– – –
(Last week: 11)
8. Bo Nix, Auburn
Nix ceded the spotlight in the Tigers' waterlogged win over Arkansas to the running backs, and specifically to true freshman Tank Bigsby, who broke out in a big way with 146 yards and 14 broken tackles (per Pro Football Focus) on 7.3 per carry. It felt right: Auburn has always been at its best with a true bell cow serving as the focal point, and Nix hasn't given much indication up to this point that he's likely to take the offense to the next level without one. If the running game is rolling, 17-of-28 for 187 yards, 1 TD and no turnovers is a line Gus Malzahn can live with.
– – –
(Last week: 6)
9. Connor Bazelak, Missouri
Some fast Bazelak facts: He came out of a wishbone offense in high school, he was once recruited by his current head coach, Eli Drinkwitz, to play for NC State when Drinkwitz was the Wolfpack's offensive coordinator, and he's coming off a torn ACL as a true freshman. Based strictly on Mizzou's shootout win over LSU, he's also a star in the making. In his first career start, Bazelak went off for 406 yards and 4 TDs (to 4 different receivers) on just 34 attempts, presumably entrenching him as QB1 for the foreseeable future.
Before anointing him as the next Drew Lock, it is worth acknowledging that Bazelak caught LSU's secondary at one of the rare moments in the last 20 years when LSU's secondary happens to be very, very bad. True, the Tigers are still immensely talented on the back end – 3 of 5 starters on Saturday were former 5-star recruits, including Derek Stingley Jr. – and will likely round into form soon enough. But they're a long way from it right now.
Bazelak had the luxury of throwing to wide-open targets all day, beginning with a flea flicker on the opening series that went for a 58-yard touchdown. His second TD pass was the result of an egregious coverage bust that left a receiver running free 20 yards behind the nearest defender; the go-ahead score in the 4th quarter was set up by a 69-yard catch-and-run that exploited non-existent coverage in the middle of the field and poor tackling thereafter. Those 3 plays alone accounted for more than 40% of Bazelak's yards and essentially 3 of his 4 touchdowns.
So considering how badly the same secondary was burned in the opening-day debacle against Mississippi State, and how miserable Mississippi State's offense has been since, it's probably a good idea for the time being to take Bazelak's stat line with a grain of salt. But lighting up a struggling opponent in your debut is certainly better than not lighting up a struggling opponent, and given the smoky state of secondaries across the league he's going to have plenty of opportunities to keep doing just that.
– – –
(Last week: 13)
10. Terry Wilson, Kentucky
In Kentucky's first 2 games, Wilson accounted for 281 and 280 yards, respectively – the 2nd- and 3rd-best totals of his career – in a pair of deflating losses. On Saturday, he accounted for just 123 yards in a lopsided UK win over Mississippi State in which the Wildcats as a team averaged a whopping 3.0 yards per play. That bumped his record to 13-5 as a starter and should tell you all you need to know about his ideal role on this team: The less he has to do, the better.
– – –
(Last week: 10)
11. KJ Costello, Mississippi State
It's hard to recall another player* whose stock soared as high and crashed as hard in as little time as Costello's. Two weeks ago he was the toast of college football, an instant Heisman front-runner, the perfect avatar for the Air Raid, the next Joe Burrow. As of Monday, his official status on the depth chart was "we'll see."
(* Kenny Hill, maybe? But even Hill, in all his infamy, managed to sustain the "September Heisman" hype in 2014 through midseason before succumbing to the death spiral that made him the cautionary tale of the decade.)
Costello's outing in Saturday's 24-2 loss at Kentucky was every bit the nightmare the final score suggests: His 55 attempts yielded just 232 yards (a dismal 4.2 yards per attempt), 1 completion of 20+ yards and 4 interceptions, including his third pick-6 in as many games. He barely missed adding the 4th when UK's Joshua Paschal ran out of gas at the end of a 76-yard return to the MSU 2-yard line. (The Wildcats' offense punched it in on the next play.) For the second week in a row, he struggled to sustain drives against a defense content to remain in bend-don't-break mode and continued to look flummoxed by the concept of zone coverage. And for the first time in Mike Leach's 232 games as a head coach, his offense failed to score a point.
Costello's fate might be sealed if not for the fact that the primary backup, true freshman Will Rogers, fared even worse, averaging just 2.9 yards per attempt with 2 INTs in a brief appearance in the second half. Costello returned to finish the game and remains the tentative favorite to start this weekend against Texas A&M. But this is very much a back-to-square-one situation, and where Rogers' struggles can be written off as an investment in the future Costello is on the verge of being dismissed as broken beyond repair. Saturday may be his last chance to prove he's worth salvaging.
– – –
(Last week: 4)
12. Jarrett Guarantano, Tennessee
For a few fleeting minutes Saturday, Guarantano looked like the quarterback the Vols have been waiting 4 long years to see against the likes of Georgia, connecting with his favorite receiver, Josh Palmer, on a pair of long touchdown strikes that gave Tennessee a highly encouraging, 21-17 lead at the half. It was straight downhill from there.
Azeez Ojulari did it all on this play
• Sack
• Force Fumble
• Fumble Recovery pic.twitter.com/9SwHukpM6U

— CBS Sports (@CBSSports) October 10, 2020
In the second half, Guarantano was sacked 5 times, stripped on 3 of them, and picked once under relentless pressure from Georgia's swarming front seven. On their first 6 possessions after halftime, the Vols gained 1 first down, netted –6 yards, and watched their lead dissolve into a 23-point deficit – the same dark hole their main rivals have been routinely stuffing them into for more than a decade.
It's unfair to blame Guarantano for the complete breakdown of offensive line, which given the advance hype was the bigger disappointment. But the notion that Guarantano had turned the corner into a reliable veteran presence over the course of the 8-game winning streak Tennessee rode into the game was effectively pulverized, too. At this point, he's been lingering on that corner for so long it's time to accept it's just where he Iives.
– – –
(Last week: 8)
13. Collin Hill, South Carolina
Hill turned in a perfectly fine, nondescript performance in the Gamecocks' 41-7 win at Vanderbilt, finishing 16-of-24 for 196 yards while chipping in a pair of rushing TDs for good measure – an ideal stat line for a Will Muschamp in a game controlled from start to finish by the defense and running game. There won't be many more of those, if any, so hopefully they feel like they got their money's worth.
– – –
(Last week: 12)
14. Ken Seals, Vanderbilt
Seals is a true freshman playing out of sheer necessity for an overmatched team that's been outscored 99-26 over its first 3 games; it's going about as well as you'd expect.
Ken Seals: not a blocker. pic.twitter.com/85soHVQM9o

— Christian D'Andrea (@TrainIsland) October 10, 2020
To his credit, when not whiffing on blocks, Seals is surviving. He's passed the "intriguing potential" test by virtue of a handful of plus throws, and he wasn't picked in the loss to South Carolina after serving up 4 INTs the previous 2 weeks. Under the circumstances, anything he manages to accomplish beyond that is gravy.
– – –
(Last week: 14)