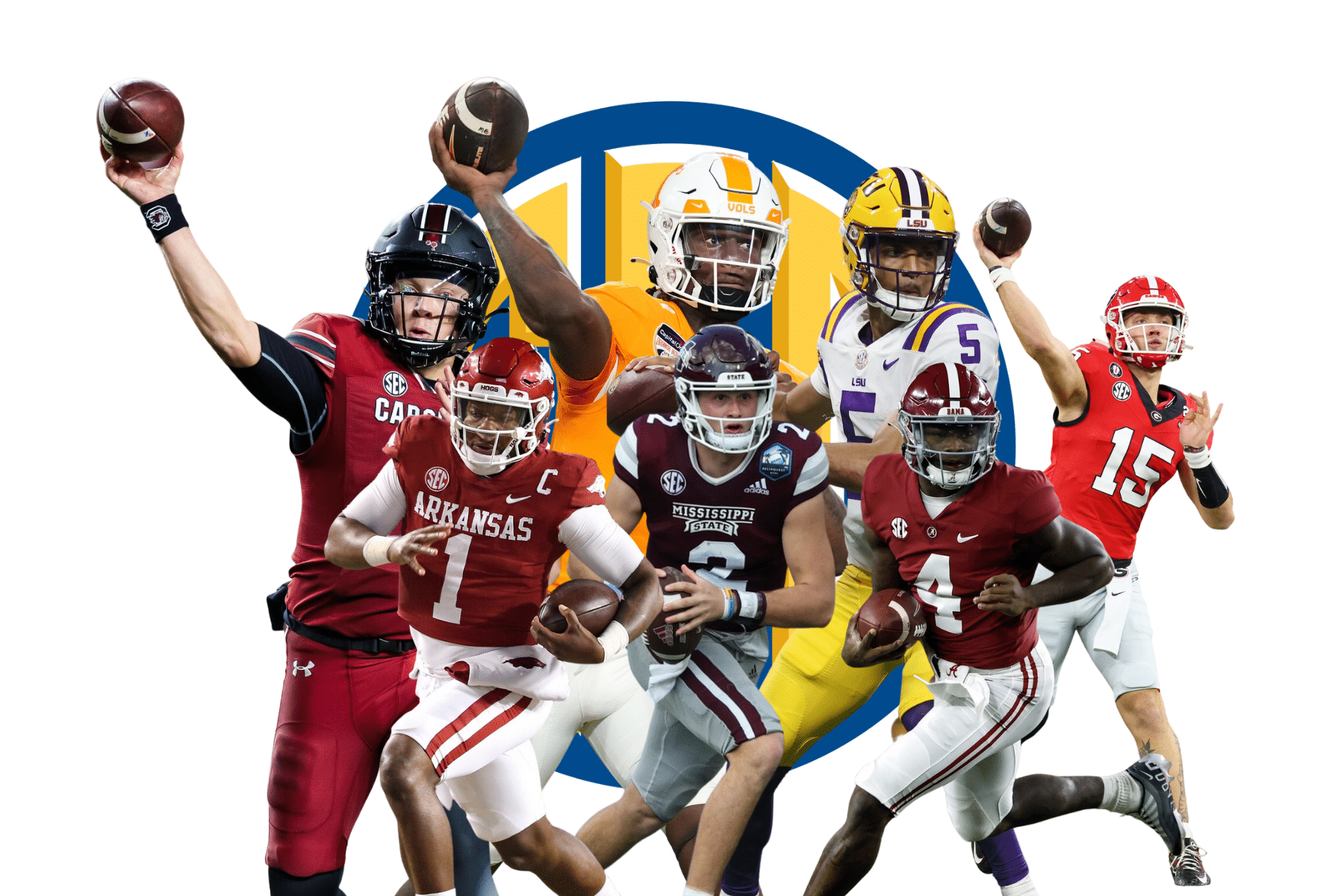 SEC
SEC QB Power Rankings, Week 5: Georgia fans are still getting to know Carson Beck. When will they know if they can trust him?
Quarterbacks: There are a lot of them! Each week throughout the season, we'll help you keep the game's most important position in perspective by ranking the SEC starters 1-14 according to highly scientific processes and/or pure gut-level instinct. Previously: Week 1 … Week 2. … Week 3 … Week 4.
1. Jayden Daniels, LSU
This is not the most star-studded class of SEC quarterbacks compared to the past few years — not yet, anyway — but if there's a plausible Heisman candidate on this list clearly Daniels is it. He continued to separate from the pack against Arkansas, lighting up the Razorbacks for 320 yards and 4 touchdowns on just 29 attempts in a come-from-behind, 34-31 LSU win. At one point, the Tigers trailed 13-3 with less than a minute to play in the first half; from that point on, Daniels orchestrated 4 consecutive touchdown drives covering 75 yards apiece, followed by a 72-yard march to set up the game-winning field goal.
His growth as a downfield passer can hardly be overstated. In 2022, per Pro Football Focus, he finished 16-for-42 on attempts of 20+ yards with 5 touchdowns for the entire season. Through 4 games this year, he's 13-for-18 on deep shots with 8 touchdowns, matching last year's total in the past 2 weeks alone. His average gain on those attempts has more than doubled, from 12.3 yards last year to 28.5 yards, best in the nation among Power 5 quarterbacks with at least 5 attempts. Combine that with the mobility and efficiency that marked him as a rising star by the end of last season, and he's on his way to becoming the complete package.
– – –
(Last week: 1⬌)
2. Spencer Rattler, South Carolina
Rattler was nearly flawless on Saturday night, finishing 18-for-20 for 288 yards, 3 TDs, zero turnovers, and an astronomical 260.5 passer rating in a 37-30 win over Mississippi State. Beyond the raw stat line, though, the headline was his emerging rapport with 5th-year wideout Xavier Legette, who accounted for nearly 2/3 of Rattler's output (189 yards) on just 5 catches. In fact, the majority of that came on just 2 catches: A 75-yard touchdown strike in the first quarter …
To. The. House. https://t.co/mFrD9W0sZp pic.twitter.com/bEg1hCy5e7

— Gamecock Football (@GamecockFB) September 23, 2023
… and a 76-yarder in the third that represented the two longest completions of Rattler's career.
XAVIER LEGETTE DID IT AGAIN?

— PFF College (@PFF_College) September 24, 2023
With that, the 6-3, 227-pound Legette moved into the national lead with 556 receiving yards for the season, eclipsing his total over his first 4 years on campus combined. If he and Antwane "Juice" Wells — still nursing a foot injury — can stay on the field at the same time, their big-play potential combined with Rattler's blue-chip arm can pose problems that South Carolina's offense hasn't made opposing defenses think about in a long time.
– – –
(Last week: 4⬆)
3. Jaxson Dart, Ole Miss
Few teams embrace play-action and RPOs more enthusiastically than Ole Miss, and the most telling aspect of Dart's performance in 2022 was the gap in his efficiency on play-action passes vs. straight drop-backs. Through 4 games this year, the gap is a chasm: Per PFF, his completion percentage on play-action attempts (71.2%) is 20 percentage points higher than on straight drop-backs (51.1%), and his yards per attempt improves by a whopping 8.6 ypa. When the running game falters, as it did in Saturday's 24-10 loss at Alabama, the whole operation looks out of sync — starting with the pass protection up front.
– – –
(Last week: 2⬇)
4. KJ Jefferson, Arkansas
Jefferson played up to his stature in the Razorbacks' upset bid at LSU, keeping the Hogs in a game that amounted to both offenses trading scores for the last 3 quarters despite facing a heavy assault from the Tigers' front four. After going 3-and-out on its opening possession, Arkansas scored on 6 of its last 7 non-half-ending possessions. (The one exception, an interception in the first quarter, was followed by what would turn out to be the game's final defensive stop on either side.) The difference: Arkansas settled for a couple of chip-shot field goals in the first quarter on drives that stalled out inside the LSU 10-yard line, and Jayden Daniels got the ball last in the fourth.
– – –
(Last week: 3⬇)
5. Carson Beck, Georgia
For the starting QB on the nation's consensus No. 1 team, Beck has kept a relatively low profile. What can we discern about his game so far?
Like his team, Beck has been pleasantly warm in the early going without threatening to raise the temperature too much. Among SEC starters, he ranks 5th in Total QBR, 5th in overall PFF grading, and 6th in pass efficiency — a tick down from Stetson Bennett's lofty perch in those columns the past 2 years, but certainly no reason for alarm. The Bulldogs' 49-21 romp over UAB was his best game yet: 22-for-32, 338 yards, 3 touchdowns, no interceptions, plus a 4th TD as a runner.
More important, he was finally in sync with the Dogs' one truly indispensable talent, Brock Bowers, who delivered his first above-the-fold performance of the young season with 9 catches (on 9 targets) for 121 yards and 2 touchdowns.
Brock Bowers is so damn good.#GoDawgs
pic.twitter.com/pqsWR4jiE3

— Logan Quinn (@lquinn1181) September 24, 2023
The fact is, it's difficult to think too much about Georgia at this point without taking one look at the schedule and auto-simming the defending champs directly into the Playoff. To that end, it's tempting to ignore Beck's good-not-great output in favor of reheating all the old Bennett/Fromm takes concerning his potential for leveling up in the postseason.
Drill down, and sure enough a distinct "game manager" vibe emerges: Per PFF, Beck ranks 13th among SEC starters in average depth of target (6.9), and last in the percentage of his attempts that travel 20+ yards downfield (9.3%). He's the conference's lowest-graded passer on those attempts, too, despite posting a solid grade overall. For now, anyway, he seems unlikely to scare any CFP-caliber defense in that capacity.
But the defenses he's faced to date (UT-Martin, Ball State, South Carolina and UAB) fall so far below that standard that attempting to glean anything meaningful beyond the scoreboard is an exercise in futility.
If presiding over a convincing second-half comeback against the Gamecocks redeemed a sluggish first half, what's left? Conservative game plans against badly outmanned underdogs? There's still 2 months and an escalating series of tests to pass, beginning this weekend in his first career road start at Auburn, before any lingering questions about his big-game bona fides start to become real. He can't do anything to answer them until the time comes, but as long as he keeps posting passing marks, there's very little doubt that he's going to get the chance.
– – –
(Last week: 6⬆)
6. Brady Cook, Missouri
Cook was arguably the SEC's most improved quarterback over the course of last season, and the upward trajectory has carried over. In Week 3, he turned in his first 300-yard passing game, throwing for 356 and 2 touchdowns (both to fast-emerging WR Luther Burden III) in a dramatic upset of Kansas State. On Saturday, he nearly matched that number against Memphis on 10 fewer attempts, finishing with 341 yards and 2 more scores — neither of them to Burden, who didn't find the end zone Saturday despite coming very close in another electric outing.
In case you were wondering, this is what 76 yards look like @_SpeedyQuis ‼️#Mizzou 7, Memphis 0 | Q1 | #STP #MIZ?? pic.twitter.com/UpNMfQjqrM

— Mizzou Football (@MizzouFootball) September 24, 2023
Cook's yards per attempt (13.6), efficiency rating (213.0), and Total QBR rating (90.4) all represented career bests, and put one more weekend between his rising stock and the preseason doubts that he can be more than a replacement-level SEC starter. The schedule gets significantly steeper after this week's trip to Vanderbilt, but on the other side of last year's growing pains, he's on the verge of inspiring actual confidence.
– – –
(Last week: 7⬆)
7. Devin Leary, Kentucky
The jury remains very much out on Leary, who has presided over a 4-0 start in Lexington despite red flags all over the stat sheet: He's thrown 5 interceptions in 4 games and posted QBR ratings well below the Mendoza line against Ball State (44.2), Eastern Kentucky (32.9) and Vanderbilt (28.4). On the other hand, he's been fairly explosive, averaging 14.5 yards per completion — a full yard-and-a-half more than Will Levis in 2022. The verdict is due soon with 5 ranked opponents due up in the next 6 games.
– – –
(Last week: 8⬆)</em
8. Joe Milton III, Tennessee
Milton ticked off another box on the Freak Specimen checklist Saturday with an 81-yard touchdown run — a record for a Tennessee quarterback — on the first play of the Vols' eventual 45-14 win over UT-San Antonio.
GRACIAS from my ❤️. I said it before and I'll say it again. God gets the credit and yesterday we ALL made history. @VolNetwork @Vol_Football and @UTKnoxville belongs with EVERYONE. Enjoy the FIRST EVER OFFICIAL SPANISH CALL.
?#VAMOSVOLS?

Thank you @SECNetwork for the spot. pic.twitter.com/SuMZ4i1y6R

— Carlos (Spanish Voice) Lopez? (@CarlosOnTheGo12) September 24, 2023
By my estimation Milton covered the last 80 yards in approximately 9 seconds (14:52 on the game clock to 14:43) despite his admission after the game that he "blew a tire" near the end. Remember, that's at 6-5, 235 pounds. If he manages to straighten out his accuracy for any remotely sustained stretch this season (a huge if at this late stage of his career, I know), there's as much money to be made off his raw athletic tools as any QB in America.
– – –
(Last week: 9⬆)
9. Jalen Milroe, Alabama
Milroe, too, is a player whose enormous gifts remain inseparable from his inconsistency. The first half of his return to the starting lineup vs. Ole Miss was grim: A promising early drive was snuffed out by a ghastly interception, and Bama's next possession lost 21 yards on 3 plays after a blocked punt set the offense up at the goal line. The Crimson Tide trailed at halftime, 7-6. In the second half, though, Milroe served up an immediate reminder of why patience with his growing pains might be worth it:
MILROE TO BURTON. 54 YARDS.

The concentration on the catch ? @AlabamaFTBL pic.twitter.com/XY6SGCONMK

— CBS Sports (@CBSSports) September 23, 2023
That was the spark that ignited the offense in the third quarter, resulting in 3 consecutive scoring drives in an eventual 24-10 win. Altogether, Milroe was 6-for-7 passing in the second half for 132 yards and 1 touchdown, a 33-yard strike in the face of a free rusher who arrived in full force just a split-second too late.
Right on the ???@JalenMilroe ➡️ @JalenHale8

?: CBS pic.twitter.com/2v4NHm9uSd

— Alabama Football (@AlabamaFTBL) September 23, 2023
Those two throws, in addition to his game-changing mobility, are the reason Milroe's upside continues to prevail over the frustration. Big plays mean margin for error: He doesn't have to be perfect to come out in the black. By all indications, he's not going to be anytime soon. But as long as he can do that, he's the one guy on hand who gives the Tide a chance every time out.
– – –
(Last week: 10⬆)
10. Will Rogers, Mississippi State
A tale of two Saturdays: In Week 3, Rogers finished with a career-low 103 passing yards on a miserable afternoon against LSU, setting off alarms over the direction of the offense. In Week 4, he rebounded by throwing for throwing for 487 yards on 48 attempts at South Carolina — a new career high, including 5 completions on attempts of 20+ yards.
Tulu Griffin's on one tonight for MSU! pic.twitter.com/2PFv651GLT

— Cam Mellor (@CamMellor) September 24, 2023
The result was the same: Another record-breaking performance by the opposing QB, another Mississippi State loss, and another blow to the prospect of eking out bowl eligibility. Still, after a deflating start to his senior season, it was reassuring to see Rogers looking like his old, highly productive self for the first time under the new staff. The Bulldogs are not good, but at least it's clear that they're at their best when they let their long-tenured, record-breaking quarterback cook.
– – –
(Last week: 13⬆)
11. Graham Mertz, Florida
Mertz has settled in nicely following his rocky debut at Utah, completing 83.1% of his attempts for 9.9 yards a pop over the Gators' past 3 games. Of course, the turnaround has come in highly favorable conditions courtesy of the defense, the ground game and the home crowd at The Swamp, making the quarterback's job considerably easier than the uphill climb he faced in Salt Lake City. (The fact that 2 of those 3 games were against Southeastern Louisiana and Charlotte hasn't hurt, either.) This weekend's trip to Kentucky is a much steeper test against another opponent that's at its best in a rock fight.
– – –
(Last week: 12⬆)
12. Max Johnson, Texas A&M
Conner Weigman's season might be over after suffering an ankle injury in a 27-10 win over Auburn.
Toughest of news for A&M football. Per everything I've heard since yesterday and from sources very close to situation, QB Conner Weigman's foot injury is, in fact, a season-ender for the emerging SEC star. Weight-bearing bone and roughly a 3.5 month recovery.

— Billy Liucci (@billyliucci) September 27, 2023
All signs point to Johnson earning his 18th career start against Arkansas. An understudy with that kind of experience is a luxury: Johnson is 10-7 as QB1, including a 23-21 win over Arkansas last year after replacing the ineffective Haynes King. The following week, he suffered a season-ending hand injury, and A&M's season skidded into a ditch. Now, he's like the equivalent of a journeyman backup in the NFL — hardly a threat to displace a healthy, younger, more talented starter, but more than capable of hitting his marks against a struggling division rival in a pinch. A&M needs him now more than ever. Surviving this weekend with SEC West ambitions intact and Alabama on deck may as well be the whole reason the Aggies kept Johnson around.
– – –
(Last week: n/a)
13. Payton Thorne, Auburn
Auburn fans weren't exactly holding their breath for Thorne to take the conference by storm after portaling in from Michigan State. Still, even with the bar set at the lowest rung his first SEC start was a letdown: Thorne's 18 drop-backs at Texas A&M yielded nearly as many sacks (5) as completions (6), as well as a career-low 80.8 passer rating before he bowed out in the third quarter.
As a unit, the offense managed 200 total yards — just 56 of them through the air, on an atrocious 2.4 yards per attempt — and didn't come close to mounting a sustained drive. (Auburn's lone touchdown came on a fumble return by the defense, and the lone field goal followed a 3-and-out in A&M territory.) The longest completion gained 13 yards, and the Tigers didn't finish a possession inside A&M's 35-yard line until the final throes of garbage time.
Thus begins what looks like another lost year at the position. As little as Thorne brings to the table, his 16-10 record as a starter at Michigan State still gives him a leg up on Robby Ashford, who struggled to complete passes in 2022 and hasn't provided much spark this year in a Wildcat role. Sophomore Holden Geriner has barely seen the field.
Hugh Freeze, who waited until after spring practice to pursue the veteran transfer everyone and their mother had been anticipating since last October, blamed himself. Regardless of who's taking the snaps, they still have to work with a shambolic o-line and anonymous receivers. I'm sure it's possible to imagine a more depressing state of affairs heading into Georgia week — like, Bryan Harsin could still be the had coach — but not by much.
– – –
(Last week: 11⬇)
14. AJ Swann or  Ken Seals, Vanderbilt
Brutal weekend for Swann, who averaged 4.7 yards per attempt against Kentucky with 3 interceptions, 2 of which were returned for touchdowns in a 45-28 defeat. That's 3 consecutive games now in which the opposing defense has scored directly off a Vandy turnover — not including an interception that set up a short-field Wake Forest touchdown at the 10-yard line in Week 2. Swann is questionable for this weekend's tilt against Missouri, opening the door for Seals' triumphant (?) return to the starting lineup for the first time in nearly 2 years.
– – –
(Last week: 14⬌)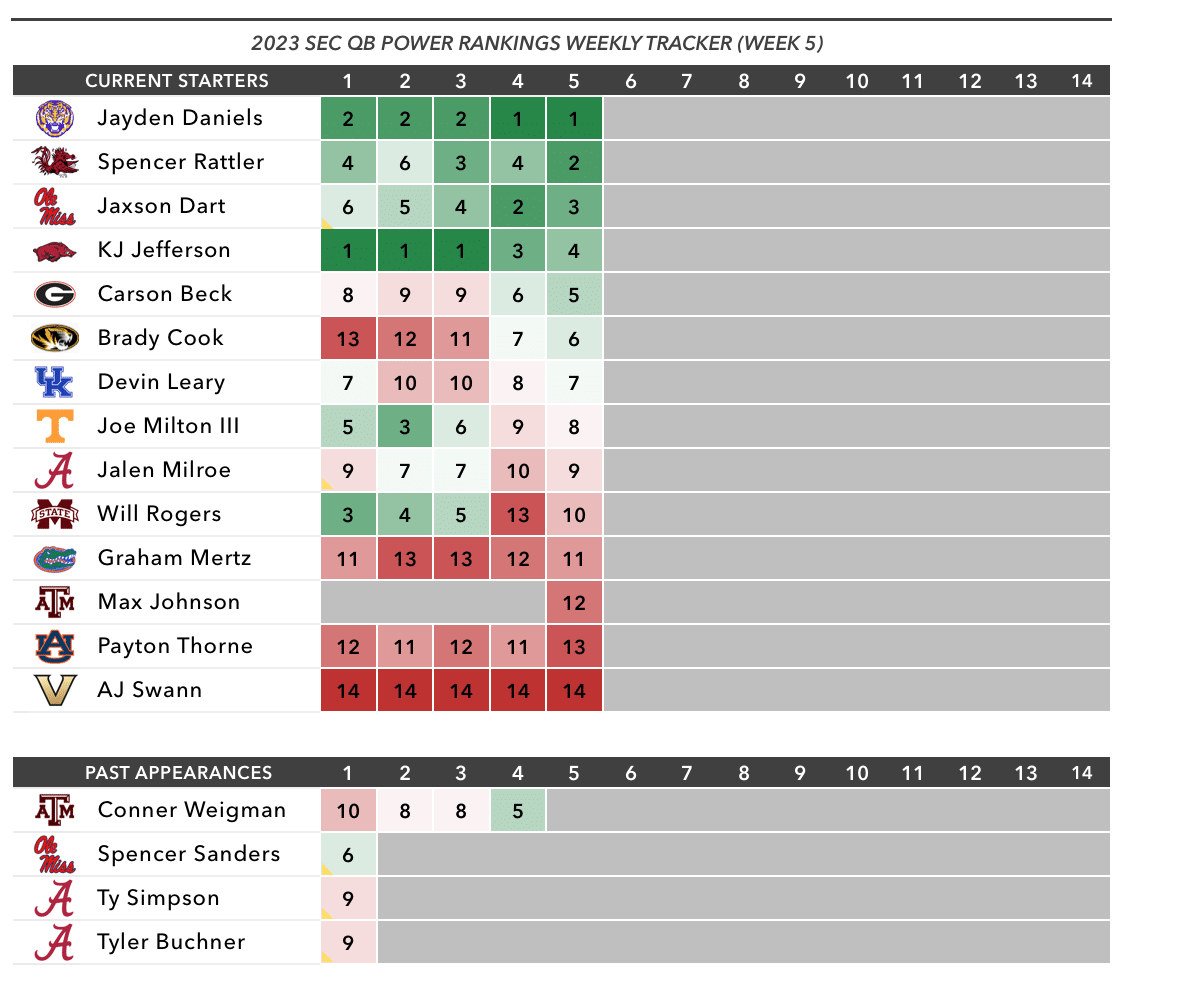 • • •