SEC
SEC National Signing Day winners and losers
See, I told you National Signing Day would still be eventful.
Hopefully you followed along for all the flips, viral comments and moments here on SDS.
But hey, if you didn't, I've got good news for you. I wrote about the SEC winners and losers from Wednesday!
Keep in mind that I can't see into the future. This is strictly about whether teams had positive or negative days based on who they were targeting.
So let's speculate wildly!
WINNERS
Georgia
This sequence is pretty much par for the course with Georgia these days. The No. 1 receiver in the 2019 class, Jadon Haselwood, came out and said he thought the Georgia coaching staff was "fake" after dropping his commitment. Haselwood tried to walk the comment back, but clearly, it wasn't the best look for the Dawgs.
So how did Kirby Smart respond? By going out and landing a different 5-star receiver on Wednesday.
Even better, he stole a longtime Auburn commit … who's the No. 1 recruit from the state of Alabama. Auburn players/fans weren't too happy about that (I'll get to that later).
Getting George Pickens after losing the commitment from Haselwood and with Riley Ridley, Mecole Hardman and Terry Godwin off to the NFL is huge. That had to be a major selling point for Smart, who continued his trend of providing at least 1 signing day surprise.
Georgia didn't have a perfect day because it watched Auburn get a commitment from Mark-Antony Richards, but still. Pickens was the top remaining target for the Dawgs, and they got him. That's a big-time win, especially when many spend the last month wondering if Smart was losing a step.
Florida
I don't want to assume anything, but I do want to assume that newly-signed 4-star cornerback Kaiir Elam is Florida fans' new favorite player.
Great crootin day for the Gators. After flipping Khris Bogle from Bama this morning, Florida adds top 50 commit Kaiir Elam (who intentionally or unintentionally hits UGA with a subtle pump fake) #NSD19 pic.twitter.com/EJiWjB7Gb3

— Marc Whiteman (@MarcWhiteman) February 6, 2019
Savage.
To troll Georgia like that is one thing. But to do so after the battle that ensued to land the top-rated unsigned defensive back is another thing. This was weeks removed from Georgia stealing Florida defensive backs coach Charlton Warren in the midst of Elam taking an official visit to Athens. For the Gators to still land the North Palm Beach (Fla.) cornerback was a major in-state victory for Dan Mullen.
In addition to Elam, the Gators kicked off the day by getting Alabama commit Khris Bogle to flip. The 4-star defensive end continued Mullen's strong finish to closing in the Sunshine State.
The fact that the Gators wound up with a Top 10 class in Mullen's first full cycle is a promising sign after the year that was.
Ole Miss
Six weeks ago, I had Ole Miss as one of my National Signing Day losers. Heading into Wednesday, there was a possibility that was going to continue, especially if they lost both Jonathan Mingo and Jerrion Ealy.
Yeah, about that.
The Rebels/Landsharks could make a good case to be the SEC winners of Wednesday after getting both to sign, as well as flipping Tennessee commit LeDarrius Cox. That was 2 days after Ole Miss flipped 4-star Georgia quarterback commit John Rhys Plumlee.
Ealy was the major victory of the day. He dropped his Ole Miss commitment after going off in the Under Armour All-America Game, and it looked like Clemson was the new favorite. But despite late pushes from Clemson, Alabama and Mississippi State, Ealy went back to Ole Miss because "it felt like family."
Now, of course, Ole Miss has 4 months to convince Ealy that playing college football and baseball is better than becoming an instant millionaire and playing minor league baseball.
That might be Matt Luke's biggest victory yet if that can happen.
Tennessee
Have a day, Jeremy Pruitt. Tennessee went after 3 of the top remaining unsigned recruits on Wednesday. One came to campus for an official visit just before Wednesday (Pickens) and ultimately picked Georgia. But the other 2? They both turned down Alabama for Tennessee.
The Vols got commitments from longtime Alabama lean and 4-star linebacker Henry To'oto'o and 5-star offensive tackle Darnell Wright. That's a pair of Top 50 recruits that Pruitt closed with, both of whom will have a chance to play immediately.
It was especially important that the Vols got help up front with all the offensive line issues they had last year. Adding a pair of 5-star offensive linemen is something that the likes of Alabama and Georgia would do, not a team that missed the postseason in consecutive years.
Tennessee fans have to be feeling ecstatic about the offseason that Pruitt had. Not only did he fill some immediate needs, but he also added Jim Chaney and Tee Martin to the staff.
The Vols hype train is off and running.
LOSERS
Auburn
I realize Auburn fans are gonna crush me for this, so let me start with the good stuff.
Four-star Mark-Antony Richards picked the Tigers over Florida and Georgia. That's a Top 100 recruit who could provide an immediate shot in the arm to Auburn's suddenly lackluster rushing attack. Surely new Auburn running backs coach Cadillac Williams liked that news.
The other good news was that former Mississippi State commit and LSU target Charles Moore also picked the Tigers. What was weird was what he said his reasoning was for picking Auburn over LSU.
"…If I was to go to LSU, me being the person that I am, I probably could have got in trouble or something could have came up. Things could've just happened. I actually feel like Auburn is where my blessing is."

— Tyler Horka (@tbhorka) February 6, 2019
I realize that adding Moore is a nice win for Auburn, and I'm not here to hate on that. But it's not exactly a great public look for a kid to say, "well, I would've had more fun at the other school so I went to the place that had nothing else to offer but football." Like, Auburn's marketing department isn't going to put that quote on a tweet to try and sell recruits.
You know what other tweets won't make it to any graphics anytime soon? The tweets that Auburn players fired off when Pickens flipped to Georgia: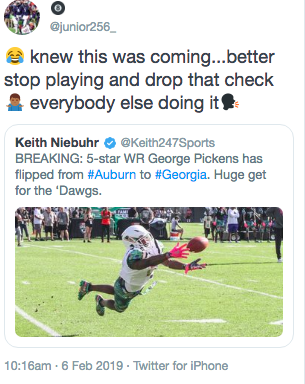 That's a petty look to tweet those things right after a kid announces his college choice. That's every bit as bad as fans tweeting at recruits. Whether that's true or not, to take this holier-than-thou approach is a bit strange.
That's not saying Georgia cheats, and that's not saying Georgia doesn't. That's not saying Auburn cheats, and that's not saying Auburn doesn't. It's just saying that's a sore loser thing to say publicly in that moment.
For what it's worth, I already praised Malzahn for putting together a class this strong of a class amidst talk about his long-term future on The Plains. But does he wish Wednesday went a little better? I'm sure he does.
Kentucky
Before Kentucky fans get defensive, consider this. This season converted me into a full-fledged Mark Stoops believer and I will never, ever, ever pencil in his team for 5 wins again. That guy doesn't need a bunch of 4-star recruits to win games, and he's one of college football's better coaches for that very reason.
But would he have liked to have gotten commitments from a pair of 4-star targets Wednesday? Absolutely. Instead, they both committed to LSU.
Four-star receiver Devonta Lee picked the Tigers after taking an official visit to Lexington in December. And even though Jay Ward was projected to end up at Kentucky in the 247sports.com crystal ball after taking his official visit to Lexington a couple weeks ago, he also picked LSU (I realize the 247sports composite doesn't have Ward as a 4-star recruit, but 247sports' rankings do).
That's the battle Stoops is still fighting. Even in a breakthrough year when he wins 10 games, his program doesn't have the history, NFL pedigree or atmosphere that LSU does. This is a key time in Stoops' tenure to build off that 2018 season and elevate the program. That's why they did things like buy billboards on Times Square.
Kentucky did land a talented cornerback out of Pennsylvania in MJ Devonshire, but Kentucky still missed out on having a banner day and finishing with a Top 30 class.