SEC
The Ultimate SEC Championship Preview: Georgia's second verse vs. Auburn will be better than the first. But will that be enough?
We're back, ready for Round 2. For entertainment's sake, let's hope it goes better than the first one.
If there was any suspense in that game, it was only over how wide the margin of Auburn's upset of then-undefeated Georgia would turn out to be (23 points in the end, although it felt like more and probably could have been) and what it meant for the Tigers' chances of crashing the Playoff conversation with two losses. The Iron Bowl gave us our answer: Auburn is for real, and for the first time in a long time, so is the sense of genuine drama surrounding the SEC title game. It's been awhile.
Consider that, over the past three years, Alabama not only won all three trips to Atlanta but thoroughly dominated them to an extent that, in the supposedly parity-driven SEC, isn't supposed to be possible; the Crimson Tide were favored by at least two touchdowns in 2014, '15, and '16, and thumped the East champ by at least that much each year.
By contrast, Saturday's rematch is a competitive, nationally relevant SEC Championship Game with high stakes on both sides — winner advances to the College Football Playoff, no questions asked; loser preps for a consolation game elsewhere in the New Year's Six — which hasn't been the case since 2013, when Auburn and Missouri played for what turned out to be a spot in the last BCS title game. That was long enough ago that the Tigers only have one player left on the depth chart who was also on the roster in that game (kicker Daniel Carlson, now a fifth-year senior) and have spent considerable energy since debating whether or not they ought to fire the coach who led them there.
That debate is over now, and if the oddsmakers are right so is the blowout streak in the conference's biggest annual showcase. Despite the margin in the first meeting, Auburn is just a 2.5-point favorite in Atlanta, a concession both to the friendlier surroundings for Georgia and the looming uncertainty in Auburn's backfield.
It's also a reflection of the fact that, based on everything else we've seen from Georgia this year, the Bulldogs are legitimately good — at least, too good to be embarrassed for the second time in less than a month. Whether that turns out to be the case, we won't know until the sun begins to set on Saturday night. But it is the most promising setup we've seen on this particular stage in years, between two fan bases who are genuinely stoked to be there and genuinely despise each other on principle. Who can ask for better than that?
WHEN AUBURN HAS THE BALL …
The most important question for either team on either side of the ball is the status of Kerryon Johnson's shoulder. Johnson initially suffered the injury last week in the third quarter, on a goal line collision with Alabama's Ronnie Harrison; a few series later, he started toward the line on his 30th carry of the game and immediately crumpled to the turf in pain, untouched.
Auburn is describing Johnson as "day to day," which tells us nothing except that he hasn't been officially ruled out. Teammates have assured reporters that, for a game of this magnitude, "he'll be fine," which, ditto.
It's hard to project what Auburn's offense will look like if Johnson can't play, or can't handle his usual workload, or is too banged up to run with his usual oomph. No individual player in the SEC has been more integral to his team's success this season, including quarterbacks; nationally, Johnson averages more touches per game (27.1) than any other player, despite missing two full games in September (including the Week 2 flop at Clemson) with a bad hamstring.
He was the no-brainer MVP of the first meeting with Georgia, racking up a career-high 233 yards from scrimmage on 34 touches, and put in a physical, workmanlike effort against Alabama that transcended the final stat line — according to Pro Football Focus, Johnson forced seven missed tackles against the always sure-tackling Tide and earned 76 of his 104 yards on the ground after contact. That may have been the first case in decades of a back legitimately advancing his Heisman campaign in a game in which he averaged just 3.5 yards per carry.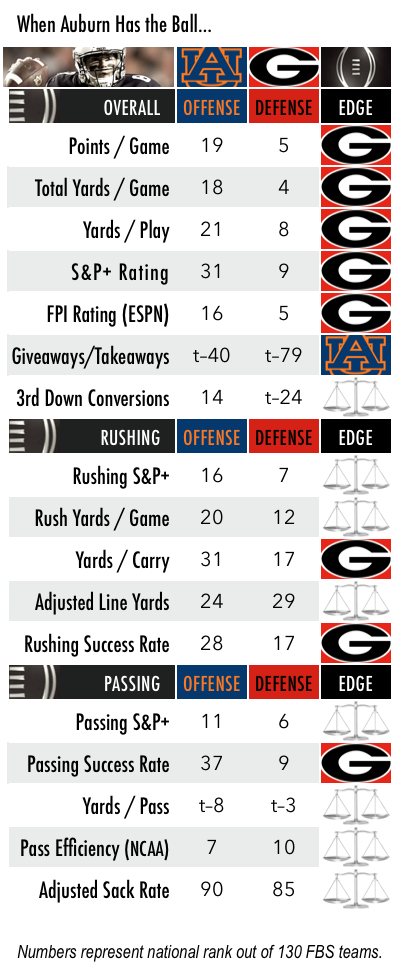 The depth chart behind Johnson is precariously thin. Last year's All-SEC workhorse, Kamryn Pettway, remains out indefinitely with a shoulder injury of his own; he hasn't seen the field since mid-October and presumably won't again this season unless it's in a bowl/Playoff game, if at all. That leaves just one other back, sophomore Kam Martin, who's earned significant playing time this year, backed up by a pair of untested freshmen, Malik Miller and Devan Barrett, who've picked up just a handful of carries between them in garbage time. Whether they have any idea how to pick up a blitz in pass protection is anybody's guess, but ideally the Tigers would rather not have to put them in any position to find out.
Given how thoroughly Auburn whipped the Bulldogs up front the first time around, it's worth reiterating that Georgia's defense is an unusually veteran unit — the entire starting lineup consists of third, fourth, and fifth-year players — and continues to rank among the best in the nation in almost every major category. Even if Kerryon Johnson shows up to the rematch at a level approximating full speed, the Tigers' rushing output in that game (249 yards on 5.7 per carry, excluding sacks) was far enough beyond UGA's typical yields against the run that coming anywhere near those numbers again seems optimistic. And so far, at least, so goes the ground game, so goes Jarrett Stidham.
By and large Stidham has lived up to the preseason hype: In conference games, he leads the SEC in completion percentage, yards per attempt, TD-to-INT ratio, and overall efficiency. He's also coming off arguably the best November of any college quarterback this side of Baker Mayfield, posting the best efficiency rating of any opposing QB this year against each of Auburn's past three SEC foes, Texas A&M (194.1), Georgia (190.8) and Alabama (146.1). After clearly outdueling Jalen Hurts, the same guy who introduced himself to the rest of the country by getting buried beneath the Clemson pass rush back in September now looks like a lock to finish first-team All-SEC.
Still, the way Auburn's offense is designed it's almost impossible to separate Stidham's growth from the running game, and from Johnson's consistency, in particular.
Everything the Tigers do revolves around the run, including the bulk of the passing game, which relies heavily on play-action and misdirection (specifically the jet sweep, a long-time Malzahn staple, among other bells and whistles) to freeze linebackers and safeties and generate one-on-one match-ups downfield. It's no coincidence that Stidham has thrived on first down, where he averages more than 10 yards per attempt and nearly 13 per completion, or that his production has plummeted on third-and-long:

The far right column, reflecting completions of 25 yards and longer, tells the story: This is an offense that loves to take its shots downfield on ostensible run downs.
Increasingly, those shots have gone in the direction of sophomore Darius Slayton, a 6-2 strider who makes up for a relatively dismal catch rate (38.6 percent on passes where he's the intended target) with a reliable penchant for big plays — Slayton leads the nation at 25.5 yards per catch, and his jaw-dropping, 42-yard touchdown grab in the first meeting vs. Georgia may have been the Tigers' play of the year to date.
Darius Slayton, this is a ridiculous catch. pic.twitter.com/rxbEK1ltk9

— CBS Sports (@CBSSports) November 11, 2017
That play came just after a penalty by Georgia's punt return team gifted Auburn a fresh set of downs following a three-and-out, exactly the kind of moment that Malzahn often chooses to go for a quick downfield strike that will capitalize on the emotional shift and accelerate the sense of momentum. Slayton's catch was Auburn's first touchdown of the game and arguably the turning point when the Tigers really began to pull away. Naturally it came on 1st-and-10.
The question for Stidham (as for his counterpart on the other sideline) is what happens if the running game stalls? Excluding sacks, the Tigers have piled up at least 230 yards rushing on eight of 11 FBS opponents, and never trailed in the second half of any of those eight games.
In the other three it's been much dicier. Against Clemson — again, without Johnson in the lineup — Auburn moved the ball initially, but quickly bogged down in the first half and gradually fell apart, failing to put together consecutive first downs at any point over the last three quarters; Stidham finished 13-of-24 for 79 yards (3.3 per attempt) and was infamously sacked 11 times in a game far more lopsided than the 14-6 final indicates.
Against LSU, Auburn raced to a 20-0 lead in the game's first 20 minutes, then spent the rest of the afternoon in steady retreat as LSU mounted one of the most improbable comebacks of the season. Before it lost the lead for good in Baton Rouge, Auburn notoriously kept the ball on the ground on 17 consecutive first-down plays, on which they averaged just over 3 yards per carry; faced with a steady diet of obvious passing downs, Stidham completed just 3 of his final 17 attempts for 21 yards. It wasn't quite as dramatic to watch unfold as the sack parade at Clemson, but in the end it was another bona fide meltdown on the road.
Against Alabama, the story was much different: Instead of attempting to slug it out with Bama's vaunted front seven, the Tigers made a deliberate effort to get Stidham in rhythm early with a barrage of short, safe throws that neutralized the pass rush and put the onus on his receivers to make plays in space. The receivers, especially screen specialist Ryan Davis, held up their end of that bargain. The result was a solid stat line (21-of-28, 237 yards, 0 TDs, 0 INTs) with minimal risk — virtually all of Stidham's production came on throws that traveled less than 10 yards past the line of scrimmage:

That doesn't represent the sum total of Auburn's passing game against the Tide; there were also a handful of scrambles — mobility-wise, the Iron Bowl was Stidham's best outing by far— three throwaways under pressure, one sack, one pass tipped at the line, a long misfire that was erased by an unrelated penalty on Alabama, and a busted play on which Stidham desperately flipped the ball forward to Johnson a full 12 yards behind the line. (Johnson turned a potential disaster into no gain.) But it does reflect a conscious effort to get the ball out of Stidham's hands more quickly in the face of the kind of top-shelf pass rush that gave him and his o-line so many problems in the Tigers' two losses.
If Johnson can't go against Georgia, or is limited, expect them to turn to the screen game to pick up some of the slack left by their diminished potential between the tackles.
Key Matchup: Auburn C Casey Dunn vs. Georgia NT John Atkins
Of course, the most important battle is Kerryon Johnson vs. Kerryon Johnson's shoulder. But regardless of who's taking the handoffs Auburn's first priority will still be to replicate its dominance on the interior line in the first meeting.
Dunn won that round decisively, earning the highest PFF grade for that game of any Auburn player on either side of the ball. He was predictably less successful last week opposite Alabama's Da'Ron Payne. Like Payne, Atkins and fellow NT Trent Thompson will be judged far less by the stat sheet than by effectively they're able to occupy multiple blockers, allowing heat-seeking, All-SEC middle linebacker Roquan Smith to pursue freely to the ball. The more often Smith emerges from the bottom of a pile on a short gain, the more credit goes to the big guys in the middle of the line.
WHEN GEORGIA HAS THE BALL …
More than any other factor, Auburn's win in the initial meeting was defined by its dominance on the defensive line. Georgia drove 70 yards for a touchdown on its opening series; from that point on, the Bulldogs' next 10 possessions yielded nine punts, five first downs and three points.
UGA couldn't run, coming in more than 200 yards below its SEC-best average on the ground, and couldn't protect freshman QB Jake Fromm, yielding four sacks and a steady diet of pressure from every position on Auburn's front four. Aside from the fact they didn't commit a turnover, it was the Bulldogs' worst performance of the season, by a wide margin, by pretty much every conceivable measure. No other game comes close.
The good news for Georgia is that its past two games, cruise-control wins over Kentucky and Georgia Tech, have looked identical to the succession of blowouts that elevated it into the top in the Playoff committee rankings in the first place.
There's been no hint of a letdown or regression to the mean in the wake of the loss; in this case, dominance is the mean. Still, the way the Bulldogs' offense is constructed, it's almost impossible to imagine a better result on Saturday that doesn't come down to the most basic unit of measurement: The offensive line must block better. Strategically speaking, that's the sum of it.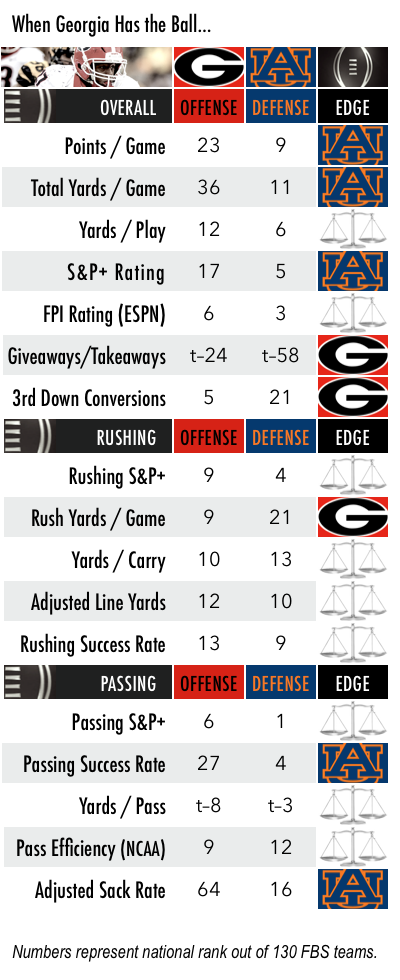 Personnel-wise, Georgia has made one change up front since the first game, replacing right guard Solomon Kindley the past two weeks with sophomore Ben Cleveland; the updated depth chart for Saturday lists Cleveland and Kindley (who is healthy) as co-starters. Otherwise, the starting lineup is the same one that got its hat handed to it last time, anchored by senior LT Isaiah Wynn, and there's no solution except for them to give back the beating they received. Because if the Bulldogs fail to establish the run again they're going to find themselves in exactly the same hole, with exactly the same futile odds of throwing their way out.
That's not to dismiss Fromm, who has been poised, precocious, efficient, etc., and fully deserves the Freshman All-America honors coming his way over the next few weeks; he's the SEC leader in pass efficiency vs. FBS opponents and has permanently relegated his 5-star predecessor, Jacob Eason, to the bench. Fromm is good. As I wrote earlier in the week, though, thanks to Georgia's prolific ground game he might also be the most sheltered quarterback in college football. Nick Chubb and Sony Michel are the meal tickets; the quarterback is the accessory. No full-time starter in the SEC put the ball in the air less often this season or accounted for a smaller share of his team's total offense.
Auburn wrecked that run-first dynamic, effectively rendering Chubb and Michel irrelevant by halftime, and proceeded to make Fromm look for the first time like just another overwhelmed freshman in his first serious road test. The rematch will be on less hostile turf, but if the Iron Bowl proved anything it's that Auburn's defense is not getting friendlier as the stakes increase — quite the opposite.
Junior DE/OLB Jeff Holland is the most productive pass rusher in the conference, if not the nation, with multiple sacks and/or QB hurries in every game this season; behind him, the secondary ranks no. 1 nationally in Defensive Passing S&P+. If they succeed again in shifting the focus onto Fromm's arm, we've already seen how that story ends.
Key Matchup: Georgia WR Javon Wims vs. Auburn CB Carlton Davis
The more I've seen of Georgia's offense this season the more impressed I am with Wims, a former JuCo transfer, who has quietly emerged as one of the best receivers in the SEC despite failing to crack the league's top 10 in any major statistical category.
That's mainly due the lack of opportunities in Georgia's ground-oriented offense: When the ball does come his way, Wims comes down with it more than 70 percent of the time for 16.6 yards per catch, several of which have been flat-out spectacular. (See this catch against Appalachian State, this catch against Florida, this catch against South Carolina, and especially this catch against Kentucky.)
In the first game against Auburn, he was the lone bright spot for Georgia after the opening series of the game, coming down with both of the Bulldogs' first-down receptions on their subsequent 10 possessions — both of them coming at the expense of Davis, a potential All-SEC pick with an obvious NFL future.
Georgia at Auburn (11/11/17)—Jake Fromm pass complete to Javon Wims for 30-yard gain pic.twitter.com/xdEANa9Opx

— College Football Clips (@CFB_Clips) November 29, 2017

Davis is a bump-and-run specialist who, at 6'1", 203 pounds, gives most receivers problems with his size and wingspan. Wims, however, is listed at 6'4", 215, and clearly boasts the athleticism to make contested catches against tight coverage. That should make for a physical, next-level match-up on the outside, and one Georgia will need to win more than twice to keep the chains moving on third down.
SPECIAL TEAMS, INJURIES AND OTHER VAGARIES
Auburn kicker Daniel Carlson was his usual, machine-like self against Alabama, hitting both of his field goal attempts in the Iron Bowl to improve to 21-of-25 for the season, including 17-of-18 on attempts from 50 yards and in. (Those numbers exclude a pair of blocks at Texas A&M.)
Carlson has also blasted 61 of his 85 kickoffs for touchbacks. As I wrote in last week's Auburn-Bama preview, he single-handedly expands the Tigers' potential scoring range by 10 yards over most college kickers and is as sure a bet for a long pro career as anyone on either side.
Across the board, though, the edge in the kicking game may belong to Georgia: The Bulldogs boast the No. 1 special teams unit in the nation, according to S&P+, thanks largely to bespectacled sophomore kicker Rodrigo Blankenship, who's connected on 13 of 15 field goal attempts and has yet to miss from inside of 40 yards.
There's also punter Cameron Nizialek, who's either forced a fair catch or dropped the ball inside the opponents' 20-yard line on an astounding 43 of his 45 punts; by comparison, only nine of those have been returned, for a total of 45 yards, and only two have gone for touchbacks. That's as good as it gets from a college punter.
Surprisingly, neither team has scored on a kickoff or punt return, although Georgia has an imminently capable threat on both fronts in Mecole Hardman Jr., a former 5-star recruit with four touchdowns on offense as both a rusher and receiver. Hardman, below, is overdue for one in the return game, and Auburn's coverage units rank dead last in the SEC on both punts and kickoffs.
Aside from Auburn's running backs (see above), both teams are relatively healthy.
Auburn linebacker Tre' Williams played through a shoulder injury against Alabama and is probable to start again; on the other side, the Tigers' offensive line appears to be completely intact after enduring near-weekly turnover in the starting lineup for the past two months.
Georgia's injury list includes just one name fans will recognize: Fullback Christian Payne, who has been held out of practice this week with an undisclosed injury and is uncertain for the game. His absence would be a significant blow to the running game, where Payne, a senior, has been a reliable lead blocker throughout his career.
BOTTOM LINE
I'm almost tempted to make two predictions for this game: One if Kerryon Johnson shows up looking more or less like himself (advantage Auburn), and a different one if he doesn't (advantage Georgia).
Auburn's offense has been a different animal since Johnson returned from his early hamstring injury, and he's been so instrumental in that success that it's hard to guess how the Tigers will even attempt to replicate it in his absence. Kam Martin is certainly a capable backup; he's yet to do anything that suggests he's up to serving as an every-down engine for the rest of the offense against a front seven on the level of Georgia's.
There's a good chance Stidham will be asked to handle more than he's had to so far in any of Auburn's 10 wins, including an increased presence as a running threat in the zone-read game.
On the other hand, if it comes down to the quarterbacks, then Stidham is the pick. And if the first meeting is any guide, he may be in a position to get by merely by avoiding any major screw-ups: Auburn's defense was the dominant unit in that triumph, and its equally punishing turn in the Iron Bowl only reinforced the premise that it's capable of carrying this team to a championship if that's what it takes. At this point, Kevin Steele's outfit is the known commodity; the burden of proof now is on Georgia's offense to demonstrate that last time was the aberration rather than the rule.
Six Predictions
• With or without Johnson in the lineup, Kam Martin earns at least 15 carries (a new season high) and acquits himself relatively well, averaging more than 4 yards a pop.
• Darius Slayton and Javon Wims both haul in catches that go viral and/or get them on SportsCenter.
• Georgia's running backs find more success than they did in the first game, in part by breaking a long run in the first half – their long gain last time covered just 10 yards – but ultimately bog down and finish with less than 150 yards as a group.
• Jake Fromm attempts 30 passes for the first time in his career; accordingly, Auburn matches or exceeds its sack total from the first game, most of them coming in the second half.
• Jarrett Stidham exceeds 300 yards passing for the first time against an FBS opponent, the majority of it coming via yards after catch.
• AUBURN WINS, 26-24
MORE SEC TITLE GAME COVERAGE: Staff predictions | Javon Wims is key