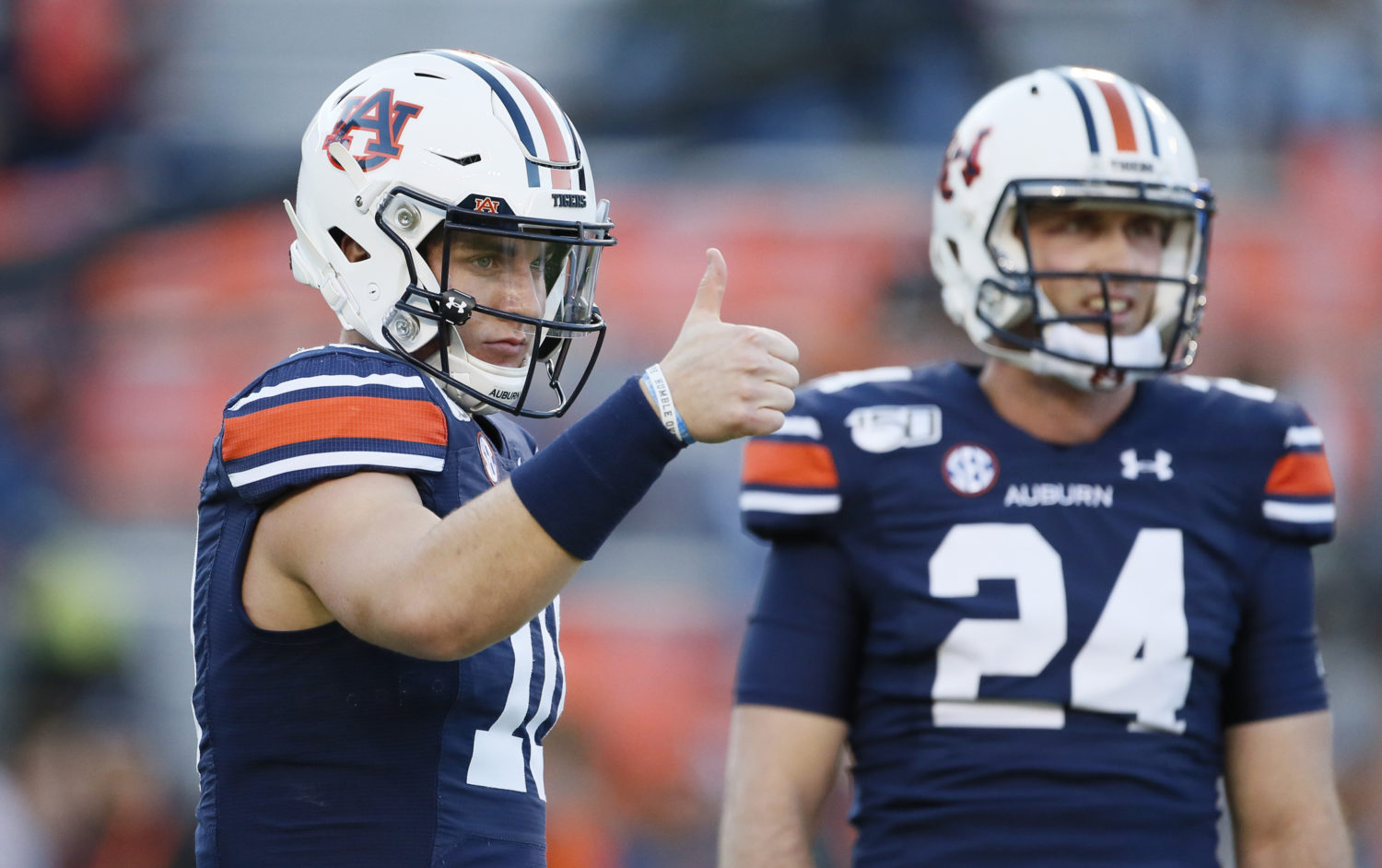 SEC
Week 12 SEC Primer, Predictions: Can Bo Nix turn the corner vs. Georgia's elite no-name defense?
Everything you need to know about this weekend's SEC slate.
The stakes
No self-respecting SEC fan needs an excuse to tune into Auburn-Georgia, no matter how good the teams happen to be in a given year. But these are fat times for the Deep South's Oldest Rivalry. Saturday's edition will be the 5th consecutive in which one or both teams (in this case Georgia) comes in with legitimate Playoff aspirations, and the 3rd in as many years in which both teams are ranked in the top 15 in the AP poll. Before 2017 that had only happened twice in the previous 30 years.
Of course, it wouldn't be November in Auburn without speculation that Gus Malzahn's future hangs in the balance. At 7-2, the Tigers very much alive for a New Year's 6 bowl game and a top-10 finish; even better, they're in prime position to derail both of their most hated rivals' Playoff hopes to end the regular season, in keeping with a long tradition of sowing chaos. That's the optimistic track. The Tigers are also in position to limp to an 8-4 finish that drops Malzahn's combined record against Alabama, Georgia, and LSU to 4-15 in the 6 years since his only SEC title. If there's any scenario that might accelerate his interest in the Arkansas job from the "idle gossip" phase to the "this is happening" phase by the end of the month, that's the one.
On the other sideline, Kirby Smart isn't going anywhere anytime soon. But he's not exactly blessed with an endless reservoir of patience, either. Although all of Georgia's big goals are still in play, the Bulldogs have zero margin for error after their midseason loss to South Carolina, and missing the Playoff cut for the second year in a row would set the stage for an offseason dominated by questions about the offense, the handling of the Justin Fields situation last winter, and just how much longer the window for winning a national championship can remain open — especially if Jake Fromm opts to go pro with no clear-cut heir apparent. Making it at least one more week without having to deal with any of that is a victory in itself.
The stat: 82.5 points
That's the difference between Bo Nix's pass efficiency rating vs. losing teams (175.4) and his rating vs. winning teams (95.9), easily the widest gap among SEC quarterbacks with at least 50 attempts in both columns. Put another way: As ahead of the curve as he has looked at times, the freshman has struggled against the top half of the schedule.
Florida forces the Nix pick! pic.twitter.com/4UawXnTj82

— CBS Sports (@CBSSports) October 5, 2019
Three points in Nix's defense: 1) Freshman; 2) All 4 of the Tigers' toughest games to date — vs. Oregon, at Texas A&M, at Florida, at LSU — have come away from Jordan-Hare, the past 3 in some of the most hostile environments in sports; and 3) In the losses in Gainesville and Baton Rouge, especially, Auburn failed to establish any kind of rhythm on the ground, forcing its fledgling QB to pick up too much of the slack. Even more telling than Nix's 4 interceptions in those games (only one of which led to points for the other side) were the offense's dozen 3-and-outs.
In the same vein, it's impossible to separate the chasm in Nix's home/road splits with the fact that he's yet to face an above-average defense at home. That will change in a big way vs. Georgia, an elite unit that comes in as the SEC's best in total defense, scoring defense, rushing defense, pass efficiency defense, 3rd down defense, red zone defense, yards per play allowed, 1st downs allowed, explosive plays allowed and Defensive SP+.
For all of that success, the Bulldogs' lack of individual star power is striking — no UGA defender is among the conference leaders in any major category, largely due to a 2-deep so loaded with next-level prospects none of them can stay on the field long enough to put up numbers. As a group, though, they're the only FBS team this season that's managed to hold every opponent to 17 points or less in regulation, including 3 shutouts. They're also the only FBS unit that hasn't allowed a rushing TD.
Between WRs Seth Williams and Anthony Schwartz and emerging RB D.J. Williams (who popped a couple of big gains at LSU and has gone over 100 scrimmage yards in 2 consecutive games in place of the injured Boobee Whitlow), Auburn has the most explosive set of skill players Georgia has seen so far outside of arguably Florida. But then, UGA didn't give up a big play against the Gators and held them to season lows for total yards, yards per play and points. Nix will have to give his gifted wideouts a chance downfield for Auburn to avoid the same fate.
The big question: Can Auburn contain D'Andre Swift?
Last year, the answer was an emphatic no.
D'Andre Swift…

77 yards. TO. THE. HOUSE. ⚡️ pic.twitter.com/3GNTrgeYPa

— SEC Network (@SECNetwork) November 11, 2018
With that run (his final touch of the game), Swift finished with a career-high 186 yards on 10.9 per carry, adding another 43 yards as a receiver in a reminder of exactly why he was hyped as one of the best backs in the country. A year later, that remains the best performance of his career.
The 2019 version of Swift has been healthier and more consistent than the 2018 version, accounting for 100-plus scrimmage yards in 7 of 8 games vs. FBS opponents but has yet to take over any game to the same extent. He's past due for a breakout.
The verdict
Georgia's last trip to Jordan-Hare, in 2017, was a 40-17 ambush that briefly stunned the then-No. 1 Bulldogs, the memory of which is probably playing into the muted point spread this time. Auburn dominated both sides of the line of scrimmage and will likely be content to slug it out in a tight, low-scoring game on Saturday as long as Georgia is — which is to say, all afternoon. This one's not going to be pretty.
Like every opposing defense against Georgia, Auburn's mission will be to force Jake Fromm into obvious passing downs as early and often as possible. Fromm has been uncharacteristically volatile over the past month, offsetting a heroic effort against Florida with 3 subpar outings against South Carolina, Kentucky (in a monsoon) and Missouri. The relative lack of big plays against respectable competition has been a recurring issue, most notably in the loss to the Gamecocks but also in most of the wins. That hasn't mattered much as long as the defense and running game have held up their ends of the bargain. Against DT Derrick Brown and the rest of Auburn's hyped d-line, this time it might.
Georgia 23, Auburn 19
LSU (-21) at Ole Miss
Last year Joe Burrow shredded the Rebels in Baton Rouge, accounting for 388 total yards and 4 TDs in one of his best games of the season and one of the few that pointed toward his full potential. Through 9 games this year, Burrow's accounting for 376.3 yards and 4 TDs on average. Burrow needs just 150 more passing yards to break Rohan Davey's single-season program record (3,347, set in 2001). The vastly improved version should be able to more or less name his number against a run-of-the-mill Ole Miss D as the Tigers move one step closer to officially wrapping up the SEC West.
LSU 44, Ole Miss 17
Alabama (-20) at Mississippi State
Tua Tagovailoa's status is a game-time decision, and unlike last week it wouldn't be a shock if he sat out what should be a routine win in Starkville. Tua clearly appeared to be limited by his surgically repaired ankle in Bama's loss to LSU — although he got progressively better as the game wore on, the opposite of what you'd usually expect — and it can't hurt to get backup Mac Jones some quality reps on the road in preparation for competing for the starting job next year. I wouldn't necessarily expect to see Tagovailoa again until the Iron Bowl on Nov. 30, and maybe not again after that unless Alabama makes the Playoff.
Alabama 40, Mississippi State 16
South Carolina at Texas A&M (-11)
At 6-4 with trips to Georgia and LSU on deck, Texas A&M likely needs this game to secure a winning season. At 4-6 with Clemson up next, South Carolina likely needs this game to secure Will Muschamp's job. On Wednesday, USC president Robert Caslen pointedly declined to commit to Muschamp beyond 2019, telling The Greenville News, "Coach Muschamp is my coach. That's the message. He will be my coach through the end of the season."
The year-end review might be standard procedure, but if Muschamp goes in with a 4-8 record and 5 losses in the last 6, in what was widely considered a make-or-break year, it's possible there won't be very much to review.
Texas A&M 31, South Carolina 17
Florida (-7) at Missouri
Missouri is reeling from a surprising 3-game road losing streak but can looking forward to a) The return of QB Kelly Bryant, who is expected to play against Florida after missing last week's shutout loss at Georgia with a hamstring injury; and b) The return home to Columbia, where the Tigers had won 5 straight — all by double-digit margins — before hitting the skids on the road. Mizzou has blown Florida out each of the past 2 years, winning by 29 in 2017 and 21 last year in Gainesville, but if anything this time those margins could be reversed.
Florida 29, Missouri 20
Kentucky at Vanderbilt (+10.5)
At 4-5, the Wildcats need to win 2 of their final 3 to be bowl-eligible for the 4th year in a row, and this should be one of them. The Commodores have taken 2 of their past 3 in Nashville, including a 21-14 shocker over Missouri in their last home game that might have (temporarily at least) saved Derek Mason's job. In the 2 games since, though, Vandy has reverted to rock bottom, getting outscored by South Carolina and Florida by a combined 80-7. Mason needs a miracle, and getting QB Riley Neal back from a concussion ain't it.
Kentucky 24, Vanderbilt 16
Scoreboard
Week 11 record: 4-2 straight-up / 5-1 vs. spread
Season Record: 68-17 straight-up / 40-45 vs. spread