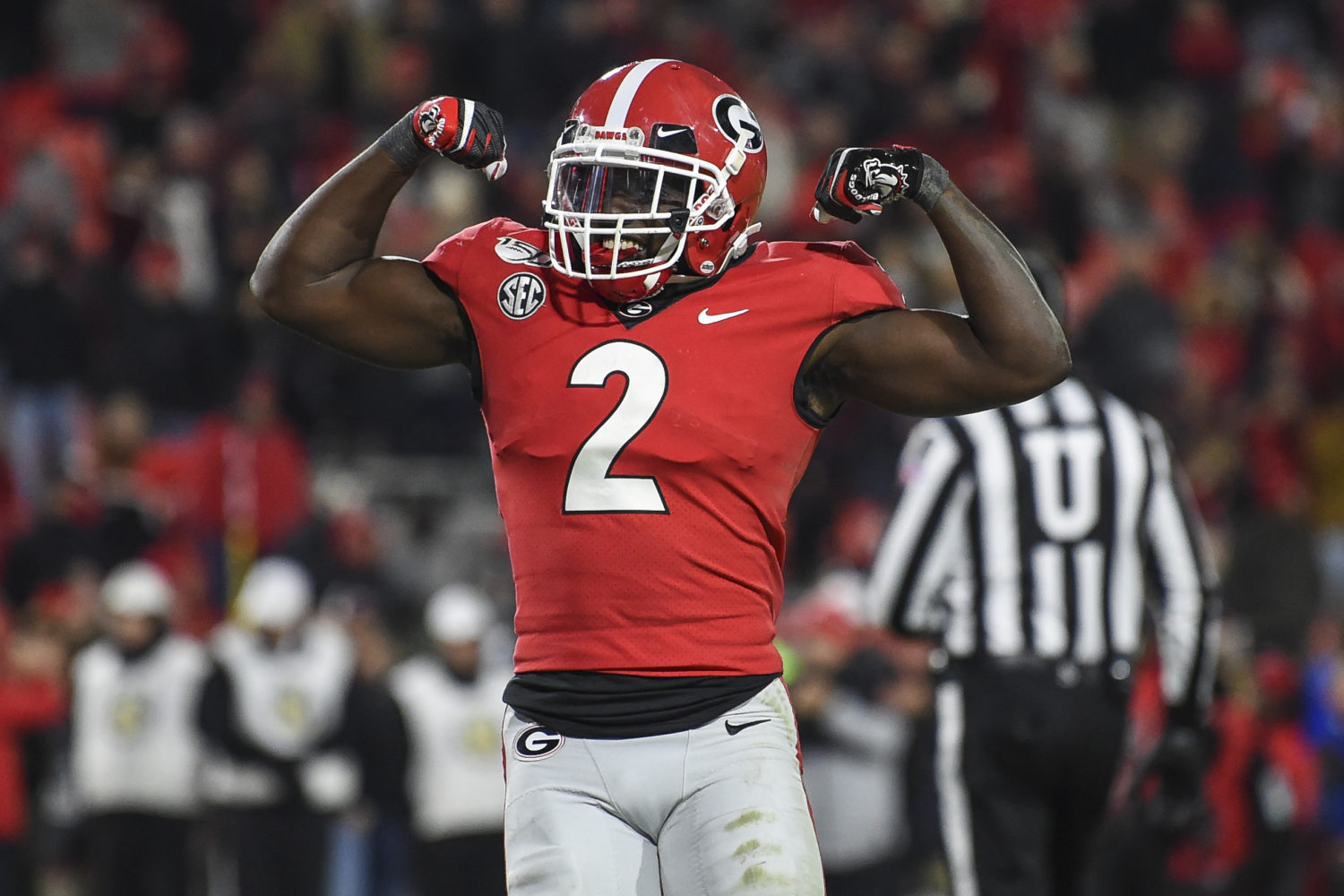 SEC
Week 13 SEC Primer: New week, same defensively driven script for Georgia as the Playoff comes into view
Everything you need to know about this weekend's SEC slate.
The stakes
We're down to 2 full Saturdays left in the regular season, and for all of the angst that Georgia has had to wade through to get to this point – vanilla offense, 5-alarm loss to South Carolina, relitigating Justin Fields' departure as he blossoms into a Heisman candidate in a different uniform – the Bulldogs are exactly where they expected to be: In Playoff Or Bust mode for the 3rd year in a row. The year-end rivalry match with 2-8 Georgia Tech is all but a foregone conclusion, leaving A&M as the last real hurdle to another 11-1 finish and another SEC Championship Game that doubles as a de facto Playoff game. The whole enchilada is still theirs for the taking.
Texas A&M has no such lofty goals. But the Aggies do have a lot riding on the next 2 weeks: At 7-3, scoring an upset over Georgia and/or LSU to close the year is basically a prerequisite for defining the season as a success, not to mention avoiding an entire offseason of cracks about paying Jimbo Fisher a million dollars per win. As it stands, the 3 losses to Clemson, Auburn and Alabama – all of them coming in College Station, none of them yielding much drama – resonate significantly more than the 7 wins, none of which has come against a team with a winning record.
Fisher isn't facing as much pressure (yet) as you might expect for a coach who was hired with an explicit mandate to win a national title. Nobody expected a miracle. But turning in an 0-5 record vs. ranked teams in Year 2 certainly isn't going to reassure them that one is on the way.
The stat: 6.6 yards per attempt
That's the average gain of a Jake Fromm pass vs. SEC opponents this season, a steep decline from the past 2 years — down from 9.2 yards per attempt in 2017 and 8.8 per attempt in 2018. The current number ranks 8th among regular SEC starters, nearly 5 full yards per attempts behind the league leader, Tua Tagovailoa (11.3), and almost 4 yards behind Joe Burrow (10.4).
It's also one of many, many ways to point to the recurring theme of Georgia's offense in 2019: Namely, the Bulldogs' mystifying lack of explosiveness. Here's another: Using numbers from collegefootballdata.com, writer/stat guru Chad Peltier plotted all 130 FBS teams based on their success rate on offensive plays (x-axis) relative to how successful — e.g. explosive — its successful plays are (y-axis), as measured by Expected Points Added. Although Georgia is above average on the consistency axis, when it comes to explosiveness it barely loses out to Wisconsin for the title of Most Low-Octane Attack in the country: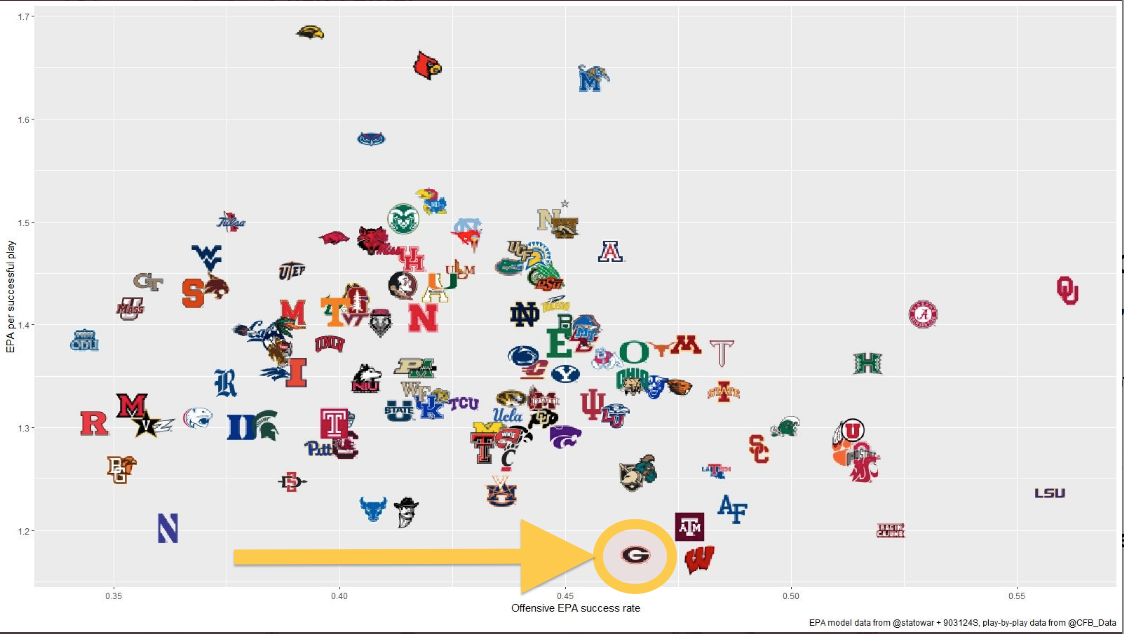 In general, Fromm has been good for roughly 1 successful downfield shot per game — his only 25+ yard completions in the wins over Notre Dame, Florida, and Auburn were touchdowns covering 36, 52, and 51 yards, respectively — amid a steady diet of dinking and dunking. Despite their enviable depth at wide receiver, the Bulldogs' average yards per catch in SEC games (11.0) ranks 10th out of 14 teams.
As long as the defense is holding up its end of the bargain the risk-averse approach makes sense: Georgia is tied for the national lead in scoring D vs. FBS opponents and remains the only team that has held every opponent to 17 points or less in regulation. If A&M manages to break that streak, it won't be by much, limiting UGA's incentive to press offensively any more than they have all year. For future reference, though, it would be encouraging for the Bulldogs to demonstrate that they do in fact have some big-play juice in the event they ever actually need it.
The big question: Has A&M's running game turned the corner?
As of midseason, the Aggies' ground game looked like a dead letter. The top back, Jashaun Corbin, went down in Week 2 with a season-ending injury at Clemson; in 3 subsequent games vs. Auburn, Arkansas and Alabama, the running backs as a group managed a grand total of 112 yards rushing on just 2.7 per carry. That put considerable stress on QB Kellen Mond, who had to pick up the slack with his arm and legs.
Over the past month, though, the trend has flipped: A&M has improved its output on the ground in 4 consecutive games, beginning with a solid outing at Ole Miss (165 yards on 4.3 per carry) and continuing in wins over Mississippi State (207 on 5.3 per carry), UT-San Antonio (267 on 6.7), and South Carolina (319 on 6.9). Freshman Isaiah Spiller and sophomore Cordarrian Richardson combined for 259 of those yards against the Gamecocks, including a 75-yard, game-icing touchdown run by Richardson in the 4th quarter. Neither is the second coming of Trayveon Williams; both have improved quickly, helping to pull A&M's overall rushing numbers back in line with the league average.
The surge can't be chalked up entirely to the easier schedule, but it is safe to assume the upward trajectory has peaked; Georgia leads the SEC against the run, having held Notre Dame, Florida, and Auburn well below 100 yards, among others. The more of the offensive burden the Bulldogs are able to shift onto Mond's shoulders, the harder his already-difficult job will be.
The verdict
Georgia's games against ranked teams have followed a predictable script: Start slow, begin to pull away in the late 3rd/early 4th quarter, hold off a late rally to preserve the victory. Wins over Notre Dame (23-17), Florida (24-17) and Auburn (21-14) all fit the pattern, right down to the virtually identical final scores.
It would be an interesting test for the offense to shift into a higher gear in a game it couldn't count on the defense to keep under control. The Bulldogs will have to pass it eventually, if not against LSU for the SEC crown then in a hypothetical Playoff game. Still, there's no reason to expect A&M's offense, which has had similar issues, to be the one that finally breaks through on the road. Georgia's D carries another day.
Georgia 27, Texas A&M 17
Tennessee (+4) at Missouri
Missouri is the Vegas favorite by virtue of playing at home, but these are outfits whose seasons have completely flipped: Tennessee has rebounded from its abysmal start to win 4 of its past 5 (the only loss in that span coming at Alabama), while Missouri has descended from a 5-1 into "football hell" over the course of a 4-game losing streak. In addition to hell on the field, the Tigers are also in limbo off it as they're somehow still waiting on the result of their appeal to overturn a 1-year bowl ban handed down by the NCAA in January.
For the Vols, coming back from rock bottom in September to clinch bowl eligibility would be the first landmark in Jeremy Pruitt's rebuild, with a likely win over Vanderbilt still on deck. That could open the door to an 8-win season, which would have seemed inconceivable just a few weeks ago. Arguably no team in the country has made bigger strides since opening day.
The verdict: Tennessee 24, Missouri 20
Arkansas at LSU (-43.5)
Yes, that point spread is historic — the most lopsided spread in an SEC game since at least 1980, edging a pair of 43-point spreads for Florida-Vanderbilt in 1995-96. So far, LSU has only exceeded that margin once against an FBS opponent, in a 55-3 win over Georgia Southern on opening day; the Tigers' narrowest margin of victory in an SEC game was a 36-13 win at Mississippi State. Meanwhile, Arkansas' largest margin of defeat is 41 points, against both Alabama and Auburn. The only question on Saturday is whether Joe Burrow feels like eclipsing that and whether LSU coaches will let him.
The verdict: LSU 58, Arkansas 10
Elsewhere in Cupcake Week
Western Carolina at Alabama (-57)
Samford at Auburn (-48.5)
Abilene Christian (+37) at Mississippi State
UT-Martin at Kentucky (-29.5)
East Tennessee State at Vanderbilt (n/a)
Yes, it's FCS Cupcake Week ahead of the year-end rivalries, so prepare to hear plenty about that from fans of teams that play conference games against Rutgers. Aside from QB Mac Jones taking the reins full-time at Alabama in place of Tua Tagovailoa, the most suspense on offer here is whether each SEC team will outscore all 5 FCS teams combined.
Alabama 59, Western Carolina 0
Auburn 56, Samford 6
Mississippi State 45, Abilene Christian 10
Kentucky 41, UT–Martin 9
Vanderbilt 31, East Tennessee State 13
Scoreboard
Week 12 Record 6-0 straight-up / 5-1 vs. spread
Season Record: 74-17 straight-up / 45-46 vs. spread