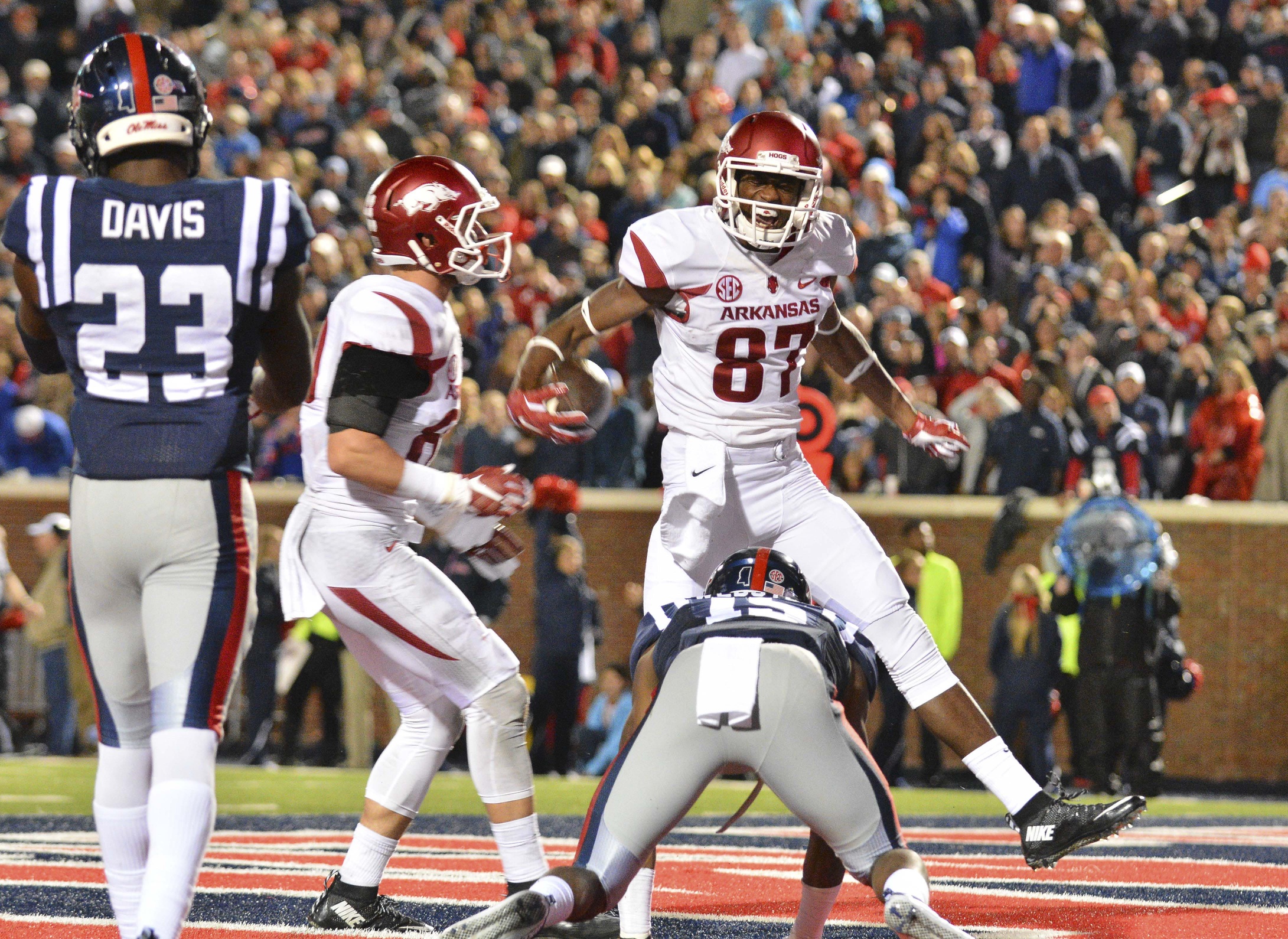 ARKANSAS
Post-spring strengths and weaknesses: Arkansas
Arkansas was the last of 14 teams to finish spring workouts and the Razorbacks left camp at the end of April feeling good about themselves, seeing several players step up well enough to provide optimism for 2016.
In the SEC West, there are some big boys to overcome to get to the top of the division. For Arkansas, there's a good battle at hand coming up. There are serious departures at quarterback and running back, but there are plenty of good players still around.
Here are Arkansas' strengths and weaknesses heading out of the spring:
Strengths:
Huge improvement along the defensive line: The Razorbacks were good against the run last year but struggled to get any kind of pash rush. That group will be much better this year and probably be the position group that contributes the most to a successful season. Deatrich Wise was unblockable all spring and will be a beast in the fall. Top recruit McTelvin Agim, a huge get for the Razorbacks, will contribute immediately as well and there's plenty of depth at every spot.
Receivers with talent, versatility: The Hogs are deep with pass catchers and they get a boost from the return of Keon Hatcher, who missed last season with an injury. Dominique Reed and Drew Morgan were great in 2015 and all three will make plays. Jared Cornelius is a game-breaker, too. And even though Mackey Award winner Hunter Henry is gone at tight end, Jeremy Sprinkle will slide right into that role and be one the top tight ends in the country.
Positive attitudes trending upward: After a sluggish start in 2015, the Hogs finished 8-5, beating Ole Miss and LSU and winning a bowl game in Bret Bielema's third year. There are high hopes that the Razorbacks are on the rise and knocking on the door to be a threat in the SEC West. Recruiting has been good and the coaching staff is better. That attitude change is a huge plus.
Weaknesses:
Depth at linebacker: Defensive coordinator Robb Smith struggled so hard with fielding a third linebacker last year that he eventually gave up and just went with two. Brooks Ellis and Dre Greenlaw are solid players, but there's no way this trend can continue in 2016. Randy Ramsey is back after getting booted off the team, which should help, and there are good recruits on the way. But they need to step up and play well early.
Uncertainty at running back: With Alex Collins and Jonathan Williams heading off to the pros, that's a lot of talent disappearing from the backfield. There's still talent at this position, but there are questions about durability and experience. Kody Walker is back for a sixth year, but he's never been able to stay healthy and even needed foot surgery again this spring. Rawleigh Williams III is coming off a serious neck injury. There's plenty of hope in true freshmen Devwah Whaley and T.J Hammonds, but they're just freshman. They'll have to prove themselves quickly.
Inexperience at quarterback: Austin Allen has been waiting patiently behind his big brother Brandon Allen at quarterback, and now he finally gets the chance to start. Hopes are high that Allen will do well, but there are no guarantees until the bullets start flying for real. Allen played well in the spring, rising to the top of a four-man quarterback competition quickly, but there were also times that he forced throws and hurried things. He'll need to settle in quickly, especially since his backups didn't show much in the spring.