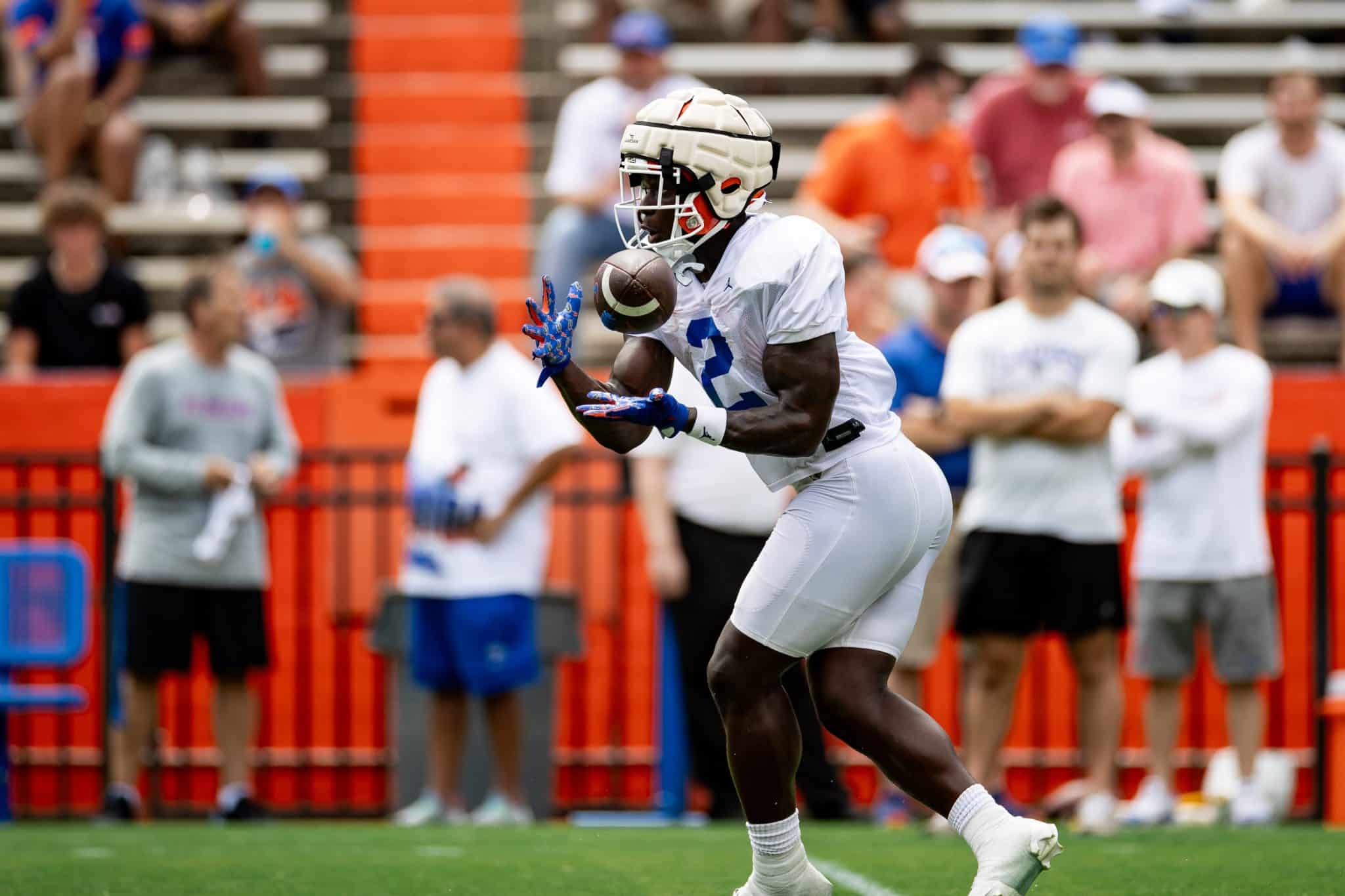 FLORIDA
Florida football: Over or under for the 2023 season?
Florida opens the 2023 season with a Thursday night tilt at No. 14 Utah (8 p.m. ET, ESPN).
Not much is expected out of the Gators in 2023, with predictions ranging from a bottoming out (Stewart Mandel predicts Florida finishes 3-9, and the SEC Network tapped Florida to go 4-8) to merely middling (our own Connor O'Gara has Florida finishing 6-6).
But as head coach Billy Napier said at SEC Media Days, all of that fan fodder is for "talking season," and the real football stories begin to be written on the field Thursday.
We've previewed the Gators extensively at SDS, with 10 bold predictions, speculation on what happens if Napier is right about quarterback Graham Mertz, and 5 ways we think Florida will improve in 2023, along with 3 ways they'll be worse than the 2022 outfit. Those pieces were informative (we hope), but with football upon us, we thought we'd take 1 more bird's-eye look ahead at the 2023 season in Gainesville.
Using set numbers as our guide, we predict "over" or "under" for 10 different Florida topics.
1. 1,000 yards rushing for Montrell Johnson Jr.
Johnson tallied 841 yards last season after following Napier from Louisiana to Gainesville. Would he have made it to 1,000 without the presence of Anthony Richardson, who added 740 yards from the quarterback position? That's the key question in this bet, along with how the Florida backfield divides the labor between Johnson and Trevor Etienne (730 yards). If you've read our other preview pieces, you probably know where we come down on this prediction, but let's make it official …
Prediction: OVER.
2. 2,500 yards passing for Mertz
Mertz has eclipsed 2,000 yards only once in 3 years as a starting quarterback, but that all came at Wisconsin, where the run game always comes 1st. Mertz did get over 2,000 last year (2,136), once again in a run-heavy Wisconsin offense (61 percent run, 39 percent pass). Florida intends to be slightly more balanced, and a more creative offensive scheme suggests more yards as well. Still, 2,500 is more than 200 a contest in a 12-game schedule, which is a tall ask for a 1st-year starter in the SEC.
Prediction: UNDER.
3. 7 receiving TDs for Ricky Pearsall
Pearsall hauled in 5 receiving touchdowns a season ago, leading Florida in touchdowns, receiving yards and yards per catch (minimum 20 receptions). At 6-1 and just more than 180 pounds, Pearsall is not a prototypical red-zone threat, and Florida is high on multiple freshman wide receivers, as well as blue-chip tight end Arlis Boardingham, who at 6-3, 250 with a big vertical leap should get red-zone opportunities. Still, Pearsall is as explosive a player as Florida has at receiver, and it's a safe bet he'll get behind a couple of DBs for long ones this season, just as he did a season ago.
43 Days till Florida Gators Football ?

Anthony Richardson to Ricky Pearsall for a 43-Yard Touchdown vs FSU ?? pic.twitter.com/dlTDENmiqh

— Florida DieHards (@DiehardsGators) July 19, 2023
But 7 touchdowns is a tall number for an offense with 2 outstanding running backs, and it might be a bit high for Pearsall, even if he gobbles up targets.
Prediction: UNDER.
4. 1,500 total yards for Etienne
Etienne might be the most special player on Florida's roster. As a freshman, he rushed for 730 yards, led the running backs at 6.1 yards per carry and ranked 2nd among freshmen nationally in explosive runs of 20 yards or more (behind Quinshon Judkins of Ole Miss). Etienne also added 421 yards returning kicks, and he worked relentlessly this summer to become a quality pass catcher and route runner who can contribute in the passing game. Florida will find a variety of ways to get him the ball, which raises the question of whether Napier will risk giving Etienne a number of kick return opportunities, given his importance to the offense. Etienne's brother, Travis — now with the NFL's Jaguars — made a huge leap from his freshman to sophomore season, gaining nearly 1,000 more total yards in Year 2 at Clemson. Trevor Etienne's leap won't be as significant, but it might be enough to get past 1,500 total yards.
Prediction: OVER.
5. 25 explosive (20 yards or more) rushing plays
A season ago, the Gators ranked 20th in the country in explosive runs (2o yards or more), tallying 26. Florida lost a gamebreaker in Cam Carroll, who tore his ACL in fall camp, but it still has Etienne, who can take anything to the house, and Johnson, who had his fair share of big runs between the tackles.
?? Trevor Etienne off the chain, like he just broke out. 85-yard touchdown housed by the #Gators freshman. pic.twitter.com/JBLTbaH7Ix

— OnlyGators.com: Florida Gators news (@onlygators) November 12, 2022
Florida is likely to face stacked boxes early in the season, as teams feel out whether Graham Mertz can exploit them in the air. Stacked boxes don't necessarily negate the risk of big running plays, though, as 1 missed gap or fit and a back can be off to the races. This number will be close, though, especially with Richardson's improvisational big runs no longer a factor.
Prediction: UNDER (barely).
6. 8 sacks for Princely Umanmielen
Umanmielen had 4.5 sacks a year ago, but that doesn't tell the whole story, as he registered 21 pressures in the final 5 games of the season alone for the Gators. DC Austin Armstrong moved Umanmielen to the "Jack" linebacker spot, with the ability to line up on the edge, and a sleeker, faster Umanmielen appears to have rewarded the move in fall camp. Throw in scheme: Armstrong has made a name for himself with an aggressive scheme that was impressive enough to land him a job on Nick Saban's Alabama staff last winter, and more depth at defensive tackle (making it harder to double outside) — and you have a formula for a huge number here.
Prediction: OVER.
7. 40 explosive passing plays (20 yards or more) allowed
A season ago, the Gators ranked 99th in the country and 12th in the SEC, ahead of only Tennessee and Arkansas, in long passing plays allowed. On paper, this number should improve in 2023. Florida loves what they have at corner. Jason Marshall Jr. was 1 of the top 10 corners in the country in 1-on-1 situations in 2023, per PFF. He returns, and Jalen Kimber, Devin Moore and Ja'Keem Jackson all impressed in fall camp on the other side. At safety, R.J. Moten, a starter for Michigan's College Football Playoff team, should stabilize things or at a minimum be an upgrade over last year's unit, which included the porous Trey Dean. This number gets tricky when you factor in Armstrong's aggressive scheme, which relies heavily on secondary players winning battles in 1-on-1 situations, but there's still room for improvement.
Prediction: UNDER (barely).
8. A top-40 total defense
From 2000-20, only Alabama and Ohio State fielded more top-25 defenses than the Gators, and only Alabama fielded more units ranked in the top 10. Great defense was a staple at Florida, even during the lean offensive years under Will Muschamp and Jim McElwain. Since 2020, Florida hasn't finished in the top 50 in total defense, and last season, the Gators ranked 97th in the metric, the worst mark in program history. A 57-spot jump is enormous, but the Gators' defensive line has earned rave reviews during fall camp and Florida's staff feels that the linebacker group, chalk full of blue-chip recruits, should return to the lofty Florida standard at the position. Will that be enough to make a huge leap? If it is, Florida could be better than expected.
Prediction: UNDER (better than top 40).
9. 25 receptions for Ja'Quavion Fraziars
A 4-star recruit from the Ocala area, Fraziars appeared poised for a breakout campaign a season ago, but he was hurt making this highlight-reel catch against Texas A&M.
What a throw & catch from Anthony Richardson to Ja'Quavion Fraziars for the 19 yard TD! ? #Gators pic.twitter.com/fMa5WqlPpv

— CFB Country (@_CFBCountry) November 5, 2022
Fraziars has great size and soft hands, a good combination for a guy who will face the consistent tight coverages offered in the SEC. While he's not a burner, he's by no means slow, and Mertz — who will improve Florida's short and intermediate passing game compared to Richardson, an elite deep ball thrower who struggled on shorter routes — appeared to have a good rapport with Fraziars in scrimmages this autumn. Pearsall will need help, and while it's tempting to think 1 of Florida's elite crop of freshman wide receivers (Andy Jean, Eugene Wilson III, and Aidan Mizell) makes the leap, Fraziars seems a better bet. Right?
Prediction: OVER.
10. 5.5 wins
Hot take? Florida will be better than Mandel's 3-9 and better than SEC Network's 4-8.
Now that we've gotten that out of the way, do the Gators get over 5.5 and become bowl eligible in Year 2 under Napier?
There are analytics that suggest they will. The Gators rank 23rd in SP+ headed into the 2023 season, a metric that has consistently pegged more than 80 percent of the final Top 25 in its preseason SP+ poll. The Gators play 5 teams (Utah, Tennessee, Georgia, LSU and Florida State) ranked above them in the SP+ preseason rankings. Even if the Gators lose all 5, they'd need to drop 2 others to finish under 5.5 wins. That's possible, given that Florida has lost consecutive games to Kentucky for the 1st time since the 1970s and the Gators have won just 1 of their past 4 at Missouri. But is it likely?
Prediction: OVER.