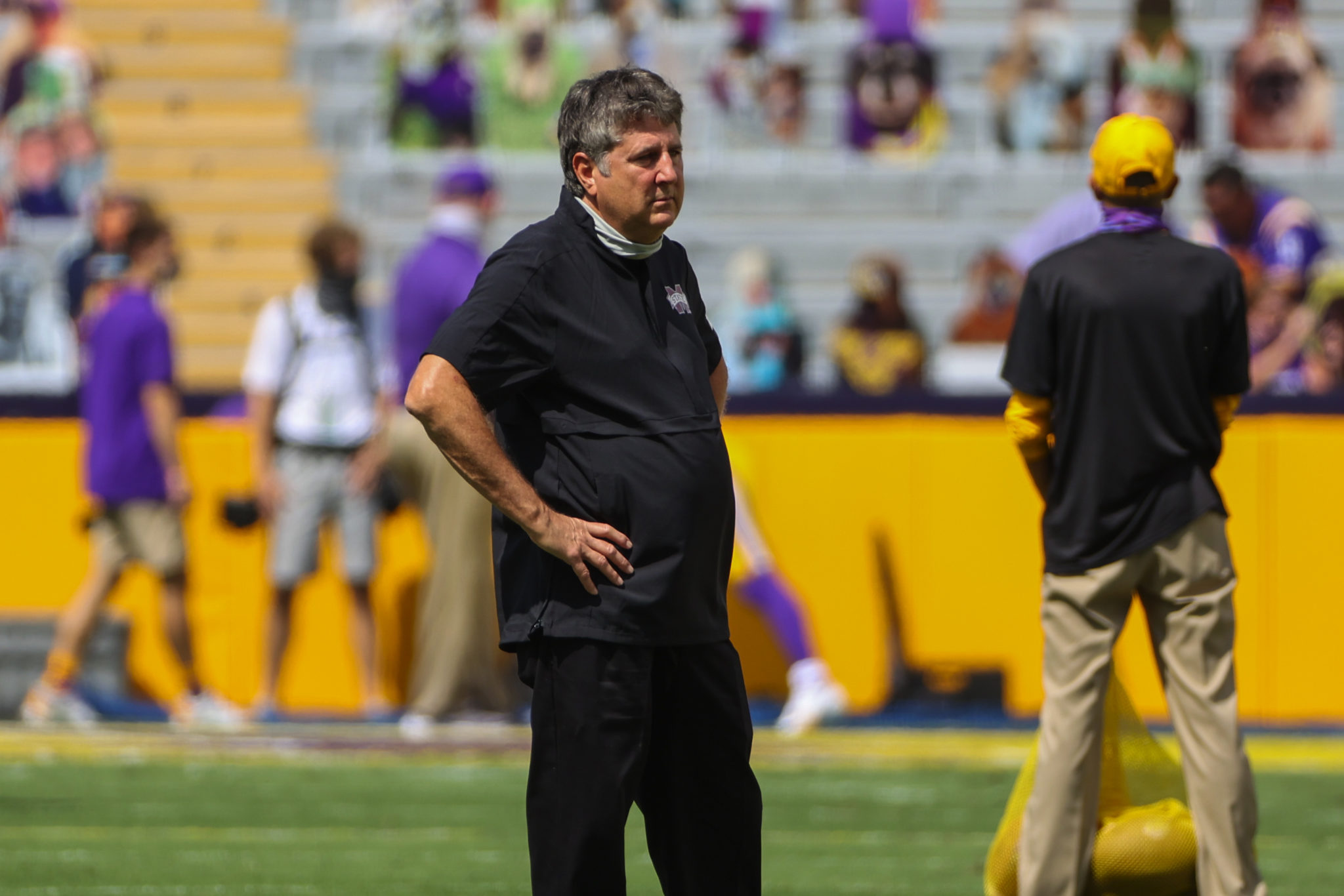 MISS STATE
A winding conversation with Mike Leach on life in the SEC
It was a new school, new conference, new team and new fan base to get to know for Mike Leach last season. Oh, and a new way to get to his office and back.
"Part of it is because that road (leading to his house) is so narrow," Leach told SDS about now driving to work instead of walking like he did during his time at Washington State.
The daily commute to work was just one of the new things that came Leach's way in 2020 after accepting the Bulldogs' job. Not new to the SEC — he served as offensive coordinator at Kentucky from 1997-98 — he still encountered a few differences from his time spent in the Big 12 and Pac-12.
"All leagues are good and they have their strengths," he said. "I mean, the biggest thing is it's a shorter road trip, shorter recruiting trips."
With the NCAA recruiting dead period in effect since last March, recruiting has been a little different as well for Leach and his staff. Of course, the 60-year-old head coach has opinions on that.
"I think it kind of screws the prospects because they should be able to come and go from campus and check it out and meet the people they're going to be working with," he said.
For Leach, though, the biggest asset going into his second year is the fact that they actuall had full spring practice that concludes on Saturday with the annual game on Super Bulldog Weekend.
"We get to know our team better," Leach said of having spring practice. "We're still crazy young, I mean, freshmen and sophomores."
One of those sophomores is quarterback Will Rogers, who took over the starting job halfway through last season. Leach admits it was a learning on the job process.
"I think he got thrown into the fire, but he kind of got in a little bit of a rhythm as it went along, but still, had a long way to go, a lot to learn, but I think he's quite the learning guy and he's gotten better, and better, and better. He, mentally definitely, ahead of most people I've coached, I mean because, he's the first freshman quarterback I've ever played with."
In his last 4 games, Rogers threw 8 touchdown passes to just 3 interceptions. Now, Leach sees him as somewhat of a coach on the field as well.
"I think he definitely has some leadership qualities. He's the guy that kind of holds and pulls the team together."
Now more than a year residing in Starkville, Leach has quickly warmed up to the Golden Triangle.
"Starkville is good. I like Starkville. No, it's real good, young, great people. Of course, Washington had great people too."
He's even picked up a new hobby along the way.
"Warming up from the paddleboard some," Leach said. "I got this 14-acre pond behind my house. So I'll go in there and it's crazy warm, the water. I mean, it's not, oh it would be like a cold pool right now, OK. But something screwy, I guess that dirt insulates or keeps the heat in or something because that pond a lot warmer than I think it should be. Well, it was pretty warm about 2 weeks after it had been 12 degrees."
The man known as The Pirate is sailing a new vessel in more ways than one.