Hurricane Florence and college football: 9 games have been cancelled, 9 rescheduled
Hurricane Florence continues to bear down on the Carolina coast, causing evacuations and preparations for a major impact.
It is also wreaking havoc when it comes to Week 3 college football games. Already, nine games have been moved and nine games have been canceled due to the storm.
Below, we've compiled a list of all the changes made to the Week 3 calendar so far:
Campbell at Coastal Carolina — moved to 2 p.m. ET on Wednesday, moved from South Carolina to North Carolina
Boston College at Wake Forest — moved from 7:30 p.m. ET to 5:30 p.m. ET on Thursday
No. 18 UCF at North Carolina — game cancelled
East Carolina at No. 13 Virginia Tech — game cancelled
Ohio at Virginia — moved to Nashville, will be played at Vanderbilt's Stadium on Saturday
No. 14 West Virginia at NC State — game cancelled
Norfolk State at Liberty — game moved to Dec. 1
Marshall at South Carolina — game cancelled
Georgia Southern at Clemson — moved from 3:30 p.m. ET to 12 p.m. ET on Saturday
Colgate at Furman — game cancelled
Robert Morris at James Madison — moved from Saturday to Thursday at 7 p.m. ET
Southern Miss at Appalachian State — game cancelled
Stetson at Presbyterian — moved to Stetson
Elon at William & Mary — game cancelled
Tennessee State at Hampton — game cancelled
Guilford at Davidson — moved to Thursday at 7 p.m. ET
NC Central at South Carolina State — game moved to Nov. 24
Charleston Southern at The Citadel — game cancelled
As you can see below, the folks at Reddit put together a map of games affected by the impending storm:
Updated CFB map for game decisions this weekend related to #Florence following the Gamecocks' cancellation. Games that have been rescheduled to a different time or day this week now labeled in green: pic.twitter.com/I2nt0YatU6

— RedditCFB (@RedditCFB) September 12, 2018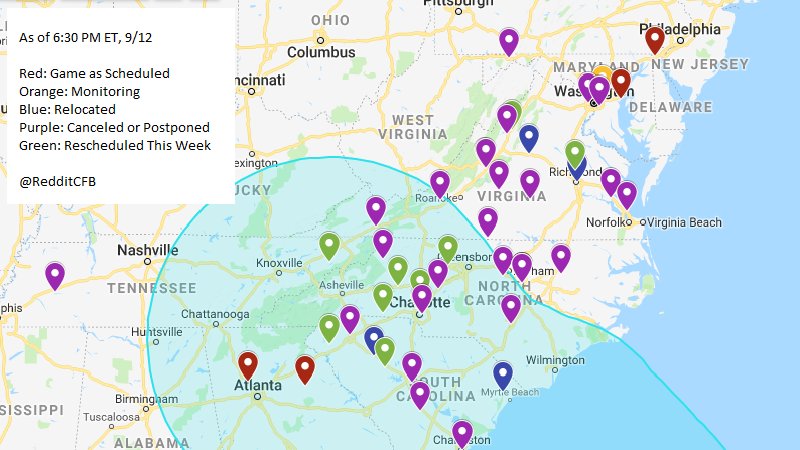 South Carolina is the only SEC team to be impacted so far, but Georgia officials are reportedly watching the path of the storm closely.