SEC
Monday Down South, SEC Preview Edition: In 2020, the SEC race is the national race
The third and final entry in Monday Down South's weekly conference preview series ahead of the 2020 regular season. Previously: The ACC … The Big 12. Today: The SEC.
The SEC has always tended to regard itself as the sun around which the rest of college football orbits, and in 2020 that vision is actually on the verge of coming true. In fact, in a chaotic landscape rendered unrecognizable by an ongoing pandemic, it might turn out that SEC football Just Means More more than ever before.
The ACC and Big 12 already forged ahead, of course. But with all due respect to those leagues, there's little drama at the top – Clemson and Oklahoma have won their respective championships each of the past 5 years and remain the clear favorites – and with the Big Ten and Pac-12 suspended indefinitely (for now, though there is hope the B1G reverses field) in COVID limbo, the SEC is the only conference this fall that promises both a) a deep, compelling race for the title, and b) the opportunity for week-in, week-out intrigue among the top contenders. The result is that, to a very large extent, the SEC race and the national race are shaping up as one and the same.
For once this is not just twangy bluster. Consider the updated AP poll released Sunday, from which the Big Ten and Pac-12 have been temporarily expunged: SEC teams make up 4 of the top 6, 6 of the top 10, and 8 of the Top 25. Or ESPN's Football Power Index, in which the SEC accounts for 5 of the 8 teams nationally with at least a 20% chance of making the Playoff. Or just take one look at the lineup of the biggest games still on the schedule over the next 2 1/2 months:
The ACC and Big 12 are banking on one all-defining game apiece between their top two teams – in both cases foreshadowing a likely rematch in the conference title game. Meanwhile, the SEC boasts no fewer than 10 such games spread out across 8 weekends, any one of which stands to alter the broader league race. If you accept the premise that the SEC has a leg up on landing a second team in the 4-team Playoff – a very solid premise at this point – that means they all stand to directly affect the Playoff race, too.
As much turmoil as the sport has ended over the past 6 weeks, the situation is still too unsettled to gauge just how well that premise will hold up over the next 6. Big Ten presidents may be poised to reverse their decision to suspend play through the end of the year, or else to uphold it, or possibly to kick the can a little further down the road. The Pac-12 is moving cautiously in the same direction. A surprise contender in the ACC (North Carolina? Miami?) or Big 12 (Oklahoma State?) could make those races more compelling than the rote coronations almost everyone expects. In this endlessly absurd year, who knows what other absurdities await?
As it stands, though, it's difficult to chart a course through the coming season that somehow avoids putting the SEC at the center of the sport on a weekly basis. It's not the only game in town. But in terms of national relevance, it may be the only one that consistently counts.
THE FRONT RUNNER
Alabama
Last season was a snake-bitten campaign for Alabama in many ways, and it's possible to point to the end of the Tide's 5-year Playoff streak, squint at the horizon, and make some noises to the effect that they aren't the automatic overlords they once were. None of that here. A marginally less invincible version of Bama is still Bama, and there's still every reason to believe the 2020 edition will be back in the thick of the national race.
You know the drill. The overall talent level and depth remains the gold standard nationally. Both coordinators (Steve Sarkisian on offense, Pete Golding on defense) are back for the first time since 2015. In the midst of the annual winter exodus for the next level, 3 potential All-Americans on offense – RB Najee Harris, WR DeVonta Smith, and OL Alex Leatherwood – opted to pass on the NFL Draft in favor of returning for their senior year; so did LB Dylan Moses, who missed all of 2019 due to a torn ACL, and DL LaBryan Ray, who went on the shelf in September. The handful of true freshmen thrown into the fire as Day 1 starters (DT D.J. Dale at nose, LBs Shane Lee and Christian Harris) now qualify as seasoned vets, as does arguably the best of the bunch, redshirt freshman DL Christian Barmore. And Tua Tagovailoa's understudy, Mac Jones, looked like a natural successor in his audition as the full-time starter.
Between Jones and massively hyped freshman Bryce Young, the next championship quarterback is likely already in the fold, surrounded by NFL-ready playmakers, protected by a veteran line, and backed by a defense that should be healthier, more experienced, and back among the nation's best after dropping to 21st in total defense last year. (I'll be going into more depth on the QB competition next week.) As long as it doesn't come down to the kicker in a crucial situation, the SEC crown and the Playoff bid that comes with it are the Tide's for the taking.
THE CHALLENGER
Georgia
Most teams that dip into the transfer market for a quarterback are content to reel in just one guy, especially one of the caliber of Jamie Newman, the most sought-after grad transfer QB in the country last winter on the heels of a breakthrough 2019 campaign at Wake Forest. But most teams aren't Georgia, which doubled down in the spring by adding ex-USC starter JT Daniels to the depth chart, and which is breathing a huge sigh of relief today that it did: When Newman elected to opt out earlier this month in response to the pandemic, Daniels instantly became the face of a rebuilt offense that will make or break the Bulldogs' bid for a championship.
In most respects, the new attack will be almost unrecognizable, which was frankly kind of the point. Last season devolved into a series of offensive flops, punctuated by a 37-10 debacle against LSU in the SEC title game that drew the sharpest possible contrast between Georgia's stale ball-control routine and the formerly stale Tigers' successful transition to a dynamic spread passing scheme. Big change was inevitable, beginning immediately after the bowl game with the departure of much-maligned offensive coordinator James Coley. His replacement: Former Southern Miss head coach Todd Monken, back in the college game after 4 years in the NFL with a mandate to bring UGA into the 21st century. He inherited a lineup that's typically long on talent — the two-deep is stacked with 5-star recruits, as usual, including obvious breakout candidates at running back (Zamir White), receiver (George Pickens) and offensive line (Jamaree Salyer) — but short on experience; only one holdover, junior center Trey Hill, started more than half of the team's 14 games last season.
Daniels comes with even more boom-or-bust potential than Newman. At USC, he was a major recruit and Day 1 starter who was seen as the future of the program; on the other hand, he struggled in 2018 as a true freshman and was clearly surpassed last year by a younger player, Kedon Slovis, after Daniels was sidelined by a torn ACL in the season opener. Assuming he's fully recovered (not a given), he stands to benefit as much from a fresh start in Athens as anyone, including his well-traveled OC. It's not often that a unit starting over more or less from scratch is expected to substantially improve, but for a program that lives in Playoff-or-bust mode the expectations only run in one direction.
THE DARK HORSE
Florida
Florida hired Dan Mullen in the wake of a historic collapse in 2017 to resurrect an ambitious program in disarray. So far, so good: 10 wins in Year 1, 11 in Year 2, back-to-back victories in New Year's 6 bowls, top-10 finishes in the AP poll in both seasons. Short of an outright SEC championship, the "rebuilding" phase of the project went about as well as anyone could have realistically expected.
Now the hard parts: 1) Dethroning Georgia in the East, and 2) making a serious run at the Playoff, logical steps forward that may also turn out to be the steepest. If it's going to happen anytime soon, though, the window may be as wide open for the Gators to make their move this year as it's going to get. Where Georgia's offense is a blank slate, Florida has the benefit of continuity via both Mullen, one of the most respected play-callers in the game, and senior QB Kyle Trask, who emerged from obscurity in 2019 to become the most productive Florida passer since Tim Tebow. And where the Gators have suffered from a notable talent deficit relative to UGA, Mullen's efforts on the recruiting trail and the transfer market – through which Florida has added 4 former 5-star prospects in the past year to a roster that had zero – have gone a long way toward narrowing the gap.
Narrow enough to vault UGA and into the SEC Championship Game this season? That might be a believe-it-when-you-see-it scenario. Still, the fact that it's a serious question again after three years of essentially unquestioned Georgia dominance over the division is proof enough that the Gators are on the right track.
THE UPSTART
Tennessee
Tennessee's 2019 campaign got off to the worst possible start, a 38-30 embarrassment at the hands of lowly Georgia State, and went downhill from there: A late collapse against BYU in Week 2; back-to-back beatdowns at the hands of Florida and Georgia; a ritual slaughter against Alabama in Week 8 that extended Tennessee's losing streak in the series to 13 years and counting. Heading into the final Saturday in October, the Vols were a moribund 2-5 and Jeremy Pruitt faced serious doubt about whether he would survive to see Year 3.
But then, slowly but surely, the worm turned. The offense came to life in a 41-21 upset over South Carolina. The defense carried the day in road wins over Kentucky and Missouri. Veteran QB Jarrett Guarantano, goat of the early skid, found new life coming off the bench and ultimately won back the starting job he'd lost in September. A win over Vanderbilt in the regular-season finale clinched winning records overall and in-conference (5-3), just the second time Tennessee has finished in the black in SEC play since 2007. A late rally vs. Indiana in the Gator Bowl secured a 6-game winning streak to close the season, the best year-end run of any Power 5 team except LSU. In a matter of weeks, speculation over Pruitt's future shifted from poring over the buyout clause in his contract to debating the merits of extending it.
The big question for 2020: Was the second-half surge merely good timing against a front-loaded schedule, or an actual turning point in Pruitt's tenure? Most Tennessee fans have been burned enough times by now to instinctively flinch at the idea of high expectations. Still, even if the bigger, more tangible goals – division title, major bowl game – remain a stretch, there is some hope the Vols can keep the needle pointed in the right direction. Guarantano, a 5th-year senior who arrived as a touted recruit, played as well down the stretch as he has at any point in his turbulent career, and for the first time he didn't have to spend the offseason adjusting to a new offensive coordinator. The offensive line, once a perennial weakness, is suddenly long on both talent (3 starting slots will be manned by former 5-star recruits, with a 4th still in the air) and experience, with 8 guys who have seen significant time in the starting lineup. The defense returns 16 of last year's top 20 tacklers.
The schedule, which dropped a nonconference trip to Oklahoma but added dates against Auburn and Texas A&M, doesn't exactly set up for a breakthrough in terms of the final record. But winning the ones they're supposed to and closing the gap against the heavy hitters should be enough to qualify as another solid step forward.
THE DOORMAT
Vanderbilt
Yes, I get it, Arkansas is the team in the midst of the longest conference losing streak in school history – 19 games and counting – with no end sight. But at least Arkansas some remotely plausible glimmers of hope: A new head coach, a blue-chip transfer quarterback (Feleipe Franks) with a pair of 4-star freshmen waiting in the wings, a future pro at tailback (Rakeem Boyd), some gifted young receivers, a handful of intriguing transfers on defense. The Razorbacks can and very likely will go winless in league play for the 3rd year in a row and still feel on some level like they're moving forward.
The Commodores have none of that. Although they actually managed to win an SEC game, a mid-season shocker over Missouri that sent the Tigers into a death spiral, Vanderbilt was as bad as any Power 5 team in 2019 and generally has the smell of an outfit well past its expiration date entering Year 7 under coach Derek Mason. In their 9 losses last season, the Dores were outscored by 26 points per game, the narrowest margin coming in a 24-7 decision at South Carolina. Quarterback remains a void with no good options for filling it; there are no notable playmakers on either side of the ball; the overall talent level remains, as always, a couple of rungs below the rest of the league.
Worse, the school's decision to stick with Mason after last season felt like delaying the inevitable, all but guaranteeing that 2020 will play out as a bitter ending rather than a rebuilding year under a new regime. If there's any intrigue at all, it's only whether the circumstances surrounding this virus-ravaged season will be enough to grant Mason another reprieve.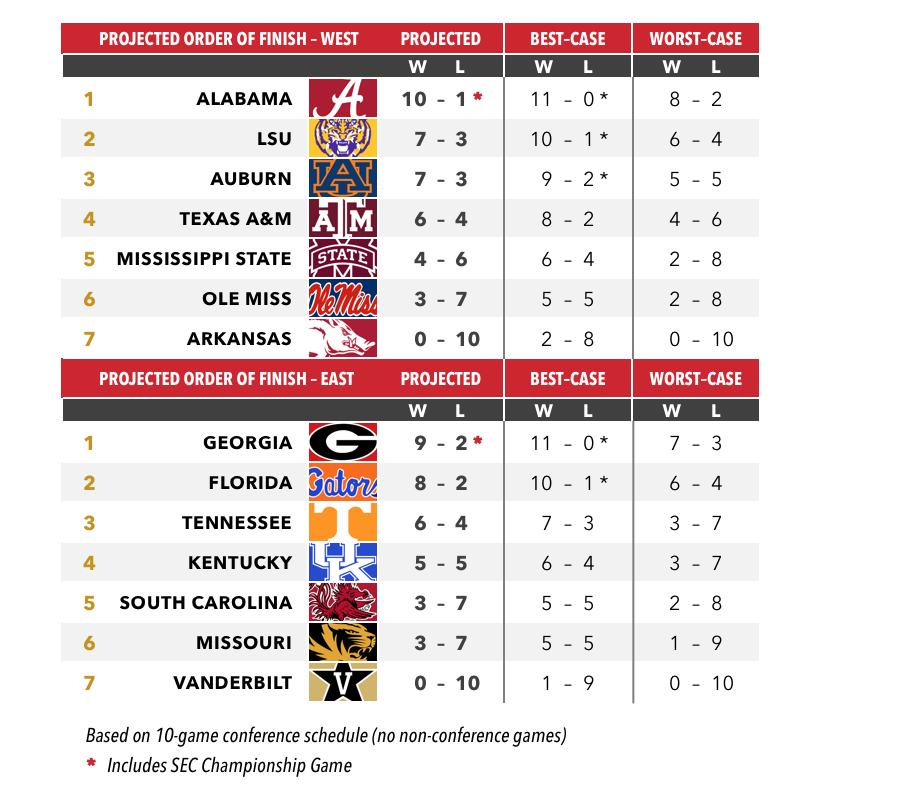 OFFENSIVE PLAYER OF THE YEAR
Najee Harris
As a recruit, Harris was touted as a talent even by Bama standards, and after a couple of relatively quiet seasons behind Josh Jacobs and Damien Harris, he emerged in 2019 with his freak-of-nature status fully intact.
https://twitter.com/PFF_College/status/1266127609571627008?s=20
Still, his beastlier moments notwithstanding, if anything Najee was arguably underrated compared to the Tide's true headliners at quarterback and wide receiver. At 6-2, 230-pounds, he combines the power, vision and durability of an every-down throwback – the Derrick Henry comparisons here are unavoidable – with eye-opening versatility for his size, finishing with more receptions (27) for more yards (304) last year than any Bama RB since Trent Richardson in 2011. Harris' 7 receiving TDs (in addition to 13 rushing) were easily the most of any non-wideout in Saban's tenure, and even compared to some of the high-profile receivers in that span actually matched or exceeded the team-leading totals of Julio Jones from 2008-10, Amari Cooper in 2013, and Calvin Ridley in 2015 and '17.
Najee Harris can do it all for @AlabamaFTBL, TOUCHDOWN TIDE! pic.twitter.com/voUhq6WJQp

— CBS Sports (@CBSSports) November 9, 2019
In Harris' case, of course, that number can't be separated from the fact that he was playing alongside the best quarterback in school history in a scheme that usually succeeded in keeping all of its many weapons involved. On the other hand, the departures of Jerry Jeudy and Henry Ruggs III means there will be more touches to go around, and the transition to a new QB means the opportunity is ripe for the offense to refocus around a true bell-cow running back. We got a glimpse of that future over the second half of last season, in games in which Tagovailoa was injured or absent and Harris' production leveled up accordingly – even including a short night vs. Arkansas, he averaged 50 more yards per game over the last 6 games vs. FBS opponents compared to the first 6, against the much steeper end of the schedule.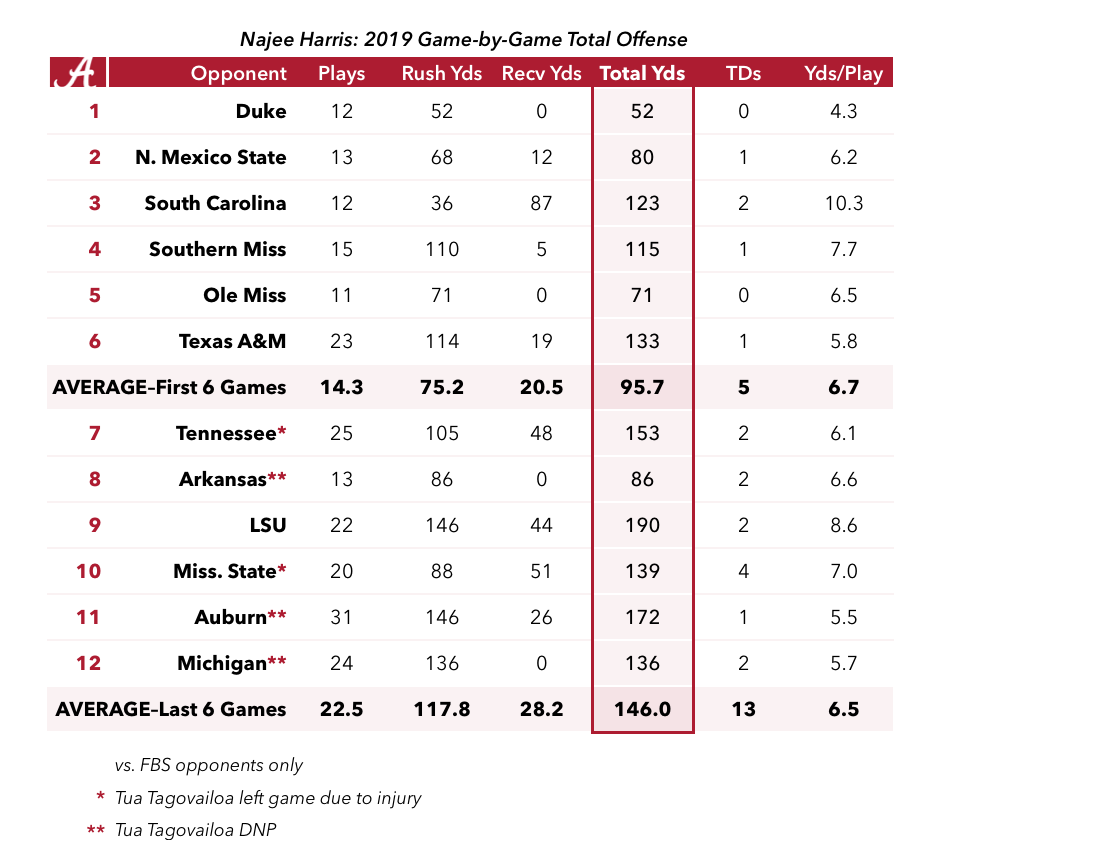 It's a rare thing these days for a player with Harris' pedigree and potential to pass on the NFL for the chance to put up those kinds of numbers over a full season as a senior. A healthy, maxed-out Najee running behind 4 returning starters on the o-line is a Heisman candidate with room to spare.
DEFENSIVE PLAYER OF THE YEAR
Derek Stingley Jr.
Stingley was an instant star in 2019, finishing as the SEC leader in interceptions (6) and passes defended (21), the highest-graded cornerback in the nation per Pro Football Focus, and the first true-freshman DB since the turn of the century to be voted a consensus All-American. The really illuminating part, though, is that he kept getting better. After getting posterized by Alabama's DeVonta Smith in early November, Stingley rebounded by allowing just 7 catches on 25 targets in LSU's postseason blowouts vs. Georgia, Oklahoma and Clemson, for a grand total of 82 yards. Combine that efficiency with his next-level length, instincts and ball skills, and the bar for his sophomore campaign could not possibly be any higher.
In fact, with the number of high-profile players who have already had the plug pulled on their season or otherwise opted out (including teammate Ja'Marr Chase), there's a compelling case for Stingley as the best player still playing college football in 2020 not named Trevor Lawrence. The notion of a cornerback sustaining more than a novelty Heisman run may sound like a pipe dream, especially for an established star who's likely to see far fewer passes in his vicinity in Year 2. Much of his best work this year will unfold out-of-frame, largely unnoticed by casual fans. But opportunities to flash his play-making side still exist – not only on defense, but also as a punt returner (a la Tyrann Mathieu, a Heisman finalist in 2011) and potentially as a part-time receiver on offense (a la Charles Woodson, still the only primarily defensive player to win it), a role Ed Orgeron reportedly promised Stingley as a recruit once he'd settled into his every-down gig. Ideally that experiment would have gotten a dry run in the spring, before practices were canceled. Even if he has to wing it, though, with a specimen like Stingley any chance to get him on the field with the ball in his hands is a chance worth taking.
BREAKOUT PLAYER, OFFENSE
Treylon Burks
Burks spent his freshman season at Arkansas toiling in futility on a dysfunctional offense that struggled to find a quarterback or an identity and ended the year by churning through 5 starting QBs in the last 5 games. Still, somehow, Burks – the No. 1 prospect in Arkansas and the gem of the Razorbacks' 2019 recruiting class – managed to look like the real deal. He finished with the team lead for receiving yards (475), yards per catch (16.4), and receptions of 20+ yards (10), joining classmate Trey Knox on a very short list of reasons to optimistic about the future.
Another reason: The arrival of a legitimate SEC quarterback, Florida transfer Feleipe Franks, who boasts the league's biggest arm and the NFL ambitions to go with it. As frustrating as he often was at UF, Franks is an obvious upgrade over the motley QB crew Arkansas rolled out the past 2 years and should give Burks an honest chance to shine as a downfield threat.
BREAKOUT PLAYER, DEFENSE
Christian Barmore
Barmore ranked 5th on the team in 2019 with 6 tackles for loss off the bench, an impressive number for a rotational player seeing his first significant action as a redshirt freshman. As usual with dominant interior linemen, though, the raw numbers don't quite do the big man justice.
Christian "The Broad Street Bully" Barmore was unleashed today. And then this happened. pic.twitter.com/5dwoL68AIj

— Touchdown Alabama (@TDAlabamaMag) October 13, 2019
Clearly, Barmore (6-5/310) is a specimen. In his limited snap count last year he inspired visions of the next Quinnen Williams, earning the second-highest pass-rush grade of any interior DL nationally per PFF (trailing only Florida State's Marvin Wilson) and vaulting onto the short list of top d-line prospects in the 2021 draft. His emergence alongside 2019 injury casualty LaBryan Ray and sophomore nose D.J. Dale stands to lift a relatively underachieving unit back to its usual place among the most feared fronts in the country.
MOST EXCITING PLAYER
Jaylen Waddle
Man for man, Alabama's 2018-19 receiving corps ranks among the best ever assembled at the college level, and there was no better evidence for its place on that list than Waddle's 4th-wheel status in the rotation. With 2,400 all-purpose yards and 16 touchdowns on just 120 career touches (including kick and punt returns), he's already established himself as one of most dynamic players ever to wear a crimson jersey … almost entirely as a role player. What is "the other guy" capable of when he become the guy?
Alabama's Jaylen Waddle

Only WR in college football with 12.0+ yards AFTER catch per reception in 2019.pic.twitter.com/oShUgupiaL

— PFF College (@PFF_College) May 23, 2020
Between Waddle and DeVonta Smith – both favorites to follow Jerry Jeudy and Henry Ruggs III as first-round picks – Bama can still stake its claim to the best 1-2 receiving punch in the country, an incredible statement for a team that lost 2 playmakers on the order of Jeudy and Ruggs. Smith has the better résumé at this point after leading the team last year in receiving yards and touchdowns, but between his value in the return game and his electrifying capacity as an open-field runner, Waddle might be the most feared player in America.
FAT GUY OF THE YEAR
Trey Smith
Smith has endured a roller-coaster career at Tennessee, much of it spent wondering if he'd ever see the field again. After a dominant freshman campaign in 2017, a blood-clotting condition sidelined him midway through his sophomore season and left his career in limbo for most of the following year. Predictably, by the time he was medically cleared to return to the lineup last September he was a long way removed from the precocious mauler Vol fans remembered.
Finally given the green light, though, Smith's trajectory in 2019 mirrored his team's. He immediately re-entrenched himself at left guard, weathered a rocky start, and worked his way back into peak maulin' form in short order – much to the delight of O-line Twitter.
Tennessee LG 73 Trey Smith is not the guy you to catch you blitzin'… pic.twitter.com/mzlBjZkA5E

— Cole Cubelic (@colecubelic) October 29, 2019
Tennessee RG 73 Trey Smith arriving at the 2nd level. pic.twitter.com/tw8XPSyF55

— Cole Cubelic (@colecubelic) October 30, 2017
I've seen a lot of growth from Tennessee LT Wanya Morris the last few weeks I'm the run game & thought Trey Smith has his best game last week. Looking solid again today. pic.twitter.com/va8vW0Ez3c

— Cole Cubelic (@colecubelic) October 12, 2019
SEC coaches backed up the highlights by making Smith a first-team all-conference pick, foreshadowing a likely All-America nod as a senior. At 6-6/330, Smith is a mountain of a man with experience at guard and tackle, a reputation as a locker-room leader, and, finally, a clean bill of health. If that last part holds he can add "first-round draft pick" to the list.
SLEEPER OF THE YEAR
Jamar "Boogie" Watson
Lynn Bowden Jr. was the star of Kentucky's midseason turnaround in 2019, for very obvious reasons. But the no-name defense upheld its end of the bargain, too, allowing just 16.1 ppg over the last 8 games. No member of that unit was more productive than Watson, who filled the edge-rushing vacancy left by Josh Allen and delivered with a team-high 12 TFLs and 7 sacks in his first year as a full-time starter – not quite on Allen's elite level (yet), but good enough to make him the returning SEC leader in both categories.
Reinforcing that, Watson also earned the highest pass-rushing grade of any returning SEC player per PFF, coming in just ahead of Christian Barmore and Georgia's Malik Herring on significantly more snaps than both. (PFF grades are not weighted by volume.) With company like that, an Allen-like leap as a senior is very much on the table.
MOST VALUABLE TRANSFER
Jabril Cox
At North Dakota State, Cox was a 3-year starter and 2-time All-American for the FCS juggernaut that's claimed the national championship in 8 of the past 9 years. (The exception: 2016, Cox's redshirt season as a true freshman.) At LSU, he's expected to move immediately into one of the starting slots vacated by Patrick Queen and Jacob Phillips – first- and third-round draft picks, respectively – setting an enormously high bar for his lone season in Baton Rouge from Day 1.
At 6-4/231, Cox arrives with serious NFL ambitions of his own. Despite his size, his NDSU highlights reveal a player who's less a thumper than a versatile athlete comfortable in space, with impressive range in coverage, a nose for the ball, and potentially elite closing speed.
Imagine this: Jabril Cox comes through unblocked as you run for your life. Terrifying.

UNI missed the ensuing 42-yard FG try. pic.twitter.com/r4tmuw3dsv

— NDSU Football (@NDSUfootball) October 12, 2019
As the distinction between linebackers, safeties and nickel roles continues to blur the value of a "spacebacker" who can cover ground and make plays from unconventional alignments is more obvious than ever. If Cox is all he's cracked up to be, first-year DC Bo Pelini may have one of the best in the conference.
BEST POSITION GROUP
Georgia's linebackers
There's depth and there's depth. The Bulldogs' linebacker rotation went 12-deep in 2019, most of whom are back and all of whom would be safely entrenched in the starting lineup almost anywhere else in the country.
Is there anyone on the level of, say, Roquan Smith? No. But the absence of an individual headliner only emphasizes the abundance of talent across the unit as a whole. The returning starters: Azeez Ojulari on the edge, Monty Rice in the middle. The rising stars: Nolan Smith and Nakobe Dean, both former 5-star recruits who flashed as freshmen and look like breakout candidates as sophomores – as long as they can stay on the field. There's proven veteran depth outside (Jermaine Johnson, Walter Grant, Adam Anderson) and inside (Channing Tindall, Quay Walker, Nate McBride), along with a couple of blue-chip freshmen (Rian Davis, Mekhail Sherman) who could be too good to hold back. There are so many viable bodies the Bulldogs can substitute in waves two or three times over without a significant drop-off and still have more waiting in the wings.
The upshot is that, in addition to keeping everyone fresh, there's also no situation, matchup, or personnel package the Bulldogs are not equipped to win. They could stand to get a little more from the outside 'backers in the pass rush; in every other respect Kirby Smart's defense is a finely tuned machine that has every piece it needs to go on whirring for the foreseeable future.
MOST LIKELY TO IMPROVE
Mississippi State's Passing Game
Not that Mississippi State has ever been known for airing it out – off the top of your head, try to name the best MSU quarterback you can remember other than Dak Prescott – but the post-Dak years have been especially frustrating. (The 2018 team that finished 7-6 with the nation's No. 1 scoring defense will go down in infamy.) After ditching coach Joe Moorhead last winter, the Bulldogs targeted Mike Leach specifically to turn their most glaring weakness into a core strength, and with Stanford transfer KJ Costello pulling the trigger they have every reason to expect immediate results.
A top-50 prospect in 2016, Costello will be the first blue-chip quarterback at Leach's disposal since Tim Couch, who put the Air Raid on the map during Leach's tenure as offensive coordinator at Kentucky in the late '90s, and the most touted QB ever to put on an MSU uniform for the first time. Prior to a disappointing, injury-shortened campaign in 2019, Costello was on track to fulfill the hype, throwing almost three times as many touchdowns (43) as interceptions (15) over the previous 2 years in a significantly more conservative scheme than Leach's. An uninspiring group of returning wideouts added a grad transfer from Alabama (Tyrell Shavers), a pair of JUCO transfers (Malik Heath and Caleb Ducking), and a 4-star freshman (Lideatrick Griffin). The most proven weapon, All-SEC RB Kylin Hill, has already given his stamp of approval to a scheme that will convert a large percentage of his touches into receptions out of the backfield.
If you say this offense not for my game .. obviously you don't know my Game .. but you will

— Kylin Hill (@H_Kylin) August 7, 2020
Will trading 6-8 fewer carries per game for 6-8 more catches move the needle against the league's upper-crust defenses? Not necessarily, if you account for the fact that RB receptions in Leach's system effectively function as long handoffs. But that's a caveat for later, after the novelty has worn off. For now, the novelty may as well be the entire point.
AND NOW: THE MONDAY DOWN SOUTH PRESEASON ALL-SEC TEAM
Here's my personal all-conference lineup for the coming season, based strictly on my own projections for the season. (That is, it doesn't reflect the projections or opinions of anyone else at Saturday Down South.) If an obviously deserving player from your favorite team didn't make the cut, it can only be because I harbor a deep, irrational bias against him personally — especially if he happens to play running back, wide receiver, or linebacker — and certainly not because some of these decisions were tough calls between more credible candidates than I could accommodate.
OFFENSE
Quarterback: KJ Costello • Sr, Mississippi State
Running Back: Najee Harris • Sr, Alabama
Running Back: Kylin Hill • Sr, Mississippi State
Wide Receiver: Jaylen Waddle • Jr, Alabama
Wide Receiver: DeVonta Smith • Sr, Alabama
Wide Receiver: Seth Williams • Jr, Auburn
Tight End: Kyle Pitts • Jr, Florida
Line (T): Alex Leatherwood • Sr, Alabama
Line (T): Landon Young • Sr, Kentucky
Line (G): Trey Smith • Sr, Tennessee
Line (G): Deonte Brown • Sr, Alabama
Line (C): Trey Hill • Jr, Georgia
Honorable Mention: QB: Mac Jones/Bryce Young (Alabama); Kyle Trask (Florida); Kellen Mond (Texas A&M) … RB: Zamir White (Georgia); Rakeem Boyd (Arkansas); Jerrion Ealy (Ole Miss); Larry Rountree III (Missouri); Isaiah Spiller (Texas A&M); Asim Rose (Kentucky) … WR: George Pickens (Georgia); Terrace Marshall (LSU); Jhamon Ausbon (Texas A&M) … TE: Jalen Wydermyer (Texas A&M); Arik Gilbert (LSU) … OL: Drake Jackson (Kentucky); Evan Neal (Alabama); Wanya Morris (Tennessee); Kenyon Green (Texas A&M); Ben Cleveland (Georgia); Landon Dickerson (Alabama).
DEFENSE
Line (DE): Markaviest "Big Kat" Bryant • Sr, Auburn
Line (DT): LaBryan Ray • Jr, Alabama
Line (DT): Jordan Davis • Jr, Georgia
Edge (OLB): Azeez Ojulari • Soph, Georgia
Linebacker: Dylan Moses • Sr, Alabama
Linebacker: Nick Bolton • Jr, Missouri
Linebacker: K.J. Britt • Sr, Auburn
Cornerback: Derek Stingley • Soph, LSU
Cornerback: Eric Stokes • Sr, Georgia
Cornerback: Patrick Surtain • Jr, Alabama
Safety: JaCoby Stevens • Sr, LSU
Safety: Richard LeCounte • Sr, Georgia
HONORABLE MENTION: DL: Jeremiah Moon (Florida) … Malik Herring (Georgia); Christian Barmore (Alabama); Dayo Odeyingbo (Vanderbilt); DeMarvin Leal (Texas A&M); Siaki "Apu" Ika (LSU) … LB: Monty Rice (Georgia); Christian Harris (Alabama); Owen Pappoe (Auburn); Henry To'o To'o (Tennessee); Nakobe Dean (Georgia); Nolan Smith (Georgia); Anthony Hines II (Texas A&M); Buddy Johnson (Texas A&M); Jabril Cox (LSU) … CB: Marco Wilson (Florida); Israel Mukuamu (South Carolina); Myles Jones (Texas A&M); Kaiir Elam (Florida); Josh Jobe (Alabama) … S: Demani Richardson (Texas A&M); C.J. Morgan (Mississippi State).
SPECIALISTS
Kicker: Brent Cimaglia • Sr, Tennessee
Punter: Max Duffy • Sr, Kentucky
Returner (KR/PR): Jaylen Waddle • Jr, Alabama
HONORABLE MENTION: K: Cade York (LSU); Evan McPherson (Florida) … P: Jake Camarda (Georgia) … KR/PR: Jerrion Ealy (Ole Miss); Christian Tutt (Auburn).