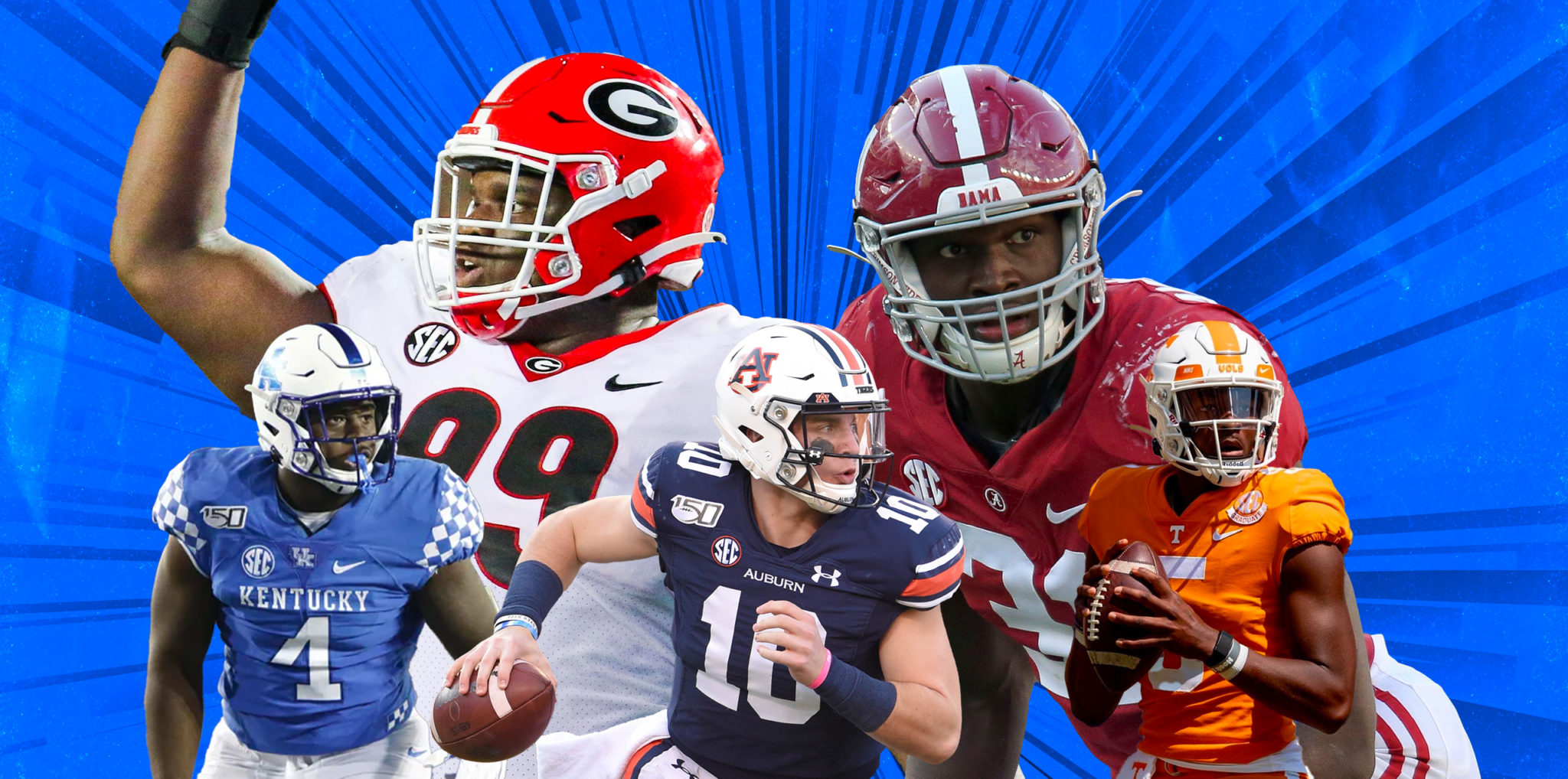 SEC
Monday Down South: The rest of the country can have chaos. In the SEC, Alabama and Georgia are in a class of their own
Weekly takeaways, trends and technicalities from the weekend's action.
Hey, remember a few weeks back, when the big, overarching lesson of the early season was that there are no dominant teams? When it was beginning to look like 2021 was going to be One of Those Years, when the food chain is in flux, upsets are the rule, and the usual suspects in the Playoff race are unusually suspect? When chaos was coming for them all? Go ahead and scratch that.
Alabama and Georgia are the dominant teams. A stunning development, I know: The world spins, and somehow the two outfits that have spent the past few years hoarding blue-chip talent at a rate unmatched anywhere else in the country keep coming out on top. But after Saturday's wipeout victories over Ole Miss and Arkansas, respectively, let's face it: As far as the rest of the regular season is concerned, the question marks that supposedly left them vulnerable in September look like fleeting blips, and the uncertainty looming in the other power conferences is a pipe dream for the rest of the SEC. Thirty-four ranked teams have lost over the season's first 5 weeks, the most in the history of the AP poll at this point on the calendar, and right now the odds of Bama or Georgia adding to that number over the next two months – compared to almost literally any other team in the country – could not be more distant.
If anything, the big, spread-covering margins in those wins understate just how lopsided they actually were, and just how physically overpowering at the expense of a couple of undefeated, ranked opponents. If you're the type of fan who gets nostalgic for BCS-era slugfests, these were your type of games.
Georgia, playing with a backup quarterback, led 21-0 before Arkansas gained a first down and put it into cruise control in the second quarter with the blowout already assured. The Bulldogs piled up 273 yards rushing, held the Razorbacks to 162 yards in total, and may as well have not attempted a pass. (Stetson Bennett IV put in the air just 11 times for 72 yards in starter JT Daniels' absence due to a minor injury.) Not only was the outcome never in doubt, with Georgia's defense setting the tone from the outset, neither was the shutout.
Alabama was slightly more balanced in its 42-21 romp over Ole Miss, but only slightly: Refusing to play by shootout logic against the nation's highest-scoring offense, the Tide ran 50 times, amassed a 16-minute advantage in time of possession, and held the Rebels more than 300 yards below their season average for total offense – the vast majority of what they did get coming in garbage time, after Bama's retro game plan had buried them in an insurmountable 35-0 hole. Lane Kiffin advised CBS viewers seconds before kickoff to get their popcorn ready in anticipation of a re-run of last year's barn-burner in Oxford, then watched his team get dismantled before halftime.
It's been a while since a championship-caliber team was defined more by its defense than its offense, or by a methodical ground game rather than a prolific quarterback. But if any teams are built to sustain that style of play, these are the two. And although there's plenty of evidence that both Daniels and Bryce Young have the talent and chops to open the offense up when the time comes, against whom is it going to be necessary en route to their inevitable showdown in the SEC Championship Game? Before Saturday, Arkansas and Ole Miss were arguably the biggest remaining challenges on Georgia and Bama's respective schedules, and they were swept aside with ease. At the same time, the preseason candidates for a dark-horse run – Florida, LSU, and Texas A&M – are all trending down following their second loss of the season. Georgia's toughest remaining test of the regular season is … uh, Kentucky? A Florida team that just got ambushed by Kentucky? Alabama's toughest remaining test is … Auburn?
Lord knows weird things happen in this sport, especially after the weather turns. Injuries and rivalries and #collegekickers and whatnot. But at this point, it will be significantly weirder if UGA and Bama don't arrive in Atlanta undefeated than if they do. If the games themselves haven't put into context just how much distance the Dawgs and Tide have put between themselves and the rest of the field, one glimpse at the landscape according to ESPN's Football Power Index will:
Who knows what those numbers are going to look like in 3 weeks, much less in 8, when they actually matter. The gap will start to narrow as the pretenders get weeded out. The Big Ten scrum, in particular, is a compelling mess, especially with Ohio State already nursing a loss. Contrary to any chart, Cincinnati's odds of crashing the Playoff are fundamentally unknowable without knowing how the committee, historically skeptical of non-power outfits, will value the Bearcats' win at Notre Dame within their otherwise underwhelming schedule. (Georgia fans, at least, should respect Cincinnati.) Oklahoma, for all its alleged issues, is still favored in every game, in most of them heavily.
One possibility we're almost certainly not going to see, though, is any other SEC teams inching their way up the ladder when Georgia and Bama's dominance makes that all but impossible. Short of a major upset between now and December, any plausible path that excludes the Bulldogs or Tide at the top will have to be so narrow it's hardly worth considering. They can safely begin making plans for Atlanta on Dec. 4 as we speak. The better question from this point on might be whether there's anything standing in the way of a rematch in Indianapolis on Jan. 10.
Notebook
Around the conference.
Alabama 42 • Ole Miss 21. For all the talent that's flowed through Tuscaloosa over the past 15 years, there's one position — the only position, other than kicker — where Alabama has never cultivated a truly elite player on Saban's watch: Outside linebacker. There have been some good ones, sure; Courtney Upshaw, Tim Williams and Terrell Lewis spring immediately to mind. But out of 37 consensus All-Americans and 39 first-round draft picks since 2007, the edge is the only position that's yet to produce a single representative in either column.
Emphasis on yet. Because with each passing week it's more obvious that sophomore Will Anderson Jr. is that dude.
Will Anderson gets the sack! #OleMiss #Alabama

— Sideline CFB (@SidelineCFB) October 2, 2021
He was recruited to be that dude, he showed all the promise of becoming that dude last year as a true freshman, he was widely expected to emerge as that dude coming into Year 2, and as we approach midseason he's somehow exceeding the hype. On paper, Anderson's performance against Ole Miss was arguably the best of his young career, yielding 9 tackles, 7 QB pressures per Pro Football Focus, and 2.5 tackles for loss — his third consecutive game with multiple TFLs — in a defining day for the front seven as a whole. Very quickly, though, that kind of outing is starting to feel like par for the course. For the season, Anderson leads the nation with 11 TFLs, or 2.2 per game, a furious pace that only 1 power-conference player in the past decade has managed to sustain over a full campaign: Aaron Donald in his senior year at Pitt in 2013.
Anderson, again, is only a sophomore, and Hall-of-Fame paces through the first weekend in October are rarely sustainable over the long haul. But then, he's only a sophomore. Between his productivity, his consistency and his next-level traits, it's clear enough even by Bama standards that Anderson is a rare specimen, one who may well turn out to be the best player on a championship team. Beyond this season, who knows? At his position, at least, the Saban-era Tide have legitimately never had another player quite like him. At this point in the dynasty, that should speak for itself.
– – –
I doubt many people who actually watched this game spent much time dwelling on Lane Kiffin's 4th-down decision making in the first half, but since a few of them decided to make it a thing, it's worth emphasizing: The gap between Alabama and Ole Miss was much too large to be bridged by a handful of plays breaking the Rebels' way, and to the extent they had any chance of springing an upset as a 14.5-point underdog with a badly overmatched defense it was obviously going to require scoring touchdowns, not settling for field goals and certainly not punting unless absolutely necessary. The analytics backed Kiffin up, and given the cost of kicking in each case, so did common sense.
• Attempt 1: Game tied 0-0, 1st quarter, 4th-and-3 from the Alabama 35 (success)
• Attempt 2: Game tied 0-0, 1st quarter, 4th-and-3 from the Alabama 18 (success)
• Attempt 3: Game tied 0-0, 1st quarter, 4th-and-1 from the Alabama 6 (failed)
• Attempt 4: Ole Miss trails 7-0, 1st quarter, 4th-and-2 from the Ole Mss 47 (failed)
• Attempt 5: Ole Miss trails 14-0, 2nd quarter, 4th-and-1 from the Ole Miss 31 (failed)
The first failed attempt, from inside the Bama 10-yard line on the game's opening possession, was the most disappointing after a couple of successful attempts earlier in the drive, but it was also a no-brainer: You're not going to beat No. 1 by pulling the plug on a 16-play drive with the ball on the doorstep and only a yard to go to set up first-and-goal. The last attempt, from the Rebels' own 31-yard line, is the one that brought on the scorn, because it was the last moment that Ole Miss was realistically still in the game. Alabama's offense promptly converted the stop into a short-field touchdown that extended the lead to 21-0, and the defense subsequently forced a turnover on the first play of the ensuing series to set up another quick, demoralizing score just before the half. In hindsight, the 4th-down call opened the floodgates.
In the moment, though, it was 4th-and-1 for a team that badly needed a spark and felt (justifiably) it couldn't afford to put its defense back on the field following a 3-and-out. Ole Miss' chances of winning at that point according to ESPN's win probability metric were already less than 5%; a punt in that situation would have meant slightly delaying the inevitable. Rather than playing to keep the margin more respectable, Kiffin played for what little chance he had remaining to win. Anyway, as outmanned as the Rebels were on both sides of the line of scrimmage the flood was in progress either way.
Georgia 37 • Arkansas 0. Arkansas, like Ole Miss, was just flat-out overmatched by plainly superior athletes. But the Razorbacks also had plenty of self-inflicted issues in the fleetingly competitive portion of the game, such that it was: In the first quarter alone, they were flagged 6 times — twice for false starts, once each for holding, ineligible man downfield, defensive pass interference and too many men on the field — which put the offense in a hole it had no chance to climb out of. The flags kept the Hogs in the shadow of their own goalpost and set up a blocked punt for a touchdown that effectively ended the game less than 15 minutes in.
? BLOCKED PUNT ?

Dawgs go up 21-0 in the first quarter ?

— 247Sports (@247Sports) October 2, 2021
Up to that point, the closest they'd come to a positive play was a 5-yard completion on 2nd-and-13 from their own 4-yard line. Afterward, it was purely academic. Arkansas missed a field goal on the ensuing possession, then proceeded to 3-and-out on 5 of their next 6 turns with the ball while looking like they'd rather be anywhere else. KJ Jefferson is still on the upward slope of his career, but it's probably safe to say he's not going to be coming in for any more Cam Newton comparisons any time soon.
Kentucky 20 • Florida 13. I've spent the past few weeks here wondering how long the Wildcats can go on manufacturing wins with a severely limited offense. Saturday night they answered in dramatic fashion, scoring a historic upset to move to 5-0 for the season on a night that they were outgained by 158 yards, finished 1-of-9 on 3rd-down conversions and crossed midfield just twice.
With all due respect to the electric Wan'Dale Robinson, that's not exactly a sustainable blueprint for winning games going forward. But there's something to be said for finding a way, and against Florida there were two big equalizers that offset the Gators' advantages in the box score. One was a blocked field goal in the third quarter that Kentucky returned for a go-ahead touchdown, a 10-point swing that went a long way toward compensating for the struggles on offense. The other was a genuinely mad house atmosphere in Commonwealth Stadium that left Florida's offense visibly unnerved — the Gators were flagged for a ridiculous 8 false-start penalties, including 2 critical flags in a goal-to-go situation with the game on the line in the final minute, contributing to Kentucky's eventual game-sealing stop on 4th down.
Altogether, Florida was flagged 15 times for 115 yards, significantly more than Kentucky (4 for 30) and enough to negate most of the Wildcats' glaring deficit in total offense. Since when does a Kentucky crowd have that kind of impact on the visitors? In football? Lexington has been such a friendly locale to the Gators over the years that prior to Saturday, they'd taken 16 in a row there dating to 1986. This time they ran into a belligerent crowd that made a tangible impact on the outcome. That may not make up for the total absence of a downfield passing game, but as long as the defense is holding its own it's something.
Auburn 24 • LSU 19. As one of the many people who came to bury Bo Nix after last week's career-threatening outing vs. Georgia State, credit where it's due: The man was having fun out there.
Is this the most impressive single play of Bo Nix's career? I think so pic.twitter.com/08VFnTURyI

— Nathan King (@NathanKing247) October 3, 2021
Along with a couple of other sandlot moments and the final score — Auburn's first win in Baton Rouge in Nix's lifetime — it was an inspired, leave-it-all-on-the-field kind of performance from a quarterback who at this time last week seemed destined for the bench and possibly the transfer portal. It wasn't the most efficient performance, by a long shot. But the effort was certainly there, and at the end of a very late, very intense night, accounting for 329 yards in a come-from-behind win at LSU is accounting for 329 yards in a come-from-behind win at LSU. The passer rating could not matter less and the relief that there's still a future for Nix to salvage at Auburn could not be more palpable.
Of course, at Auburn, all good vibes are strictly provisional pending weekly review. Next up on the Nix Redemption Tour: Georgia, which has hounded Nix into 2 of his worst games the past 2 years and allowed a grand total of 1 offensive touchdown in 5 games this year. Check back next week.
Obscure stat of the week
Tennessee racked up 458 yards rushing as a team Saturday in an out-of-nowhere, 62-14 shellacking of Missouri, wrapping up what can only be described as a catastrophic month for Mizzou's defense: In their past 4 games the Tigers have allowed a ghastly 1,368 yards on the ground on 7.0 yards per carry, dropping them to dead last nationally in rushing defense.
Last week might have broken Missouri — 92 yards for Tiyon Evans and Tennessee, untouched pic.twitter.com/HkEL36NtsY

— Cam Mellor (@CamMellor) October 2, 2021
Eli Drinkwitz responded on Sunday by firing his defensive line coach, Jethro Franklin, making him the second SEC position coach to get his walking papers in the past week, along with former Auburn receivers coach Cornelius Williams.
Superlatives
The week's best performances.
1. Alabama OLB Will Anderson Jr. See above. It's easy to profile Anderson as a pure pass rusher, but what really sets his game apart is his ability to serve as an anchor against the run at a relatively svelte 243 pounds: Per PFF, he's 1 of only 2 Power 5 players this season (along with Michigan's Aidan Hutchinson) with at least 20 QB pressures and a run defense grade north of 80.0.
2. Kentucky DE Josh Paschal. Paschal, a 5th-year senior who missed the Wildcats' historic 2018 win at Florida due to skin cancer, had a career night in his last go-round against the Gators, leading the defensive effort with 7 tackles, 2.5 TFLs, 3 QB pressures, and the single biggest play of the game: A blocked field goal in the third quarter that teammate Trevin Wallace took to the house for a go-ahead touchdown.
That just happened. ? @JPaschalx | TD return @WallaceTrevin

? – @ESPN – https://t.co/071KUqeHQH | #ForTheTeam ?? pic.twitter.com/WhfQSBn4RF

— Kentucky Football (@UKFootball) October 3, 2021
A 10-point swing on a night that both offenses spent largely banging their heads against a wall was a decisive turn: The crowd sustained the momentum the rest of the night and Florida never regained the lead.
3. Georgia DT Devonte Wyatt. Georgia's defense may be the premiere unit in college football right now, but it's always difficult to represent in this section, which has singled out a different UGA defender each week for the simple reason that the Bulldogs rotate a lot of bodies as a rule and don't ask any of them to transcend their roles. It's especially difficult to make individual distinctions along the d-line, where no player has played more than 40% of the team's total defensive snaps this season. This week, the honor goes to Wyatt, a 6-3, 315-pounder who terrorized Arkansas to the tune of 6 tackles, 2 sacks, a forced fumble, and a 91.4 PFF grade on just 20 snaps.
If you lean more toward LB Nakobe Dean (3 TFLs on 27 snaps, including 2 sacks) or edge Adam Anderson (5 tackles, 2 TFLs on 19 snaps), trust me, I feel you. Tune in next week when another member of the rotation takes his turn in the chair.
4. Tennessee QB Hendon Hooker. If there was any doubt over Hooker's job security before Saturday, he put it to bed in the Vols' blowout win at Missouri, turning in a near-flawless stat line (15/19, 225 yards, 3 TDs passing + 80 yards, 1 TD rushing) on a stunningly prolific afternoon for the entire offense. That's about as efficient as it gets: 10 of his 15 completions went for first downs or touchdowns; he forced 8 missed tackles as a runner; he was 3/4 on attempts covering 20+ yards downfield.
Hendon Hooker developing great connection with JaVonta Payton.

38-yard touchdown to start Mizzou game
pic.twitter.com/ore5GwNONU

— SEC Mike (@MichaelWBratton) October 2, 2021
It was that kind of day. Hooker's final passer rating (230.5) was the best number for any Tennessee QB against an SEC opponent in more than 20 years.
5. Alabama OL Evan Neal. Bryce Young is the face of Alabama's offense, and RB Brian Robinson Jr. was the workhorse of the Tide's punishing win over Ole Miss with 36 carries for 171 yards and 4 touchdowns. But the road to that victory was paved up front, and no member of that front took greater pleasure in the paving than No. 73.
Guys we would not want to line up against:

1. Evan Neal

— Pro Football Network (@PFN365) October 2, 2021
Neal didn't give up a sack or pressure against the Rebels, per PFF — he's yet to allow a hit on Young this year — and posted easily the top run-blocking grade of any Bama lineman (82.3), which doubled as his best grade of the season to date. That's what the scouts expected when they pegged him as a top-10 draft pick next spring, and what opposing defenses feared.
Honorable Mention: Mississippi State QB Will Rogers, who finished 46/59 for 408 yards, 3 TDs and no turnovers in the Bulldogs' win in College Station. … Texas A&M DL DeMarvin Leal, who led the resistance against MSU with 2 sacks and a pass deflection. … Auburn edge rushers Derick Hall and Eku Leota, who combined for 11 QB pressures, 3 TFLs and a forced fumble in the Tigers' win at LSU. … South Carolina DE Kingsley Enagbare, who continued his quietly stellar season with 7 QB pressures (including 5 hits) and a pair of deflected passes in the Gamecocks' 23-14 win over Troy. … South Carolina DB Jaylan Foster, who was credited with a team-high 11 tackles, 2 forced fumbles and a sack against the Trojans. … Vanderbilt LB Anfernee Orji, who had 3 TFLs in the Commodores' come-from-behind, 30-28 win over UConn. … Tennessee LB Jeremy Banks, who recorded 2 TFLs and an interception in the Vols' win over Missouri. … Tennessee RB Tiyon Evans, who racked up 156 yards on 10.4 per carry and scored 3 times vs. Mizzou, including a 92-yarder that broke the game open in the first quarter. … LSU WR Kayshon Boutte, who accounted for 127 yards and a touchdown on 6 catches vs. Auburn, most of that coming on the game's opening possession. … And LSU kicker Cade York, who knocked home 4 field goals in the loss, including a 51-yarder that extended his FBS-best streak of 16 consecutive successful attempts dating to last year.
– – –
The scoring system for players honored in Superlatives awards 8 points for the week's top player, 6 for second, 5 for third, 4 for fourth, 3 for fifth, and 1 for honorable mention, because how honorable is it really if it doesn't come with any points? The standings are updated weekly with the top 10 players for the season to date.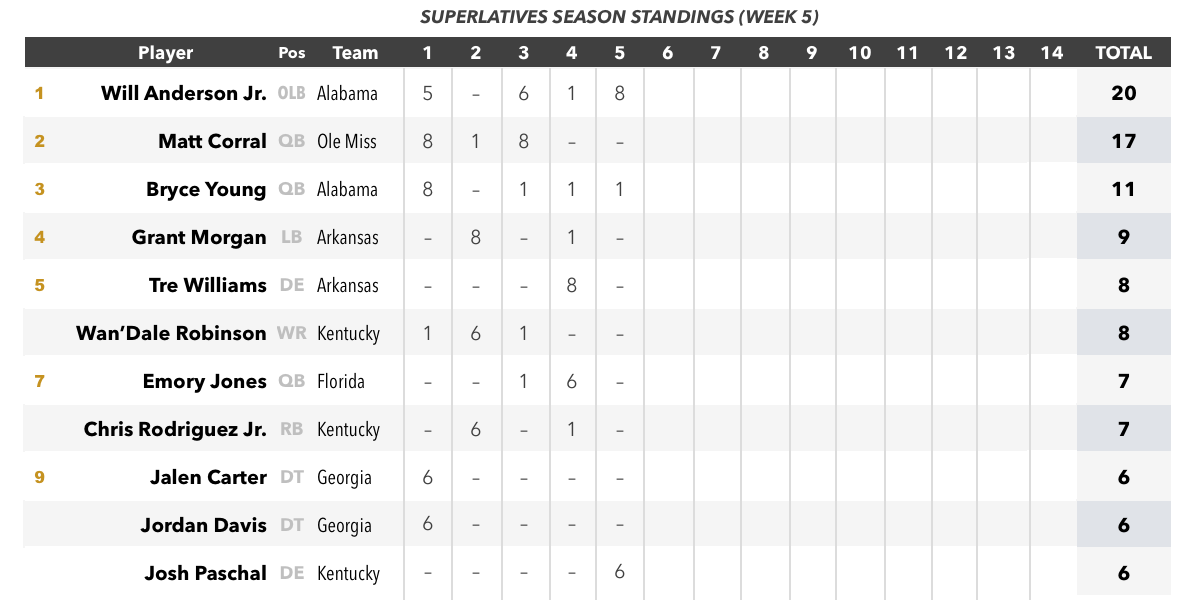 SEC Power Rankings
Updating the food chain.
1. Alabama (5-0). The Tide have scored 30+ points in 30 consecutive games, 1 game shy of the record streak set by UCF from 2017-19. Bama can match that this weekend at Texas A&M.
2. Georgia (5-0). UGA should get JT Daniels back this weekend vs. Auburn, but it's not at all clear that they need him until the Cocktail Party vs. Florida at the absolute earliest.
3. Arkansas (4-1). Given how well the Hogs played in September, I'm going to chalk up the debacle in Athens to Georgia's dominance pending more information. It was a rough week for the second tier.
4. Ole Miss (3-1). Ditto for the Rebels after biffing it in Tuscaloosa, where everyone biffs it. Saturday's date with Arkansas in Oxford could have New Year's 6 implications.
5. Kentucky (5-0). The Wildcats' offensive struggles are holding them back here for the time being, but outside of an Oct. 16 trip to Georgia, every remaining game on the schedule is winnable.
6. Florida (3-2). The Gators may turn out to be the second-best team in the East, but it's difficult to imagine a team that bit the dust in Lexington posing a serious challenge to UGA.
7. Auburn (4-1). Tank Bigsby is still the go-to back here, but freshman RB Jarquez Hunter seems extremely not fun to tackle.
8. LSU (3-2). What's wrong with LSU's running game? The Tigers have been embarrassing on the ground, and not just because they don't run it as often as they used to. They're straight-up bad: Out of 130 FBS teams, they rank 128th in rushing offense vs. FBS opponents (57.0 yards per game) and 126th in yards per carry (2.3). Against Auburn, their running backs combined for 46 yards on 13 carries with a long of 11, and that's before subtracting for sacks.
9. Mississippi State (3-2). The Bulldogs' win at Texas A&M was their best under Mike Leach since last year's opening-day upset at LSU. Here's guessing the rest of this season goes a little smoother.
10. Texas A&M (3-2). Back-to-back losses to MSU and Arkansas in what was supposed to be a payoff year for A&M feels like the first pitchfork moment for Jimbo Fisher, and with Alabama on deck, too. The Aggies are in real danger of falling from 7th in the country a few weeks ago to 7th in the division.
11. Tennessee (3-2). I have no idea what to make of the Vols' explosive afternoon at Missouri, but I'll definitely need to see more before I'm convinced it says more about Tennessee's offense than it does about Mizzou's defense.
12. South Carolina (3-2). The Gamecocks have put themselves in position to make a push for bowl eligibility, but this week's trip to Tennessee looks like a must-win.
13. Missouri (2-3). The Tigers are in a very dark place defensively, but incredibly the past 4 games don't represent their worst stretch against the run even since joining the SEC: In 4 games in October 2016, they allowed a truly ghastly 1,393 yards (348.3 per game) on 7.3 per carry.
14. Vanderbilt (2-3). Vandy picked up its first home win since 2019 and (narrowly) avoided the humiliation of losing to UConn, quite possibly the worst team in the entire FBS. The rest of the season is gravy.
Moment of Zen of the week
South Carolina led Troy, 20-14, at the start of the fourth quarter with Troy facing 3rd-and-9 at the Carolina 18-yard line. Chaos ensued.
Troy fumbles.

South Carolina recovers.

South Carolina fumbles.

South Carolina recovers.

South Carolina drops the ball at the one and it rolls out of bounds for a touchback.

Troy football. pic.twitter.com/BacBIUQS5d

— Sun Belt Pages (@SBPages) October 2, 2021
Let's turn to the official play-by-play for the full wrap-up.
Powell, Taylor sacked for loss of 12 yards to the USC30 (Foster, Jaylan), fumble by Powell, Taylor recovered by USC Staley, Damani at USC30 Staley, Damani return 8 yards to the USC38 fumbled by Staley, Damani at USC38 forced by Smith, BJ recovered by USC Brown, Jahmar at TRO20 fumbled by Brown, Jahmar at TRO01 recovered by TRO Troy at TRO00, End Of Play.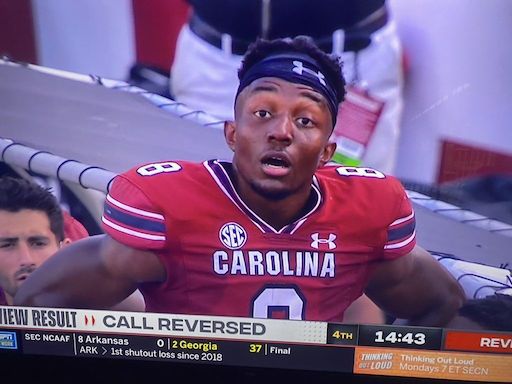 The only way this play could have better is if the point spread was on the line, which it nearly was: In the moment, it cost South Carolina (-6.5) a potential cover. But the Gamecocks went on to tack on a field goal without giving up any more points to Troy, bringing the final margin to a perfectly normal, spread-covering 9 points.