SEC
Saturday Football: CFP contenders, Jake Fromm's draft stock and Pete Golding criticism
The Saturday Football newsletter goes out to subscribers up to 3 days a week and discusses the major events going on around the nation in college football. You can subscribe by clicking here.
Good morning and happy Thursday! Spring football practices have started for many teams from around the country, so we're sure to start getting some news coming out of those camps. Spring games are still a few weeks away, but the spring action is certainly heating up.
For today's newsletter, we'll take a look at some final stories coming out of the NFL Combine, then we'll head to Tuscaloosa to discuss some fiery comments made about DC Pete Golding this week. Let's get started with today's top stories, shall we?
CFP CONTENDERS
Which teams will be in the mix for Playoff spots? Let's take an early look at some 2020 title contenders.
Now that spring practices are underway, it's not too early to start looking at potential contenders for the College Football Playoff in 2020. OK, maybe it's still just a tad bit early, but that hasn't stopped the preseason conversations from starting in earnest.
A number of the usual suspects are expected to compete for the Playoff, along with some new names. Here's a look at some of the early predictions for the 2020 Playoff:
ESPN's Heather Dinich took a deep dive into the top 10 CFP contenders. Based on ESPN's FPI, Dinich looked at what the 10 teams could do to impress the CFP committee and the biggest obstacles to their inclusion in the postseason. The 10 teams were Alabama, Clemson, Georgia, Notre Dame, Ohio State, Oklahoma, Penn State, Texas, Texas A&M and Wisconsin.
None of these teams are perfect. Far from it, in fact. Alas, champions are almost always flawed. It's about who can overcome those flaws and continue to win games. Bleacher Report's Tyler Brooke put together a list of the top six contenders and the flaws they'll have to overcome.
A number of questions have already started to surface about these teams. Alabama has to replace Tua Tagovailoa, Clemson will be down four starting offensive linemen from 2019 and Ohio State has already suffered an injury to projected top RB Master Teague III. We'll see if these teams can avoid any additional setbacks as the spring progresses.
Yes, it's still early, but it's never too early to start evaluating the top teams. Coaches like Nick Saban, Kirby Smart, Ryan Day, Dabo Swinney and others started their evaluations the second the 2019 season came to an end. Now, it's about getting through the spring healthy and figuring out depth charts. The next few weeks will provide some news for college football fans before the long summer offseason.
MOST BENCH PRESS REPS
The 2020 NFL Combine is over, and there were some incredible performances that took place in Indianapolis. There were some strong showings in the bench press, where a number of offensive and defensive linemen proved their strength.
The leader from Indy, Netane Muti of Fresno State, really stood out, benching 225 pounds a whopping 44 reps. Here are all the players who did at least 30 reps at the Combine (via NFL.com):
Netane Muti, OL, Fresno State — 44 reps
Simon Stepaniak, OL, Indiana —  37 reps
John Simpson, OL, Clemson — 34 reps
Davon Hamilton, DL, Ohio State — 33 reps
Jake Hanson, OL, Oregon — 33 reps
Khalil Davis, DL, Nebraska — 32 reps
Kenny Willekes, DL, Michigan State — 32 reps
Justin Madubuike, DL, Texas A&M — 31 reps
Ezra Cleveland, OL, Boise State — 30 reps
Khaleke Hudson, LB, Michigan — 30 reps
Those are some impressive performances. Not many of those guys are getting Day 1 buzz heading into the draft in Las Vegas, but we'll see if they can continue to stand out as Pro Days take place this month.
JAKE FROMM
Jake Fromm didn't have a great week at the NFL Combine. How much did he hurt his draft stock?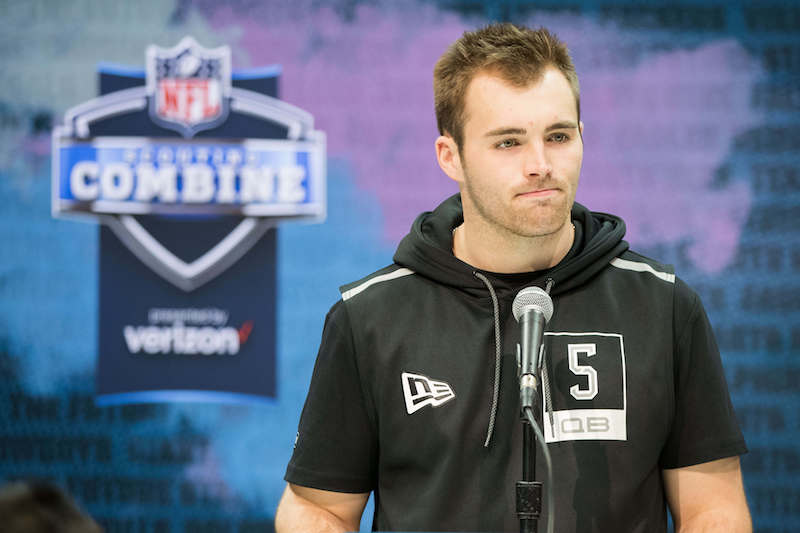 One of the most interesting prospects in the 2020 NFL Draft class is former Georgia QB Jake Fromm. Is he the third-best quarterback in the class? The sixth-best? A Day 1 prospect? Day 2? Day 3? Everyone seems to have different opinions on the guy who led Georgia to some big wins the past three seasons.
So, what are people saying about him after his so-so performance at last week's NFL Combine? Let's take a look at some stories involving Fromm:
We'll start with Fromm's hands, which measured 8 7/8 inches. Although that's small (Joe Burrow was questioned for only having 9-inch hands), Fromm had a great response to those criticisms. "The same hands that went to three SEC Championships, Rose Bowl, National Championship and some Sugar Bowls. I think it's played plenty of football and done well enough so far," he said.
For those looking past his hand size, there are other concerns. NFL.com's Daniel Jeremiah said Fromm's arm strength is a bigger question mark. "When I've watched him, I've seen throws, I've seen him make deep outs from the far hash in the Florida game," Jeremiah said. "You see examples of it, but there's other times where the ball hangs and the ball dies. I think mechanically he can help with some things there to get his lower body more involved." Jeremiah projects Fromm as a Round 2 pick in the draft.
Then, ESPN's Todd McShay weighed in with his thoughts on Fromm. His take was that Fromm is a "brutal evaluation." "You talk to anyone at Georgia about his work ethic and the length he goes to have success and you can see how he was able to overcome the lack of elite physical tools, but some of his throws aren't going to work in the NFL," McShay said. He also has Fromm as a Day 2 prospect.
Even after the Combine, it seems Fromm's arm strength is still a big concern. He'll have Georgia's Pro Day to try to ease NFL teams' worries, but we'll see how much he does in that outing. He's tough to evaluate, yes, but there's a chance Fromm could find a great deal of success in the NFL if he lands with the right team. We'll see what happens in April.
GOOD READS
ALABAMA DEFENSE
Alabama DC Pete Golding has been taking some heat lately. Is that criticism warranted?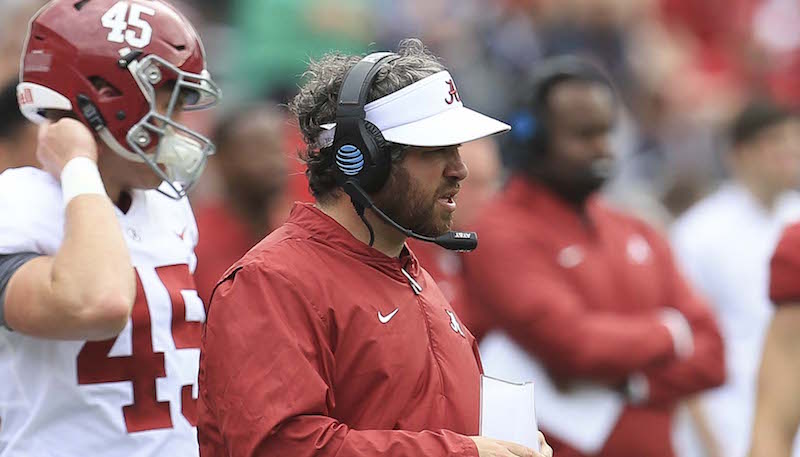 Pete Golding served as the Alabama defensive coordinator in 2019, and the Tide's defensive performance left him facing some heavy criticism. Yes, the squad was without star LB Dylan Moses all year, but allowing 46 points to LSU and 48 points to Auburn had fans in Tuscaloosa scratching their heads, as that is something Alabama defenses haven't typically done during the Nick Saban era.
After some comments made by Terrell Lewis at the NFL Combine, Golding is taking some heat. Are these criticisms fair? Let's take a look at this week's news:
First, we'll start with the comments made by Lewis in Indianapolis. Lewis blamed a lack of "communication from the top down" for Alabama's struggles in the two losses. Injuries forced freshmen Shane Lee and Christian Harris into key spots in the linebacking corps, so that certainly hurt. But, it seems Lewis wasn't too thrilled with Golding's communication in key situations, either.
SEC Network host Paul Finebaum had a strong reaction to Lewis's comments. Finebaum said Golding is the worst coordinator to come back for a second year under Saban. "Pete Golding is the worst defensive coordinator Nick Saban has had at Alabama, that's not really debatable," Finebaum said. He explained that Tosh Lupoi doesn't count because he wasn't calling plays by the end of his one season as Alabama's defensive coordinator.
The criticism of Golding is interesting considering a recent Alabama hire. The Tide brought in Charlie Strong as a defensive analyst a couple of weeks ago. Strong won't be on the field, but Finebaum thinks Strong is a candidate to make a move quickly, calling him "the best defensive coach on that staff other than Nick Saban."
All of this criticism could go away if the Tide have a strong year on the defensive side of the ball in 2020. Dylan Moses will be back and the Tide continue to bring in incredible recruiting classes. We'll see how they look defensively this spring.
JUST FOR FUN
Today, let's see how much you know about the Group of 5 conferences. We'll give you five FBS schools and you tell us which of the five Group of 5 conferences they play in. We'll even tell you that the G5 conferences are the MAC, AAC, Sun Belt, Mountain West and Conference USA. Ready? Here we go:
Coastal Carolina
Florida International
Tulane
Kent State
San Jose State
Scroll down to see the answers to today's quiz.
CHASE YOUNG
Chase Young was absolutely dominant in 2019. Is he actually the best player in the 2020 draft class?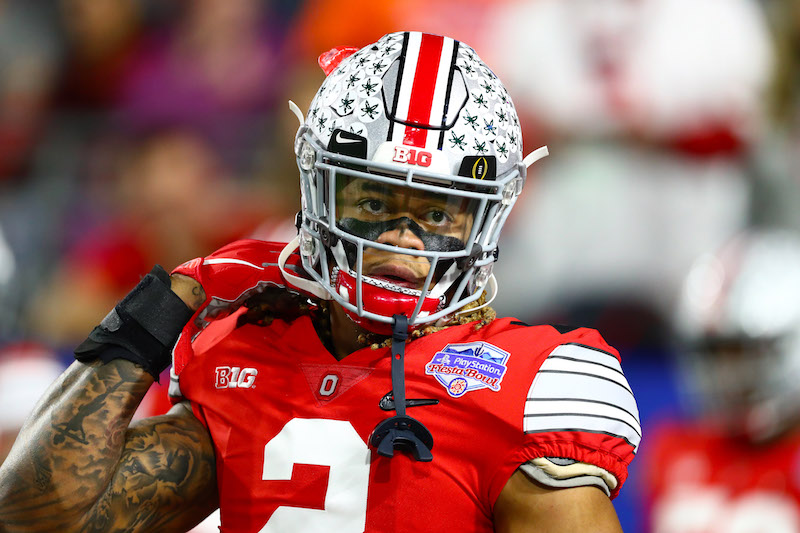 Ohio State DE Chase Young had an incredible 2019 season, recording 16.5 sacks despite having to sit out two games due to suspension. He's widely projected to be the No. 2 pick in the 2020 NFL Draft, behind only LSU QB Joe Burrow, who is projected to go to the Cincinnati Bengals.
So, will Young end up going No. 2 overall to the Washington Redskins? Or, will someone trade up to that spot to take another quarterback? Is Young the best overall prospect in the draft? Let's take a look at some of the buzz surrounding the elite pass rusher:
Young certainly feels like he should be the No. 1 overall pick. The former Buckeye listed the things that sets him apart from other prospects. "No one else prepares like me," Young said. "My love for the game is unmatched. My passion is unmatched."
Many analysts agree with Young that he's the best prospect. NFL.com's Daniel Jeremiah has him atop his 50-player big board following the Combine. ESPN's Todd McShay thinks Young is a lock to go No. 2 overall to the Redskins. Saturday Tradition's Connor O'Gara makes a case that Young is the Big Ten's best draft prospect of the 21st century.
Not everyone is on board the Young hype train, though. ESPN's Mel Kiper Jr. said the last three games of the 2019 season, during which Young didn't record a sack, cost him a shot at the No. 1 spot. Kiper also said the Redskins should take Alabama QB Tua Tagovailoa at No. 2 instead of Young. "You can have all the Chase Youngs you want," Kiper said on ESPN's First Take, "but if you don't have a quarterback you're spinning your wheels."
So, it seems there is still a bit of debate about the No. 2 pick in the upcoming draft. Will the Redskins end up taking Young? Or, will they take someone else or trade the pick? We'll find out in April in Las Vegas.
ANSWERS
Here are the conferences the five schools mentioned above belong to:
Coastal Carolina — Sun Belt
Florida International — Conference USA
Tulane — AAC
Kent State — MAC
San Jose State — Mountain West
QUOTE OF THE DAY
"I am extremely disappointed in the poor choices made recently by some of our student-athletes. We have high expectations within our program, and when those expectations are not met, there are consequences. The high standards and expectations within our football program will not change, and the character and integrity of the players on our team will not be compromised."
– Kansas State coach Chris Klieman addressed the five (yes, five!) arrests of Wildcat players since Saturday. Not a good look for the K-State program.
TWEET OF THE DAY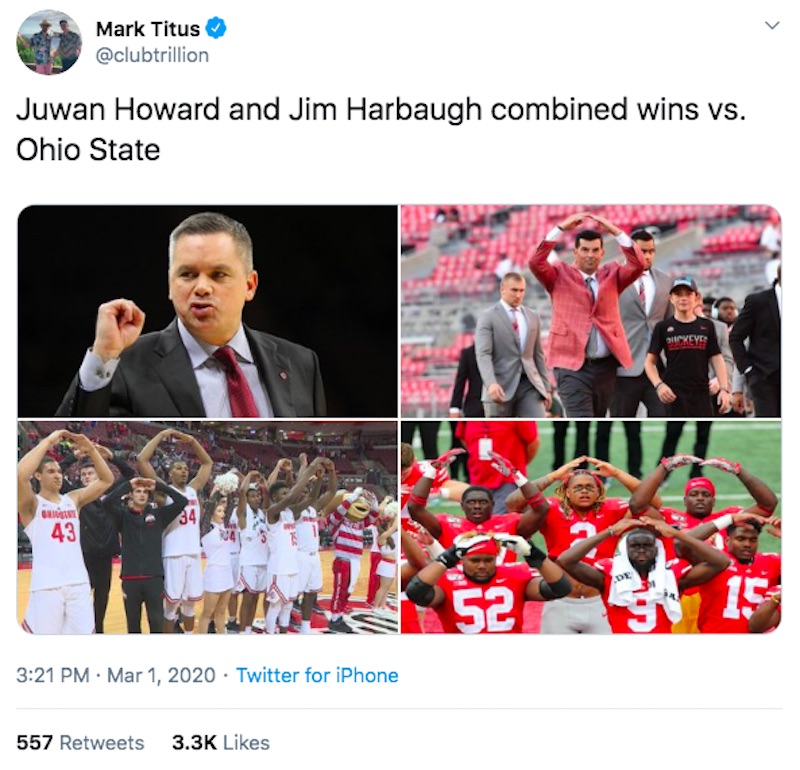 Former Ohio State walk-on basketball player Mark Titus made sure to let Michigan fans know how many wins Jim Harbaugh and Juwan Howard against the Buckeyes.