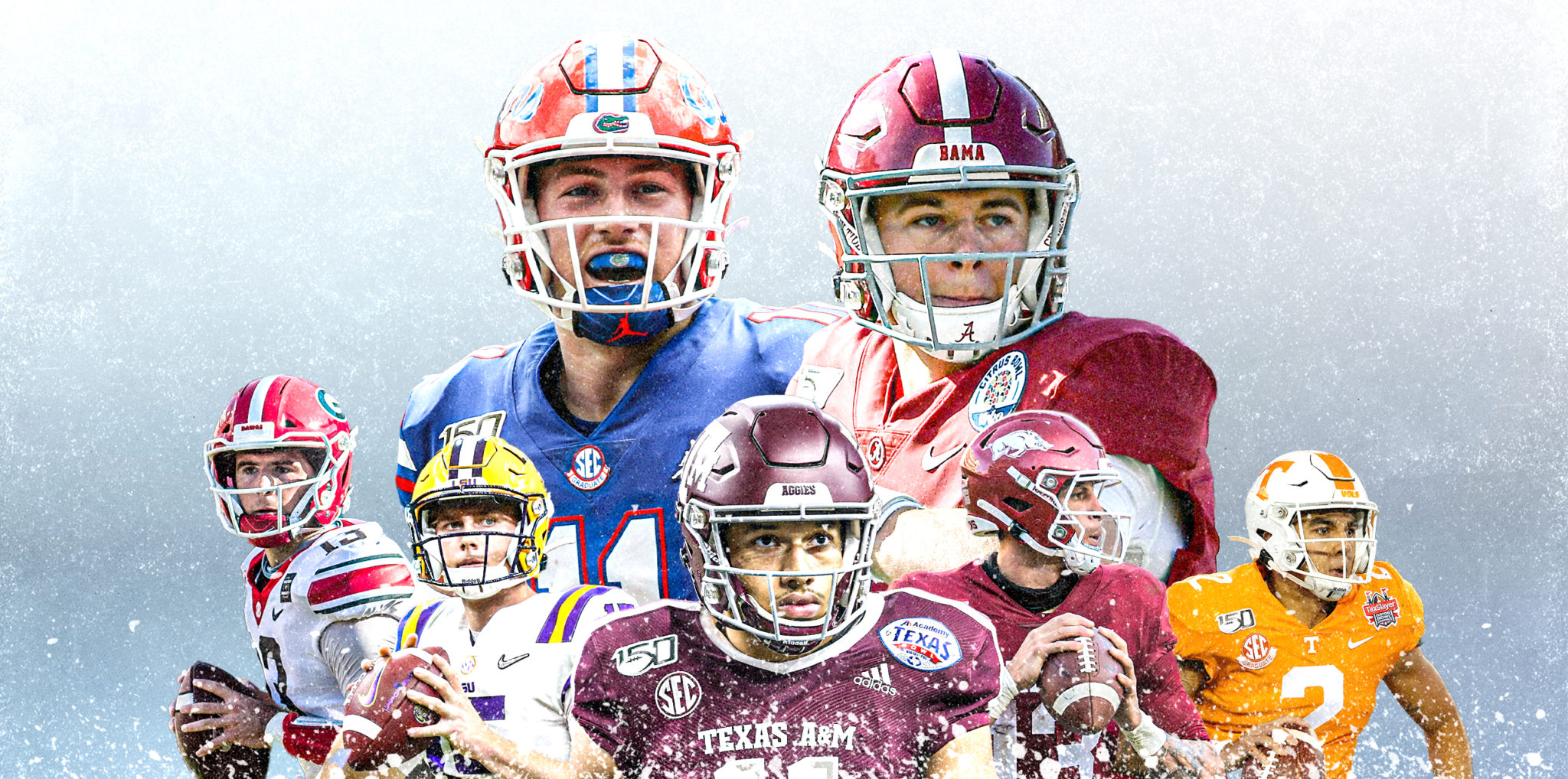 SEC
SEC QB Rankings, Week 6: LSU has Myles Brennan's back -- until TJ Finley gives them no choice
Quarterbacks: There are a lot of them! Each week throughout the season, SEC QB Power Rankings will help you keep the game's most important position in perspective by ranking the SEC starters 1-14 according to highly scientific processes and/or pure gut-level instinct. Previously: Week 2 … Week 3. … Week 4. … Week 5.
1. Mac Jones, Alabama
Jones didn't miss a beat in Jaylen Waddle's absence against Tennessee, redistributing Waddle's targets among John Metchie (7 catches for 151 yards), Slade Bolden (6 for 94), and Najee Harris (6 for 61) with no discernible drop-off in the overall product — Jones finished 25-of-31 for 387 yards, setting a school record for consecutive completions along the way, and Alabama scored on 6 of its 9 offensive possessions before he yielded to Bryce Young. Eventually, Bama will miss Waddle's explosiveness, if only for the ways that it affects how much attention opposing defenses can afford to pay to the Tide's other weapons. (Not to mention Waddle's impact in the return game.) But based on what we've seen so far from LSU and Auburn, that day may not come until a potential rematch with Georgia in the SEC Championship Game, at the earliest. And based on how seamlessly the offense absorbed Bolden into the fold in Knoxville, it certainly doesn't mean they're playing with a short deck.
Bolden, a former 3-star recruit who'd barely registered on the stat sheet prior to Saturday, isn't a Waddle-level playmaker by a long shot. (Who is?) He does possess some chain-moving potential from the slot. Four of his 6 catches vs. the Vols went for first downs, including a 12-yard gain vs. indifferent coverage on the first play from scrimmage; a 30-yard gain on a deep drag route behind zone coverage to kickstart Bama's first touchdown drive; and a 22-yard gain on which he showed off the route-running chops to generate separation vs. man-to-man.
Slade Bolden has 81 yards on 4 receptions so far. https://t.co/dVAe2UqHyI

— Alabama Crimson Tide | AL.com (@aldotcomTide) October 24, 2020
Bolden is much less likely to add further distance between himself and the DB after the catch. (He also had a fumble and a drop in the second half, for the record.) But with a couple of proven big-play options still available on the outside in Metchie and DeVonta Smith, there's a definite role for a steady possession type who can make hay on the intermediate stuff. And there's still Jones, who continues to prove himself as the league's most accurate passer to all areas of the field regardless of who's on the receiving end. His command of the offense appears to be growing by the week.
– – –
(Last week: 1)
2. Kyle Trask, Florida
The Gators have spent the last 2 weeks in COVID-19 limbo, leaving plenty of time for the flourishing debate over whether Trask is a legitimate first-round prospect or a mediocre talent who has merely taken advantage of good coaching and explosive receivers. Place your bets accordingly. As far as Florida is concerned, as long as he's averaging close to 10 yards per attempt with the league's best touchdown-to-interception ratio, the distinction is irrelevant.
– – –
(Last week: 2)
3. Matt Corral, Ole Miss
The broad outline of Ole Miss' offseason QB competition typecast Corral as the pocket guy and John Rhys Plumlee as the runner. Quietly, though, Corral has been as effective with his legs as any SEC quarterback, accounting for 327 rushing yards (excluding sacks) on 6.5 per carry with a dozen runs of 10+ yards. He ran for a team-high 91 yards with 2 rushing TDs in Saturday's 35-28 loss to Auburn, nearly offsetting a subpar afternoon as a passer (16/27, 154 yards, 1 TD/2 INTs) in a game the Rebels led in the final 2 minutes. The passing game needs to return to form if they're going to have any chance of a winning record over the second half of the season — a very plausible goal given the remaining schedule, putrid defense notwithstanding — but it's past time to begin thinking of Corral as a bona fide dual threat in his own right.
– – –
(Last week: 3)
4. Kellen Mond, Texas A&M
5. Feleipe Franks, Arkansas
6. Stetson Bennett IV, Georgia
Mond, Franks and Bennett all hold steady in the middle class after enjoying a weekend off. (Previously scheduled for A&M and Arkansas, COVID-related for Georgia.) Arkansas' trip to A&M this weekend will mark Mond's 4th consecutive start in the series, with Franks serving as the 4th different starter for the Razorbacks in the same span.
– – –
(Last week: 4/5/7)
7. Myles Brennan, LSU
Ed Orgeron insists Brennan's job is safe despite his absence in Saturday's 52-24 win over South Carolina, stating unequivocally on Monday that "Myles Brennan is our starting quarterback" and "Myles is not going to lose his starting position because he got hurt." Exactly when he'll be the starting quarterback again remains an open question: Although Brennan has reportedly returned to practice this week, his status for Saturday's trip to Auburn is in limbo as the team continues to evaluate the abdominal injury that kept him out vs. the Gamecocks.
In the meantime, the buzz belongs to his understudy, towering true freshman TJ Finley, who made himself right at home in Brennan's place, finishing 17-of-21 for 265 yards, 2 touchdowns and a 208.9 passer rating against Carolina in his first career action. (He also added a rushing TD to cap a 17-play march on the game's opening possession.) As a team, LSU scored on 6 of its 7 non-half-ending drives, finished 8-of-10 on 3rd-down conversions — that after going 0-for-10 on 3rd down in its loss at Missouri — and amassed a 15-minute edge in time of possession. As a long-term prospect, Finley, a 6-6, 242-pounder who reportedly had to shed more than 20 pounds over the summer just to make that weight, left looking like the second coming of JaMarcus Russell.
Brennan has yet to inspire that kind of comparison, although it's worth noting that he hasn't enjoyed nearly as much support from the ground game, either — the Tigers ran 54 times for 276 yards on Saturday, a dramatic improvement over their anemic output in losses to Mississippi State and Mizzou, when the burden for keeping pace in a shootout fell almost entirely on Brennan's arm. Accordingly, Finley's 21 attempts marked the fewest for LSU in any game since November 2018, and only the second time in that span the number has come in under 30. Still, if he winds up getting the call again this weekend at Auburn, in what amounts to a must-win game for both teams, and delivers to anywhere near the same extent, the pecking order heading into the Nov. 14 collision with Alabama may not be nearly as cut-and-dry as Orgeron currently claims.
– – –
(Last week: 6)
8. Bo Nix, Auburn
Nix rebounded from his worst game of the season at South Carolina with arguably his best in Auburn's 35-28 win at Ole Miss, turning in a career-high for completion percentage (76.7% on 30 attempts), going INT-free, and connecting with mutant WR Seth Williams for the go-ahead/game-winning touchdown with a little over a minute to play — Nix's first game-winner since hooking up with Williams to beat Oregon last year in his first career start.
OH MY, SETH WILLIAMS!@AuburnFootball takes the lead! pic.twitter.com/jr17s51j5i

— SEC Network (@SECNetwork) October 24, 2020
Of course, every opposing quarterback Ole Miss has faced to date has delivered arguably his best game of the season against the Rebels, who rank dead last nationally among teams that have played multiple games in pass efficiency defense and yards per play allowed. This week's game against LSU is another chance to put up good numbers against a secondary that has mostly been very bad.
– – –
(Last week: 8)
9. Connor Bazelak, Missouri
10. Terry Wilson, Kentucky
The final score of Missouri's 20-10 win over Kentucky doesn't quite do justice to just how weirdly lopsided the game actually was: Mizzou's offense rolled up nearly 3 full quarters' worth of time of possession (43 minutes, 10 seconds, to be exact) while running 92 plays to Kentucky's 35 – the fewest scrimmage plays by an SEC team in any game since the turn of the century. The Tigers embarked on 4 separate drives of at least 12 plays apiece, including a 21-play, 66-yard epic to open the second half that drained more than 9 minutes from the clock and ended, hilariously, with a 4th-down sack inside the UK 10-yard line.
Altogether, Bazelak did his part to keep the chains moving, finishing 21-of-30 for 201 yards with 8 successful 3rd-down conversions (5 passing, 3 rushing) and 3 more on 4th down; just 2 games into his tenure as QB1 his promotion over opening-day starter Shawn Robinson already looks like a potentially season-saving move. Wilson, on the other hand, was a dismal 4-of-11 passing for 38 yards and gave way at the end of both halves to Auburn transfer Joey Gatewood (who was hardly better, finishing 1-of-4 for 12 yards with a minimal contribution as a runner). Wilson reportedly has yet to practice this week due to a "minor" injury and may find his status for this weekend's game against Georgia is in doubt whether he's available to play or not.
– – –
(Last week: 10/9)
11. Collin Hill, South Carolina
Hill had a rough night in Carolina's loss to LSU, finishing 12-of-22 with 5 sacks, multiple overthrows, and an egregious pick-6 that effectively iced the game just before halftime. Still, Hill finished the game and received another vote of confidence from Will Muschamp, who said Monday he still believes Hill "gives us our best chance to win right now" heading into an open date. Whether that says more about Hill than it does about highly-touted backups Ryan Hilinski and Luke Doty, neither of whom has attempted a pass this season, is in the eye of the beholder.
– – –
(Last week: 11)
12. Jarrett Guarantano, Tennessee
Guarantano managed to hold on to his starting job after a week of intense criticism following a nightmare outing against Kentucky and emerged from Saturday's loss to Alabama relatively unscathed, going 13-of-24 for 162 yards and 2 touchdowns without a sack or turnover. Then again, when you're talking about a game in which Tennessee's win probability topped out at 8.9% early in the first quarter, according to ESPN …

… there are only so many ways to make it sound respectable. Guarantano appears to be firmly ahead of Brian Maurer, JT Shrout and Harrison Bailey in the pecking order heading into an open date; as always where his grasp on the position is concerned, that's subject to change at any time.
– – –
(Last week: 13)
13. KJ Costello or Will Rogers, Mississippi State
No new insight this week following an open date, with Costello and Rogers still listed as co-starters on the official depth chart for Saturday's trip to Alabama. Rogers, a true freshman, most recently outplayed Costello in the Bulldogs' loss to Texas A&M, a relatively encouraging turn after he was picked twice in a brief appearance off the bench at Kentucky; unlike Costello, he also benefits from his status as The Future for a team that's already resigned to looking beyond 2020.
On the flip side, assigning a true freshman to make his first career start at Alabama is … well, not ideal. Costello has looked like a completely different player since his opening-day evisceration of LSU, averaging a miserable 4.7 yards per attempt over the last 3 games with a single touchdown vs. 8 interceptions. (The fact he's put up that number despite posting a perfectly healthy 69.1% completion rate in the same span is even more depressing.) But he has played a lot of football, which is still worth something when the alternative is potentially throwing a freshman to the wolves in Tuscaloosa.
– – –
(Last week: 12)
14. Ken Seals, Vanderbilt
The Commodores have "enough players to play right now," per Derek Mason, a step up from the last 2 weeks when COVID-19 protocols left them short of the minimum 53 scholarship players required by the conference to play a game. For Seals' sake, if there's any game Vandy should really want to play to boost their freshman QB's confidence it's this weekend's date with Ole Miss and the SEC's most generous defense. If he struggles to string together a few positives against the Rebels, that's a bad omen for his eventual viability as a starter.
– – –
(Last week: 14)