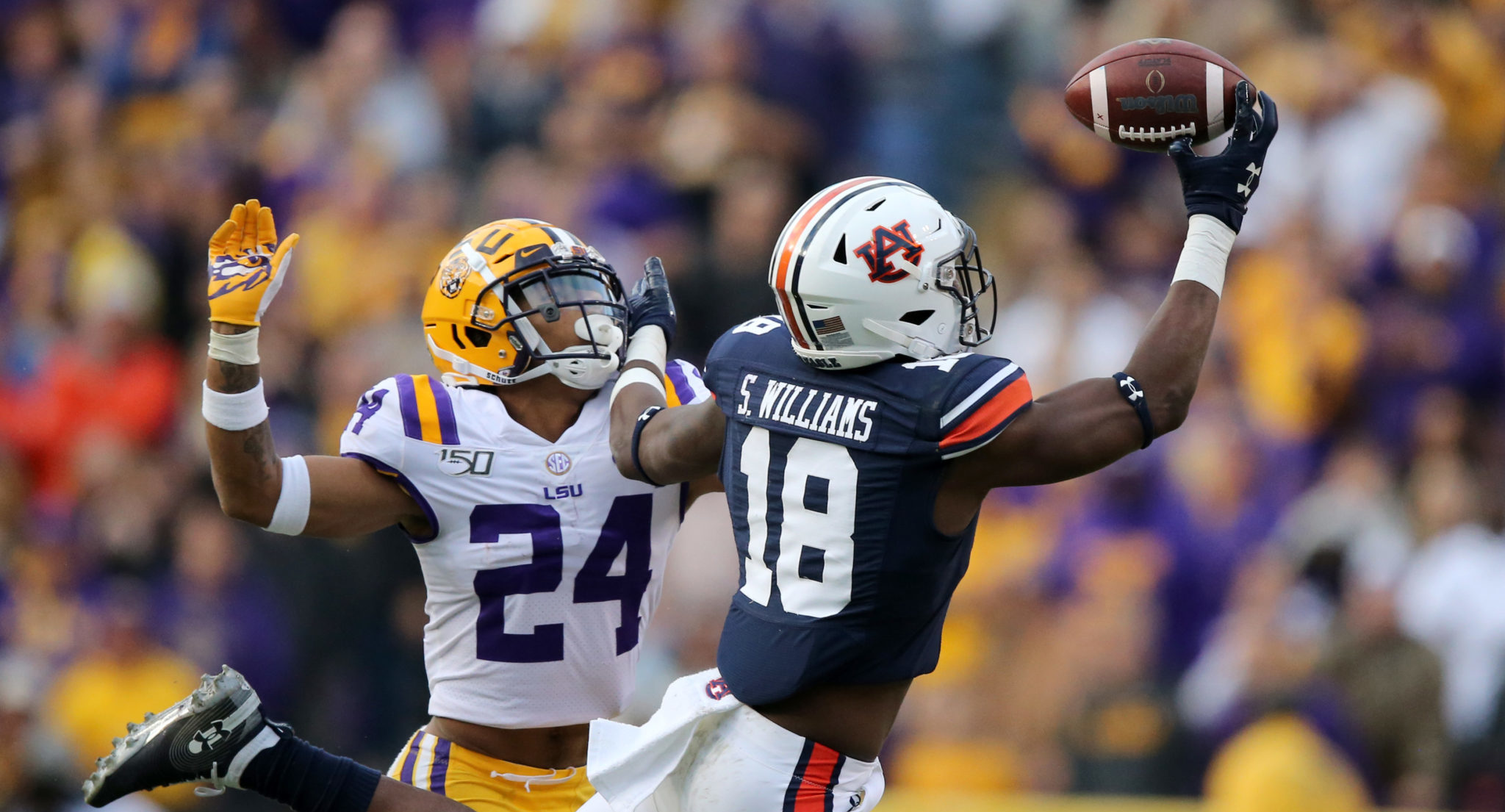 SEC
Week 6 SEC Primer: Backs against the wall, LSU-Auburn is a different kind of must-win
Everything you need to know about this weekend's SEC slate.
Game of the Week: LSU (-3) at Auburn
The stakes
Technically, both sets of Tigers are still clinging by their fingernails to the last flimsy shred of a hope of winning the SEC West with 2 losses. Realistically, the rewards awaiting the side that prevails on Saturday are a) slightly better odds of landing in a New Year's 6 bowl and b) pride.
That's rare these days: Since the turn of the century, Auburn-LSU has almost always loomed large in the SEC standings, and occasionally in the national title race, due in part to the fact that it almost always falls in the front half of the schedule. This year will mark the first time both teams come into the game unranked since 1999, and the first time both have multiple losses since 2001, when the game was pushed to the end of the schedule by 9/11 and still wound up deciding the division. Since then, one side or the other (or both) has been ranked in the top 10 at kickoff in every meeting except 2015 (aka The Leonard Fournette Game) and '16.
So a game pitting two teams nursing a combined 5-4 record, with 3 of those 4 losses coming at the hands of unranked opponents, isn't exactly the high-water mark for the series. The winners can indulge in at least one more week of imagining a scenario in which they run the table over the second half of the season, knock off Alabama, and get lucky enough to take the West via tiebreaker if Bama suffers a second loss; the loser can officially write off this surreal COVID season as a wash. From where they're standing right now, that qualifies as must-win.
The stat: 9.7 yards per attempt
That's the average gain on pass attempts against LSU's secondary this season, which ranks dead last in the SEC and 73rd nationally out of 75 teams that have played more than 1 game. For some comparison, from 2010-19 LSU never allowed more than 6.7 yards per attempt vs. FBS opponents or finished outside of the top 40 nationally in ypa allowed.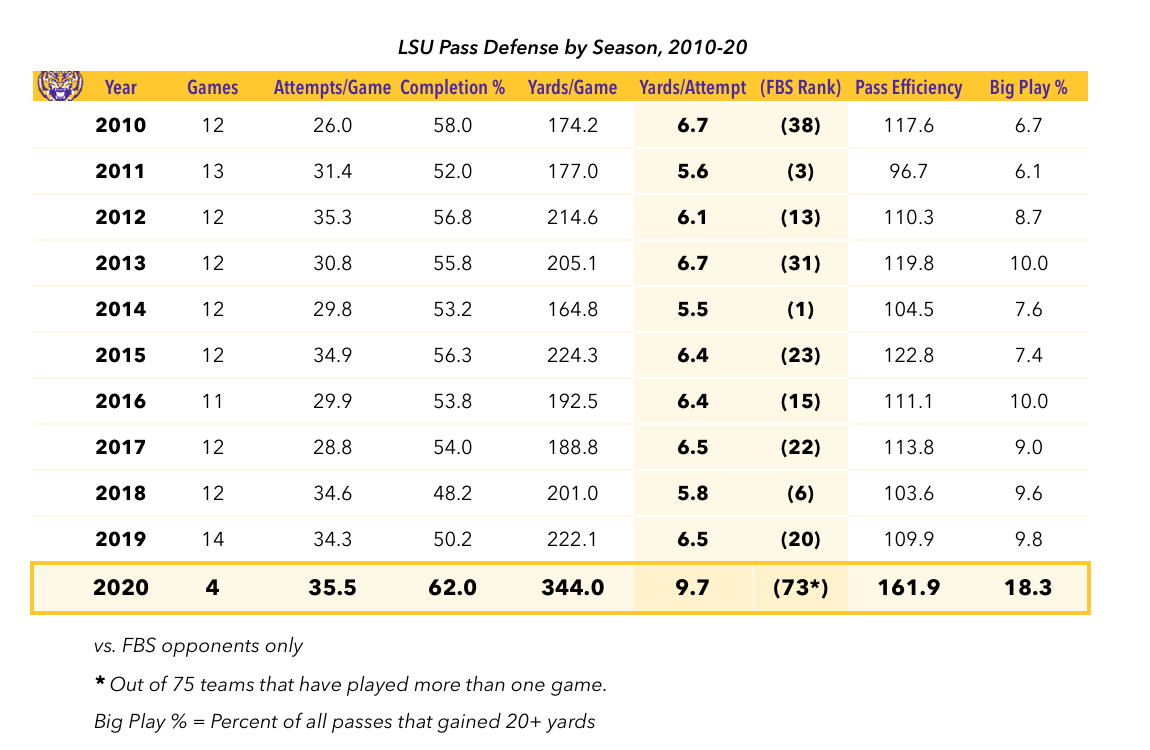 It's early still, but if anything, the numbers don't quite reflect just how flammable the Tigers have been on the back end — the total is skewed downward by their Oct. 3 win over Vanderbilt, whose overmatched true freshman quarterback, Ken Seals, managed just 113 yards on 4.5 per attempt in a 41-7 loss. In its other 3 games, LSU has been routinely torched, allowing 623 yards on 10.4 ypa vs. Mississippi State's KJ Costello; 406 yards on 11.6 ypa vs. Missouri's Connor Bazelak; and 234 on 10.6 ypa vs. South Carolina's Collin Hill. In each of those cases, that comes out to at least 4.0 yards more per attempt than the Bulldogs, Tigers or Gamecocks have averaged against their other opponents.
Downfield passing isn't an area in which Auburn QB Bo Nix has excelled, to put it mildly, and to the extent that he has, it's been almost exclusively by heaving the ball in the general vicinity of the Tigers' resident jump-ball specialist, Seth Williams, and hoping for the best. Of Nix's 15 completions that have gained 20+ yards, Williams and his absurd catch radius have accounted for 10 of them, the most of any SEC wideout.
OH MY, SETH WILLIAMS ? pic.twitter.com/38PXcAs078

— SEC Network (@SECNetwork) October 17, 2020
The good-on-good matchup between Williams and LSU CB Derek Stingley Jr. in last year's game was one of the best of the regular season, a test of potential first-round talents who each wound up various points on the other's highlight reel. Stingley won the day, allowing just 2 receptions on 10 targets and coming down with a reputation-cementing INT at Williams' expense, but also found himself on the wrong end of an absurd sideline grab by Williams late in the game. This year, Stingley has been relatively anonymous since returning from the unspecified illness that forced him to miss the opener, which is not necessarily a bad sign for a cornerback; at any rate, he and/or his 5-star counterpart, true freshman Elias Ricks, should get plenty of screen time opposite Williams and plenty of opportunities to replicate South Carolina CB Jaycee Horn's breakout game against Auburn (and Williams specifically) a couple of weeks back.
Beyond Williams, Auburn's resident blazers, Anthony Schwartz and Eli Stove, have combined to average just 8.7 yards per catch — less than half of Williams' average — mostly on screens that haven't come close to maximizing their speed-in-space potential. At the rate that LSU has allowed huge gains after the catch, Saturday looks like an opportune time to narrow that gap.
The big question: Is TJ Finley for real?
All signs out of Baton Rouge indicate Finley, who led last week's 52-24 win over South Carolina in his first career start, will be behind center again Saturday as Myles Brennan remains doubtful to return from an abdominal injury. Although Ed Orgeron said outright earlier this week that Brennan's spot will be waiting for him whenever he's cleared to play, Finley's 17-of-21, 265-yard, 2-TD debut against the Gamecocks won over a significant share of the fan base and put him in position to make an honest run at it.
At 6-6, 242 pounds, Finley brings fairly obvious athletic upside to the table amid a still-emerging but potentially explosive group of wideouts; Terrace Marshall Jr. is a star, true freshmen Arik Gilbert and Kayshon Boutte are on track to justify their 5-star billing, and rotational vets Jaray Jenkins, Jontre Kirklin, and Racey McMath are collectively averaging 16.8 yards per catch. The biggest revelation vs. Carolina, though, was the running game: After a couple of anemic efforts in losses to Mississippi State and Mizzou, sophomore RBs John Emery Jr. and Tyrion Davis-Price announced their arrival with a combined 223 yards and 2 TDs on 5.6 per carry, spearheading LSU's best team rushing performance by yardage in more than 2 years. That served the dual purpose of keeping Finley in his comfort zone — he attempted just 1 pass on 3rd-and-7 or longer — and milking the clock, where LSU racked up a good old-fashioned 15-minute edge in time of possession.
A road trip to Auburn, of course, poses a different challenge, albeit not to the degree that Auburn fans have come to expect. The front seven, usually a positive, is licking its wounds after a 283-yard, 3-TD rushing performance by Ole Miss that dropped the Tigers to 12th in the SEC in rushing defense for the year, ahead of only the Rebels themselves and Vanderbilt. The interior d-line doesn't have another Derrick Brown waiting in the wings, and the ongoing absence of senior LB K.J. Britt in the middle of the defense due to a thumb injury is palpable, even as he continues to bring his All-SEC energy to the sideline. Reversing that trend and putting as much of the game as possible on Finley's right arm is a priority. If he's good enough to win putting it in the air 35 or 40 times without the benefit of a reliable ground game, at least he should have to prove it.
The verdict
How much do you trust a true freshman QB on the road for the first time? More or less than you trust LSU's secondary to not burst into flame at random intervals? The defending champs may still have the higher ceiling in terms of raw talent, but Auburn has fewer question marks where it matters most and one of the league's true up-and-coming headliners in freshman RB Tank Bigsby. For this one, it will also have the home-cooking version of Bo Nix, who has been vastly better in Jordan-Hare Stadium in his young career than he's been on the road. If he's outgunned by Finley under the circumstances it's not going to go over well.
– – –
Auburn 33, LSU 30
Mississippi State at Alabama (-31)
What is going on at Mississippi State? Since the Bulldogs' triumphant debut at LSU, the product on the field has been in freefall and the news off the field has been worse.
On Wednesday Mike Leach confirmed the long-rumored departure of the team's best player, All-SEC RB Kylin Hill, who was apparently suspended for the Bulldogs' last game, a 28-14 loss to Texas A&M, due to an "outburst" following their Oct. 10 debacle at Kentucky; Leach, in typical Leach-ian fashion, claimed he hadn't even spoken to Hill, saying only "what I've heard is he's opting out and preparing for the NFL." He also confirmed the impending transfer of 3 other players ("they're into another chapter in their life, and so are we"), most notably WR Tyrell Shavers, a grad transfer from Alabama who'd emerged as regular in the rotation. Their exits followed a steady trickle of attrition over the past few weeks, led by sophomore QBs Garrett Shrader and Jalen Mayden, both former 4-star recruits; their exits followed an initial wave of departures over the summer, including another former 4-star quarterback, Keytaon Thompson, and a pair of potential starters on defense (DL Fabien Lovett and DB Jarrian Jones) who bailed out after Leach tweeted a COVID-19 quarantine meme that for some reason involved a noose.
Some attrition under a first-year head coach is a normal part of the transition to a new administration — guys like Shrader, Mayden and Thompson are classic examples of players recruited by a different staff to run a different offense, whose specific talents are plainly bad fits for the new system. Leach, though, has made a point of leaning into it as publicly and abrasively as possible, openly fulminating about the need for a "purge" after the Kentucky loss to rid the locker room of "fence-riders" and "malcontents." The roster is reportedly down to 75 scholarship players, including injury casualties and former walk-ons.
As Leach himself has pointed out, he's been through this process before, having survived a rocky start to his tenure at Washington State in which he described veteran holdovers from the previous coaching staff there as having an "empty-corpse quality" en route to a 3-9 record in his first season. (Later that year Leach was also accused by a star wide receiver of "physical, emotional, and verbal abuse," echoing the allegations that led to his notorious ouster from Texas Tech in 2009; an internal review by the university dismissed those claims.) Eventually, he was vindicated by the win column: After posting a 12-25 record in Leach's first 3 seasons, the Cougars went 43-22 over the next 6 and — just like his teams in the back half of his tenure at Texas Tech — became regulars in the Top 25. To the extent that his peevish response when things are going badly is just part of Leach's, let's say … unconventional personality, Mississippi State knew what it was bargaining for when it hired him.
But the situation in Starkville is at a point where, in the short term, at least, it's likely to get worse before it gets better. The good vibes from the opening-day upset in Baton Rouge evaporated almost instantly. The Bulldogs are at a crossroads at quarterback with arguably the 3 toughest games on the schedule (vs. Alabama, Auburn and Georgia) looming in the next 4 weeks. Beyond that, the last opportunity to salvage a sense of forward momentum comes down to the Egg Bowl. Attrition will likely continue; some segment of the roster that hasn't actually left is at risk of checking out mentally. In that context, a trip to Alabama is just another reminder that it's a long road ahead.
– – –
Alabama 45, Mississippi State 19
Georgia (-15) at Kentucky
Last year's game in Athens was a soaking wet, borderline unwatchable affair that saw the starting quarterbacks finish 11-for-27 passing for 52 yards and a frustrated home crowd resort to booing Georgia's offense in the slog. (The Bulldogs won, 21-0.) Short of a basketball game breaking out, the socially distanced crowd in Lexington isn't likely to get that worked up.
Still, there's a chance this game will feel similar as both teams face potentially season-defining decisions behind center: Kentucky's starter, senior Terry Wilson, is nursing a minor injury that could hasten the transition to Auburn transfer Joey Gatewood that many fans have been waiting for since Gatewood joined the team last winter; meanwhile, Georgia is weighing the long-term prospects of sticking with the reliable Stetson Bennett IV or gambling on the bigger, more volatile talent, JT Daniels, who (if healthy, a big if at the moment) arguably gives the Bulldogs a better chance to win and advance in the postseason. It's hard to imagine the distinction will make any difference in the outcome vs. Kentucky, but realistically the window for making it is closing quickly.
– – –
Georgia 31, Kentucky 13
Arkansas at Texas A&M (-12.5)
Due to coronavirus concerns, the Razorbacks and Aggies will meet on campus for the first time since 2013; in the meantime, 5 of the 6 games played in AT&T Stadium in Arlington have been decided by single digits, including each of the last 3 years during Arkansas' reign as the league's perennial doormat. This time, the Razorbacks may be the most improved team in America under first-year coach Sam Pittman and grad-transfer QB Feleipe Franks, but ironically they won't close the gap against an A&M outfit that's also moving tentatively in the right direction.
– – –
Texas A&M 27, Arkansas 17
Missouri at Florida (-13)
Florida is emerging from 2 weeks in COVID-19 limbo, so a brief refresher: The Gators are dynamic on offense, mediocre at best on defense, and have no remaining margin for error in pursuit of a Playoff bid after their last-second loss at Texas A&M. The Kyles, Trask and Pitts, may have faded a bit from the national consciousness due to inactivity, but a return to form against a Missouri secondary that's already been properly shredded by Alabama and LSU over the first half of the season should restore their status as Heisman candidates in good standing.
– – –
Florida 34, Missouri 24
Ole Miss (-16.5) at Vanderbilt
Both rosters have been hit by coronavirus issues, in Vandy's case so severely that earlier this month the Commodores became the first team with too few scholarship players available to meet the SEC-mandated 53-man minimum. They do meet the threshold for Saturday, if only just barely. If Ole Miss' offense picks up where LSU's and South Carolina's left off before the Dores went on hiatus, they might wind up wishing they were back in quarantine.
– – –
Ole Miss 38, Vanderbilt 16
Scoreboard
Week 5 record 3-1 straight-up / 2-2 vs. spread
Season record: 20-10 straight-up / 15-15 vs. spread