TENNESSEE
FanDuel Tennessee Sportsbook Launches, Is Ready for Action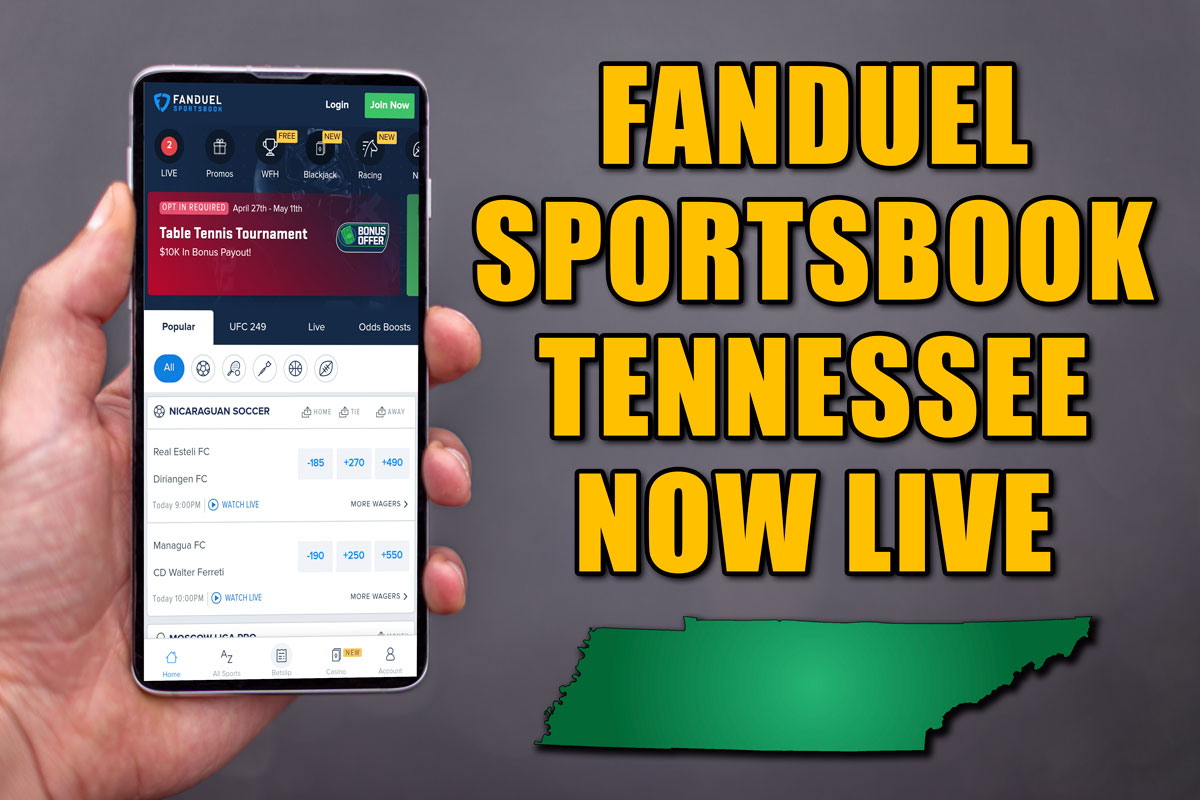 FanDuel Tennessee Sportsbook is now live and ready for action.
With the long-awaited rollout of Tennessee online sports betting now officially here, FanDuel Sportsbook figures to both quickly emerge and remain as one of the best sports betting apps in the state.
FanDuel Sportsbook
States: LA, NY, TN, NJ, PA, IN, IA IL, WV, MI, CO, VA, AZ, CT
Click here to get FanDuel Sportsbook and grab a $1,000 risk-free first bet.
FanDuel Sportsbook, which has experienced tremendous success amid fierce competition in other markets, is a good bet to replicate such success in Tennessee for a variety of reasons.
With a first-rate app, FanDuel Sportsbook is largely praised for its smooth interface and functionality. These features make navigating hundreds of betting options between dozens of sports leagues an easy task.
So, what should you expect from FanDuel Tennessee Sportsbook? Let's break down all of the details.
FanDuel Tennessee Sportsbook Promos and Other Features
In the early going of U.S. legal online sports betting, one could argue that FanDuel Sportsbook had a leg up on the competition because of its brand name recognition that was built on the success of its daily fantasy gaming operations. However, in such highly competitive legal sports betting markets, apps won't make it very long on reputation alone. Fortunately for FanDuel, it built an app that is attractive to sports bettors in several ways.
Betting Markets
Design, functionality, and promos are important. Still, at the end of the day, a wide selection of betting markets is the key to success, and FanDuel Sportsbook has almost any market a bettor could want.
Whether its pregame wagers, in-game live betting, futures markets, or props bets, FanDuel Sportsbook offers a variety of wagering types across both prominent and niche sports and sports leagues.
Sign Up Bonus
When it comes to Tennessee new user sportsbook promos, FanDuel Sportsbook is the gold standard. While competitors such as DraftKings offer up to $1,000 in free bets through a combined first-bet and deposit match, FanDuel gives news players a straightforward $1,000 risk-free first bet.
Given this, the recommendation here is for new bettors to find a game or games they love (parlays work, too) and take advantage of this industry-best new user promo.
Betting Specials
FanDuel Tennessee Sportsbook is expected to offer its extremely popular betting specials. These specials are frequently available in other states where online sports wagering is legal.
In addition to daily odds boosts, FanDuel Sportsbook is well-known for its insurance promos and same-game parlays. However, FanDuel also offers headline-grabbing deals such as 25/1 payouts on the winner of select events.
The popular "Spread the Love" promo always brings big attention. This particular deal, which allows users to hammer one side of a select contest to push the odds to unbeatable levels, always generates a ton of interest.
For example, bettors were previously able to back the Colts as a +50 point underdog. They also grabbed the Lakers as a 100-point underdog on bets up to $50. It is these fun and creative deals that has helped FanDuel Sportsbook rise to the top of the legal online sports betting industry.
How to Get FanDuel Sportsbook Tennessee
Getting started with FanDuel Sportsbook in Tennessee is easy. Click here to sign up and cash in on a $1,000 risk-free first bet.
Complete the registration process. Then, simply fund your account via one of several convenient online banking methods. We recommend a larger first deposit to maximize the value of the risk-free first bet.
Finally, sure to check out all that FanDuel has to offer. This includes daily odds boosts, live in-game betting, bet insurances, and more.
Click here to get FanDuel Sportsbook and grab a $1,000 risk-free first bet.
FanDuel Sportsbook
States: LA, NY, TN, NJ, PA, IN, IA IL, WV, MI, CO, VA, AZ, CT