Georgia fan shares racist comments allegedly made by UGA baseball player toward Justin Fields
According to a statement released on Monday, Georgia officials expressed concern over a weekend incident involving a member of the Bulldogs baseball team at the Georgia-Tennessee football game.
Per the report, 1B Adam Sasser, who was a second-team All-SEC player in 2018, used racially derogatory comments toward QB Justin Fields.
A Facebook post created after the game has surfaced that details alleged statements Sasser made on Saturday, and was shared to the "Overheard at UGA" page.
Here's what the post said: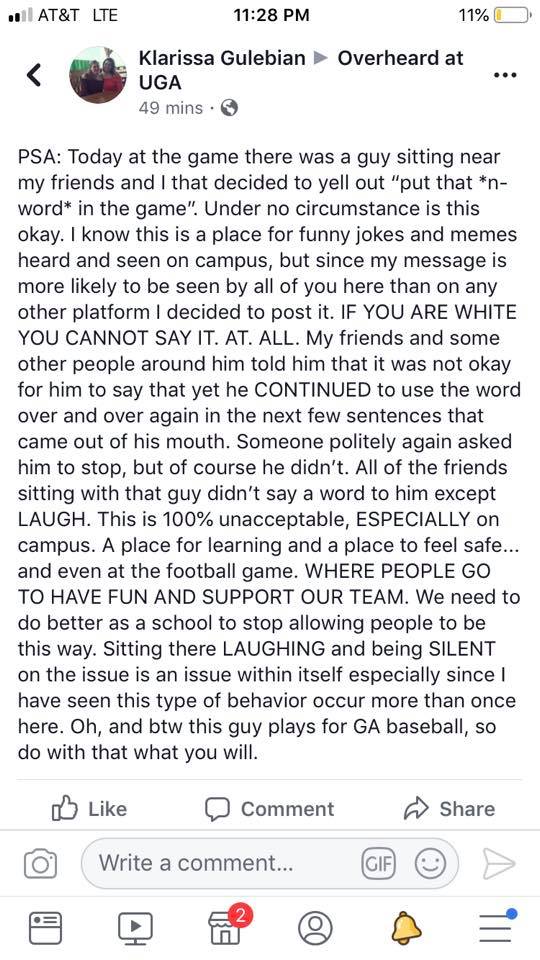 According to UGASports.com, Georgia athletic director Greg McGarity released this statement on the ongoing situation:
"We are aware of a reported incident this weekend involving conduct by one of our student-athletes. While we are limited in what we can say about the incident at this time, I want to reemphasize that we do not condone discriminatory behavior. The University's Equal Opportunity Office thoroughly reviews all reported violations of our Non-Discrimination and Anti-Harassment Policy to ensure an appropriate response."